サマリー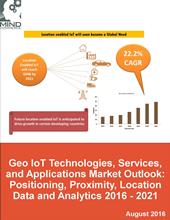 米国調査会社マインドコマース(Mind Commerce)の調査レポート「Geo IoT(位置情報のモノのインターネット)の技術、サービス、用途市場概観 2016 - 2021年:ポジショニング、近接、位置情報データと解析」は、モノのインターネット(IoT)におけるプレゼンスや位置情報の技術とビジネスチャンスを査定しています。様々な産業界の主要企業の提供するいくつかの位置情報のモノのインターネット(Geo IoT)ソリューションについて評価しています。2016-2021年の市場概観と市場予測も提供しています。
目次(抜粋)
位置情報のモノのインターネット(Geo IoT)の市場概観
位置情報対応のモノのインターネット(IoT)の市場とビジネスチャンス
位置情報のモノのインターネット(Geo IoT)の関連企業概要
Overview:
Just as location determination has become an essential element of personal communications, so shall presence detection and location-aware technologies be key to the long-term success of the Internet of Things (IoT). Geo IoT will positively impact many industry verticals. For example, location enabled IoT brings connectivity, process improvements, and data to both shoppers and retailers.
Geo IoT is anticipated to move well beyond simply the ability to determine proximity for commerce and various retail applications. Longer term, presence detection and location determination will be a critical aspect of IoT privacy, security, and preference management for both consumer and industrial applications.
This research assesses the technologies and market opportunities for presence and location in IoT. The report evaluates specific Geo IoT solutions from leading companies across various industry verticals. The report provides a market outlook and forecasts for 2016 through 2021. All purchases of Mind Commerce reports includes time with an expert analyst who will help you link key findings in the report to the business issues you're addressing. This needs to be used within three months of purchasing the report.
Key Findings:
Geo IoT revenue will reach $49B globally by 2021
Location aware IoT brings host of applications for the retail sector
Effective IoT location relies upon a combination of WAN, LAN, and PAN
The use of mobile phones and beacons as transceivers is transforming in-store retail
The next big area for IoT presence and location will be next generation wearable technology
Presence detection and location determination will be critical for IoT privacy, security, and preference management
Target Audience:
In-store retail sales industry
Wireless device manufacturers
Wireless network service providers
IoT infrastructure and solution providers
Presence and location technology vendors
Semiconductor and embedded systems providers
目次
Table of Contents:
1 Introduction
1.1 Background of the Study
1.2 Scope of the Research
1.3 Target Audience
1.4 Key Companies in the Report
2 Executive Summary
3 Overview
4 Technologies and Developments in Location Tracking
4.1 Global Positioning Systems
4.2 Real Time Location System
4.2.1 Trilateration
4.2.2 RF Fingerprinting
4.2.3 Time of arrival (TOA)
4.2.4 Proximity Detection
4.2.5 Triangulation
4.3 Mobile Phone Tracking
4.3.1 Network Based
4.3.2 Handset based
4.3.3 SIM based
4.3.4 Wireless Technologies
4.4 Hardware Components used to Determine Location
4.4.1 RFID Tags
4.4.1.1 Passive RFID
4.4.1.2 Active RFID
4.4.1.3 RFID Readers
4.4.2 Beacons
4.4.2.1 Advertising Interval
4.4.2.2 Broadcasting Power
4.4.3 Smart Sensors
4.5 Software Components used in Location Awareness
4.5.1 Geo-Spatial data
4.5.2 Software Development Kit (SDK)
4.5.3 Location API
4.6 Network Technologies used in Location Awareness
4.6.1 Wireless Local Area Network (WLAN)
4.6.2 Wireless Personal Area Network (WPAN)
4.6.3 Wireless Sensor Network (WSN)
4.7 Data Analytics Platforms for Location Awareness
4.8 OGC Standards Development for Interoperable Geo-data
5 Markets and Opportunities for Location Enabled IoT 2016 - 2021
5.1 Markets for Location enabled IoT 2016 – 2021
5.2 Regional Markets for Location Enabled IoT 2016 - 2021
5.2.1 Largest Market for Location Enabled IoT is a $20.1B Opportunity
5.2.2 European Market is Poised for Growth
5.2.3 Substantial Opportunities in APAC Region
5.3 Location Enabled IoT Component Market 2016 – 2021
5.4 Outdoor and Indoor Location Tracking Market IoT 2016 – 2021
5.4.1 Indoor Location Tracking 2016 – 2021
5.5 Location Enabled IoT Applications Market 2016 - 2021
5.5.1 Applications of Location Enabled IoT in Smart City 2016 - 2021
5.5.2 Applications of Location Enabled IoT in Indoor Location Tracking 2016 - 2021
5.5.3 Applications of Location Enabled IoT in Location Aware Marketing 2016 - 2021
5.6 Location Enabled IoT by Industry Vertical 2016 - 2021
5.6.1 Location Enabled IoT in Government Services and Public Sector Operations 2016 - 2021
5.6.2 Location Enabled IoT in Healthcare 2016 - 2021
5.6.3 Location Enabled IoT in Retail Products and Services 2016 - 2021
5.6.4 Connected Store: Future Store Experience for Shoppers
5.6.4.1 Enhancing the Shopping Experience for Shoppers
5.6.4.2 Ease of Operations for Retail Store Management
5.6.4.2.1 SKU Tracking and Monitoring
5.6.4.2.2 In-store and Outdoor Marketing and Push Notifications
5.6.4.2.3 Understand Buying and Shopping Patterns
5.6.5 Location Enabled IoT in Smart Factories 2016 - 2021
5.6.6 Location enabled IoT in Smart Buildings and Offices 2016 - 2021
5.6.7 Location Enabled IoT in Cargo and Transport 2016 - 2021
5.6.8 Location Enabled IoT in Oil and Natural Gas 2016 - 2021
5.7 Beacons and other Proximity Solutions 2016 - 2021
5.7.1 Beacons to Transform Retail Experience through 2021
5.7.2 Market for Beacons
6 Location IoT Companies
6.1 Apple Inc.
6.2 Air-Go
6.3 Bosch Software Innovations
6.4 Cisco System Inc.
6.5 CloudTags Inc.
6.6 Elecsys Corporation
6.7 ESRI
6.8 Estimote Inc.
6.9 Gelo Inc.
6.10 Insiteo
6.11 Kontakt.io
6.12 Navisense Inc.
6.13 Nanotron Technologies GmBH
6.14 TruePosition
Tables
TABLE 1: Markets for Location Enabled IoT 2016 – 2021
TABLE 2: Regional Markets for Location Enabled IoT 2016 – 2021
TABLE 3: Market by Components involved in Location Enabled IoT 2016 – 2021
TABLE 4: Outdoor and Indoor Location Tracking Markets for Location Enabled IoT 2016 – 2021
TABLE 5: Markets for Location Enabled IoT by Applications 2016 – 2021
TABLE 6: Location Enabled IoT Smart City Applications 2016 – 2021
TABLE 7: Location Enabled IoT in Indoor Location Tracking Applications 2016 – 2021
TABLE 8: Location Enabled IoT in Location Aware Marketing Applications 2016 – 2021
TABLE 9: Location Enabled IoT by Industry Vertical 2016 – 2021
TABLE 10: Location Enabled IoT in Government and Public Sector 2016 – 2021
TABLE 11: Location Enabled IoT in Healthcare 2016 – 2021
TABLE 12: Location Enabled IoT in Retail 2016 – 2021
TABLE 13: Location enabled IoT in Smart Factories 2016 – 2021
TABLE 14: Location enabled IoT in Smart Buildings and Offices 2016 – 2021
TABLE 15: Location enabled IoT in Cargo and Transport 2016 – 2021
TABLE 16: Location enabled IoT in Oil and Natural Gas 2016 – 2021
Figures
FIGURE 1: Location enabled IoT Growth
FIGURE 2: RFID Reader Architecture
FIGURE 3: Smart Sensor Model
FIGURE 4: Sensor Node Components
FIGURE 5: Wireless Sensor Network Topologies
FIGURE 6: Markets for Location Enabled IoT 2016 – 2021
FIGURE 7: Regional Markets for Location Enabled IoT 2016 – 2021
FIGURE 8: Markets by Components involved in Location Enabled IoT 2016 – 2021
FIGURE 9: Outdoor and Indoor Location Tracking Markets for location Enabled IoT 2016 – 2021
FIGURE 10: Markets for Location Enabled IoT by Application 2016 – 2021
FIGURE 11: Applications of Location Enabled IoT in Smart Cities 2016 – 2021
FIGURE 12: Applications of Location Enabled IoT in Indoor Location Tracking 2016 – 2021
FIGURE 13: Applications of Location Enabled IoT in Location Aware Marketing 2016 – 2021
FIGURE 14: Location Enabled IoT by Industry 2016 – 2021
FIGURE 15: Location Enabled IoT in Government and Public Sector 2016 – 2021
FIGURE 16: Location Enabled IoT in Healthcare Centers and Diagnostics 2016 – 2021
FIGURE 17: Location Enabled IoT in Retail 2016 – 2021
FIGURE 18: Location enabled IoT in Smart Factories 2016 – 2021
FIGURE 19: Location enabled IoT in Smart Buildings and Offices 2016 – 2021
FIGURE 20: Location enabled IoT in Cargo and Transport 2016 – 2021
FIGURE 21: Location enabled IoT in Oil and Natural Gas 2016 – 2021
FIGURE 22: Location IoT and Smart Stores