サマリー
The report provides data on the size of the residential security market in the key European territories and offers a forecast of future growth given environmental changes; in particular, the growth of DIY and smart home solutions. It looks at current trends and analyses the competitive environment to assess how new developments will impact on the EU security market before discussing how the industry might adapt to exploit new opportunities for growth.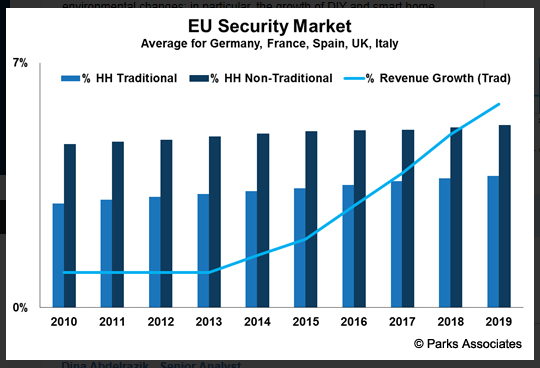 目次
1.0 Report Summary
1.1 Purpose of Report
1.2 Scope of Report
1.3 Research Approach/Sources
2.0 The EU Residential Security Market
2.1 Market Sectors
2.2 Market Size
3.0 The Challenge
4.0 The Competitive Environment
4.1 Industry Forces
4.1.1 Suppliers
4.1.2 Stakeholders.
4.1.3 Competitors
4.1.4 Substitute Products and Services.
4.2 Market Forces.
4.2.1 Market Sectors
4.2.2 Consumer Needs and Demands
4.2.3 Switching Costs
4.2.4 Revenue Attractiveness
4.2.5 Regulation.
5.0 Macro Economic Forces
5.1 Wider Market Conditions
5.2 Capital Markets.
5.3 Commodities and Other Resources.
5.4 Economic Infrastructure.
6.0 Future Trends
6.1 Technology
6.2 Environmental
6.3 Societal
6.4 Regulatory
7.0 Market Analysis
8.0 Future Forecast
9.0 The Opportunity
9.1 Market Penetration
9.2 Market Development
9.3 Product Development
9.4 Diversification
9.5 Smart Home
9.6 Multi-Dwelling Units and Social Housing
9.7 Independent Living
10.0 The Future of Residential Security
11.0 Implications and Recommendations
12.0 Appendix
12.1 Glossary
12.2 Index
Figures
Residential Security - Market Size
EU Security Market Growth
US DIY Growth
Competitive Environment for Residential Security
Product, System, Service Adoption
Connected Home Channels and Ecosystems
Smart Home Device Ownership
EU Security Future Market Growth
Ansoff Matrix
US Market Penetration
Adjacent Markets
Payments
Smart Safety and Security Device Ownership