サマリー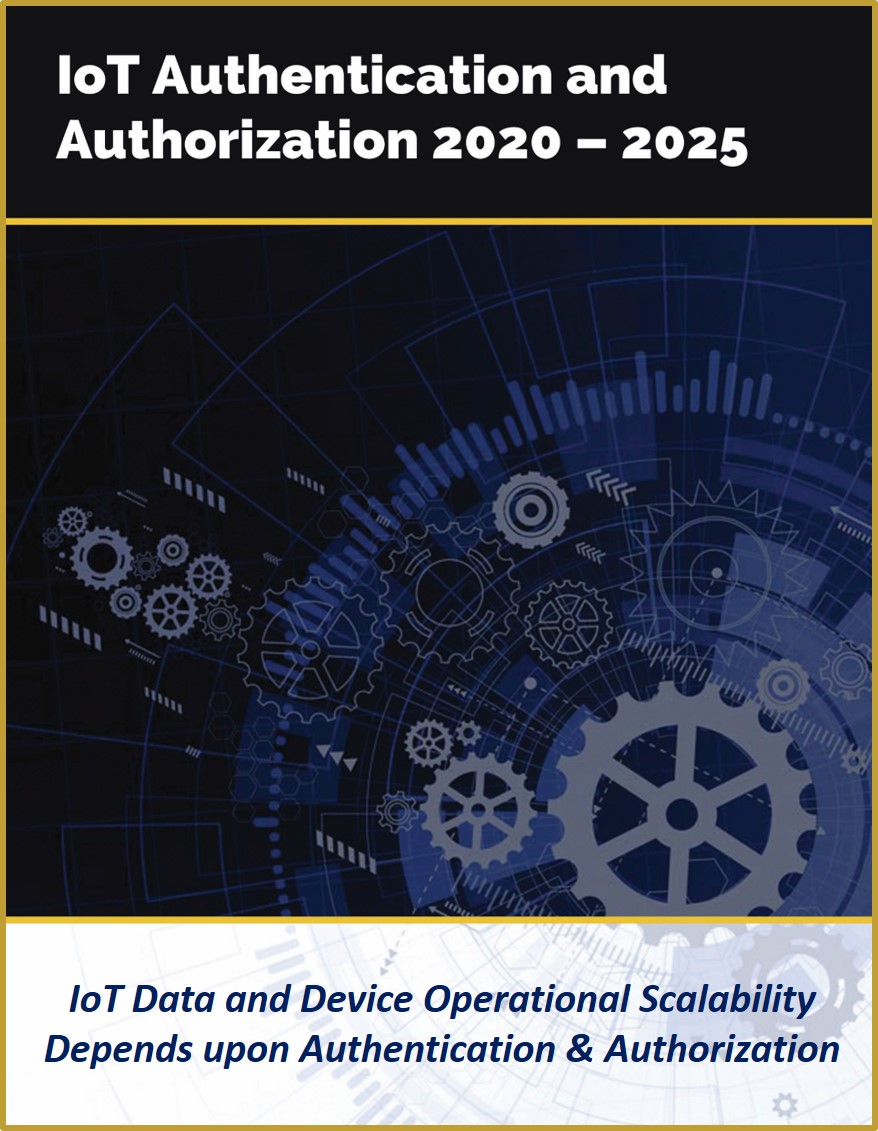 米国調査会社マインドコマース(Mind Commerce)の調査レポート「IoT(モノのインターネット)の認証と認可:技術毎、ソリューション毎、産業毎 2020-2025年」は、IoT(モノのインターネット)の認証認可の市場を技術毎、ソリューション毎、産業垂直市場毎の2020-2025年の予測と共に査定している。IoT認証認可市場の促進要因とビジネスチャンスを分析している。IoT認証認可のインフラストラクチャについても査定している。
Overview
This report assesses the market for IoT authentication and authorization by technology, solutions, and industry verticals with forecasts from 2020 to 2025. The report analyzes IoT authentication an authorization market drivers and opportunities. The report also assesses IoT authentication and authorization infrastructure requirements.
IoT authentication and authorization solutions are important in support of IoT data management including access and management with a Data as a Service (DaaS) model, which is defined as any service offered wherein users can access vendor provided databases or host their own databases on vendor managed systems.
IoT Data as a Service (IoTDaaS) offers convenient and cost-effective solutions to enterprises of various sizes and domain. IoTDaaS constitutes retrieving, storing and analyzing information and provide customer either of the three or integrated service package depending on the budget and the requirement. Acquiring (capturing and/or licensing), storing, processing, and distributing IoT data is anticipated to become a multi-billion-dollar business by 2025.
IoT authentication and authorization solutions are also important in support of the "things" involved in IoT, which vary from devices used to detect, actuate, signal, engage, and more. IoT things also involve everything from gateways, modules, and sensors to hardware and embedded software within products and equipment and other consumer, enterprise, and industrial assets. The IoT ecosystem could easily become highly cumbersome with so many different "things" to consider as part of IoT provisioning, activation, administration and other management functions.
More specifically, IoT authentication and authorization solutions are important in support of IoT device management in concert with the expanding scope of devices by volume, type, purpose, role and importance. Authentication ensures proper IoT device security, which goes beyond access (to device, network/system, etc.) and includes data security/privacy as well as securing proper decisions (e.g. ensuring that autonomous processes are carried forth in a manner that is not detrimental).
Target Audience:
• Network service providers
• Systems integration companies
• IoT and wireless device manufacturers
• Network and device security companies
• Data management and analytics companies
Report Benefits:
• Identify market opportunities for IoT authentication solutions
• Understand IoT authorization and authentication infrastructure
• Understand the role an importance of AAA in IoT networks and systems
• Recognize the relationship between AAA and IoT service level agreements
• Understand the difference between authentication and authorization in IoT
Report Findings:
• IoT authentication and authorization is crucial for IoT SLAs
• Asia Pacific is the largest region followed by North America and Europe
• Healthcare is the largest industry vertical for IoT authentication and authorization
• Aerospace is the fastest-growing industry vertical for IoT authentication and authorization
• IoT authentication and authorization in edge networks will be a $1.3B opportunity by 2025
目次
1 Executive Summary
2 Introduction
2.1 IoT Data
2.2 IoT Devices
2.3 IoT Identity Management
2.4 IoT Trust Environment
2.4.1 IoT Authentication
2.4.2 IoT Authorization
2.4.3 IoT Accounting
3 IoT Authentication and Authorization Market Drivers
3.1 Machine Transactions
3.2 Edge Computing
3.3 Device Management
3.4 Data Management
3.5 Service Level Agreements
3.5.1 IoT SLAs for Networks, Devices, and Data
3.5.2 IoT SLAs for Availability and Performance
3.5.3 SLA Support of IoT Orchestration and Mediation
3.5.4 SLA Support IoT Authentication, Authorization, and Accounting
4 IoT Authentication and Authorization Market Opportunities
4.1 Support of IoT Data as a Service
4.2 IoT Identity Management and AAA as a Service
4.3 IoT Mediation and Orchestration
5 IoT Authentication and Authorization Infrastructure
5.1 IoT Database Infrastructure
5.1.1 IoT Identity Management Database
5.1.2 IoT Permissions Database
5.1.3 IoT Discovery Database
5.2 DB Support of IoT Orchestration and Mediation
5.3 DB Support of IoT AAA Services
5.3.1 IoT Authentication
5.3.1.1 Methods and Procedures
5.3.1.2 Establishing and Maintaining Trust
5.3.2 IoT Authorization
5.3.3 IoT Accounting
5.4 IoT DB Support of IoT Identity Management
5.4.1 Identify Network Elements
5.4.2 Identify Consumer, Enterprise, and Industrial Devices
5.4.3 Identify Actors: Consumer, Producer, Service Provider
5.4.4 Identify Data, Data Users, and Data Uses
5.4.5 IoT Identity Management and AAA as a Service
5.5 IoT DB Support of IoT Data Management and Analytics
5.5.1 IoT Data Management Requirements
5.5.2 IoT Data Market
5.5.3 IoT Data as a Service
5.5.4 IoT Analytics as a Service
5.5.5 IoT Decisions as a Service
5.6 IoT DB Registry and Transaction Services
5.6.1 Identity Registry and IDoT as a Service
5.6.2 IoT Authentication DB Services
5.6.3 IoT Authorization DB Services
5.6.4 IoT Accounting DB Services
5.6.5 IoT Data and Analytics DB Services
5.6.6 IoT Device Registry and DB Services
5.6.7 IoT Device Registry and IoT Identity Registry Relationship
5.6.8 IoT DB Services in Support of IoT Platforms
5.6.9 Monitoring Activity and Reporting Performance against SLA
5.6.10 IoT Infrastructure Ecosystem as a Whole
6 IoT Authentication and Authorization Market Analysis and Forecasts 2020 – 2025
6.1 Global IoT Authentication and Authorization Market Forecast 2020 – 2025
6.1.1 Total IoT Authentication and Authorization Market
6.1.2 IoT Authentication and Authorization Market by Solution Type
6.1.2.1 IoT Authentication and Authorization Market by Authentication Solution Type
6.1.2.2 IoT Authentication and Authorization Market by Directory Solution Type
6.1.2.3 IoT Authentication and Authorization Market by Service Type
6.1.3 IoT Authentication and Authorization Market by Technology Platform Type
6.1.4 IoT Authentication and Authorization Market by Technology Framework Type
6.1.5 IoT Authentication and Authorization Market by End User Type
6.1.6 IoT Authentication and Authorization Market by Deployment Type
6.1.7 IoT Authentication and Authorization Market by Business Model
6.1.8 IoT Authentication and Authorization Market by Industry Vertical
6.2 Global AI Market Forecast in IoT Authentication and Authorization 2020 – 2025
6.2.1 Total AI Market in IoT Authentication and Authorization
6.2.2 AI Market in IoT Authentication and Authorization by Solution Type
6.2.3 AI Market in IoT Authentication and Authorization by Technology Platform Type
6.2.4 AI Market in IoT Authentication and Authorization by AI Technology Type
6.2.4.1 AI Market in IoT Authentication and Authorization by Machine Learning Technology Type
6.2.5 AI Market in IoT Authentication and Authorization by Industry Vertical
6.3 Global IoT Authentication and Authorization Market in 5G Network 2020 – 2025
6.3.1 Total IoT Authentication and Authorization Market in 5G Network
6.3.2 IoT Authentication and Authorization Market in 5G Network by Solution Type
6.3.3 IoT Authentication and Authorization Market in 5G Network by Technology Platform Type
6.3.4 IoT Authentication and Authorization Market in 5G Network by Industry Vertical
6.4 Global IoT Authentication and Authorization Market in Edge Network 2020 – 2025
6.4.1 Total IoT Authentication and Authorization Market in Edge Network
6.4.2 IoT Authentication and Authorization Market in Edge Network by Solution Type
6.4.3 IoT Authentication and Authorization Market in Edge Network by Technology Platform Type
6.4.4 IoT Authentication and Authorization Market in Edge Network by Industry Vertical
6.5 Regional IoT Authentication and Authorization Market Forecasts 2020 – 2025
6.5.1 IoT Authentication and Authorization Market by Region
6.5.2 North America IoT Authentication and Authorization Market by Solution, Technology, End User, Deployment, Business Model, Industry Vertical, AI Technology, 5G Network, Edge Network, and Country
6.5.3 Europe IoT Authentication and Authorization Market by Solution, Technology, End User, Deployment, Business Model, Industry Vertical, AI Technology, 5G Network, Edge Network, and Country
6.5.4 APAC IoT Authentication and Authorization Market by Solution, Technology, End User, Deployment, Business Model, Industry Vertical, AI Technology, 5G Network, Edge Network, and Country
6.5.5 Latin America IoT Authentication and Authorization Market by Solution, Technology, End User, Deployment, Business Model, Industry Vertical, AI Technology, 5G Network, Edge Network, and Country
6.5.6 Middle East and Africa IoT Authentication and Authorization Market by Solution, Technology, End User, Deployment, Business Model, Industry Vertical, AI Technology, 5G Network, Edge Network, and Country
7 Conclusions and Recommendations


Figures

Figure 1: IoT Device Management
Figure 2: IoT SLAs for Networks, Devices, and Data
Figure 3: IoT SLAs for Availability and Performance
Figure 4: IoT SLA Support of AAA
Figure 5: IoT API support of Platform to Platform
Figure 6: IoT API support of Platform to Device
Figure 7: IoT API support of Device to Device
Figure 8: Phase One: Limited IoT Data Sharing without Formalized Mediation
Figure 9: Phase Two: IoT Data Sharing between Limited Industries
Figure 10: Phase Three: Broadly shared IoT Data across Industries
Figure 11: IoT Database Infrastructure
Figure 12: IoT Identity Database
Figure 13: IoT Permissions Database
Figure 14: IoT Identity and Permissions Database Interactions
Figure 15: IoT Discovery Database
Figure 16: IoT Mediation
Figure 17: IoT Device Discovery Dashboard
Figure 18: IoT Device Discovery and Control via Smartphone
Figure 19: IoT Device Discovery and Control via Wearable Technology
Figure 20: IDoT Deployment Types
Figure 21: IoT Data Management
Figure 22: Managing IoT Data vs. Other Unstructured Data
Figure 23: IoT Data Management and Analytics Flow
Figure 24: IoT Data as a Service
Figure 25: AI Support of IoT Authorization and Monitoring
Figure 26: IoT Identity Registry
Figure 27: IoT Owners and Networks Register
Figure 28: IoT Identity Registry and Transaction Services
Figure 29: Identity Registry vs. Device Registry
Figure 30: IoT Virtual Identity Database
Figure 31: IoT Authentication Services
Figure 32: IoT Authorization Services
Figure 33: IoT Data and Analytics DB Services
Figure 34: IoT ID and Device Registry Relationship
Figure 35: IoT DB Services in Support of IoT Platforms
Figure 36: Performance Monitoring and SLA Reporting
Figure 37: IoT Orchestration and Mediation Ecosystem
Figure 38: Global IoT Authentication and Authorization Market 2020 – 2025
Figure 39: Global IoT Authentication and Authorization Market Share 2020 – 2025
Figure 40: Global AI Market in IoT Authentication and Authorization 2020 – 2025
Figure 41: Global AI Market Share in IoT Authentication and Authorization 2020 – 2025
Figure 42: Global IoT Authentication and Authorization Market in 5G Network 2020 – 2025
Figure 43: Global IoT Authentication and Authorization Market Share in 5G Network 2020 – 2025
Figure 44: Global IoT Authentication and Authorization Market in Edge Network 2020 – 2025
Figure 45: Global IoT Authentication and Authorization Market Share in Edge Network 2020 – 2025
Figure 46: North America AI Market in IoT Authentication and Authorization 2020 – 2025
Figure 47: North America IoT Authentication and Authorization Market in 5G Network 2020 – 2025
Figure 48: North America IoT Authentication and Authorization Market in Edge Network 2020 – 2025
Figure 49: Europe AI Market in IoT Authentication and Authorization 2020 – 2025
Figure 50: Europe IoT Authentication and Authorization Market in 5G Network 2020 – 2025
Figure 51: Europe IoT Authentication and Authorization Market in Edge Network 2020 – 2025
Figure 52: APAC AI Market in IoT Authentication and Authorization 2020 – 2025
Figure 53: APAC IoT Authentication and Authorization Market in 5G Network 2020 – 2025
Figure 54: APAC IoT Authentication and Authorization Market in Edge Network 2020 – 2025
Figure 55: Latin America AI Market in IoT Authentication and Authorization 2020 – 2025
Figure 56: Latin America IoT Authentication and Authorization Market in 5G Network 2020 – 2025
Figure 57: Latin America IoT Authentication and Authorization Market in Edge Network 2020 – 2025
Figure 58: MEA AI Market in IoT Authentication and Authorization 2020 – 2025
Figure 59: MEA IoT Authentication and Authorization Market in 5G Network 2020 – 2025
Figure 60: MEA IoT Authentication and Authorization Market in Edge Network 2020 – 2025


Tables

Table 1: Global IoT Authentication and Authorization Market by Solution Type 2020 – 2025
Table 2: Global IoT Authentication and Authorization Market by Authentication Solution Type 2020 – 2025
Table 3: Global IoT Authentication and Authorization Market by Directory Solution Type 2020 – 2025
Table 4: Global IoT Authentication and Authorization Market by Service Type 2020 – 2025
Table 5: Global IoT Authentication and Authorization Market by Technology Platform Type 2020 – 2025
Table 6: Global IoT Authentication and Authorization Market by Technology Framework Type 2020 – 2025
Table 7: Global IoT Authentication and Authorization Market by End User Type 2020 – 2025
Table 8: Global IoT Authentication and Authorization Market by Deployment Type 2020 – 2025
Table 9: Global IoT Authentication and Authorization Market by Business Model 2020 – 2025
Table 10: Global IoT Authentication and Authorization Market by Industry Vertical 2020 – 2025
Table 11: Global AI Market in IoT Authentication and Authorization by Solution Type 2020 – 2025
Table 12: Global AI Market in IoT Authentication and Authorization by Technology Platform Type 2020 – 2025
Table 13: Global AI Market in IoT Authentication and Authorization by AI Technology Type 2020 – 2025
Table 14: Global AI Market in IoT Authentication and Authorization by Machine Learning Technology Type 2020 – 2025
Table 15: Global AI Market in IoT Authentication and Authorization by Industry Vertical 2020 – 2025
Table 16: Global IoT Authentication and Authorization Market in 5G Network by Solution Type 2020 – 2025
Table 17: Global IoT Authentication and Authorization Market in 5G Network by Technology Platform Type 2020 – 2025
Table 20: Global IoT Authentication and Authorization Market in 5G Network by Industry Vertical 2020 – 2025
Table 19: Global IoT Authentication and Authorization Market in Edge Network by Solution Type 2020 – 2025
Table 20: Global IoT Authentication and Authorization Market in Edge Network by Technology Platform Type 2020 – 2025
Table 21: Global IoT Authentication and Authorization Market in Edge Network by Industry Vertical 2020 – 2025
Table 22: IoT Authentication and Authorization Market by Region 2020 – 2025
Table 23: North America IoT Authentication and Authorization Market by Solution Type 2020 – 2025
Table 24: North America IoT Authentication and Authorization Market by Authentication Solution Type 2020 – 2025
Table 25: North America IoT Authentication and Authorization Market by Directory Solution Type 2020 – 2025
Table 26: North America IoT Authentication and Authorization Market by Service Type 2020 – 2025
Table 27: North America IoT Authentication and Authorization Market by Technology Platform Type 2020 – 2025
Table 28: North America IoT Authentication and Authorization Market by Technology Framework Type 2020 – 2025
Table 29: North America IoT Authentication and Authorization Market by End User Type 2020 – 2025
Table 30: North America IoT Authentication and Authorization Market by Deployment Type 2020 – 2025
Table 31: North America IoT Authentication and Authorization Market by Business Model 2020 – 2025
Table 32: North America IoT Authentication and Authorization Market by Industry Vertical 2020 – 2025
Table 33: North America AI Market in IoT Authentication and Authorization by Solution Type 2020 – 2025
Table 34: North America AI Market in IoT Authentication and Authorization by Technology Platform Type 2020 – 2025
Table 35: North America AI Market in IoT Authentication and Authorization by AI Technology Type 2020 – 2025
Table 36: North America AI Market in IoT Authentication and Authorization by Machine Learning Technology Type 2020 – 2025
Table 37: North America AI Market in IoT Authentication and Authorization by Industry Vertical 2020 – 2025
Table 38: North America IoT Authentication and Authorization Market in 5G Network by Solution Type 2020 – 2025
Table 39: North America IoT Authentication and Authorization Market in 5G Network by Technology Platform Type 2020 – 2025
Table 40: North America IoT Authentication and Authorization Market in 5G Network by Industry Vertical 2020 – 2025
Table 41: North America IoT Authentication and Authorization Market in Edge Network by Solution Type 2020 – 2025
Table 42: North America IoT Authentication and Authorization Market in Edge Network by Technology Platform Type 2020 – 2025
Table 43: North America IoT Authentication and Authorization Market in Edge Network by Industry Vertical 2020 – 2025
Table 44: North America IoT Authentication and Authorization Market in Edge Network by Country 2020 – 2025
Table 45: Europe IoT Authentication and Authorization Market by Solution Type 2020 – 2025
Table 46: Europe IoT Authentication and Authorization Market by Authentication Solution Type 2020 – 2025
Table 47: Europe IoT Authentication and Authorization Market by Directory Solution Type 2020 – 2025
Table 48: Europe IoT Authentication and Authorization Market by Service Type 2020 – 2025
Table 49: Europe IoT Authentication and Authorization Market by Technology Platform Type 2020 – 2025
Table 50: Europe IoT Authentication and Authorization Market by Technology Framework Type 2020 – 2025
Table 51: Europe IoT Authentication and Authorization Market by End User Type 2020 – 2025
Table 52: Europe IoT Authentication and Authorization Market by Deployment Type 2020 – 2025
Table 53: Europe IoT Authentication and Authorization Market by Business Model 2020 – 2025
Table 54: Europe IoT Authentication and Authorization Market by Industry Vertical 2020 – 2025
Table 55: Europe AI Market in IoT Authentication and Authorization by Solution Type 2020 – 2025
Table 56: Europe AI Market in IoT Authentication and Authorization by Technology Platform Type 2020 – 2025
Table 57: Europe AI Market in IoT Authentication and Authorization by AI Technology Type 2020 – 2025
Table 58: Europe AI Market in IoT Authentication and Authorization by Machine Learning Technology Type 2020 – 2025
Table 59: Europe AI Market in IoT Authentication and Authorization by Industry Vertical 2020 – 2025
Table 60: Europe IoT Authentication and Authorization Market in 5G Network by Solution Type 2020 – 2025
Table 61: Europe IoT Authentication and Authorization Market in 5G Network by Technology Platform Type 2020 – 2025
Table 62: Europe IoT Authentication and Authorization Market in 5G Network by Industry Vertical 2020 – 2025
Table 63: Europe IoT Authentication and Authorization Market in Edge Network by Solution Type 2020 – 2025
Table 64: Europe IoT Authentication and Authorization Market in Edge Network by Technology Platform Type 2020 – 2025
Table 65: Europe IoT Authentication and Authorization Market in Edge Network by Industry Vertical 2020 – 2025
Table 66: Europe IoT Authentication and Authorization Market in Edge Network by Country 2020 – 2025
Table 67: APAC IoT Authentication and Authorization Market by Solution Type 2020 – 2025
Table 68: APAC IoT Authentication and Authorization Market by Authentication Solution Type 2020 – 2025
Table 69: APAC IoT Authentication and Authorization Market by Directory Solution Type 2020 – 2025
Table 70: APAC IoT Authentication and Authorization Market by Service Type 2020 – 2025
Table 71: APAC IoT Authentication and Authorization Market by Technology Platform Type 2020 – 2025
Table 72: APAC IoT Authentication and Authorization Market by Technology Framework Type 2020 – 2025
Table 73: APAC IoT Authentication and Authorization Market by End User Type 2020 – 2025
Table 74: APAC IoT Authentication and Authorization Market by Deployment Type 2020 – 2025
Table 75: APAC IoT Authentication and Authorization Market by Business Model 2020 – 2025
Table 76: APAC IoT Authentication and Authorization Market by Industry Vertical 2020 – 2025
Table 77: APAC AI Market in IoT Authentication and Authorization by Solution Type 2020 – 2025
Table 78: APAC AI Market in IoT Authentication and Authorization by Technology Platform Type 2020 – 2025
Table 79: APAC AI Market in IoT Authentication and Authorization by AI Technology Type 2020 – 2025
Table 80: APAC AI Market in IoT Authentication and Authorization by Machine Learning Technology Type 2020 – 2025
Table 81: APAC AI Market in IoT Authentication and Authorization by Industry Vertical 2020 – 2025
Table 82: APAC IoT Authentication and Authorization Market in 5G Network by Solution Type 2020 – 2025
Table 83: APAC IoT Authentication and Authorization Market in 5G Network by Technology Platform Type 2020 – 2025
Table 84: APAC IoT Authentication and Authorization Market in 5G Network by Industry Vertical 2020 – 2025
Table 85: APAC IoT Authentication and Authorization Market in Edge Network by Solution Type 2020 – 2025
Table 86: APAC IoT Authentication and Authorization Market in Edge Network by Technology Platform Type 2020 – 2025
Table 87: APAC IoT Authentication and Authorization Market in Edge Network by Industry Vertical 2020 – 2025
Table 88: APAC IoT Authentication and Authorization Market in Edge Network by Country 2020 – 2025
Table 89: Latin America IoT Authentication and Authorization Market by Solution Type 2020 – 2025
Table 90: Latin America IoT Authentication and Authorization Market by Authentication Solution Type 2020 – 2025
Table 91: Latin America IoT Authentication and Authorization Market by Directory Solution Type 2020 – 2025
Table 92: Latin America IoT Authentication and Authorization Market by Service Type 2020 – 2025
Table 93: Latin America IoT Authentication and Authorization Market by Technology Platform Type 2020 – 2025
Table 94: Latin America IoT Authentication and Authorization Market by Technology Framework Type 2020 – 2025
Table 95: Latin America IoT Authentication and Authorization Market by End User Type 2020 – 2025
Table 96: Latin America IoT Authentication and Authorization Market by Deployment Type 2020 – 2025
Table 97: Latin America IoT Authentication and Authorization Market by Business Model 2020 – 2025
Table 98: Latin America IoT Authentication and Authorization Market by Industry Vertical 2020 – 2025
Table 99: Latin America AI Market in IoT Authentication and Authorization by Solution Type 2020 – 2025
Table 100: Latin America AI Market in IoT Authentication and Authorization by Technology Platform Type 2020 – 2025
Table 101: Latin America AI Market in IoT Authentication and Authorization by AI Technology Type 2020 – 2025
Table 102: Latin America AI Market in IoT Authentication and Authorization by Machine Learning Technology Type 2020 – 2025
Table 103: Latin America AI Market in IoT Authentication and Authorization by Industry Vertical 2020 – 2025
Table 104: Latin America IoT Authentication and Authorization Market in 5G Network by Solution Type 2020 – 2025
Table 105: Latin America IoT Authentication and Authorization Market in 5G Network by Technology Platform Type 2020 – 2025
Table 106: Latin America IoT Authentication and Authorization Market in 5G Network by Industry Vertical 2020 – 2025
Table 107: Latin America IoT Authentication and Authorization Market in Edge Network by Solution Type 2020 – 2025
Table 108: Latin America IoT Authentication and Authorization Market in Edge Network by Technology Platform Type 2020 – 2025
Table 109: Latin America IoT Authentication and Authorization Market in Edge Network by Industry Vertical 2020 – 2025
Table 110: Latin America IoT Authentication and Authorization Market in Edge Network by Country 2020 – 2025
Table 111: MEA IoT Authentication and Authorization Market by Solution Type 2020 – 2025
Table 112: MEA IoT Authentication and Authorization Market by Authentication Solution Type 2020 – 2025
Table 113: MEA IoT Authentication and Authorization Market by Directory Solution Type 2020 – 2025
Table 114: MEA IoT Authentication and Authorization Market by Service Type 2020 – 2025
Table 115: MEA IoT Authentication and Authorization Market by Technology Platform Type 2020 – 2025
Table 116: MEA IoT Authentication and Authorization Market by Technology Framework Type 2020 – 2025
Table 117: MEA IoT Authentication and Authorization Market by End User Type 2020 – 2025
Table 118: MEA IoT Authentication and Authorization Market by Deployment Type 2020 – 2025
Table 119: MEA IoT Authentication and Authorization Market by Business Model 2020 – 2025
Table 120: MEA IoT Authentication and Authorization Market by Industry Vertical 2020 – 2025
Table 121: MEA AI Market in IoT Authentication and Authorization by Solution Type 2020 – 2025
Table 122: MEA AI Market in IoT Authentication and Authorization by Technology Platform Type 2020 – 2025
Table 123: MEA AI Market in IoT Authentication and Authorization by AI Technology Type 2020 – 2025
Table 124: MEA AI Market in IoT Authentication and Authorization by Machine Learning Technology Type 2020 – 2025
Table 125: MEA AI Market in IoT Authentication and Authorization by Industry Vertical 2020 – 2025
Table 126: MEA IoT Authentication and Authorization Market in 5G Network by Solution Type 2020 – 2025
Table 127: MEA IoT Authentication and Authorization Market in 5G Network by Technology Platform Type 2020 – 2025
Table 128: MEA IoT Authentication and Authorization Market in 5G Network by Industry Vertical 2020 – 2025
Table 129: MEA IoT Authentication and Authorization Market in Edge Network by Solution Type 2020 – 2025
Table 130: MEA IoT Authentication and Authorization Market in Edge Network by Technology Platform Type 2020 – 2025
Table 131: MEA IoT Authentication and Authorization Market in Edge Network by Industry Vertical 2020 – 2025
Table 132: MEA IoT Authentication and Authorization Market in Edge Network by Country 2020 – 2025