サマリー
米国調査会社テレジオグラフィー社の年間購読サービス「帯域幅価格のデータベースサービス」は、世界の約250以上のルートの専用回線の価格のデータベースである。データは隔月ごとに更新され、1998年から現在までの270,000以上のキャリアの価格を匿名で公開している。
サンプルページ (帯域価格レポート(隔月発行、PDF(912KB))、ルートリスト(Excelスプレッドシート)
テレジオグラフィー社年間購読サービスは、デモンストレーションが可能です。
データリソース担当者が訪問、その場で実際の画面を操作しながら使い方やデータの有無などをご説明を交えながらご覧いただけます。
サービス全体のご説明、並びに操作イメージは、
「
テレジオグラフィー社年間購読の概要
」をご参照下さい。
---
"I'm always interested to see the many ways our customers use our data to solve problems or benchmark their services. I see a lot of that in the Bandwidth Pricing Database." - Brianna Boudreau, Senior Analyst
Bandwidth Pricing Database Service
A global database of point-to-point backbone telecom pricing. This database allow users to benchmark TDM services including SDH/SONET and DWDM on key global routes.
The unique database tool that will help you understand your market better than anyone else.
COVERAGE
TeleGeography's Bandwidth Pricing Database provides anonymous carrier price quotes for wholesale long-haul transport, exclusive of local access charges.
Capacities range from E-1 to STM-16 on protected SDH/SONET circuits, and 2.5 Gbps to 100 Gbps for unprotected wavelength services. Point-to-point Ethernet private line data is also included.
DATABASE FEATURES
Searchable by:
Circuit type
City
Route
Region
Time period
All data can be exported into Excel for further analysis. Built-in graphing features allow users to quickly analyze price trends by route and by service provider.
CARRIER POSTINGS VIEW
Carrier price charts show individual carrier prices over time for selected route, capacity, and time period. Each point represents a price quote by an individual carrier
DATA SUMMARY VIEW
Summary price charts show quarterly median, average, high, and low prices over time for selected routes, capacity, and time period. Hovering the cursor over the chart shows data values for selected quarter.
DATA VIEW
Price data may be shown by carrier or by quarterly summary statistics (average, median, high, low) for selected geography, circuit, and time period. Geographic selections include city, country, or region, and city, country, or region pairs.rity, and then those that can offer services across an entire region.
BANDWIDTH PRICING REPORT
Subscribers to the Bandwidth Pricing Database receive TeleGeography's bi-monthly Bandwidth Pricing Report, which provides detailed analysis of topical issues in the international wholesale market. Subscribers also receive the monthly Bandwidth Price Watch, a snapshot of price trends on benchmark routes.
Recent Bandwidth Pricing Report topics include:
October 2016: Latin America Bandwidth Review
August 2016: End-to-End Pricing Review
June 2016: Ethernet vs. SDH Pricing
METHODOLOGY
Our data is refreshed once each quarter. Carriers are surveyed twice a year and asked to update their price profile. Each carrier - approximately 60 facilities based international service providers - contributes at least once per quarter. We cannot reveal the names of participating companies.
Bandwidth Pricing Database Service
Ensure the best price possible, whether you're buying or selling.
Make projections with detailed historical data.
Estimate network asset values based on market prices for bandwidth.
And say hello to TeleGeography's Bandwidth Pricing Database Service.
---
シングルユーザーライセンス
(四半期毎のアップデート、アナリストへの質問時間 2時間を含む)
12,725 ドル
エンタープライズライセンス
(四半期毎のアップデート、アナリストへの質問時間 4時間を含む)
26,525 ドル
(価格は2019年1月に更新しました。最新の情報はお問合せください。株式会社データリソース、電話:03-3582-2531)
10G Wave Prices Tumble As Buyers Seek Fatter Pipes
February 26, 2013
Wavelengths are replacing lower-capacity SDH/SONET circuits as the primary unit of wholesale bandwidth in an increasing number of markets around the world. As a consequence of this, wavelength prices are falling rapidly, while price declines for lower-capacity circuits are moderating. According to new data from telecom market research firm TeleGeography, between Q4 2011 and Q4 2012, median monthly lease prices for 10 Gbps wavelengths on key global routes fell 37 percent, while prices of 155 Mbps STM-1/OC-3 circuits declined 12 percent.
Despite this general trend, price levels and rates of change vary widely by region. For example, the median monthly lease prices of 10 Gbps circuits on Hong Kong-Tokyo and Hong Kong-Los Angeles fell at a compounded annual rate of 32 percent between Q4 2009 and Q4 2012, to $23,250 and $43,800, respectively. Over the same period, STM-1 prices on these routes declined at a more modest one and 21 percent annually, to $6,948 and $6,400 per month.
10 Gbps Wavelength vs.
STM

-1/OC-3 Price Declines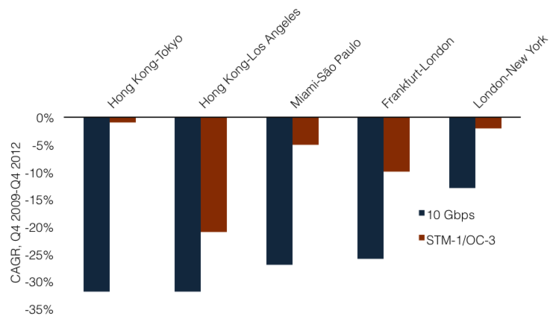 Source: TeleGeography
While intra-European and trans-Atlantic circuit prices are lower, similar patterns prevail. Between Q4 2009 and Q4 2012, median monthly 10 Gbps wavelength prices between London and New York fell at a CAGR of 13 percent, to $9,000, while STM-1 prices declined just two percent annually, to $2,816. Frankfurt-London 10 Gbps prices fell 26 percent annually, to $3,500 per month, while STM-1 prices fell 10 percent, to $1,540.
"As carrier demand for bandwidth continues to shift toward higher capacities, 10 Gbps wavelengths will remain the common denominator of the global wholesale market," said TeleGeography analyst Brianna Boudreau. "While 10 Gbps price declines will outpace those of smaller SDH circuits for some time, 40 Gbps and 100 Gbps wavelengths are becoming more widely available. As these products mature and provide volume and cost efficiencies for network operators, savings will be passed on to bandwidth buyers in the form of steady price declines."
TeleGeography's Wholesale Bandwidth Pricing Database provides more than 230,000 anonymous carrier price quotes for more than 230 key routes for bandwidth products ranging from 2 Mbps E-1 circuits to 100 Gbps wavelengths.