サマリー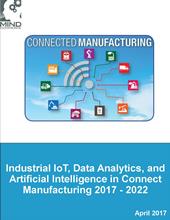 米国調査会社マインドコマース(Mind Commerce)の調査レポート「コネクテッド製造業の産業用モノのインターネット(IIoT)、データ解析、人工知能(AI) 2017-2022年」は、次世代の製造業における技術、企業、ソリュージョンを調査している。製造業における産業用モノのインターネット(IIoT)、データ解析、人工知能(AI)の効率化と有効性の影響について査定している。製品やサービスの改善、新たな収益の流れ、製品の寿命管理や顧客との連携管理といった新しいビジネスチャンスなどの製造業の最適化を、これらの技術がどのように主導するかについても記載している。世界と地域毎の製造業の概観と、2017-2022年のそれぞれの技術分野の市場予測を記載している。
目次(抜粋)
世界のコネクテッド製造業の市場概観
製造業のデジタル化
コネクテッド製造業における技術の役割
特記すべき企業とソリューション
Overview
The combination of certain key technologies are anticipated to substantially advance the Industry 4.0 revolution towards increasingly smarter manufacturing. Those technologies are Industrial IoT (IIoT), Data Analytics, and Artificial Intelligence. In terms of core functionality for Connected Manufacturing, IIoT provides the basis for communications, control, and automated data capture.
Data Analytics provides the means to process vast amounts of machine-generated and often unstructured data. Accordingly, Big Data technologies and predictive analytics enable stream lining of industrial processes. AI technology provides the means to further automate decision making and to engage machine learning for ongoing efficiency and effectiveness improvements.
This research evaluates the technologies, companies, and solutions involved in next generation manufacturing. The report assesses the impact of IIoT, Data Analytics, and AI on manufacturing efficiency and effectiveness. The report also analyzes how these technologies will lead to optimizing manufacturing for product and service improvements, new revenue streams, and new market opportunities for product life cycle management and customer relationship management. The report includes forecasts for each technology area as well as the global and regional outlook for manufacturing from 2017 to 2022.
Select Report Findings:
North America will be the second largest market at $15.9 billion by 2022
Connected manufacturing Consulting services will be a $4 billion business by 2022
Europe will be the top revenue region with $19.6 billion by 2022 with Germany leading the region
Manufacturing data analytics platforms represent the fastest growth product segment by 2022 with a CAGR of 55.4%
Target Audience:
IoT companies
Robotics companies
Manufacturing industry
Infrastructure providers
Cloud services companies
Network service providers
目次
1 Introduction
1.1 Background
1.2 Scope of the Research
1.3 Target Audience
1.4 Company Coverage
2 Executive Summary
2.1 Global Connected Manufacturing Market
2.2 Top Line Growth
2.3 Success Factors
2.3.1 Partnerships for Value Added Services
2.3.2 Monetization Strategies
2.3.3 Establishing Predictable Recurring Income Streams
3 Overview
3.1 Current State of Manufacturing Industry
3.2 Manufacturing Industry's Digital Transformation
3.3 IIoT a Base for Connected Manufacturing
3.4 Connected Manufacturing Outlook
3.5 Connected Manufacturing Applications
3.5.1 Optimizing Operations
3.5.2 Real-time Tracking of Assets, Equipment, and Raw Materials
3.5.3 Asset Health Monitoring and Predictive Maintenance
3.5.4 Manufacturing Analytics
3.5.5 Worker Safety
3.6 Future Market Potential for Connected Manufacturing
4 Global Market for Connected Manufacturing
4.1 Factors Driving Market Growth through 2022
4.2 End-user Market by Product Type 2017 - 2022
4.2.1 Connected Manufacturing Consulting Services 2017 - 2022
4.2.2 Connectivity System Installation and Expansion 2017 - 2022
4.2.3 Sensors, Embedded Devices, and Wearables in Connected Manufacturing 2017 - 2022
4.3 Regional Forecasts 2017 - 2022
4.4 End-user Market by Application Type 2017 - 2022
4.5 Big Data Analytics in Connected Manufacturing 2017 - 2022
4.5.1 Big Data in Connected Manufacturing Solutions
4.5.2 Market Outlook for Big Data in Connected Manufacturing
4.6 Artificial Intelligence in Connected Manufacturing 2017 - 2022
4.7 Manufacturing Execution Systems
5 Role of Technology in Connected Manufacturing
5.1 Enabling Technologies
5.2 AI and Connected Robotics
5.3 Crucial Role of Connectivity
5.4 Industrial Ethernet vs. Fieldbus
6 Select Companies and Solutions
6.1 Connected Manufacturing Vendor Ecosystem
6.2 Vendor Scenario in Connected Manufacturing
6.3 Important Connected Manufacturing Solutions
6.3.1 Bosch
6.3.2 Cisco Inc.
6.3.3 GE
6.3.4 IBM Corp.
6.3.5 SAP
6.3.6 Software AG
Figures
Figure 1: Global Market for Connected Manufacturing
Figure 2: Connected Manufacturing Process Flow
Figure 3: Important Connected Manufacturing Applications
Figure 4: Consulting Services in Connected Manufacturing 2017 - 2022
Figure 5: Installation/Expansion of Connectivity Systems in Connected Manufacturing 2017 - 2022
Figure 6: Sensor, Embedded Devices, and Wearables in Connected Manufacturing 2017 - 2022
Figure 7: Big Data and Analytics Framework for Manufacturing
Figure 8: Connected Manufacturing Data Analytics Platforms 2017 - 2022
Tables
Table 1: Global Connected Manufacturing Market
Table 2: End-User by Type of Product 2017 – 2022
Table 3: Consulting Services in Connected Manufacturing 2017 - 2022
Table 4: Installation/Expansion of Connectivity Systems in Connected Manufacturing 2017 - 2022
Table 5: Sensor, Embedded Devices, and Wearables in Connected Manufacturing 2017 - 2022
Table 6: Regional Market for Connected Manufacturing 2017 - 2022
Table 7: End-user Revenue by Application Type 2017 - 2022
Table 8: Big Data in Connected Manufacturing 2017 - 2022