サマリー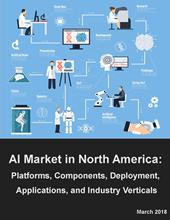 米国調査会社マインドコマース(Mind Commerce)の調査レポート「北米の人工知能(AI):プラットフォーム毎、コンポーネント毎、採用モード毎、用途毎、産業垂直市場毎のAI市場 2018-2023年」は、人工知能市場の主要企業、利用ケース、ソリューション、様々な垂直市場にわたるアプリやサービスへの統合などについて記載している。北米の人工知能の機器や産業にわたる多数のハードウェア、ソフトウェア、サービスについて予測している。農業、課金決済、ネット接続自動車、エネルギー管理、エンターテインメント、産業用機械・ロボット、医療、軍事、ネットワーク、セキュリティ、スマート機器、スマートドローン、スマートグリッド、ウェアラブルなどの様々な機器に使用されている人工知能について予測している。
目次(抜粋)
人工知能の市場概観
技術の影響分析
市場と用途分析
北米の人工知能市場予測
Overview:
Artificial Intelligence (AI) represents machine-based intelligence, typically manifest in "cognitive" functions that humans associate with other human minds. There are a range of different technologies involved in AI including Machine Learning, Natural Language Processing, Deep Learning, and more. One of the primary drivers for AI is automated machine-driven decisions. Consequently, AI is rapidly making its way into many advanced solutions including autonomous vehicles, smart bots, advanced predictive analytics, and more. Some of the more well-known companies leading the way in the United States include IBM, Intel, Microsoft, Siemens, and others.

This report evaluates the AI marketplace including leading companies, use cases, solutions, and integration into many different apps and services across industry verticals. The report provides forecasts for AI in North America including hardware, software, and services across an array of devices and industries. Forecasts for AI in devices includes Agriculture, Billing and Settlement, Connected Vehicles, Energy Management, Entertainment, Industrial Machines and Robots, Medical, Military, Networks, Security, Smart Appliances, Smart Drones, Smart Grid, Wearables and more. All purchases of Mind Commerce reports includes time with an expert analyst who will help you link key findings in the report to the business issues you're addressing. This needs to be used within three months of purchasing the report.
Select Report Findings:
• North America will lead the AI market with 34% market share by 2023
• The growth rate for non-IoT devices vs. IoT will be roughly the same through 2023
• Important area for AI growth: Smart Machine generated business content will reach 30% by 2023
• AI in Manufacturing will support Activity, Energy, and Temperature Monitoring and other key areas
• Product Recommendation and Planning will be the second fastest growing area for AI in the retail sector
Report Benefits:
• AI in North America forecasts 2018 to 2023
• Identify AI market trends, challenges, and opportunities
• Identify leading AI hardware, software, and service providers
• Analysis of AI value chain, technology readiness, use cases, apps and services
• Know the full stack AI vendor landscape including AI core technology and supporting technology
• Understand the relationship between 5G, AI, Big Data, Edge Computing, IoT, Smart Machines, Robotics
Target Audience:
• AI companies
• Robotics companies
• Investment organizations
• Data management vendors
• Industrial automation companies
• Enterprise across all industry verticals

目次
1 Introduction
1.1 Executive Summary
1.2 Research Objectives
1.3 Select Findings
1.4 Target Audience
1.5 Companies in the Report
2 Overview
2.1 Defining Artificial Intelligence
2.2 Artificial General Intelligence
2.3 Artificial Super Intelligence
2.4 Artificial Intelligence Types
2.5 Artificial Intelligence Language
2.6 Artificial Intelligence Systems
2.7 AI Outcomes and Enterprise Benefits
2.8 Conversational User Interface
2.9 Cognitive Computing and Swarm Intelligence
2.10 AI Market Drivers and Impact
2.11 AI Market Constraints
2.12 AI Market Opportunities
2.13 AI Market Outlook and Predictions
3 Technology Impact Analysis
3.1 AI Technology Matrix
3.1.1 Machine Learning
3.1.2 Natural Language Processing
3.1.3 Computer Vision
3.1.4 Speech Recognition
3.1.5 Context Aware Processing
3.1.6 Artificial Neural Network
3.1.7 Predictive APIs
3.1.8 Autonomous Robotics
3.2 AI Technology Readiness
3.3 Machine Learning APIs
3.3.1 IBM Watson API
3.3.2 Microsoft Azure Machine Learning API
3.3.3 Google Prediction API
3.3.4 Amazon Machine Learning API
3.3.5 BigML
3.3.6 AT&T Speech API
3.3.7 Wit.ai
3.3.8 AlchemyAPI
3.3.9 Diffbot
3.3.10 PredictionIO
3.3.11 General Application Environment
3.4 AI Technology Goal
3.5 AI Tools and Approaches
3.6 Emotion AI
3.6.1 Facial Detection APIs
3.6.2 Text Recognition APIs
3.6.3 Speech Recognition APIs
3.7 IoT Application and Big Data Analytics
3.8 Data Science and Predictive Analytics
3.9 Edge Computing and 5G Network
3.10 Cloud Computing and Machine Learning
3.11 Smart Machine and Virtual Twinning
3.12 Factory Automation and Industry 4.0
3.13 Building Automation and Smart Workplace
3.14 Cloud Robotics and Public Security
3.15 Self Driven Network and Domain Specific Network
3.16 Predictive 3D Design
4 Market and Application Analysis
4.1 AI Market Landscape
4.1.1 Embedded Device and Things
4.1.2 AI Software and Platform
4.1.3 AI Component and Chipsets
4.1.4 AI Service and Deployment
4.2 AI Application Delivery Platform
4.3 AIaaS and MLaaS
4.4 Enterprise Adoption and External Investment
4.5 Enterprise AI Drive Productivity Gains
4.6 AI Patent and Regulatory Framework
4.7 Value Chain Analysis
4.7.1 Artificial Intelligence Companies
4.7.2 IoT Companies and Suppliers
4.7.3 Data Analytics Providers
4.7.4 Connectivity Infrastructure Providers
4.7.5 Components and Chipsets Manufacturers
4.7.6 Software Developers and Data Scientists
4.7.7 End Users
4.8 Industry Applications
4.9 AI Use Case Analysis
4.10 Competitive Landscape Analysis
5 North America AI Market Forecasts 2018 – 2023
5.1 North America AI Market by Device, Component, Software, Service, Technology, AI System, AI Category, Industry App, and Country
5.2 North America AI Embedded Connected IoT Device Deployment 2018 – 2023
5.3 North America AI Embedded Connected IoT Things and Objects Deployment 2018 – 2023
6 Company Analysis
6.1 NVIDIA Corporation
6.2 IBM Corporation
6.3 Intel Corporation
6.4 Samsung Electronics Co Ltd.
6.5 Microsoft Corporation
6.6 Google Inc.
6.7 Baidu Inc.
6.8 Qualcomm Incorporated
6.9 Huawei Technologies Co. Ltd.
6.10 Fujitsu Ltd.
6.11 H2O.ai
6.12 Juniper Networks, Inc.
6.13 Nokia Corporation
6.14 ARM Limited
6.15 Hewlett Packard Enterprise (HPE)
6.16 Oracle Corporation
6.17 SAP
6.18 Siemens AG
6.19 Apple Inc.
6.20 General Electric (GE)
6.21 ABB Ltd.
6.22 LG Electronics
6.23 Koninklijke Philips N.V
6.24 Whirlpool Corporation
6.25 AB Electrolux
6.26 Wind River Systems Inc.
6.27 Cumulocity GmBH
6.28 Digital Reasoning Systems Inc.
6.29 SparkCognition Inc.
6.30 KUKA AG
6.31 Rethink Robotics
6.32 Motion Controls Robotics Inc.
6.33 Panasonic Corporation
6.34 Haier Group Corporation
6.35 Miele
6.36 Next IT Corporation
6.37 Nuance Communications Inc.
6.38 InteliWISE
6.39 Facebook Inc.
6.40 Salesforce
6.41 Amazon Inc.
6.42 SK Telecom
6.43 motion.ai
6.44 Buddy
6.45 AOL Inc.
6.46 Tesla Inc.
6.47 Inbenta Technologies Inc.
6.48 Cisco Systems
6.49 MAANA
6.50 Veros Systems Inc.
6.51 PointGrab Ltd.
6.52 Tellmeplus
6.53 Xiaomi Technology Co. Ltd.
6.54 Leap Motion Inc.
6.55 Atmel Corporation
6.56 Texas Instruments Inc.
6.57 Advanced Micro Devices (AMD) Inc.
6.58 XILINX Inc.
6.59 Omron Adept Technology
6.60 Gemalto N.V.
6.61 Micron Technology
6.62 SAS Institute Inc.
6.63 AIBrian Inc.
6.64 QlikTech International AB
6.65 MicroStrategy Incorporated
6.66 Brighterion Inc.
6.67 IPsoft Inc.
6.68 24/7.ai Inc.
6.69 General Vision Inc.
6.70 Sentient Technologies Holdings Limited
6.71 Graphcore
6.72 CloudMinds
6.73 Rockwell Automation Inc.
6.74 Tend.ai
6.75 SoftBank Robotics Holding Corp.
6.76 iRobot Corp.
6.77 Lockheed Martin
6.78 SpaceX
7 Conclusions and Recommendations
7.1 Advertisers and Media Companies
7.2 Artificial Intelligence Providers
7.3 Automotive Companies
7.4 Broadband Infrastructure Providers
7.5 Communication Service Providers
7.6 Computing Companies
7.7 Data Analytics Providers
7.8 Equipment (AR, VR, and MR) Providers
7.9 Networking Equipment Providers
7.10 Networking Security Providers
7.11 Semiconductor Companies
7.12 IoT Suppliers and Service Providers
7.13 Software Providers
7.14 Smart City System Integrators
7.15 Automation System Providers
7.16 Social Media Companies
7.17 Workplace Solution Providers
7.18 Large Businesses and SMBs
Figures
Figure 1: Supervised, Unsupervised, and Reinforcement Learning
Figure 2: AI Technology Matrix
Figure 3: AI Technology Readiness Matrix
Figure 4: AI Technology Goals and Outcomes
Figure 5: Deep Leaning and Emotion AI
Figure 6: AI Predictive Analytics Layer
Figure 7: 5G NR Requirement for AI Network
Figure 8: AI Driven Smart Machine Landscape
Figure 9: IIoT Machine Learning as a Service Landscape
Figure 10: AI Smart Workplace Automation Landscape
Figure 11: AI Device and Things Matrix
Figure 12: AI Software and Platform Matrix
Figure 13: AI Component and Chipsets Matrix
Figure 14: AI Application Matrix
Figure 15: AI Driven Enterprise Productivity Gain 2018 - 2023
Figure 16: AI Supervised Human Worker 2018 – 2023
Figure 17: AI Industry Application Matrix
Figure 18: AI Vendor Landscape
Tables
Table 1: AI External Investment 2018 – 2023
Table 2: AI Driven Economic Transaction Percentage 2018 - 2023
Table 3: AI Business Analytics Software Percentage 2018 – 2023
Table 4: AI Self Service Visual Discovery 2018 - 2023
Table 5: AI Building Security System Percentage 2018 - 2023
Table 6: AI Generated Business Content Percentage 2018 – 2023
Table 7: AI Patent Leaders
Table 8: Artificial Intelligence Landscape and Impact
Table 9: North America Artificial Intelligence Market by Segment 2018 – 2023
Table 10: North America Artificial Intelligence Market by Hardware Type 2018 – 2023
Table 11: North America Artificial Intelligence Market by Embedded Device Type 2018 – 2023
Table 12: North America Artificial Intelligence Market by Embedded Non-IoT Device Type 2018 – 2023
Table 13: North America Artificial Intelligence Market by Embedded IoT Device Type 2018 – 2023
Table 14: North America Artificial Intelligence Market by Embedded Wearable Device Type 2018 – 2023
Table 15: North America Artificial Intelligence Market by Embedded Medical and Healthcare Device Type 2018 – 2023
Table 16: North America Artificial Intelligence Market by Embedded Appliances Type 2018 – 2023
Table 17: North America Artificial Intelligence Market by Embedded Industrial Machine Type 2018 – 2023
Table 18: North America Artificial Intelligence Market by Embedded Entertainment Device Type 2018 – 2023
Table 19: North America Artificial Intelligence Market by Embedded Security Device Type 2018 – 2023
Table 20: North America Artificial Intelligence Market by Embedded Network Device Type 2018 – 2023
Table 21: North America Artificial Intelligence Market by Embedded Connected Vehicle Device Type 2018 – 2023
Table 22: North America Artificial Intelligence Market by Embedded Smart Grid Device Type 2018 – 2023
Table 23: North America Artificial Intelligence Market by Embedded Military Device Type 2018 – 2023
Table 24: North America Artificial Intelligence Market by Embedded Energy Management Device Type 2018 – 2023
Table 25: North America Artificial Intelligence Market by Embedded Agriculture Specific Device Type 2018 – 2023
Table 26: North America Artificial Intelligence Market by Embedded Industrial IoT Device Type 2018 – 2023
Table 27: North America Artificial Intelligence Market by Embedded IoT Things and Objects Type 2018 – 2023
Table 28: North America Artificial Intelligence Market by Embedded Components Type 2018 – 2023
Table 29: North America Artificial Intelligence Market by Embedded Processors Type 2018 – 2023
Table 30: North America Artificial Intelligence Embedded Chipsets Market by Technology 2018 – 2023
Table 31: North America Artificial Intelligence Embedded Chipsets Market by Machine Learning Technology 2018 – 2023
Table 32: North America Artificial Intelligence Market by Software Type 2018 – 2023
Table 33: North America Artificial Intelligence Application Embedded Software Market by Application Type 2018 – 2023
Table 34: North America Artificial Intelligence Application Embedded Software Market by Deployment Type 2018 – 2023
Table 35: North America Artificial Intelligence Market by AI Platform Type 2018 – 2023
Table 36: North America Artificial Intelligence Market by Service Type 2018 – 2023
Table 37: North America Artificial Intelligence Market by Professional Service Type 2018 – 2023
Table 38: North America Artificial Intelligence Market by AI Technology Type 2018 – 2023
Table 39: North America Artificial Intelligence Market by Machine Learning Technology Type 2018 – 2023
Table 40: North America Artificial Intelligence Market by AI System Type 2018 – 2023
Table 41: North America Artificial Intelligence Market by AI Category 2018 – 2023
Table 42: North America Artificial Intelligence Market by End User Industry 2018 – 2023
Table 43: North America Artificial Intelligence Market by Medical and Healthcare Application 2018 – 2023
Table 44: North America Artificial Intelligence Market by Manufacturing Application 2018 – 2023
Table 45: North America Artificial Intelligence Market by Consumer Electronics Application 2018 – 2023
Table 46: North America Artificial Intelligence Market by Automotive and Transportation Application 2018 – 2023
Table 47: North America Artificial Intelligence Market by Retail Application 2018 – 2023
Table 48: North America Artificial Intelligence Market by Marketing Application 2018 – 2023
Table 49: North America Artificial Intelligence Market by FinTech Application 2018 – 2023
Table 50: North America Artificial Intelligence Market by Building and Construction Application 2018 – 2023
Table 51: North America Artificial Intelligence Market by Agriculture Application 2018 – 2023
Table 52: North America Artificial Intelligence Market by Security and Surveillance Application 2018 – 2023
Table 53: North America Artificial Intelligence Market by Government and Military Application 2018 – 2023
Table 54: North America Artificial Intelligence Market by Human Resource Application 2018 – 2023
Table 55: North America Artificial Intelligence Market by Law Application 2018 – 2023
Table 56: North America Artificial Intelligence Market by Telecommunication and IT Application 2018 – 2023
Table 57: North America Artificial Intelligence Market by Oil, Gas and Mining Application 2018 – 2023
Table 58: North America Artificial Intelligence Market by Logistics Application 2018 – 2023
Table 59: North America Artificial Intelligence Market by Education Application 2018 – 2023
Table 60: North America AI Market by Consumer, Enterprise, Industrial, and Government Sector 2018 – 2023
Table 61: North America Artificial Intelligence Market by Country 2018 – 2023
Table 62: North America Artificial Intelligence Market by Country 2018 – 2023
Table 63: North America AI Embedded Connected IoT Device Deployment by Country 2018 - 2023
Table 64: North America AI Embedded Connected IoT Things and Objects Deployment by Country 2018 - 2023