サマリー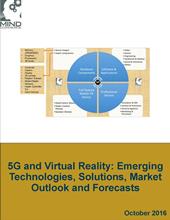 米国調査会社マインドコマース(Mind Commerce)の調査レポート「5Gと仮想現実(バーチャルリアリティ):新しい技術、ソリューション、市場概観、市場予測」は、揺籃期にある5G=VRベースの市場と5G世代以降における5Gの受入れが加速する市場について概説している。2021年までの仮想現実(バーチャルリアリティ)の市場をセグメント毎、アプリケーション毎、地域毎に予測し、同時期のVRの出荷数とアクティブユーザ数も予測している。
目次(抜粋)
仮想現実(バーチャルリアリティ)の5Gへの貢献
5G世代後のVRエコシステム
5G世代後のVR市場概観
5G世代後のVRアプリケーションの将来性
企業のイニシアチブとVRソリューション分析
Overview:
Virtual Reality (VR) technology and applications will undergo a substantial transformation during the pre-5G era, leading to mass adoption of full featured, mobile supported, and fully immersive VR technologies in post-5G era starting 2020 (along with the commercial deployment of 5G).
5G is expected to reduce network latency significantly, which will enable many previously tethered-only applications and services such as streaming 4K video, real-time remote control, haptic or tactile communications, and more. Coupled with the deployment of gigabit Ethernet fiber, 5G will transform the VR market, leading to a fully immersive experience with haptic capabilities becoming imbedded in many applications.
This research evaluates both the pre-5G VR base market as well as the what Mind Commerce refers to as the 5G Accelerated Uptake market in post-5G era. The report provides forecasting for VR by segments, applications, and regions including revenue forecasts for the period of 2021 – 2026. The report also forecasts VR shipment units and active users for the same period.
Key Findings:
The base market for VR will reach 978M users by 2026
The accelerated update due to 5G will lead to $72B revenue by 2026
The combination of gigabit Ethernet and 5G to catapult VR penetration
Semiconductor components will lead the H/W market with 40% market share
Consumer VR apps to maintain a substantial lead over enterprise and industrial
Report Benefits:
Forecasts for base VR and post-5G VR market
Understand how 5G will impact VR apps and services
Identify opportunities for VR across industry verticals
Recognize the impact of untethered VR apps and services
Identify leading technologies and Apps benefitting from 5G VR
Identify leading VR component, solution, app, and service providers
Target Audience:
Broadband suppliers
Virtual reality companies
Electronics manufacturers
Network service providers
Regulatory and policy groups
Artificial intelligence providers
Application and content providers
目次
Table of Contents:
1 Executive Summary
2 Introduction and 5G Contribution to VR
2.1 VR Acceleration Curve: Experiment to Experience
2.2 5G Promises to VR Application
2.2.1 Wireless Network Requirement Parameters for VR
2.2.2 Capacitive Sensing and Touch Sensor Technology
2.3 Proliferation of Full Feature Device and Mixed Reality
2.4 Emergence of Eyewear VR Devices
2.5 VR to be Immersive Social Communication Platform
2.6 360 video VR experience will Play Pivotal Role
2.7 Real Time VR will Kick-off the Market
2.8 5G to Allow Full HD Streaming and 4K Video for VR
2.9 5G to Take Haptic Experience Mainstream in VR Application
2.10 5G to allow Network Operators to Play Pivotal Role into VR Ecosystem
2.11 5G to Support Drone and Telerobotic into VR Ecosystem
2.12 Chip Manufacturer to Play Important Role
2.13 Increasing role of VR Service Players
2.14 Wider adoption of VR Application in Diverse Sectors including Government & Public Sector
2.15 Virtual Privacy and Criminality will be New Battle Ground
3 VR Ecosystem in Post-5G Era
4 VR Market Outlook in Post-5G Era
4.1 Global VR Base Market
4.1.1 Combined Market Revenue 2021 – 2026
4.1.2 Combined Unit Shipment 2021 – 2026
4.1.3 Combined Active User 2021 – 2026
4.2 5G Accelerated VR Uptake Market
4.2.1 Market by Segments 2021 – 2026
4.2.1.1 Hardware Market
4.2.1.1.1 Full Feature Device including Haptic & Eyewear Devices
4.2.1.1.2 Hardware Components including Haptic Sensors & Semiconductor Components
4.2.1.2 Software & Application Market
4.2.1.3 Professional Service Market
4.2.2 VR Shipment Units 2021 – 2026
4.2.3 VR Active Users 2021 – 2026
4.2.4 Market by Region 2021 – 2026
4.2.4.1 North America Market
4.2.4.2 APAC Market
4.2.4.3 Europe Market
5 Potential VR Application in Post-5G Era
5.1 Consumer Application Market 2021 – 2026
5.1.1 Gaming
5.1.1.1 Pokemon Go Market Learning
5.1.2 Live Events
5.1.3 Video Entertainment
5.2 Enterprise Application Market 2021 – 2026
5.2.1 Retail Sector
5.2.2 Real Estate
5.2.3 Healthcare
5.2.4 Education
5.3 Industrial Application Market 2021 – 2026
5.3.1 Military
5.3.2 Engineering
5.3.3 Civil Aviation
5.3.4 Medical Industry
5.3.5 Agriculture
5.3.6 Government & Public Sector
6 Company Initiatives and VR Solution Analysis
6.1 Facebook
6.1.1 Social VR with Oculus Rift
6.1.2 Oculus Touch
6.1.3 Telecom Infra Project
6.2 Huawei Technologies
6.2.1 VR Headset
6.2.2 5G Vision and VR Focus
6.3 Qualcomm Inc.
6.4 ZTE Corporation
6.4.1 MEC Solution, Pre5G Capabilities and VR
6.5 Samsung Electronics
6.5.1 Gear VR, Milk VR and Project Beyond
6.6 Google
6.6.1 Google DayDream Platform
6.6.2 Expeditions
6.7 SK Telecom
6.8 LG Corporation
6.9 Nokia StarGazing VR Application
6.10 VREAL
6.11 Microsoft Corporation
6.11.1 HoloLens
6.12 Vuzix Corporation
6.12.1 Wearable Display Products
6.13 Cyber Glove Systems
6.13.1 Data Gloves Solution
6.13.2 Haptic Workstation
6.13.3 VR Software
6.14 Leap Motion, Inc.
6.14.1 Gesture Controller
6.14.2 Orion Software
6.15 Sensics, Inc.
6.15.1 VR Component and Product
6.15.2 OSVR Platform
6.16 Sixense Entertainment, Inc.
6.16.1 Sixense STEM
6.16.2 Sixense MakeVR
6.17 OSVR Platform
6.18 Intel Corporation
6.18.1 Project Alloy
6.19 Alcatel
6.19.1 VISION
6.19.2 360 Camera
6.20 Nvidia Corporation
6.20.1 VRWorks
6.21 BARCO
6.22 NGRAIN
6.23 StreamVR Platform
6.24 Analog Devices Inc.
6.25 Atmel Corporation
6.26 Cypress Semiconductor Corp
6.27 NXP
6.27.1 Acquisition of Freescale Semiconductor
6.28 Integrated Device Technology Inc
6.29 Maxim Integrated
6.30 NKK Switches
6.31 Rohm Semiconductor
6.32 Semtech Corporation
6.33 Texas Instruments
7 Conclusions and Market Recommendations
7.1 Recommendations for VR Market Players
7.2 Recommendations for Investment Community
Figures
Figure 1: VR Market Acceleration Curve: Experiment to Experience 2016 – 2025
Figure 2: 5G Use Cases and Requirements for Bandwidth & Latency
Figure 3: VR Scenario to Stream Live Sports Event
Figure 4: Wireless Network Requirement Parameters for VR Applications
Figure 5: Demonstration of Real Time VR Piloting Shuttlecraft across the Surface of Mars
Figure 6: VR Ecosystem Diagram for Post-5G Era: 2021 – 2026
Figure 7: VR Base Market Segments, Sub-segments and Components
Figure 8: Global VR Base Market Combined Revenue 2021 – 2026
Figure 9: Global VR Base Market Combined Unit Shipment 2021 – 2026
Figure 10: Global VR Base Market Active User 2021 – 2026
Figure 11: Global 5G Accelerated Uptake Market Revenue 2021 – 2026
Figure 12: Global 5G Accelerated VR Uptake Unit Shipment 2021 – 2026
Figure 13: Global 5G Accelerated VR Uptake Active Users 2021 – 2026
Tables
Table 1: Capacitive Sensing enabled Haptic Controller ICs
Table 2: Potential Manufactures or Providers in VR Ecosystem Components in Post-5G Era
Table 3: VR 5G Accelerated Uptake Market by Segment 2021 – 2026
Table 4: VR 5G Accelerated Hardware Uptake Market by Segment 2021 – 2026
Table 5: VR 5G Accelerated Device Uptake Market by Segment 2021 - 2026
Table 6: VR 5G Accelerated Components Uptake Market by Segment 2021 – 2026
Table 7: VR 5G Accelerated Software Uptake Market by Application 2021 – 2026
Table 8: VR 5G Accelerated Uptake Unit Shipment by Segment 2021 – 2026
Table 9: VR 5G Accelerated Uptake Unit Shipment by Devices 2021 - 2026
Table 10: VR 5G Accelerated Uptake Shipments by Component 2021 - 2026
Table 11: VR 5G Accelerated Uptake Shipments by App 2021 – 2026
Table 12: VR 5G Accelerated Uptake Users by Segment 2021 – 2026
Table 13: VR 5G Accelerated Uptake User by Device 2021 - 2026
Table 14: VR 5G Accelerated Uptake Users by Application 2021 - 2026
Table 15: VR 5G Accelerated Uptake Market by Region 2021 - 2026
Table 16: VR 5G Accelerated Uptake Units by Region 2021 - 2026
Table 17: VR 5G Accelerated Uptake Users by Region 2021 – 2026
Table 18: VR 5G Accelerated Uptake Market by North America Country 2021 - 2026
Table 19: VR 5G Accelerated Uptake Units by North America Country 2021 - 2026
Table 20: VR 5G Accelerated Uptake Users by North America Country 2021 – 2026
Table 21: VR 5G Accelerated Uptake Market by APAC Country 2021 - 2026
Table 22: VR 5G Accelerated Uptake Units by APAC Country 2021 – 2026
Table 23: VR 5G Accelerated Uptake Users by APAC Country 2021 – 2026
Table 24: VR 5G Accelerated Uptake Market by Europe Country 2021 - 2026
Table 25: VR 5G Accelerated Uptake Units by Europe Country 2021 - 2026
Table 26: VR 5G Accelerated Uptake Users by Europe Country 2021 - 2026
Table 27: VR 5G Accelerated Software Uptake Market by Consumer Applications 2021 – 2026
Table 28: VR 5G Accelerated Uptake Consumer Apps by Industry 2021 - 2026
Table 29: VR 5G Accelerated Uptake Consumer Apps User by Industry 2021 - 2026
Table 30: VR 5G Accelerated Software Uptake Market by Enterprise Applications 2021 – 2026
Table 31: VR 5G Accelerated Uptake Enterprise Apps Shipment by Industry 2021 - 2026
Table 32: VR 5G Accelerated Uptake Enterprise Apps User by Industry 2021 – 2026
Table 33: VR 5G Accelerated Software Uptake Market by Industrial Applications 2021 - 2026
Table 34: VR 5G Accelerated Uptake Industrial Apps Shipment by Industry 2021 - 2026
Table 35: VR 5G Accelerated Uptake Industrial Apps User by Industry 2021 – 2026