OSD市場調査 2019年:オプトエレクトロニクス、センサ、ディスクリート半導体市場分析・予測
O-S-D Report 2019
出版社
出版年月
電子版価格
ページ数
図表数
IC Insights
ICインサイツ社
2019年4月
US$7,290
マルチユーザコーポレートライセンス
350
240
サマリー
この調査レポートは、光エレクトロニクス、センサ/アクチュエータ(MEMSを含む)、ディスクリートの、3つの半導体製品市場(O-S-D)と技術について、調査・分析しています。
調査範囲
光エレクトロニクス
CCDとCMOSイメージセンサ
高輝度LEDと標準LED
レーザー送信機とピックアップ
赤外線装置
光カプラー、アイソレータ、光スイッチ
デジタル文字ディスプレイ
光センサーとその他の光デバイス
センサ/アクチュエータ
圧力センサ(MEMSベースのマイク機器を含む)
加速度センサ/ヨーセンサ
磁場センサ
MEMSベースアクチュエータ
その他のセンサ(例:温度、湿度、ガス監視チップ)
ディスクリート
パワートランジスタ/モジュール
小信号トランジスタ
スイッチングトランジスタ
ダイオード、整流器、サイリスタ
RF/マイクロ波トランジスタ/モジュール
主な掲載内容(目次より抜粋)
エグゼクティブサマリー
半導体市場展望
デバイスタイプ別OSD市場概要
光エレクトロニクス市場
センサとアクチュエータ市場
ディスクリート市場
光エレクトロニクス技術
センサとアクチュエータ技術
ディスクリート技術
Introduction
The semiconductor universe consists of integrated circuits (ICs) and optoelectronic, sensor, and discrete (O-S-D) components. Although often overlooked in the past, the O-S-D market segments now command more attention due to a number of high-growth product categories that have consistently outperformed ICs and several "hot" emerging technologies that have moved into volume production. Among these technologies are microelectromechanical systems (MEMS) for sensors and actuators and high-brightness light-emitting diodes (HB-LEDs) for solid-state lighting applications.
IC Insights' 2019 O-S-D Report covers all the product categories of the optoelectronics, sensors/actuators, and discretes markets, which together accounted for 16% of total semiconductor sales in 2018.
Key Findings Include:
With few exceptions, O-S-D's share of total semiconductor sales has slowly been trending higher since the end of the 1990s. In 2018, O-S-D products accounted for about 16.3% of total semiconductor sales. By 2023, O-S-D sales are projected to represent 16.5% of total semiconductor sales with the rest coming from ICs.
The O-S-D marketplace gained significant strength in 2018 with total sales rising 9% or about twice its annual average growth rate since the mid-1990s. In 2019, total combined revenues for optoelectronics, sensors/actuators, and discretes are forecast to climb 6%, which will make this the tenth year in a row for annual O-S-D sales to set a record-high level following the 2009 downturn year.
Optoelectronics growth will continue to be driven in the next five years by CMOS image sensors for embedded cameras, automotive safety, vision-based automation, and more powerful LEDs for solid-state lighting applications. The optoelectronics market is forecast to grow 7% to a new record-high level of $43.2 billion in 2019. Sensor growth was held in check by steep price erosion in recent years, but strong increases in unit shipments for new automated controls and IoT applications are expected to drive sales growth through 2023. The 2019 sensor/actuator market is forecast to grow 5%. The market for discrete semiconductors grew 11% in 2018. A return to stable growth in power transistors and other devices is expected to enhance this market over the next several years. The total discretes market is projected to rise 4% to $28.5 billion in 2019.
New fast-growing applications, such as solid-state lighting, machine-vision, image recognition, smart-grid energy, IoT, and multi-sensor "fusion" in intelligent portable systems are forecast to lift total O-S-D sales to $109.3 billion in 2023, which equates to a CAGR of 6% through the forecast.
Discover many facts like these in the O-S-D Report
Internet access to the report is included with every purchase!
The O-S-D Report is accessible over the Internet. Using the provided password, the valuable market data in the O-S-D Report can be viewed with any computer connected to the Internet. Documents are keyword searchable and include color graphs, tables, and illustrations. This is a great solution for those times when you're traveling.
Report Contents and Summaries
The O-S-D Report offers a substantial amount of information on many facets of the optoelectronic, sensor/actuator, and discrete industries. With 350 pages and more than 240 tables, graphs, and illustrations, the O-S-D Report provides a thorough look at market and technology trends related to O-S-D devices.
Included are an overview of the global semiconductor market outlook and cycles; extensive tables of market, unit, and pricing data through the year 2023; end-use application and regional market analysis; leading supplier rankings; device history and technology trends; diagrams and illustrations of devices and packages; and more!
Optoelectronics
• CCD and CMOS Image Sensors
• High-Brightness and Standard LEDs
• Laser Transmitters and Pick-Ups
• Infrared Devices
• Optocouplers, Isolators, Optical Switches
• Digital Character Displays
• Light Sensors and Other Opto Devices
Optoelectronics remains the second-largest semiconductor market behind ICs. This market continues to enjoy solid growth rates driven by the spread of image sensing, high-speed optical transmissions, and solid-state lighting. For the second year in a row, total optoelectronics sales increased by 9% with higher growth occurring in lamp devices (+11%), light sensors (+26%), and infrared products (+22%). Double-digit percentage growth was also seen in CMOS image sensors (+14%) in 2018. Laser transmitters and optocouplers/optical switches both registered solid growth (+8%). The total optoelectronics market segment is expected to grow by a CAGR of 7% between 2018 and 2023.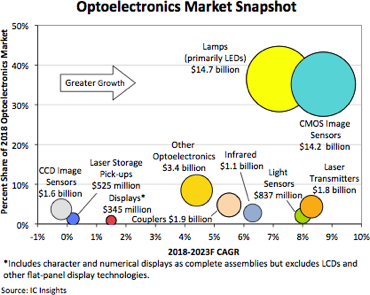 Sensors/Actuators
• Pressure Sensors (Including MEMS-based Microphone Devices)
• Acceleration/Yaw Sensors (For Consumer, Cellphones, Automotive, and Other Systems)
• Magnetic-Field Sensors (including compass chips)
• MEMS-based Actuators
• Other Sensors (e.g., Temperature, Humidity, and Gas Monitoring Chips)
High-volume applications and increased automation in intelligent systems are expanding the sensors and actuators market, but price erosion is expected to keep sales growth in check during the next five years. Total sensor sales grew 8% in 2018 after climbing 15% in 2017. The large and diverse actuator product category slowed to just 4% sales growth in 2018 after rising 18% in 2017. Products built with MEMS technology now generate about 83% of total sensors/acuators sales and just over half of this market's unit shipments worldwide. Intelligent embedded control, automation in cars, and the Internet of Things are expected to help expand total sensors/actuators sales by a CAGR of 8% through 2023 with unit volumes increasing by an average rate of 10% per year.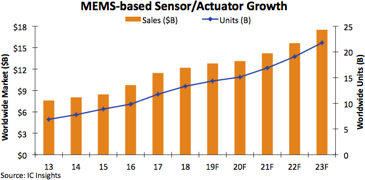 Discretes
• Power Transistors/Modules
• Small-Signal Transistors
• Switching Transistors
• Diodes, Rectifiers, and Thyristors
• RF/Microwave Transistors/Modules
The advent of ICs has certainly not put an end to growth in transistor products and other discretes. Only weak economic growth and uncertainty have derailed the commodity-filled discretes market. In 2018, shortages of power transistors, diodes, and other discretes boosted sales by 11% for the second year in a row. More normal growth of 4% is expected in 2019 with demand/supply of devices swinging back in balance by 2H19. Discretes sales are forecast to grow by a CAGR of 3% in the 2018-2023 period. In power discretes, a revolution is underway with GaN and SiC technologies replacing silicon transistors and more diodes for higher performance.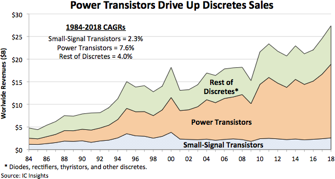 目次
Table of Contents
※詳細目次はデータリソースまでお申し付けください。
Section 1. Executive Summary..................................................1-1
Section 2. Semiconductor Market Outlook ........................2-1
Section 3. O--S--D Market Overview by Device Type .......3-1
Section 4. Optoelectronics Market .....................................4‐1
Section 5. Sensors and Actuators Market............................ 5-1
Section 6. Discretes Market ................................6‐1
Section 7. Optoelectronics Technology .................................7-1
Section 8. Sensors and Actuators Technology ..................8-1
Section 9. Discretes Technology ......................................9‐1
プレスリリース
Sensors/Actuators Reach Record Sales on Slower Growth
Nay 31, 2019
After two strong years, the sensor and actuator market has cooled off as a result of inventory drawdowns, slowing unit shipments, and economic uncertainty, says report.

Inventory corrections, slowing smartphone shipments, and pullbacks in purchase orders throttled sales growth in semiconductor sensors and actuators last year, resulting in a subpar 6% increase in 2018 to a record-high $14.7 billion after double-digit percentage gains in 2017 and 2016, according to IC Insights' 2019 O-S-D Report—A Market Analysis and Forecast for Optoelectronics, Sensors/Actuators, and Discretes.

The downtrend in sensor/actuator growth carried into the first quarter this year with worldwide sales rising by just 2% compared to the same three-month period in 2018, but this semiconductor market segment is expected to reclaim some strength in the next six months and increase 5% in 2019 to a new record-high $15.4 billion, says the 350-page O-S-D Report. After slowing to 3% growth in 2020 because of global economic weakness, sensor/actuator sales are expected to gradually regain stronger momentum between 2021 and 2023 to reach $21.1 billion in the next four years (Figure 1).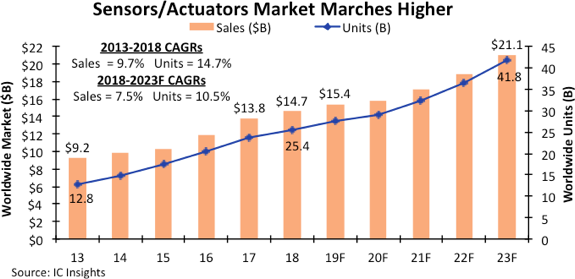 The 2019 O-S-D Report shows that total sensor sales grew 8% in 2018 to a record-high $9.1 billion after rising 15% in 2017 and 14% in 2016. Actuator revenues increased 4% last year to an all-time high of $5.5 billion, following strong increases of 18% in 2017 and 19% in 2016. Worldwide sales of sensors and actuators are both projected to grow about 5% in 2019 to reach $9.6 billion and $5.8 billion this year, respectively, according to the O-S-D Report's forecast. Non-optical sensors and actuators are placed in the same market category by the World Semiconductor Trade Statistics (WSTS) organization because these devices are transducers, converting one form of energy into another. (Image and light sensors are in WSTS's optoelectronics market category and not counted in the sensor/actuator numbers.)

About 83% of sensor and actuator sales in 2018 ($12.2 billion) came from semiconductors built with microelectromechanical systems (MEMS) technology. MEMS is used in pressure sensors (including microphone chips), accelerometers, gyroscope devices, and nearly all actuators. MEMS-based sensors and actuator sales grew 6% in 2018 after climbing 18% in 2017 and 15% in 2016, says the 2019 O-S-D Report. MEMS-based sensor/actuator sales are forecast to grow about 5% in 2019 to a record-high $12.8 billion, followed by a 3% increase in economically weak 2020, according IC Insights' report.

Sales growth among the three main sensor categories was led by pressure sensors (including MEMS microphone chips) with a 13% increase in 2018 to $3.3 billion, followed by acceleration/yaw sensors (accelerometers and gyroscope devices) with a 4% rise to $3.4 billion, and magnetic-field sensors (including electronic compass chips) with a 4.0% gain to $2.0 billion last year, says the O-S-D Report.

Report Details: The 2019 O-S-D Report
In a one-of-a-kind study, IC Insights continues to expand its coverage of the semiconductor industry with detailed analysis of trends and growth rates in the optoelectronics, sensors/actuators, and discretes market segments in its newly revised 350-page O-S-D Report—A Market Analysis and Forecast for the Optoelectronics, Sensors/Actuators, and Discretes.

Now in its 14th annual edition, the 2019 O-S-D Report contains a detailed forecast of sales, unit shipments, and selling prices for more than 30 individual product types and categories through 2023. Also included is a review of technology trends for each of the segments. The 2019 O-S-D Report, with more than 240 charts and figures, is attractively priced at $4,190 for an individual-user license and $7,290 for a multi-user corporate license.
お問合は、お電話またはWEBから承ります。お見積もりの作成もお気軽にご相談ください。