サマリー
株式会社ユーディーアール(Universal Data Resources Inc.)の発行するレポート「IoT Market in Japan- IoT Use Cases, Players, Market Outlook to 2022」は、日本におけるIoT市場を分析した英文の市場調査報告書です。実証実験を経て導入段階に移行しつつある日本のIoT市場について、市場規模と予測、日本政府の取組、IoT通信技術と日本企業、IoTセキュリティ、IoTの産業別使用事例、分野別主要企業の動向や戦略について分析しています。
※当レポートは英文の市場調査報告書です。同じテーマを追った別レポート(日本語版)の発行も予定しております。
ご興味のある方は弊社データリソースまでお知らせ下さい。
---

レポート概要
IoT(Internet of Things)という言葉を新聞、雑誌、ニュースサイト等で目にする機会が増えている。 2016年までは実証実験段階にあったIoTは、2017年に入り、あらゆる産業分野において、本格的な導入段階に入ったといえるだろう。
IoT の類似の概念はユビキタスコンピューティングやM2Mなど以前より提唱されてきた。日本においては、政府が2001 年に掲げた「e-Japan 戦略」やそれに続く「u-Japan 戦略」でユビキタスネットワーク社会構想として提唱してきた。センサネットワークや様々なIoT関連技術の研究が行われ、2015 年6 月には「日本再興戦略』改訂2015」の重要施策の一つとして、IoT への取り組みが掲げられた。
このIoT 時代の立ち上がりの背景としては、センサー、ネットワーク、コンピューティングに関わる3つのイノベーションが要因となっている。 安価で迅速に利用できるデバイス、通信技術、IoTプラットフォーム、クラウドサーバー及び人工知能を使うことで、大量かつ多種多様なデータをリアルタイムで収集し、高速なデータ分析・処理により、多様なビジネスモデルが成立するようになった。
本調査報告書では本格的に始動を開始した日本のIoT に関する2017年から2022年までの市場規模と予測、日本政府の取組、IoT通信技術と日本企業、IoTセキュリティ、IoTの産業別使用事例、分野別主要企業の動向や戦略について分析した。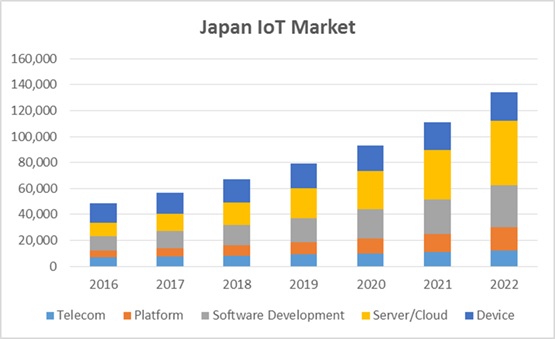 *円ドル換算レート: 1US$=110 yen
数値は日本のIoT市場におけるユーザー支出額で、2016年時点で4.8兆円 (約US$440億ドル)になる。今後、日本のIoT市場は本格的な導入が進み2022年には12.3兆円 (約US$1,120億ドル)になると予測される。
---
Report Description
Opportunities to see the word IoT (Internet of Things) with newspapers, magazines, news sites are increasing. IoT, which was in the verification experiment stage until 2016, has entered the full-scale introduction stage in all industrial fields in 2017.
Similar concepts of IoT have been proposed previously such as ubiquitous computing and M2M.
The Japanese government introduced the idea of a ubiquitous network society by creating "e-Japan strategy" in 2001 and then "u-Japan strategy". Research and development of sensor networks and various IoT related technologies was conducted, and in June 2015, as an important measure of "Japan revitalization strategy 2015", efforts to IoT was proposed.
Three innovations related to sensors, networks, and computing are responsible for IoT's full-fledged launch. 
By using inexpensive and quickly available devices, communication technology, IoT platform, cloud server and artificial intelligence, IT users can collect large volumes of various kinds of data in real time and realize different business models by rapid data analysis and processing.
In this survey report, UDR analyzes market size and forecast on Japan's IoT, efforts by the Japanese government, IoT's main communication technology (LPWA), IoT security, IoT use cases, trends and strategies of major companies by sector.
*Exchange Rate: 1US$=110 yen
The figure is the amount of user spending in Japan's IoT market, which is 4.8 Trillion Yen (about US $ 44 Billion) as of 2016. In the future, Japan's IoT market is expected to become 12.3 Trillion Yen (about US $ 112 Billion) in 2022 as full-scale introduction progresses.
---
Target Audiences
This report is recommended for the followings:
IoT device providers
IoT solution and service providers
Application developers
Network service operators
Datacenter and providers
Systems integration companies
Telecom and IT infrastructure suppliers
Enterprise companies of all type
Report Benefits:
Identify Japan's IoT Market Size
Forecast for Japan's IoT market by category
Understand the current status Japan's IoT
Understand IoT policy of the Japanese government
Identify leading IoT vendors in devices, telecom, platforms, software and services
目次
Chapter 1 Executive Summary
Chapter 2 Japan's IoT Market Size
Chapter 3 Efforts of Japanese Government
(1) IoT Promotion Consortium
(2) i-Construction
(3) Creating IoT private number
Chapter 4 IoT Communication Technology (LPWA)
(1) Sigfox
(2)LoRaWan
(3)RPMA (Random Phase Multiple Accesss)
(4)FlexNet
(5)LTE-LTE Cat-1, LTE Cat-M1, NB-IoT
Chapter 5 IoT and Security Issues
Chapter 6 IoT Use Cases by Industry
(1)Transport Industry
(i) Taxi demand forecast using IoT and AI
(ii) Parking lot search application "Smart Park"
(iii) Telematics service for fleet subscribers (Support NAVI)
(iv) Antitheft and car lease by vehicle remote control device
(2)Utility Industry
(i)Remote water meter reading by wireless network "FlexNet"
(ii)Cost savings in smart waste box
(iii) IoT detects signs of sewer flooding
(3)Agriculture Industry
(i)Demonstration experiment of mango cultivation utilizing LoRaWan
(ii)Water management support system (PaddyWatch) for paddy rice
(4)Manufaturing
(i)Machine tool maker, Okuma's smart sactory
(ii)Brewing using Sub-GHz communication and cloud service
(iii)Visualization of warehouse with high precision real time measurement
(5)Construction and Mining Industry
Construction and mining machine remote control system using 5G
(6)Health Care Industry
(i)Establishment of big data access and a patient care system
(ii)Remote monitoring of AED using LTE line
(7) Retailing Industry
(i)Dough temperature control of home delivery pizza chain
(ii)Introduced mobile line (LoRaWAN) in POS register
(8) Real Estate Industry
Smart housing utilizing IoT
Chapter 7 Major IoT Companies
(1) Device Manufacturer
Murata Manufacturing
ROHM
(2)Telecommunication Company
NTT Docomo
KDDI Corporation
Softbank
Kyocera Communications
SORACOM
(3)Platform Operator
IBM Japan
Amazon Data Service Japan
Microsoft
(4)Software Developer
Fujitsu
NTT Data
NEC
Hitachi
(5) Server / Cloud Service Provider
Sakura Internet
NTT Communications
Chapter 8 IoT Research & Development Trends
R & D trend from the viewpoint of patent application
Patent Filings by type of business
Number of patents by enterprise
---
Author:Takao Ogura
Takao Ogura is the executive vice president of Universal Data Resources Inc. Takao has spent the last fifteen years at the interface of technology, innovation, and marketing research. He is a graduate of Boston University with a degree in International Relations.
About Universal Data Resources Inc.
Universal Data Resources Inc. is a Japan-based market intelligence firm that focuses on emerging technology and market. The company's market research and consulting services provide industry participants and stakeholders with in-depth analysis of emerging technology trends, business issues, market drivers, and end-user demand dynamics across multiple application domains including home, mobile, health, automotive, enterprise, and industrial markets.