サマリー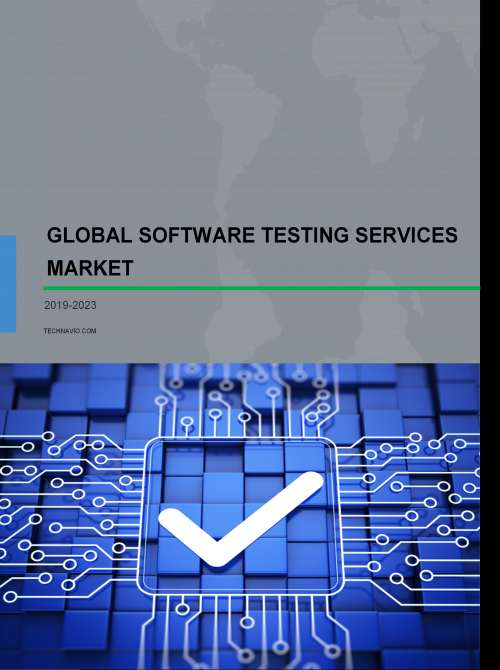 この調査レポートは世界のソフトウェア試験サービス市場を分析・予測したテクナビオ(TechNavio)の市場調査報告書です。

Global Software Testing Services Market: About this market
Technavio's software testing services market analysis considers sales from application testing and product testing. Our analysis also considers the sales of software testing services in APAC, Europe, North America, South America, and MEA. In 2018, the application testing segment had a significant market share, and this trend is expected to continue over the forecast period. Factors such as the adoption of smartphones and rising app economy will play a significant role in the application testing segment to maintain its market position. Also, our global software testing services market report looks at factors such as increasing adoption of mobile testing, availability of cloud-based software testing services, and rise in test automation services. However, availability of open-source and free testing tools, security concerns regarding outsourced testing services, and complexities involved in test planning and estimation may hamper the growth of the software testing services industry over the forecast period.
Global Software Testing Services Market: Overview
The rise in test automation services
Test automation services reduced the testing turnaround time and enhance the efficiency of testing software. The main objective of the test automation services is to reduce manual intervention and improve the testing output. These services help in reducing investments in testing enables the companies to run the test scripts anytime and enhances productivity and software quality. This increase in the demand for test automation services will lead to the expansion of the global software testing services market at a CAGR of over 12% during the forecast period.
Use of AI and ML in the software testing process
The integration of AI and ML in software testing processes has enhanced the efficiency and accuracy of testing services. Due to the increase in adoption of mobile applications, web applications, and software vendors are investing heavily in integrating new technologies, such as AI and ML, in their offerings, to provide high-quality software and applications to the customers. AI and ML technologies are used to collect, study, and analyze data to perform testing services, such as regression testing and performance testing. This development is expected to have a positive impact on the overall market growth.
Competitive Landscape
With the presence of several major players, the global software testing services market is fragmented. Technavio's robust vendor analysis is designed to help clients improve their market position, and in line with this, this report provides a detailed analysis of several leading software testing services manufacturers, that include Accenture Plc, Atos SE, Capgemini SE, Cognizant Technology Solutions Corp., DXC Technology Co., HCL Technologies Ltd., IBM Corp., Infosys Ltd., Tata Consultancy Services Ltd., Wipro Ltd.
Also, the software testing services market analysis report includes information on upcoming trends and challenges that will influence market growth. This is to help companies strategize and leverage on all forthcoming growth opportunities.
目次
PART 01: EXECUTIVE SUMMARY
PART 02 : SCOPE OF THE REPORT
- 2.1 Preface
- 2.2 Preface
- 2.3 Currency conversion rates for US$
PART 03 : MARKET LANDSCAPE
- Market ecosystem
- Market characteristics
- Market segmentation analysis
PART 04 : MARKET SIZING
- Market definition
- Market sizing 2018
- Market size and forecast 2018-2023
PART 05 : FIVE FORCES ANALYSIS
- Bargaining power of buyers
- Bargaining power of suppliers
- Threat of new entrants
- Threat of substitutes
- Threat of rivalry
- Market condition
PART 06 : MARKET SEGMENTATION BY PRODUCT
- Market segmentation by product
- Comparison by product
- Application testing - Market size and forecast 2018-2023
- Product testing - Market size and forecast 2018-2023
- Market opportunity by product
PART 07 : CUSTOMER LANDSCAPE
PART 08 : MARKET SEGMENTATION BY END-USER
- Market segmentation by end-user
- Comparison by end-user
- BFSI - Market size and forecast 2018-2023
- Telecom and media - Market size and forecast 2018-2023
- Manufacturing - Market size and forecast 2018-2023
- Retail - Market size and forecast 2018-2023
- IT - Market size and forecast 2018-2023
- Other end-users - Market size and forecast 2018-2023
- Market opportunity by end-user
PART 09 : GEOGRAPHIC LANDSCAPE
- Geographic segmentation
- Geographic comparison
- North America - Market size and forecast 2018-2023
- Europe - Market size and forecast 2018-2023
- APAC - Market size and forecast 2018-2023
- South America - Market size and forecast 2018-2023
- MEA - Market size and forecast 2018-2023
- Key leading countries
- Market opportunity
PART 10 : DRIVERS AND CHALLENGES
- Market drivers
- Market challenges
PART 11 : MARKET TRENDS
- Growing momentum of crowdsourced testing
- Use of AI and ML in software testing process
- Increase in adoption of Agile testing
PART 12 : VENDOR LANDSCAPE
- Overview
- Landscape disruption
PART 13 : VENDOR ANALYSIS
- Vendors covered
- Vendor classification
- Market positioning of vendors
- Accenture Plc
- Atos SE
- Capgemini SE
- Cognizant Technology Solutions Corp.
- DXC Technology Co.
- HCL Technologies Ltd.
- IBM Corp.
- Infosys Ltd.
- Tata Consultancy Services Ltd.
- Wipro Ltd.
PART 14: APPENDIX
- Research methodology
- List of abbreviations
- Definition of market positioning of vendors
PART 15: EXPLORE TECHNAVIO

-
Exhibit 01: Product offerings from vendors
Exhibit 02: Global information technology (IT) services market
Exhibit 03: Segments of global information technology (IT) services market
Exhibit 04: Market characteristics
Exhibit 05: Market segments
Exhibit 06: Market definition - Inclusions and exclusions checklist
Exhibit 07: Market size 2018
Exhibit 08: Global market: Size and forecast 2018-2023 ($ billions)
Exhibit 09: Global market: Year-over-year growth 2019-2023 (%)
Exhibit 10: Five forces analysis 2018
Exhibit 11: Five forces analysis 2023
Exhibit 12: Bargaining power of buyers
Exhibit 13: Bargaining power of suppliers
Exhibit 14: Threat of new entrants
Exhibit 15: Threat of substitutes
Exhibit 16: Threat of rivalry
Exhibit 17: Market condition - Five forces 2018
Exhibit 18: Product - Market share 2018-2023 (%)
Exhibit 19: Comparison by product
Exhibit 20: Application testing - Market size and forecast 2018-2023 ($ billions)
Exhibit 21: Application testing - Year-over-year growth 2019-2023 (%)
Exhibit 22: Product testing - Market size and forecast 2018-2023 ($ billions)
Exhibit 23: Product testing - Year-over-year growth 2019-2023 (%)
Exhibit 24: Market opportunity by product
Exhibit 25: Customer landscape
Exhibit 26: End-user - Market share 2018-2023 (%)
Exhibit 27: Comparison by end-user
Exhibit 28: BFSI - Market size and forecast 2018-2023 ($ billions)
Exhibit 29: BFSI - Year-over-year growth 2019-2023 (%)
Exhibit 30: Telecom and media - Market size and forecast 2018-2023 ($ billions)
Exhibit 31: Telecom and media - Year-over-year growth 2019-2023 (%)
Exhibit 32: Manufacturing - Market size and forecast 2018-2023 ($ billions)
Exhibit 33: Manufacturing - Year-over-year growth 2019-2023 (%)
Exhibit 34: Retail - Market size and forecast 2018-2023 ($ billions)
Exhibit 35: Retail - Year-over-year growth 2019-2023 (%)
Exhibit 36: IT - Market size and forecast 2018-2023 ($ billions)
Exhibit 37: IT - Year-over-year growth 2019-2023 (%)
Exhibit 38: Other end-users - Market size and forecast 2018-2023 ($ billions)
Exhibit 39: Other end-users - Year-over-year growth 2019-2023 (%)
Exhibit 40: Market opportunity by end-user
Exhibit 41: Market share by geography 2018-2023 (%)
Exhibit 42: Geographic comparison
Exhibit 43: North America - Market size and forecast 2018-2023 ($ billions)
Exhibit 44: North America - Year-over-year growth 2019-2023 (%)
Exhibit 45: Europe - Market size and forecast 2018-2023 ($ billions)
Exhibit 46: Europe - Year-over-year growth 2019-2023 (%)
Exhibit 47: APAC - Market size and forecast 2018-2023 ($ billions)
Exhibit 48: APAC - Year-over-year growth 2019-2023 (%)
Exhibit 49: South America - Market size and forecast 2018-2023 ($ billions)
Exhibit 50: South America - Year-over-year growth 2019-2023 (%)
Exhibit 51: MEA - Market size and forecast 2018-2023 ($ billions)
Exhibit 52: MEA - Year-over-year growth 2019-2023 (%)
Exhibit 53: Key leading countries
Exhibit 54: Market opportunity
Exhibit 55: Impact of drivers and challenges
Exhibit 56: Vendor landscape
Exhibit 57: Landscape disruption
Exhibit 58: Vendors covered
Exhibit 59: Vendor classification
Exhibit 60: Market positioning of vendors
Exhibit 61: Accenture Plc - Vendor overview
Exhibit 62: Accenture Plc - Business segments
Exhibit 63: Accenture Plc - Organizational developments
Exhibit 64: Accenture Plc - Geographic focus
Exhibit 65: Accenture Plc - Segment focus
Exhibit 66: Accenture Plc - Key offerings
Exhibit 67: Atos SE - Vendor overview
Exhibit 68: Atos SE - Business segments
Exhibit 69: Atos SE - Organizational developments
Exhibit 70: Atos SE - Geographic focus
Exhibit 71: Atos SE - Segment focus
Exhibit 72: Atos SE - Key offerings
Exhibit 73: Capgemini SE - Vendor overview
Exhibit 74: Capgemini SE - Product segments
Exhibit 75: Capgemini SE - Organizational developments
Exhibit 76: Capgemini SE - Geographic focus
Exhibit 77: Capgemini SE - Segment focus
Exhibit 78: Capgemini SE - Key offerings
Exhibit 79: Cognizant Technology Solutions Corp. - Vendor overview
Exhibit 80: Cognizant Technology Solutions Corp. - Business segments
Exhibit 81: Cognizant Technology Solutions Corp. - Organizational developments
Exhibit 82: Cognizant Technology Solutions Corp. - Geographic focus
Exhibit 83: Cognizant Technology Solutions Corp. - Segment focus
Exhibit 84: Cognizant Technology Solutions Corp. - Key offerings
Exhibit 85: DXC Technology Co. - Vendor overview
Exhibit 86: DXC Technology Co. - Business segments
Exhibit 87: DXC Technology Co. - Organizational developments
Exhibit 88: DXC Technology Co. - Geographic focus
Exhibit 89: DXC Technology Co. - Segment focus
Exhibit 90: DXC Technology Co. - Key offerings
Exhibit 91: HCL Technologies Ltd. - Vendor overview
Exhibit 92: HCL Technologies Ltd. - Business segments
Exhibit 93: HCL Technologies Ltd. - Organizational developments
Exhibit 94: HCL Technologies Ltd. - Geographic focus
Exhibit 95: HCL Technologies Ltd. - Segment focus
Exhibit 96: HCL Technologies Ltd. - Key offerings
Exhibit 97: IBM Corp. - Vendor overview
Exhibit 98: IBM Corp. - Business segments
Exhibit 99: IBM Corp. - Organizational developments
Exhibit 100: IBM Corp. - Geographic focus
Exhibit 101: IBM Corp. - Segment focus
Exhibit 102: IBM Corp. - Key offerings
Exhibit 103: Infosys Ltd. - Vendor overview
Exhibit 104: Infosys Ltd. - Business segments
Exhibit 105: Infosys Ltd. - Organizational developments
Exhibit 106: Infosys Ltd. - Geographic focus
Exhibit 107: Infosys Ltd. - Segment focus
Exhibit 108: Infosys Ltd. - Key offerings
Exhibit 109: Tata Consultancy Services Ltd. - Vendor overview
Exhibit 110: Tata Consultancy Services Ltd. - Business segments
Exhibit 111: Tata Consultancy Services Ltd. - Organizational developments
Exhibit 112: Tata Consultancy Services Ltd. - Geographic focus
Exhibit 113: Tata Consultancy Services Ltd. - Segment focus
Exhibit 114: Tata Consultancy Services Ltd. - Key offerings
Exhibit 115: Wipro Ltd. - Vendor overview
Exhibit 116: Wipro Ltd. - Business segments
Exhibit 117: Wipro Ltd. - Organizational developments
Exhibit 118: Wipro Ltd. - Geographic focus
Exhibit 119: Wipro Ltd. - Segment focus
Exhibit 120: Wipro Ltd. - Key offerings
Exhibit 121: Validation techniques employed for market sizing
Exhibit 122: Definition of market positioning of vendors