サマリー
この調査レポートは、ロボティクスの最新状況を調査し、家庭向けロボティクス開発の主要企業を紹介し、コネクテッドホーム向け用途に関する解説やロボット掃除機の5年予測などを掲載しています。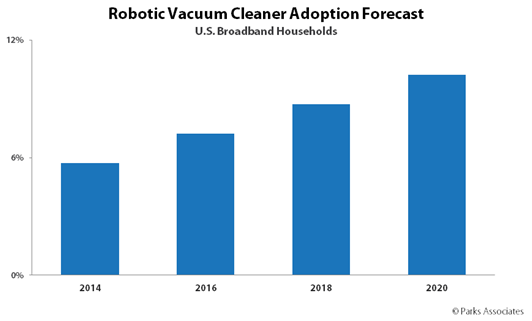 Many futurists expect home robots will one day be as ubiquitous as TVs with use cases ranging from routine housekeeping chores to home maintenance to hazard detection to specialized medical and assisted living tasks. Using artificial intelligence (AI), robots may be able to learn from experience and learn to respond to human mood and emotions.
Robotics: Changing the Way You Live at Home covers the current status of robotics, identifies leading players in consumer robotics development, discusses applications for the connected home, and includes a five-year forecast for robotic floor cleaners.
Report Topics
Analysis of the current home robotics landscape and use cases for the connected lifestyle
Key trends driving industrial robotics growth
Market challenges of developing home robotics
Evaluation of the applicability of current technologies for the consumer space including floor cleaning, lawn care, education, entertainment, personal assistants, humanoids, and assisted living
Five-year U.S. forecast for adoption, sales, and revenue of robotic floor cleaners
Companies In Report (Sample)
Amazon
Dyson
Five Elements Robotics
Friendly Robotics
Google
Honda
Husqvarna
iRobot
Jibo
LG
MIT
Panasonic
Robotbase
Samsung
Sony
Techko Maid
目次
Table of Contents
Dashboard
1.0 Report Summary
1.1 Purpose of Report
1.2 Scope of Report
1.3 Research Approach/Sources
2.0 Innovation in Commercial Robotics
3.0 The Home Robotics Landscape
4.0 The Challenges of Home Robotics
4.1 Static Versus Dynamic Environments
4.2 Mimicking Human Motion
4.3 Understanding the Environment
4.4 Consumer Acceptance
5.0 Home Robotics Use Cases
5.1 Floor Cleaning
5.2 Lawn Care
5.3 Education
5.4 Humanoids
5.5 Personal Assistants
5.6 Entertainment
5.7 Assisted Living
6.0 Forecast
Figures
Estimated Worldwide Annual Shipments of Industrial Robots
Smart Home Privacy Concerns
Robotic Vacuum Cleaner Ownership by Education Level
Robotic Vacuum Cleaner Ownership by Income Level
Disposable Income Distribution in China
Adoption Forecast for Robotic Vacuum Cleaners
Revenue Forecast for Robotic Vacuum Cleaners
Sales Forecast for Robotic Vacuum Cleaners
June 16, 2015
Parks Associates Announces New Industry Report Examining Robotics in the Connected Home
11% of U.S. broadband households will have a robotic vacuum cleaner by 2020
Parks Associates announced a new connected CE industry report today showing more than 6% of U.S. broadband homes currently own a robotic vacuum cleaner and adoption will exceed 11% by 2020. The report, Robotics: Changing the Way You Live at Home, reports robotic floor cleaners are the first phase of the consumer robotics market, which will gradually expand to include healthcare, home controls, toys, and education.
"Home robots are slowly emerging as a new category within the connected home and Internet of Things, but for the near term, most consumer robots will perform single tasks, such as the Roomba vacuum cleaner, which has sold nearly 13 million units since 2002," said Barbara Kraus, Director of Research, Parks Associates. "This area of the market will increase if large mass marketers such as Samsung, Sony, and LG enter this space and, by virtue of their marketing resources, generate more awareness of the category."
Robotics: Changing the Way You Live at Home shows growth of commercial robotics is highest in the Asia-Pacific region. China had the highest penetration of industrial robots, with a share of 20% of the total supply in 2013, as well as the largest share of sales in 2013. While static commercial entities are a better fit for robotics at this time, commercial applications and learning will be adapted over time to work in the more dynamic home environment.
Countries that will be strong markets for robotic floor cleaners include Japan, the U.S., South Korea, and Germany. Consumer adoption will be most prevalent in high-income households. In the U.S., 11% of broadband households with an annual household income of more than $100,000 have a robotic vacuum cleaner, nearly double the national average.
"The home robotics industry will grow in small steps globally, and companies in the space have multiple barriers to overcome, including privacy concerns and low awareness on the consumer side," Kraus said. "Our report also analyzes the technical challenges in programming a robot's ability to adjust to a dynamic home environment, to mimic human motion, and to learn from its environment. It's easy to program a computer that can always win at chess, but it is often the simple tasks we take for granted, like emptying the dishwasher, that pose complex challenges to robotics developers."