サマリー
省電力広域無線ネットワーク(LPWAN)は新しい用途とサービスを実現する。同時にコスト削減によって多くの既存のソリューションにとっての競争的な選択肢となる。米国調査会社パークスアソシエイツ社(Parks Associates)の調査レポート「消費者用IoT(モノのインターネット)におけるLPWANのビジネスチャンス」は、LPWANのビジネスチャンスに注目している。
Low power wide area networks are enabling new applications and services. At the same time cost reductions make LPWAN a competitive solution for many existing solutions. This report highlights the opportunities for LPWAN.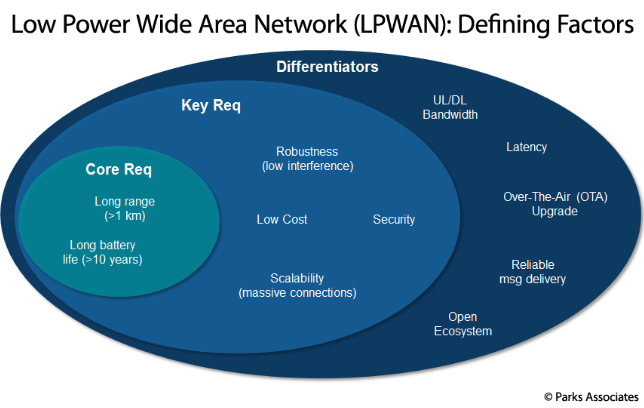 目次
Research Objectives
Research Approach
Companies Interviewed or Researched
Executive Summary
Defining Low Power Wide Area Networks (LPWAN)
Core Features of LPWAN Technology
LPWAN for Consumer IoT
LPWAN for Consumer IoT and Industrial IoT
Assessment of Leading LPWAN Technologies
Key Findings: Technology Evaluation
Key Findings: Business Models
Key Findings: LPWAN Market Future Outlook
Recommended Strategy to LPWAN Service Providers
Defining LPWAN for Consumer IoT
Low Power Wide Area Network (LPWAN): Defining Factors
What is LPWAN?
Range Comparison: LPWAN vs. LAN vs. PAN
Major LPWAN Technologies – A Quick Analogy
LPWAN Alliances and Standard Bodies
LPWAN Ecosystem (non-exhaustive examples)
LPWAN: Private vs. Public Options
Current Challenges for LPWAN
Analysis and Comparison of LPWAN Technologies
Evaluating LPWAN Technologies
Sigfox: Overview and Key Partners
Sigfox: Value Propositions and Weaknesses
Sigfox Advantage: Triple Resiliency Against Radio Jamming
Sigfox as Primary vs. Backup LPWAN Connectivity
LoRaWAN – Overview and Key Partners
LoRaWAN: Value Propositions and Weaknesses
LoRaWAN Technology and Network Architecture
WiFi 802.11ah HaLow – Overview and Partners
WiFi HaLow – Value Propositions and Weaknesses
Evolution Path of LTE-M, NB-IoT, and EC-GSM
LTE-M: Overview and Key Partners
LTE-M: Value Propositions and Weaknesses
NB-IoT: Overview & Partners
NB-IoT: Value Propositions and Weaknesses
LTE-M vs. NB-IOT
Use Cases of LPWAN for Consumer IoT
LPWAN Applications for People/Pets, Homes/Buildings, and Cars
Case Study: LTE-M for Medical Wearables
Advantages of LTE-M for Medical Wearables
Smart Watch Adoption and Data Plans (Q1/19)
Importance of Feature When Purchasing Smart Watch (Q2/19)
Case Study: LoRaWAN-based ID Cards
Advantages of LoRaWAN for Personal Security
Interest in Personal Safety Solutions (Q2/18)
Case Study: Private LPWAN for Multi-Dwelling Unit (MDUs)
Advantages of Private LoRaWAN for MDUs
Bridging LoRaWAN with Legacy Devices in Homes/MDUs
Important Factors Influencing Home Renting/Purchase Decision (Q4/18)
Attitudes towards Homes with Smart Technology (Q4/18)
Case Study: Sigfox (Public LPWAN) for People, Homes, and Cars
Other Sigfox Use Cases for People, Pets, and Homes
Desired Items for Smart Tag Tracking Service (Q2/18)
Advantages of Sigfox for Consumer IoT Use Cases
Case Study: Tracking Shared Bikes via LPWAN
Case Study: Shared Economy - Parking Spots
Case Study: LPWAN for Connected Cars
Desired Capabilities of Vehicle Monitoring Service (Q2/18)
Consumer Insights: Home Access and Control
Home Access and Controls for Consumers
Access Control Device Adoption (Q4/18)
Access Control Devices: Ranking of Product Capabilities (Q4/18)
Access Control Devices: Current Product Capabilities (Q4/18)
Value of In-Home Delivery Services (Q4/18)
Willingness to Pay for In-Home Delivery Services at Various Price (Q4/18)
LPWAN Market Outlook: Growth and Trends
LPWAN Market Outlook
Sigfox: Market Presence and Growth
LoRaWAN: Market Presence and Growth
Senet: Public LoRaWAN Service Provider
TTN – The Things Network
NB-IoT and LTE-M: Market Presence
LTE-M and NB-IOT: Growth
T-Mobile Supports NB-IoT & LTE-M
China Telecom Bets on NB-IoT
Hybrid NB-IoT + LoRaWAN in China Unicom & China Tower
Technology Comparison and Recommendation
LPWAN Technology Comparison
Recommendations to LPWAN Users