サマリー
米国調査会社パークスアソシエイツ社(Parks Associates)の調査レポート「コネクテッドホームとエンターテインメントのブロックチェーン」は、ネットワーク接続する消費者に関連するブロックチェーンを査定し、コネクテッドホームのエコシステムに関する有効性や用途について記載している。データセキュリティ、認証、コンテンツ防御などのスマートホームやエンターテインメントの利用ケースにおけるブロックチェーンアプリケーションを明示し、IoT(モノのインターネット)での消費者信頼感への影響について記載している。ブロックチェーン技術に投資する企業の概説や革新的なブロックチェーンソリューションについても記載している。
This report defines blockchain as it relates to the connected consumer and explores its viability and applications with the connected home ecosystem. It explores blockchain applications for smart home and connected entertainment use cases, including data security, identity authentication, and content protections, and its potential impact on consumer confidence in the IoT. The report also profiles companies investing in blockchain technologies and developed innovative blockchain solutions.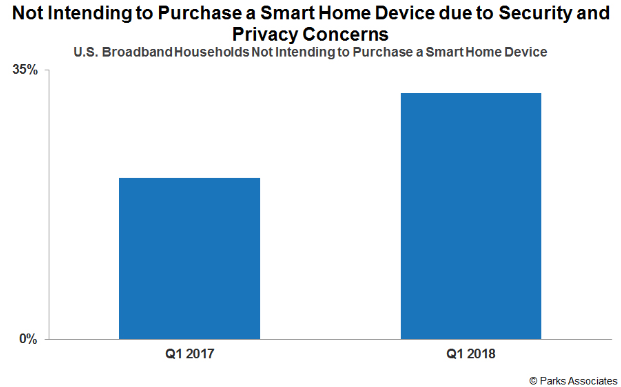 目次
1.0 Report Summary
1.1 Purpose of Report
1.2 Key Burning Questions Addressed by this Research
1.3 Research Approach/Sources
2.0 What is Blockchain?
2.1 Key Characteristics of Blockchain
2.2 General Use Cases of Blockchain
2.3 Leading Blockchain Frameworks
3.0 Blockchain Opportunities in Connected Consumer Markets
3.1 Blockchain for the Smart Home
3.1.1 Smart Home Vulnerability and Consumer Concerns
3.1.2 Blockchain as a Solution for Data Privacy and Security
3.1.3 Implications and Recommendations
3.2 Blockchain for Digital Media Services
3.2.1 Blockchain for Online Advertising
3.2.2 Impact on Licensing and Distribution
3.2.3 Implications and Recommendations
3.3 Blockchain for Connected Health
3.3.1 Connected Health Devices and Services
3.3.2 Healthcare Fraud Prevention
3.3.3 Blockchain for Medical Records and Clinical Trials
3.3.4 Payment Reform
3.3.5 Implications and Recommendations
3.4 Blockchain in Energy
3.4.1 Improvements for Demand Response Programs
3.4.2 Peer-to-peer Energy Trading
3.4.3 Implications and Recommendations
4.0 Adoption and Implementation of Blockchain
4.1 Challenges of Implementing Blockchain
4.1.1 Scalability and Cooperation Concerns
4.1.2 Regulation and Compliance
5.0 Success Factors for Implementing Blockchain for Consumer Markets
6.0 Appendix
6.1 Glossary
6.2 Company Index
6.3 Image Sources
Figures
Companies Researched for Report
Blockchain Transaction Process
Key Characteristics of Blockchain
Consumer Blockchain Applications
Leading Blockchain Frameworks
Device Adoption in U.S. Broadband Households
Smart Home Device Adoption
Impact of Security and Privacy Concerns on Purchase Intentions
Consumer Perception of Data Protection
Pay-TV and OTT Service Subscriptions (2011-2018)
Adoption of Connected Health Devices
Must-have Independent Living Features
Value of Energy Management Features
Smart Thermostat Ownership and Forecast (2014 - 2022)
Distributed Energy and EV Ownership