Industry report examines how apps and APIs create new business opportunities for connected home OEMs and service providers
New Parks Associates research reveals home controls and automation are key use cases in the smart watch market, as more than one in five U.S. broadband households that own or plan to buy a smart watch intend to use this device for these applications. Dashboard to Smart Home: Apps and APIs notes that more than 80% of smartphone/tablet users who own at least one smart home device have downloaded mobile apps for these devices.
"The accessibility of a smart watch makes it a natural fit as a remote control for smart home features such as turning on lights remotely, closing garage doors, and adjusting thermostat settings," said Harry Wang, Director, Mobile and Health Products Research, Parks Associates. "Many smart home device makers and solution providers have already moved into the wearables ecosystem, with nearly 20 having created an Apple Watch app for their technology. They have to contend with some challenges unique to the smart watch, including the relatively low processing power when compared to smartphones as well as the small screen size, which makes user interaction difficult for setting up complex scenarios and work flows."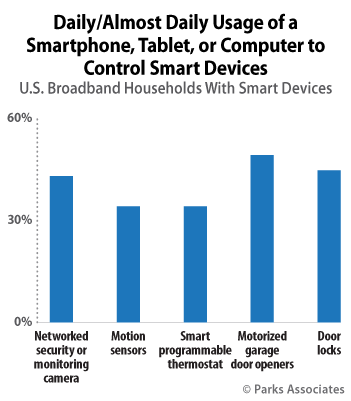 Parks Associates analysts say that mobile devices are becoming the de facto controllers for home automation, with apps as the critical interface between the user and the home. For example, nearly 50% of U.S. broadband households with a smart garage door opener use a smartphone, tablet, or computer to control the opener almost every day. The expansion of mobile device platforms to wearable form factors is creating many opportunities for developers to build services and applications for wearables in the smart watch space because of the extra convenience that wearables offer, particularly when voice-control APIs become more capable and intelligent.
"A close relationship will develop down the road between wearable device makers and successful smart home device makers, app developers, and platform providers," Wang said. "App usage associated with smart home devices such as thermostats, doorbells, and smoke detectors ranges from 83% to over 90% of all device owners. Smart home players can't afford to miss the opportunity represented by wearables in navigating and controlling smart home devices."
Report topics include:
Smart home landscape
API as a bridge between devices, the cloud, and services and applications
Critical issue facing APIs in the smart home space
Case studies of API use in the smart home space
Analysis of the role played by APIs in the smart home space
About Parks Associates: Parks Associates is an internationally recognized market research and consulting company specializing in emerging consumer technology products and services. Founded in 1986, Parks Associates creates research capital for companies ranging from Fortune 500 to small start-ups through market reports, primary studies, consumer research, custom research, workshops, executive conferences, and annual service subscriptions.
The company's expertise includes the Internet of Things (IoT), digital media and platforms, entertainment and gaming, home networks, Internet and television services, digital health, mobile applications and services, support services, consumer apps, advanced advertising, consumer electronics, energy management, and home control systems and security.