サマリー
"Between 2010 and 2015, Telcos more than doubled their sales of managed ICT services contracts into large enterprises and multinationals."
The enterprise ICT opportunity is a priority for most providers, establishing a coherent strategy while building, running, and scaling a profitable B2B business remains a considerable challenge.
Enterprise buyers are more sophisticated and demanding than ever. They want service levels across the network through to applications, reporting, integrated billing, and service management. At the high end, while more deals involve multiple services, ICT buyers are more open than ever to regional expertise and depth, preferring to go for a "best in location" approach to service sourcing.
What's New?
SME Insights by country
– analysis from over 3500 SoHos and SMEs globally, giving unparalleled insight into SME micro-sector demands.
Service provider total addressable market forecast
– ICT Services focus, split by provider type to enable revenue and investment planning.
Ovum Decision Matrix
– evaluating telco cloud services.
MNC customer experience insights
– covering service provider customer experience strengths and weaknesses.
Additional Asia and Africa coverage
– through increased enterprise services analyst presence in SE Asia and sub-Saharan Africa.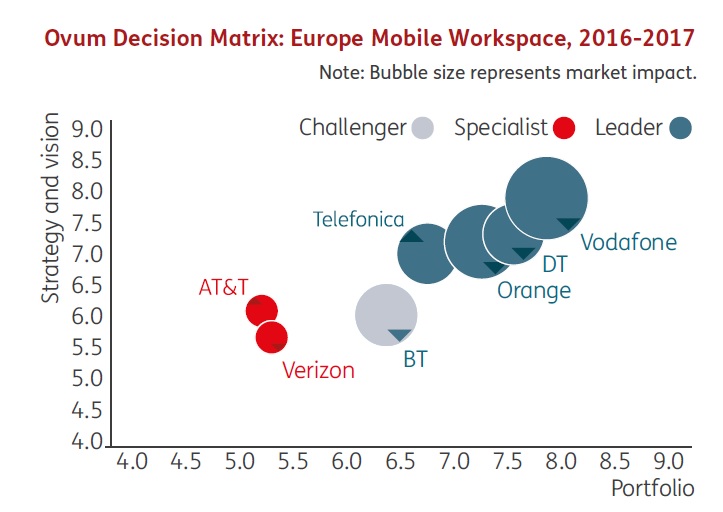 Themes for 2017
Connectivity
The network will increasingly be procured as and when required, as a service. Software-defined wide area networks point to an on-demand networking future. We focus on how telcos are transitioning in this changing space, and how they're supporting global MNC requirements.
SME and SoHo services
Telcos have an enviable advantage when selling services to SMEs but for the most part haven't succeeded in selling more than simple voice and data services. We understand SME requirements and provide case studies for success in the sector.
The telco cloud
In public cloud, telcos have struggled to compete with the likes of AWS and IBM. We see a new pattern emerging – one of careful partnership. Telcos are refocusing on the network, with new investments in NFV and SDN, to position themselves as cloud brokers. But will this approach meet with success?
Mobile workspace and collaboration
For years, firms have grappled with mobilizing employees, and telcos have provided little more than connectivity services. Telcos are repositioning themselves as enablers of a "work anywhere" approach that spans traditional enterprise mobility, BYOD models, unified communications, and collaboration technologies, as well as workspace virtualization.
M2M and IoT
In the machine-to-machine and larger IoT value chain, telcos are playing a key role in managed connectivity. Our M2M trackers and forecasts illustrate how some telcos are building out burgeoning practices in consultancy, middleware/platforms and M2M applications enablement, often with a vertical industry twist.
Key Deliverables
Enterprise CIO surveys
– of both large enterprises and SMEs in 15 country markets.
Forecasts for major enterprise services
– from network to voice and data, through to M2M, managed services, and cloud, with granular splits for company size, geography, and industry vertical.
Enterprise services case studies
– examining real enterprise experience in evaluating, selecting, implementing, and measuring benefits from advanced UC and other services.
Ovum's Service Provider Decision Matrices
– informing the selection of services and suppliers.
Global services deals analysis and service provider snapshots
– deep insight and analysis of the enterprise services strategies, portfolio evolution, and commercial success of the top providers.
IoT deals, M2M platforms, workspace and cloud services trackers,
keeping you up to date on major market events and developments.
---

※Ovumの年間プログラムサービスはデモンストレーションが可能です。実際のサービスをご覧いただきながら担当者がサービスをご説明致します。お気軽にデータリソースまでお問い合せ下さい。