サマリー
Ovum's Digital Consumer Insights survey program (part of our Telecoms Customer Insights program) provides a robust and cost-effective set of tools for telecoms, media and consumer technology decision-makers to discover, understand, and act on changing consumer attitudes in a range of developed and developing markets.
Rapid change in customer behaviour is here to stay. The pace of change in converging communications, media, and technology markets remains relentless. Users, both as consumers and employees, are constantly making decisions on an enormous array of new technologies and services.
Ovum's Digital Consumer Insights program enables service providers and technology vendors detect and address changes in user behaviour, requirements and perceptions. This insight is crucial in identifying opportunities, validating product strategies, refining marketing messages and understanding adoption by segment.

A unique approach to understanding customer changes
Ovum's Digital Consumer Insights program is founded on a globally representative survey covering 15 diverse countries and 15,000 consumer respondents. The survey focuses on 6 strategic topics driving disruption and convergence in the market for consumer technology and services.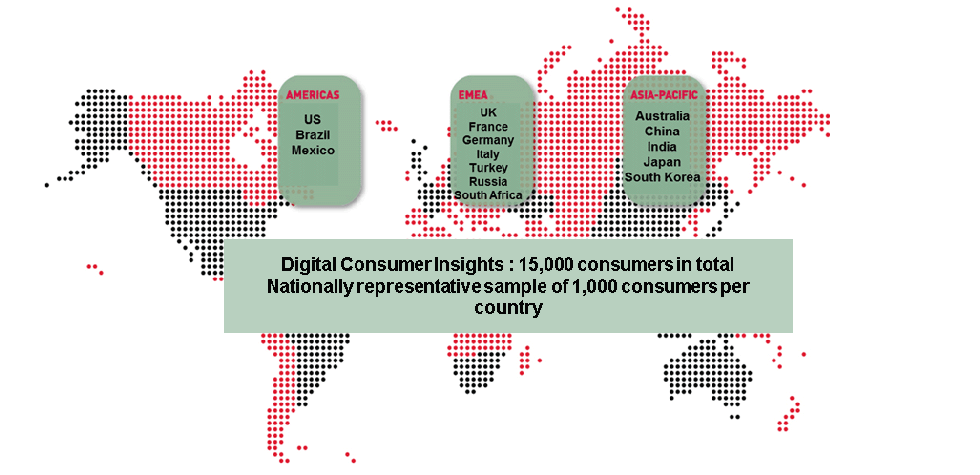 Detect changes in digital consumer behaviour
The Digital Consumer Insights program offers insights into:
Broadband connectivity – Uptake of faster broadband, data allowances and multi-play bundling
Smart devices – Demand for device types and features smartphones, tablets, smart TVs, and wearables.
TV & video – Which new and existing TV and video services are capturing consumer attention
Digital media – Use and spend on music, games, books and other infotainment content across multiple devices.
Digital commerce – Adoption and attitudes new ways to pay for goods online and in the real world
Disruptive communications – The use and impact of social media and OTT communications
Ovum's market-oriented methodology also enables you to slice and dice the data by multiple dimensions, including:
52 fixed-broadband providers eg. Verizon, China Telecom, Telmex
46 mobile service providers eg. Vodafone, T-Mobile, Orange
55 pay-TV providers eg. Sky, Comcast, UPC
12 major app stores eg. Google Play, Xiaomi, Ozon
43 smart-device product lines eg. iPad, Chromecast, Amazon Fire TV
69 OTT video providers eg. Netflix, Amazon, Sky Now
Survey findings are delivered both in Excel and easy to use online data dashboards which enable you to quickly filter results, isolate the segments of interest and turn results into insight with powerful charting functionality.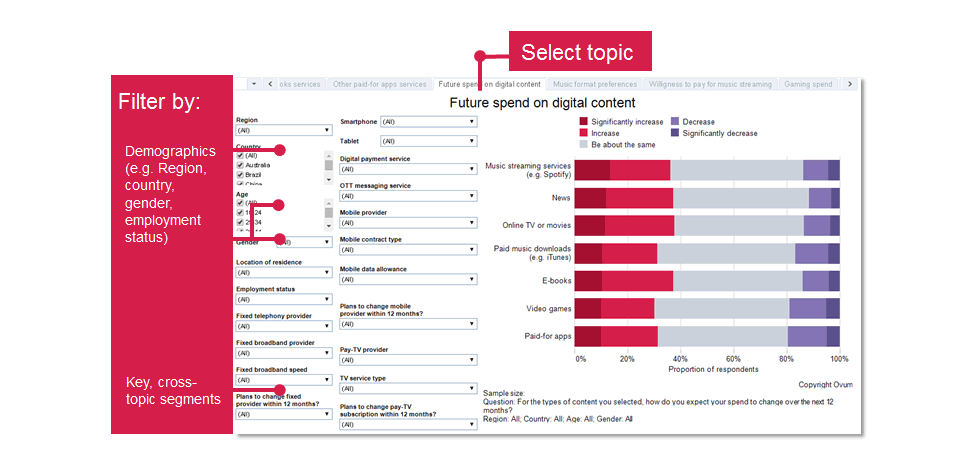 Why Choose Ovum's Digital Consumer Insights?
Benefit from expert led insight
Ovum's Digital Consumer Insights programme benefits from Ovum's unique position as a leading telecoms, media and entertainment research provider and survey data expertise.
Ovum's depth of expert market knowledge is channelled in every step of the design, execution, and delivery:

Gain a complete view of the customer engagement lifecycle
Each topic addressed by the Digital Consumer Insights program is addressed by a carefully designed set of questions that examine actions and perceptions in four areas which represent the complete customer engagement lifecycle:
Service adoption and use: User adoption and usage dynamics
Buying dynamics: Purchase behaviour, workflow and frequency
Provider perception: Provider sentiment and drivers of churn/adoption
Future Intentions: Likely future adoption and spending intentions
This unique approach provides balanced results which yield powerful insights into users' plans, perceptions, and likely next steps.
A flexible blend of research and customised insight
Ovum's Telecoms Customer Insights program enables you to combine and customise deliverables to better match your business requirements.
A range of flexible options allows you to select the most appropriate Digital Consumer Insights package for your needs. You can choose to purchase survey analysis tools or combine them with detailed Ovum analysis of the geography, topic or segment addressed. Ovum can also deliver custom workshops that combine survey data with our local market expertise.
Head of Program