サマリー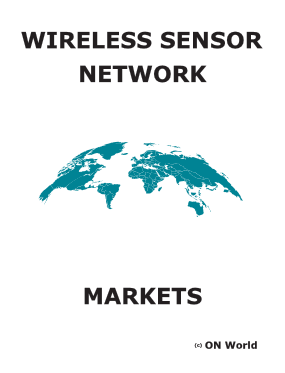 米国調査会社オンワールドリサーチ(ON World Research)の調査レポート「無線センサネットワーク市場:マーケットダイナミクスレポート」は、無線センサネットワーク(ワイヤレスセンサネットワーク/WSN)市場を用途毎に分析している。無線センサネットワーク用のチップセットとモジュールの市場規模を予測している。
WSNの進化は、膨大なモノのインターネット用機器の普及をもたらした。この調査レポートは、45の市場セグメントの市場力学、技術動向、市場規模とチップからエンドユーザまでのバリューシステムについて記載している。調査対象としている技術は、802.15.4、Zigbee、Thread、Wi-SUN、Bluetooth LE、WiFi、LoRa、Sigfox、LTE-M、NB-IoTなどである。
目次(抜粋)
無線センサネットワーク(WSN)のエコシステム
産業用WSNの調査結果
技術動向
WSN技術と規格
市場規模予測

WSNチップセット数
WSNチップセット/モジュール収益
WSNチップセットの市場セグメント毎の数
用途毎のWSNチップセット/モジュールの収益
地域毎のWSNチップセット数
技術毎のWSNチップセット数
トポロジー毎のWSNチップセット数
周波数毎のWSNチップセット数
IPアドレサビリティ毎のWSNチップセット数
製品設計毎のWSNチップセット数

対象市場

スマートホーム
メディアセンター
ビル
高度計測/分散型エネルギー源
産業、物流、農業など
スマートシティ
ヘルス&ウェルネス
スポーツ&フィットネス用のウェアラブル
小売業、ネット接続自動車(コネクテッドカー)、バイクシェアリングなど

Wireless sensor network (WSN) advances have resulted in billions of connected Internet of Things devices. In our latest edition of Wireless Sensor Networks we analyze 45 WSN market segments including the current market forces, technology dynamics, market size and value system from chip to end user. The technologies covered include 802.15.4, Zigbee, Thread, Wi-SUN, Bluetooth LE, WiFi, LoRa, Sigfox, LTE-M, NB-IoT and others.
Synopsis
Relentless advances in wireless sensor networks (WSN) have resulted in billions of connected Internet of Things (IoT) devices today. More than 1 billion annual WSN chipsets were sold worldwide last year due to breakthroughs such as wireless mesh networking, Low Power Wide Area Networks (LPWAN), multi-protocol devices, IP-addressable end nodes and cloud development/device management platforms.
ON World has covered these developments and their impact on the evolving IoT ecosystem for the past 15 years. In this report, we focus on two primary WSN market landscapes:
• Short-range WSNs (e.g. 802.15.4, BLE, WiFi and others)
• LPWANs including Sigfox, LoRa, NB-IoT, LTE-M and others
Short-range WSN will continue to have the biggest impact on consumer markets including the smart home, media center, health, fitness and wearables. Compared with consumer IoT, enterprise applications are more diverse with demand for both short range and long range WSN technologies.

By 2024, global revenues for WSN drop-in modules and chipsets will reach $9.8 billion up from $4.1 billion in 2018. Enterprise applications will make up 32% of the chipset unit shipments and 55% of the revenues by this time due to higher chipset and module average sale prices (ASPs) compared to consumer applications.

Based on thousands of interviews and surveys with executives across the whole IoT value chain, this report analyzes 45 WSN market segments including the current market forces, technology dynamics, market size and value system from chip to end user. Targeted at IoT developers, wireless component suppliers and IoT platform providers, this report is the product of ON World's ongoing research on WSN for the past 15 years.
Primary Research:
For this report, ON World surveyed/interviewed 3,000+ individuals including the following:
End users:
Consumers
Home service providers
Retailers
Professional installers
Property/facility managers
Industriall end users
Technology Companies:
Every quarter, ON World conducts hundreds of interviews with executives and product managers with leading manufacturers, software developers, component suppliers, and platform providers involved with low power wireless sensing and control markets.

A few of the surveyed/analyzed companies include:
Chipsets, Modules & Network Stacks: Altair, ANS, Analog Devices, Anaren, ARM, ATIM, CEL, Cypress, Decawave, Dialog, Digi, Dynastream, Embit, EM Microelectronic, EnOcean, Espressif, Fanstel, Greenvity, IMST, InsightSIP, Ingenu, IVT, Laird, Lapis, Linear, Link Labs, Marvell, Maxim, MediaTek, Microchip, Microsemi, Millennial Net, MultiTech, Murata, Nanotron, NEMEUS, Nivis, Nordic Semiconductor, NXP, ON Semiconductor, Panasonic, Qorvo, Qualcomm, Quectel, Radiocrafts, Raytac, Redpine, Renesas, RF Digital (AMS), RF Solutions, Seed Development, Sequans, Semtech, Sierra Wireless, Silicon Labs, Skyley, Softing, STMicro, Synapse, Taiyo Yuden, TD Next, TDK Corp, Telit, TI, u-blox, UBEC, Wirepas, Wisol, Wistron Neweb, Würth Elektronik, Zilog...
IoT Network Infrastructure & Software Platforms:
Actility, Alarm.com, Amazon, Arrayent, Atmosphere IoT, Ayla Networks, C3 IoT, Centrica Hive, Cisco, Cumulocity, EcoFactor, Electric Imp, Ericsson, Essence Group, Google, Gemalto, GreenWave Systems, Huawei, Helium, IBM, IFTTT, Ingenu, Intent Technologies, Kerlink, Mesh Systems, Microsoft, Muzzley, myDevices, Nokia, OrbiWise, PTC/ThingWorx, relayr, Roc-Connect, Samsung SmartThings, Sagemcom, Senet, Sigfox, Tendril, There Corporation, Wink, ZTE...
Homes, Buildings & Multiple Markets:
ABB, Acuity Brands, Aclara, ADT, Amazon, AMX, ASSA ABLOY, AT&T, Belkin, Bosch, Casambi, CentraLite, Cobject, Comcast, Computime, Control4, Cree, Crestron, Develco, D-Link, Daintree, Digital Lumens, Distech Controls, Eaton, Echelon, Electrolux, Emerson, Ecobee, Enlighted, E-Senza, Fagerhult, Fujitsu, GEO, General Electric, Golden Power, Gooee, Google Nest, Haier Group, Helium, Hitachi, Honeywell, HP, Hubbell, IBM, Idosens, IoTA, Ingersoll Rand, Insteon (SmartLabs), Invisible Systems, Johnson Controls, Kwikset, EEDARSON, Legrand, Leviton, LG, Lutron, Libelium, M2M Spectrum, Mitsubishi, Netatmo, NetVox, NKE Watteco, Nortek, Oceasoft, Onzo, OSRAM, Panasonic, Philips, Rachio, RF Technologies, Samsung, Satechi, Schneider, Sengled, Sharp, Silvair, Siemens, Sony, Stack Lighting, Stanley Black & Decker, Technicolor, The Button Corporation, ThinkEco, Toshiba, Tridium, Universal Electronics, UTC, Vivint, Whirlpool, Xiaomi, Yale Security, Yokogawa, Zuli, Zumtobel...
Industrial, Logistics, Smart Grid & Smart Cities:
Adeunis RF, Advantech, Azimut, Berlinger, Birdz, Chess Wise, CIMCON Lighting, CyanConnode, DimOnoff, Draeger, Echelon, Enevo, EVVOS, GridPoint, Halma, Harvard Engineering, IBM, Intesens, Itron, Kapsch, Kontakt, Landis+Gyr, Libelium, LORD, National, Oceasoft, OleumTech, Phoenix Contact, Qowisio, Sensolus, SignalFire, SmartSensor Labs, SRETT, Sunpower, TwistHDM, Tantalus, Tekelek, Trilliant, Ubicquia, Urbiotica, WellAware, WESROC, Yokogawa, Zencus...
Mobile Sensing, Health/Fitness and Wearables:
A&D, Acute Technology, Apple, Awarepoint, Bionym, BioSensics, BioTelemetry, Care Innovations, Casio, CenTrak, DexCom, Fitbit, Fitlinxx, GENTAG, Garmin, Grand Care, iHealth Labs, Indesit, Intelesens, Jawbone, LifeWatch, Lutron, MC10, Medtronic, Meta, MetaWear, MobileHelp, Nonin, Numera, Nuubo, Omron, Pebble, Polar, Proteus, Qardio, Quanttus, Sensium, SmartLife, Snaptracs, Sotera, Vuzix, Whistle...
目次
Executive Summary
Report Scope
Methodology

The WSN Ecosystem

WSN Market Landscapes
Short Range WSN
Fixed Wireless Sensor Networks
Wireless Mesh Sensor Networks
Mobile Sensing

Long Range WSN
Low Power Wide Area Networks

Total Potential Market Sizing

Industrial WSN Survey Results

General WSN
Adoption Stage
Growing Deployments, Expanding Network Sizes
Fastest Growing Applications
WSN Protocols Used
Wireless Standards & Mesh Adoption
Most Important Features
Satisfaction with Current WSN Systems
Future WSN Applications
Adoption Inhibitors
Innovation Areas
Strategic Investments
Equipment Costs

Low Power Wide Area Networks
LPWAN Status
Product Development
LPWAN Applications
LPWAN Impact
Future Projections
LPWAN Challenges

IoT Cloud Platforms
IoT Platforms Used
IoT Benefits
Data Analytics Experience
Planned IoT Platforms
Data Analytics Barriers
Surveyed Organizations

Technology Dynamics
Summary

WSN Technologies & Standards

Short-Range WSN Technologies
IEEE 802.15.4
Wi-SUN Alliance
Industrial WSN Standards
WirelessHART
ISA100.11a
WIA-PA
Zigbee
Zigbee PRO 2017
Zigbee 3.0
Dotdot
The Thread Group
WiFi
Bluetooth Low Energy
Bluetooth 5
Bluetooth Mesh
Bluetooth Beacons
iBeacons
EddyStone
Z-Wave
EnOcean
Others

Low Power Wide Area Network Technologies
Cellular Based LPWAN Technologies
3GPP
LTE-M
NB-IoT
Non-Cellular LPWAN Technologies
Sigfox
LoRa Alliance
Weightless SIG
ETSI's Low Throughput Networks (LTN)

IP Smart Object Technologies
IETF Standards
OpenSpecWorks
Open Source WSN Initiatives
IoT Software Frameworks
Open Connectivity Foundation (OCF)
UPnP+ Initiative
Mozaiq Operations

Market Size Forecasts
Methodology
WSN Chipset Units, Moderate & Aggressive
WSN Chipset/Module Revenues, Moderate & Aggressive
WSN Chipset Units by Landscape
WSN Chipset Units by Market Segment
WSN Chipset/Module Revenues by Market Segment
WSN Chipsets by Application
WSN Chipset/Module Revenues by Application
WSN Chipsets by Geography
WSN Chipsets by Technology
WSN Module/Chipset OEM Equivalent ASP by Market
WSN Module/Chipset OEM Equivalent ASP by Technology
WSN Chipsets by Topology
WSN Chipsets by Frequency
WSN Chipsets by IP Addressability
WSN Chipsets by Product Design
WSN Drop-In Module & Chipset Revenues

Target Markets

Smart Home
Summary
Value System
Market Size Forecasts
WSN Chipset Units - Moderate & Aggressive
WSN Chipset/Module Revenues - Moderate & Aggressive
WSN Chipset Units by Application
WSN Chipsets by Technology
WSN Drop-in Module & Chipset Revenues (Excel file, Multi-user license)
WSN Chipsets by Geography (Excel file, Multi-user license)

Media Center
Summary
Market Size Forecasts
WSN Chipset Units - Moderate & Aggressive
WSN Chipset/Module Revenues- Moderate & Aggressive
WSN Chipsets by Technology
WSN Drop-in Module & Chipset Revenues (Excel file, Multi-user license)
WSN Chipsets by Geography (Excel file, Multi-user license)

Buildings
Summary
Value System
Market Size Forecasts
WSN Chipset Units - Moderate & Aggressive
WSN Chipset/Module Revenues Moderate & Aggressive
WSN Chipset Units by Application
WSN Chipsets by Technology
WSN Drop-in Module & Chipset Revenues (Excel file, Multi-user license)
WSN Chipsets by Geography (Excel file, Multi-user license)

Advanced Metering/Distributed Energy Resources
Summary
Value System
Market Size Forecasts
WSN Chipset Units - Moderate & Aggressive
WSN Chipset/Module Revenues - Moderate & Aggressive
WSN Chipset Units by Application
WSN Chipsets by Technology
WSN Drop-in Module & Chipset Revenues (Excel file, Multi-user license)
WSN Chipsets by Geography (Excel file, Multi-user license)

Industrial, Logistics, Agriculture Etc.
Summary
Value System
Market Size Forecasts
WSN Chipset Units – Moderate & Aggressive
WSN Chipset/Module Revenues - Moderate & Aggressive
WSN Chipsets by Market
WSN Chipsets by Technology
WSN Drop-in Module & Chipset Revenues (Excel file, Multi-user license)
WSN Chipsets by Geography (Excel file, Multi-user license)

Smart Cities
Summary
Value System
Market Size Forecasts
WSN Chipset Units - Moderate & Aggressive
WSN Chipset/Module Revenues - Moderate & Aggressive
WSN Chipsets by Application
WSN Chipsets by Technology
WSN Drop-in Module & Chipset Revenues (Excel file, Multi-user license)
WSN Chipsets by Geography (Excel file, Multi-user license)

Health & Wellness
Summary
Value System
Market Size Forecasts
WSN Chipset Units - Moderate & Aggressive
WSN Chipset/Module Revenues - Moderate & Aggressive
WSN Chipsets by Technology
WSN Drop-in Module & Chipset Revenues (Excel file, Multi-user license)
WSN Chipsets by Geography (Excel file, Multi-user license)

Sports, Fitness & Other Wearables
Summary
Value System
Market Size Forecasts
WSN Chipset Units - Moderate & Aggressive
WSN Chipset/Module Revenues - Moderate & Aggressive
WSN Chipsets by Technology
WSN Drop-in Module & Chipset Revenues (Excel file, Multi-user license)
WSN Chipsets by Geography (Excel file, Multi-user license)
Retail, Connected Cars, Bike Sharing, Others
Summary
Retail
Connected Cars
Bike Sharing
Market Size Forecasts
WSN Chipset Units - Moderate & Aggressive
WSN Chipset/Module Revenues - Moderate & Aggressive
WSN Chipsets by Technology
WSN Drop-in Module & Chipset Revenues (Excel file, Multi-user license)
WSN Chipsets by Geography (Excel file, Multi-user license)

The Competitive Landscape
Chipsets
Product Segmentation
Profiles
Network Stacks & Modules
Product Segmentation
Profiles
Network Infrastructure & IoT Platforms
Profiles
List of Figures

Figure 1: Global WSN Chipset/Module Revenues, Enterprise & Consumer Markets (2018-2024)
Figure 2: The Wireless Sensor Network Value System
Figure 3: Converging WSN Landscapes
Figure 4: Fixed WSN and Mobile Sensing
Figure 5: Global Total Potential WSN Markets by Landscape
Figure 6: Global WSN Total Potential Market Size (TPM) by Segment
Figure 7: WSN Adoption Stage
Figure 8: WSN Adoption Stage Over the Last 2 Years
Figure 9: Total WSN Devices Deployed (All Locations)
Figure 10: Largest WSN Deployment/Location
Figure 11: Current WSN Applications by Growth
Figure 12: Fastest Growing WSN Applications
Figure 13: WSN Protocols Used (All Respondents)
Figure 14: WSN Protocols Used Over the Last 2 Years
Figure 15: Wireless Mesh Field Devices Over the Last 2 Years
Figure 16: Preferred Standards Approach Over the Last 2 Years
Figure 17: Most Important WSN Features Rated
Figure 18: Most Important WSN Features Over the Last 2 Years
Figure 19: Satisfaction with WSN Systems
Figure 20: Satisfaction with WSN Systems Over the Last 2 Years
Figure 21: Planning Future/Additional WSN
Figure 22: Planned WSN Applications Over the Last 2 Years
Figure 23: WSN Inhibitors Rated
Figure 24: Biggest WSN Inhibitors Over the Last 2 Years
Figure 25: Important Innovations Rated
Figure 26: Most Important Innovations Over the Last 2 Years
Figure 27: Strategic Investments Rated
Figure 28: Most Important Strategic Investments Over the Last 2 Years
Figure 29: Average Cost per WSN End Node Over the Last 2 Years
Figure 30: LPWA Adoption Status
Figure 31: LPWA Product Timeline
Figure 32: Most Likely LPWA Applications
Figure 33: Wireless Sensing/M2M Applications Requiring >1K Bytes/Day
Figure 34: LPWA's Impact
Figure 35: Most Likely LPWA Technologies in 2028
Figure 36: LPWA IoT Penetration Rate by 2028
Figure 37: Most Likely LPWA Technologies by 2028
Figure 38: LPWA Challenges
Figure 39: IoT Platforms Used
Figure 40: IoT Benefits
Figure 41: Data Analytics Experience Rated
Figure 42: Planned IoT Platforms
Figure 43: Data Analytics Barriers
Figure 44: Data Analytics Barriers Rated
Figure 45: Global WSN Chipset Units, Aggressive & Moderate (2018-2024)
Figure 46: Global WSN Chip/Module Revenues, Moderate & Aggressive (2018-2024)
Figure 47: Global WSN Chipset Units by Landscape (2018-2024)
Figure 48: Global WSN Chipset Units by Market (2018-2024)
Figure 49: Global WSN Chip/Module Revenues by Market (2018-2024)
Figure 50: Global WSN Chipset Units by Application (2018-2024)
Figure 51: Global WSN Chip/Module Revenues by Application (2018-2024)
Figure 52: Global WSN Chipset Units by Geography (2018-2024)
Figure 53: Global WSN Chipset Units by Technology (2018-2024)
Figure 54: Global WSN Module ASPs by Market (2018-2024) 65
Figure 55: Global WSN Module ASPs by (Select) Technology (2018-2024)
Figure 56: Global WSN Chipset Units by Topology (2018-2024)
Figure 57: Global WSN Chipset Units by Frequency (2018-2024)
Figure 58: Global WSN Chipset Units by IP Addressability (2018-2024)
Figure 59: Global WSN Chipset Units by Product Design (2018-2024)
Figure 60: Global WSN Drop-In Module & Chipset Revenues (2018-2024)
Figure 61: Smart Home Lighting Products Purchased & Planned
Figure 63: The Smart Home WSN Value System
Figure 64: Smart Home – WSN Chipset Units, Moderate & Aggressive (2018-2024)
Figure 65: Smart Home – WSN Chipset/Module Revenues, Moderate & Aggressive (2018-2024)
Figure 66: Smart Home - WSN Chipset Units by Application (2018-2024)
Figure 67: Smart Home - WSN Chipset Units by Technology (2018-2024)
Figure 68: Media Center – WSN Chipset Units, Moderate & Aggressive (2018-2024)
Figure 69: Media Center - WSN Chipset/Module Revenues, Moderate & Aggressive (2018-2024)
Figure 70: Media Center - WSN Chipset Units by Technology (2018-2024)
Figure 71: Smart Buildings – WSN Technologies
Figure 72: Smart Building WSN Value System
Figure 73: Buildings – WSN Chipset Units, Moderate & Aggressive (2018-2024)
Figure 74: Buildings – WSN Chipset/Module Revenues, Moderate & Aggressive (2018-2024)
Figure 75: Buildings - WSN Chipset Units by Application (2018-2024)
Figure 76: Buildings - WSN Chipset Units by Technology (2018-2024)
Figure 77: AMI/DER – WSN Technologies
Figure 78: AMI/DER WSN Value System
Figure 79: AMI/DER – WSN Chipset Units, Moderate & Aggressive (2018-2024)
Figure 80: AMI/DER – WSN Chipset/Module Revenues, Moderate & Aggressive (2018-2024)
Figure 81: AMI/DER - WSN Chipset Units by Application (2018-2024)
Figure 82: AMI/DER - WSN Chipset Units by Technology (2018-2024)
Figure 83: Industrial WSN Value System
Figure 84: Industrial - WSN Chipset Units, Moderate & Aggressive (2018-2024)
Figure 85: Industrial - Chipset/Module Revenues, Moderate & Aggressive (2018-2024)
Figure 86: Industrial – WSN Chipset Units by Market (2018-2024)
Figure 87: Industrial - WSN Chipset Units by Technology (2018-2024)
Figure 88: Smart Cities– WSN Technologies
Figure 89: Smart Cities WSN Value System
Figure 90: Smart Cities – WSN Chipset Units, Moderate & Aggressive (2018-2024)
Figure 91: Smart Cities – WSN Chipset/Module Revenues, Moderate & Aggressive (2018-2024)
Figure 92: Smart Cities - WSN Chipset Units by Application (2018-2024)
Figure 93: Smart Cities - WSN Chipset Units by Technology (2018-2024)
Figure 94: Likelihood of Using Internet-Connected Health Devices
Figure 95: Most Likely Internet-Connected Health Devices
Figure 96: Health & Wellness WSN Value System
Figure 97: Health – WSN Chipset Units, Moderate & Aggressive (2018-2024)
Figure 98: Health – WSN Chipset/Module Revenues, Moderate & Aggressive (2018-2024)
Figure 99: Health - WSN Chipset Units by Technology (2018-2024)
Figure 100: Consumer Wireless IoT Devices Owned
Figure 101: Wearable Devices Owned
Figure 102: Sports & Fitness WSN Value System
Figure 103: Fitness/Wearables – WSN Chipset Units, Moderate & Aggressive (2018-2024)
Figure 104: Fitness/Wearables - WSN Module Revenues, Moderate & Aggressive (2018-2024)
Figure 105: Fitness/Wearables - WSN Chipset Units by Technology (2018-2024)
Figure 106: Others – WSN Chipset Units, Moderate & Aggressive (2018-2024)
Figure 107: Others – WSN Chipset/Module Revenues, Moderate & Aggressive (2018-2024)
Figure 108: Others - WSN Chipset Units by Technology (2018-2024)
Figure 109: WSN Chipsets - Disruption & Sustainability
Figure 110: WSN Network Stacks & Modules - Disruption & Sustainability

List of Tables
Table 1: Short Range Wireless Sensor Network Standards Compared
Table 2: Other Short Range WSN Technologies & Standards
Table 3: LPWAN Technologies Summarized
Table 4: Open Source WSN Initiatives
Table 5: Global WSN Chipset Units, Aggressive & Moderate (2018-2024)
Table 6: Global WSN Chip/Module Revenues, Moderate & Aggressive (2018-2024)
Table 7: Global WSN Chipset Units by Landscape (2018-2024)
Table 8: Global WSN Chipset Units by Market (2018-2024)
Table 9: Global WSN Chip/Module Revenues by Market (2018-2024)
Table 10: Global WSN Chipset Units by Application (2018-2024)
Table 11: Global WSN Chip/Module Revenues by Application (2018-2024)
Table 12: Global WSN Chipset Units by Geography (2018-2024)
Table 13: Global WSN Chipset Units by Technology (2018-2024)
Table 14: Global WSN Module ASPs by Market (2018-2024)
Table 15: Global WSN Module ASPs by (Select) Technology (2018-2024)
Table 16: Global WSN Chipset Units by Topology (2018-2024)
Table 17: Global WSN Chipset Units by Frequency (2018-2024)
Table 18: Global WSN Chipset Units by IP Addressability (2018-2024)
Table 19: Global WSN Chipset Units by Product Design (2018-2024)
Table 20: Global WSN Drop-In Module & Chipset Revenues (2018-2024)
Table 21: Smart Home – WSN Technologies
Table 22: Smart Home - WSN Chipset Units, Moderate & Aggressive (2018-2024)
Table 23: Smart Home - WSN Chipset/Module Revenues, Moderate & Aggressive (2018-2024)
Table 24: Smart Home - WSN Chipset Units by Application (2018-2024)
Table 25: Smart Home - WSN Chipset Units by Technology (2018-2024)
Table 26: Media Center – WSN Technologies
Table 27: Media Center - WSN Chipset Units, Moderate & Aggressive (2018-2024)
Table 28: Media Center - WSN Chipset/Module Revenues, Moderate & Aggressive (2018-2024)
Table 29: Media Center - WSN Chipset Units by Technology (2018-2024)
Table 30: Buildings - WSN Chipset Units, Moderate & Aggressive (2018-2024)
Table 31: Buildings – WSN Chipset/Module Revenues, Moderate & Aggressive (2018-2024)
Table 32: Buildings - WSN Chipset Units by Application (2018-2024)
Table 33: Buildings - WSN Chipset Units by Technology (2018-2024)
Table 34: AMI/DER - WSN Chipset Units, Moderate & Aggressive (2018-2024)
Table 35: AMI/DER - WSN Chipset/Module Revenues, Moderate & Aggressive (2018-2024)
Table 36: AMI/DER - WSN Chipset Units by Application (2018-2024)
Table 37: AMI/DER - WSN Chipset Units by Technology (2018-2024)
Table 38: Industrial - WSN Technologies
Table 39: Industrial - WSN Chipset Units, Moderate & Aggressive (2018-2024)
Table 40: Industrial - Chipset/Module Revenues, Moderate & Aggressive (2018-2024)
Table 41: Industrial - WSN Chipset Units by Market (2018-2024)
Table 42: Industrial - WSN Chipset Units by Technology (2018-2024)
Table 43: Smart Cities - WSN Chipset Units, Moderate & Aggressive (2018-2024)
Table 44: Smart Cities - WSN Chipset/Module Revenues, Moderate & Aggressive (2018-2024)
Table 45: Smart Cities - WSN Chipset Units by Application (2018-2024)
Table 46: Smart Cities - WSN Chipset Units by Technology (2018-2024)
Table 47: Health & Wellness – WSN Technologies
Table 48: Health - WSN Chipset Units, Moderate & Aggressive (2018-2024)
Table 49: Health - WSN Chipset/Module Revenues, Moderate & Aggressive (2018-2024)
Table 50: Health - WSN Chipset Units by Technology (2018-2024)
Table 51: Sports/Fitness & Other Wearables – WSN Technologies
Table 52: Fitness/Wearables – WSN Chipset Units, Moderate & Aggressive (2018-2024)
Table 53: Fitness/Wearables - WSN Chip/Module Revenues, Moderate & Aggressive (2018-2024)
Table 54: Fitness/Wearables - WSN Chipset Units by Technology (2018-2024)
Table 55: Others – WSN Chipset Units, Moderate & Aggressive (2018-2024)
Table 56: Others - WSN Chipset/Module Revenues, Moderate & Aggressive (2018-2024)
Table 57: Others - WSN Chipset Units by Technology (2018-2024)
Table 58: WSN Chipsets – Product Offerings
Table 59: WSN Chipsets – Profiles
Table 60: WSN Module Providers - Product Offerings
Table 61: WSN Network Stacks & Modules – Profiles
Table 62: Network Infrastructure/IoT Platforms – Company Profiles