サマリー
この調査レポートはLPWAネットワーク市場を電話とオンライン調査による250件のインタビューを基に分析しています。また接続デバイス、年間出荷数、市場や用途、技術、地域、機器/サービス毎の2016年から2022年までの予測を含む市場規模も掲載しています。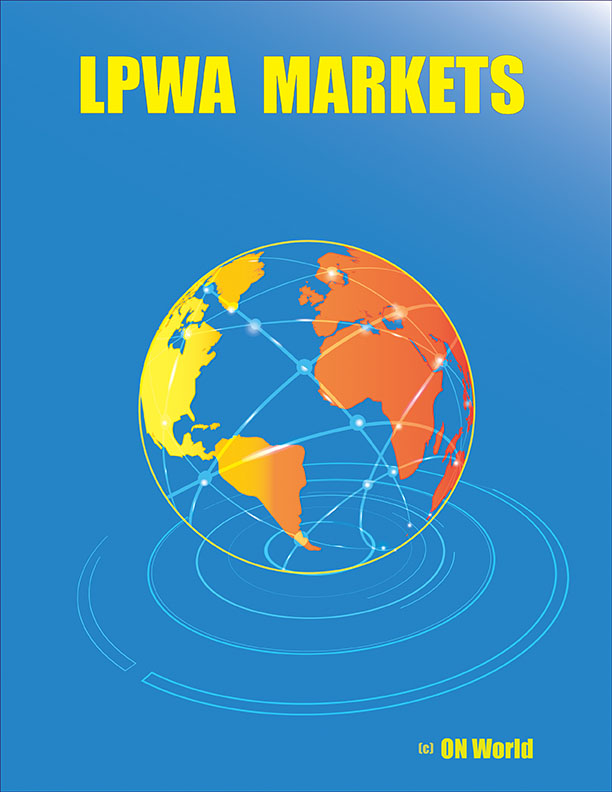 主な掲載内容(目次より抜粋)
LPWANのエコシステム
LPWANの市場機会
産業IoTのサーベイ結果
無線センサネットワーク
省電力WAN
技術ダイナミクス
LPWANの規格、技術、業界アライアンス
その他関連規格戦略
世界の総市場規模予測
対象市場

ユーティリティ
スマートシティ
産業、農業、ロジスティクス
スマートビルディング
消費者&その他

競争環境
Synopsis

Low Power Wide Area (LPWA) network growth continues to accelerate in 2018 as licensed and unlicensed developers and network operators deliver new Internet of Things (IoT) products and services. Competition among IoT network operators has intensified over the past year with several tier 1 operators worldwide rolling out LPWA networks and nearly 100 network operators in various stages of development.

Unlicensed LPWA networks (e.g, Sigfox and LoRa) cover much of Europe and many parts of Asia Pacific with IoT services offered by telcom operators such as Arqiva, Bouygues, Orange, KPN, Proximus, Swisscom as well as a growing number of IoT independent operators such as Senet, Thinxtra and UnaBiz.

Mobile operators such as Deutsche Telekom, China Telecom and Vodafone are aggressively rolling out their licensed NB-IoT networks in Europe, China and Australia. In the U.S., most activity has centered on LTE-M until a few months ago when nearly all major operators including Verizon, Sprint and T-Mobile have fast-tracked their NB-IoT networks and services. By the end of 2018, most of the U.S., Europe and Asia Pacific will be covered with licensed IoT networks.

We have identified 43 unique LPWA applications. Over half of the announced LPWA applications focus on smart city and utility applications such as metering, streetlight monitoring, parking solutions and waste management. In addition, there are a growing number of LPWA applications for other industries such as manufacturing, oil and gas, logistics, building controls, health monitoring, elderly care, bike tracking and wearable devices.

In 2022, LPWA revenues from equipment and associated services will reach $55 billion.

In this report we analyze the market opportunity, competitive threats and status of LPWA network rollouts, commercial deployments and 40+ applications based on 250 interviews by phone and online surveys.

It includes market size forecasts (2016-2022) for connected devices, annual unit shipments and breakdowns by market, application, technology, geography and equipment/services; the results from several surveys; an in-depth technology evaluation; and an in-depth analysis of 100+ companies in the rapidly expanding LPWA ecosystem.
Primary Research:

Companies that ON World interviewed, surveyed or analyzed for this report include:
Components:

Altair
ARM Holdings plc
ATIM
Digi
Fibocom
GCT Semiconductor
IMST
InnoComm
Laird Technologies
Link Labs
MCS
MediaTek
Microchip
MultiTech
Murata
M2Comm
NEMEUS
Nordic Semiconductor
Quectel Wireless
Semtech
Sequans
Sierra Wireless
Silicon Labs
STMicroelectronics
Texas Instruments
Telit Wireless Solutions
u-blox
Wisol
Wistron NeWeb
IoT Platforms & Network Infrastructure:

Actility
Axible
Carriots
Cisco
Gemalto
Ericsson
Huawei
IBM
Intent Technologies
Kerlink
Loriot
Mesh Systems
myDevices
OrbiWise
PTC/ThingWorx
relayr
Sagemcom
Samsung
Stream Technologies
ZTE
目次
Table of Contents
Executive Summary
Report Scope & Methodology
The LPWAN Ecosystem
The LPWA Value Proposition
Accelerating Network Rollouts
Unlicensed LPWA
Licensed LPWA
The LPWA Value System
Network Operator Trends
Network Analysis by Region
Europe
Asia Pacific
North America
Latin America, Middle East and Rest of the World

The LPWA Market Opportunity
Market Segmentation
Current Deployments & Pilots
Target Markets & Solutions
Utilities/Energy
Smart Metering
Distributed Energy Resources
Smart Water Networks
Smart Cities
Streetlight Monitoring
Traffic Management
Parking Management
Waste Management
Geotechnical Sensing
Environmental Monitoring
Industrial, Agriculture & Logistics
Smart Tags & Asset Tracking
Smart Buildings
Enterprise Services
Smart Buttons
Consumer IoT
Bike Tracking
Smart Homes
Wearablesld
Industrial IoT Survey Results
Respondent Overview
Wireless Sensor Networks
Most Important Features
Satisfaction with Current WSN Systems
Future WSN Applications
Adoption Inhibitors
Innovation Areas
Strategic Investments
IoT Platforms Used
Low Power WANs
LPWA Awareness
LPWA Applications
Product Development
LPWA Channels
Market Impact
LPWA Disruption
Future Projections
Surveyed Organizations
Technology Dynamics
Summary
LPWAN Standards, Technologies & Industry Alliances
3GPP
LTE-M
LTE-NB1 (NB-IoT)
Non-Cellular LPWA Technologies
Sigfox
LoRa Alliance
Weightless SIG
ETSI's Low Throughput Networks (LTN)
IEEE 802.15.4k (Low Energy Critical Infrastructure Networks)

Non-Cellular LPWAN Technologies
SigFox
LoRa Alliance
Weightless SIG
ETSI Low Throughput Networks (LTN)
IEEE 802.15.4k (Low Energy Critical Infrastructure Networks)
RPMA (Ingenu)
Qowisio
Link Labs
NB-Fi (WAVIoT)
Telematics Wireless
Telensa
vMonitor (Rockwell)
Other Related Standards Initiatives
Wi-SUN Alliance
JupiterMesh
IEEE 802.11ah (HaLow)

Global Total Market Size Forecasts
Methodology
Global Connected WSN/LPWA Devices
Global Connected LPWA Devices, Moderate & Aggressive
Global Connected LPWA Devices by Market
Global Total LPWA Revenues by Market
Global Total LPWA Revenues by Equipment & Services
Global Total LPWA Units by Application
Global Total LPWA Revenues by Application
Global Total LPWA Revenues by Geography
Global Total LPWA Units by Technology
Target Markets
Utilities
Summary
Value System
Market Size Forecasts
Connected NB-IoT Devices
Connected Devices by Market
Revenues by Market
Revenues for Equipment & Services
Revenues by Geography
Unit Shipments by Technology
Smart Cities
Summary
Value System
Connected LPWA Devices
Connected Devices by Market
Revenues by Market
Revenues for Equipment & Services
Units by Application
Revenues by Application
Revenues by Geography
Unit Shipments by Technology
Industrial, Agriculture & Logistics
Summary
Value System
Market Size Forecasts
Connected LPWA Devices
Connected Devices by Market
Revenues by Market
Revenues for Equipment & Services
Units by Application
Revenues by Application
Revenues by Geography
Units by Technology
Smart Buildings
Summary
Value System
Market Size Forecasts
Connected LPWA Devices
Revenues for Equipment & Services
Units by Application
Revenues by Application
Revenues by Geography
Units by Technology
Consumer & Others
Summary
Market Size Forecasts
Connected LPWA Devices
Connected Devices by Market
Revenues by Market
Revenues for Equipment & Services
Units by Application
Revenues by Application
Revenues by Geography
Units by Technology
Competitive Landscape
Components
Segmentation
Company Profiles
IoT Connectivity, Device Management & Network Infrastructure
Segmentation
Company Profiles
Devices, Systems & Platforms
Segmentation
Company Profiles
Network Operators
Company Profiles
List of Figures
Figure 1: Global LPWA Revenues (2017-2022)
Figure 3: LPWA Network Operators, Licensed & Unlicensed
Figure 2: LPWA Targeted Markets
Figure 4: Network Operators by LPWA Technology
Figure 5: LPWA Network Operators by Geography
Figure 6: Total Potential WSN/IoT Connected Devices by Market
Figure 7: Total Addressable WSN/IoT Chipset Shipments, Long Range & Short Range
Figure 8: Most Common LPWA Target Markets
Figure 9: Most Common LPWA Applications
Figure 10: Global Smart Street Lights (2017-2025)
Figure 11: Parking Management, Smart Parking & Others (2017-2025)
Figure 12: Global Connected Bikes in Use (2017-2025)
Figure 13: Qualcomm's LTE IoT Connected Wearable Devices Platform
Figure 14: Respondents by Industry Role
Figure 15: Respondents by Job Position
Figure 16: Respondents by Geographical Region
Figure 17: Respondents by Targeted Industry
Figure 18: Most Important WSN Features Rated
Figure 19: Satisfaction with WSN Systems
Figure 20: Planning Future/Additional WSN
Figure 21: Planned WSN Applications
Figure 22: WSN Inhibitors Rated
Figure 23: Most Important IoT Innovations
Figure 24: Most Important Strategic Investments
Figure 25: IoT Platforms Used
Figure 26: LPWA Adoption Status
Figure 27: Awareness of LPWA Technologies
Figure 28: Wireless Sensing/M2M Applications Requiring >1K Bytes/Day
Figure 29: LPWA Most Likely Types of Applications
Figure 30: LPWA Product Timeline
Figure 31: Most Likely LPWA Channels
Figure 32: LPWA's Impact by Market
Figure 33: LPWA's Disruption on Existing WSN Technologies
Figure 34: LPWA IoT Penetration Rate by 2025
Figure 35: Most Likely LPWA Technologies
Figure 36: Global Connected WSN Devices, LPWA & Others (2016-2025)
Figure 37: Global Connected LPWA Devices, Moderate & Aggressive (2016-2022)
Figure 38: Global Connected LPWA Devices by Market (2016-2025)
Figure 39: Global LPWA Revenues by Market (2016-2022)
Figure 40: Global LPWA Revenues by Eqpmnt & Services (2016-2022)
Figure 41: Global LPWA Units by Application (2016-2022)
Figure 42: Global LPWA Revenues by Application (2016-2022)
Figure 43: Global LPWA Units by Geography (2016-2022)
Figure 44: Global LPWA Chipsets by Technology (2016-2022)
Figure 45: Global Connected Utility WSN Devices, LPWA & Others (2016-2022)
Figure 46: The Utility IoT/LPWA Value System
Figure 47: Global Connected Utility NB-IoT Devices, Mod & Aggressive (2016-2022)
Figure 48: Global Connected Utility LPWA Devices by Market (2016-2022)
Figure 49: Global Utility LPWA Revenues Market (2016-2022)
Figure 50: Global Utility LPWA Revenues by Eqpmnt & Services (2016-2022)
Figure 51: Global Utility LPWA Revenues by Geography (2016-2022)
Figure 52: Global Utility LPWA Chipsets by Technology (2016-2022)
Figure 53: Global Connected Smart City WSN Devices, LPWA & Others (2016-2022)
Figure 54: The Smart City IoT/LPWA Value System
Figure 55: Global Connected Smart City LPWA Devices, Moderate & Aggressive (2016-2022)
Figure 56: Global Connected Smart City LPWA Devices by Market (2016-2022)
Figure 57: Global Smart City LPWA Revenues Market (2016-2022)
Figure 58: Global Smart City LPWA Revenues by Eqpmnt & Services (2016-2022)
Figure 59: Global Smart City LPWA Device Units by Application (2016-2022)
Figure 60: Global Smart City LPWA Revenues by Application (2016-2022)
Figure 61: Global Smart City LPWA Revenues by Geography (2016-2022)
Figure 62: Global Smart City LPWA Chipsets by Technology (2016-2022)
Figure 63: Global Connected Industrial/Ag/Logistics WSN Devices, LPWA & Others (2016-2022)
Figure 64: The Industrial IoT/LPWA Value System
Figure 65: Global Connected Ind/Ag/Log LPWA Devices, Moderate & Aggressive (2016-2022)
Figure 66: Global Connected Ind/Ag/Log LPWA Devices by Market (2016-2022)
Figure 67: Global Ind/Ag/Log LPWA Revenues Market (2016-2022)
Figure 68: Global Ind/Ag/Log LPWA Revenues by Eqpmnt & Services (2016-2022)
Figure 69: Global Ind/Ag/Log LPWA Device Units by Application (2016-2022)
Figure 70: Global Ind/Ag/Log LPWA Revenues by Application (2016-2022)
Figure 71: Global Ind/Ag/Log LPWA Revenues by Geography (2016-2022)
Figure 72: Global Ind/Ag/Log LPWA Chipsets by Technology (2016-2022)
Figure 73: Global Connected Smart Building WSN Devices, LPWA & Others (2016-2022)
Figure 74: The Smart Building IoT/LPWA Value System
Figure 75: Global Connected Building LPWA Devices, Moderate & Aggressive (2016-2022)
Figure 76: Global Building LPWA Revenues by Eqpmnt & Services (2016-2022)
Figure 77: Global Building LPWA Device Units by Application (2016-2022)
Figure 78: Global Building LPWA Revenues by Application (2016-2022)
Figure 79: Global Building LPWA Revenues by Geography (2016-2022)
Figure 80: Global Building LPWA Chipsets by Chipsets by Technology (2016-2022)
Figure 81: Global Connected Consumer/Other WSN Devices, LPWA & Others (2016-2022)
Figure 82: Global Connected Consumer/Other LPWA Devices, Mod & Aggressive (2016-2022)
Figure 83: Global Consumer/Other LPWA Connections by Market (2016-2022)
Figure 84: Global Consumer/Other LPWA Revenues Market (2016-2022)
Figure 85: Global Consumer/Other LPWA Revenues by Eqpmnt & Services (2016-2022)
Figure 86: Global Consumer/Other LPWA Device Units by Application (2016-2022)
Figure 87: Global Consumer/Other LPWA Revenues by Application (2016-2022)
Figure 88: Global Consumer/Other LPWA Revenues by Geography (2016-2022)
Figure 89: Global Consumer/Other LPWA Chipsets by Technology (2016-2022)
List of Tables
Table 1: The LPWA Value System
Table 2: Europe LPWA Network Operators by Technology & Status
Table 3: Asia Pacific LPWA Network Operators by Technology & Status
Table 4: North America LPWA Network Operators by Technology & Status
Table 5: Rest of World LPWA Network Operators by Technology & Coverage
Table 6: NB-IoT Market Segments & Adoption Drivers
Table 7: LPWA Technologies Summarized
Table 8: Global Connected WSN Devices, LPWA & Others (2016-2025)
Table 9: Global Connected LPWA Devices, Moderate & Aggressive (2016-2022)
Table 10: Global Connected LPWA Devices by Market (2016-2025)
Table 11: Global LPWA Revenues by Market (2016-2022)
Table 12: Global LPWA Revenues by Eqpmnt & Services (2016-2022)
Table 13: Global LPWA Units by Application (2016-2022)
Table 14: Global LPWA Revenues by Application (2016-2022)
Table 15: Global LPWA Units by Geography (2016-2022)
Table 16: Global LPWA Chipsets by Technology (2016-2022)
Table 17: Global Connected Utility NB-IoT Devices, Mod & Aggressive (2016-2022)
Table 18: Global Connected Utility LPWA Devices by Market (2016-2022)
Table 19: Global Utility LPWA Revenues by Market (2016-2022)
Table 20: Global Utility LPWA Revenues by Eqpmnt & Services (2016-2022)
Table 21: Global Utility LPWA Revenues by Geography (2016-2022)
Table 22: Global Utility LPWA Chipsets by Technology (2016-2022)
Table 23: Global Connected Smart City LPWA Devices, Moderate & Aggressive (2016-2022)
Table 24: Global Connected Smart City LPWA Devices by Market (2016-2022)
Table 25: Global Smart City LPWA Revenues by Market (2016-2022)
Table 26: Global Smart City LPWA Revenues by Eqpmnt & Services (2016-2022)
Table 27: Global Smart City LPWA Device Units by Application (2016-2022)
Table 28: Global Smart City LPWA Revenues by Application (2016-2022)
Table 29: Global Smart City LPWA Revenues by Geography (2016-2022)
Table 30: Global Smart City LPWA Chipsets by Technology (2016-2022)
Table 31: Global Connected Ind/Ag/Log LPWA Devices, Moderate & Aggressive (2016-2022)
Table 32: Global Connected Ind/Ag/Log LPWA Devices by Market (2016-2022)
Table 33: Global Ind/Ag/Log LPWA Revenues by Market (2016-2022)
Table 34: Global Ind/Ag/Log LPWA Revenues by Eqpmnt & Services (2016-2022)
Table 35: Global Ind/Ag/Log LPWA Device Units by Application (2016-2022)
Table 36: Global Ind/Ag/Log LPWA Revenues by Application (2016-2022)
Table 37: Global Ind/Ag/Log LPWA Revenues by Geography (2016-2022)
Table 38: Global Ind/Ag/Log LPWA C Chipsets by Technology (2016-2022)
Table 39: Global Connected Building LPWA Devices, Moderate & Aggressive (2016-2022)
Table 40: Global Building LPWA Revenues by Eqpmnt & Services (2016-2022)
Table 41: Global Building LPWA Device Units by Application (2016-2022)
Table 42: Global Building LPWA Revenues by Application (2016-2022)
Table 43: Global Building LPWA Revenues by Geography (2016-2022)
Table 44: Global Building LPWA Chipsets by Chipsets by Technology (2016-2022)
Table 45: Global Connected Consumer/Other LPWA Devices, Moderate & Aggressive (2016-2022)
Table 46: Global Consumer/Other LPWA Connections by Market (2016-2022)
Table 47: Global Consumer/Other LPWA Revenues by Market (2016-2022)
Table 48: Global Consumer/Other LPWA Revenues by Eqpmnt & Services (2016-2022)
Table 49: Global Consumer/Other LPWA Device Units by Application (2016-2022)
Table 50: Global Consumer/Other LPWA Revenues by Application (2016-2022)
Table 51: Global Consumer/Other LPWA Revenues by Geography (2016-2022)
Table 52: Global Consumer/Other LPWA Chipsets by Technology (2016-2022)
Table 53: LPWA Component Suppliers by Product Segment
Table 54: LPWA Components - Profiles
Table 55: IoT Connectivity, Device Mgmt & Infrastructure Platforms by Product Segment
Table 56: IoT Connectivity, Device Mgmt & Infrastructure Platforms - Profiles
Table 57: IoT/LPWA Devices & Vertical System Providers by Target Market
Table 58: IoT/LPWA Devices & Vertical System Providers - Profiles
Table 59: (Select) NB-IoT Network Operators
Table 55: IoT Platforms & LPWAN Services - Profiles