サマリー
米国調査会社マイクロテックコンサルタンツ社 (Micro-Tech Consultants)の調査レポート「世界のスイッチング電源産業調査 2018年版」は、世界のスイッチング電源市場を調査し、地域毎やアプリケーション毎に広範かつ詳細な分析・予測結果を掲載している。この市場を38年以上にわたって専門に調査している創業者であるモーハン氏が執筆している。
対象製品
対象地域
南北アメリカ、欧州・中東・アフリカ、アジア太平洋地域、その他の世界の地域(ROW)
対象市場
LED - LED照明
CON - 消費者/小売用機器
COE - コンピュータ/オフィス用機器
NTE - ネットワーク/通信機器
IND - 産業用/計装機器
MED - 医療機器
TRN - 交通・運輸システム(道路、鉄道、海運、商業航空)
MIL - 軍事/航空宇宙
目次 (抜粋)
エグゼクティブサマリ
世界の電源産業分析
世界のOEM電源装置(パワーサプライ)市場分析

世界のAC-DCスイッチャー市場分析
世界のDC-DCコンバータ市場分析

南北アメリカのOEM電源装置(パワーサプライ)市場分析

南北アメリカのAC-DCスイッチャー市場分析
南北アメリカのDC-DCコンバータ市場分析

欧州のOEM電源装置(パワーサプライ)市場分析

欧州のAC-DCスイッチャー市場分析
欧州のDC-DCコンバータ市場分析

アジア太平洋地域のOEM電源装置(パワーサプライ)市場分析

アジア太平洋地域のAC-DCスイッチャー市場分析
アジア太平洋地域のDC-DCコンバータ市場分析

ROWのOEM電源装置(パワーサプライ)市場分析

ROWのAC-DCスイッチャー市場分析
ROWのDC-DCコンバータ市場分析

製品分析

AC-DCスイッチャー動向
DC-DCコンバータ動向

企業の比較分析
メソドロジーと構成
マイクロテックコンサルタンツ社について
Strategies for A Changing Market

The new Global Switching Power Supply Industry 2018 Report provides market information based on the end market transaction of power supplies. As adapters are sold directly to end-users, in addi-tion to the OEMs, the total power supply market has increased. Moreover, this direct selling to con-sumers has expanded the market and the profit opportunities for merchant power supply compa-nies. The Report explores various product, market and application issues along with changing nature of the power supply industry in a strategic way. It provides market information on fast growing LEDs and battery charging markets. Additionally, it ex-plores various power supply business models and their pros and cons in the context of wider elec-tronic equipment industry.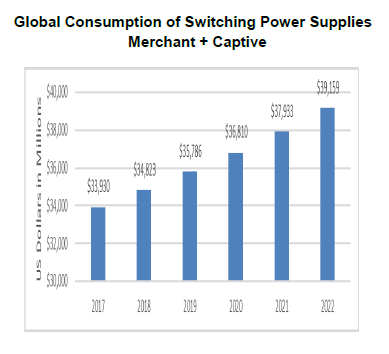 Significant uncertainty and unpredictability re-mains in spite of strong US economy due to tariffs and trade wars. Due to diverse nature of applica-tions, some are growing and some declining. The report provides identifiable market niches for growth and profits.

The comprehensive report provides detail infor-mation about products/marketing/business per-spectives that includes:
• Total market: 2017: $33,930 million
• Merchant market: 2017: $23, 939 million
• Short and long term trends in products and markets
• Competitive analysis
• Analysis of various business models
• Benchmarks
• Emerging trends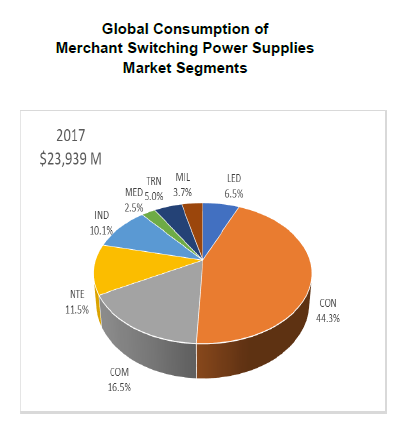 MTC's Global Switching Power Supply Industry Report published annually, provides the state of the power supply industry and trends of the future. It includes a detailed market forecast, technology and applications trends and competitive analysis. The report provides a macro picture of the industry and micro analysis of the market development for decision making and strategic planning. The report in-cludes Global Power Supply Market Analysis in the following areas:
• Products: AC-DC Switchers & DC-DC Converters
• Regions: Americas, EMEA—Europe, Middle East & Africa. APAC—Asia/Pacific & ROW-Rest of the World
• Markets:
• LED—LED Lighting
• CON—Consumer/Retail Equipment
• COE—Computer/Office Equipment
• NTE—Networking/Telecom Equipment
• IND—Industrial/Instrumentation Equipment
• MED—Medical Equipment
• TRN—Transportation Systems: Road, Rail, Marine & Commercial Aviation
• MIL—Military/Aerospace Equipment
• Applications: CON: Cell Phones…; COE: Servers/Storage…; NTE: Routers…; IND: Factory Automation…
• Output Power:
• AC-DC Switchers: 0-150W; 150-300W; 300-500W; 500-750W & 750W+
• DC-DC Converters: 0-50W; 50-100W; 100-150W; 150-250W & 250W+
• Output Voltage: 1.2VDC; 2.5VDC; 3.3VDC; 5VDC; 12VDC; 24VDC; 48VDC…
• Input Voltage:
• AC-DC: Universal Input
• DC-DC: 48VDC; 24VDC; 12VDC; 5VDC
• Output Current: DC-DC: 5A; 10A; 25A; 50A; 100A; 100A+
• Product Design: DC-DC: Isolated; Non-isolated (POLs)
• Packaging: DC-DC: FB; HB; QB; EB; SB; 1x1; 1x2
• Emerging Trends in:
• New Markets
• Power Architecture
• Product Models
• Business Models
The Report is available in two versions:

Detail Version ($3,990): Provides a detail market and application information on each market, for each prod-uct category for each geographic region. It is meant for multinational companies who participate in world's major geographic markets.
Standard Version ($2,490): provides detail information about global markets and overviews of Americas, EMEA & APAC regions. The Standard Version is sufficient for companies who need detailed global information with an overview of specific regions.
---

Micro-Tech Consultants (MTC) was founded in 1984 by Mohan Mankikar: MBA; MSCS; MEEE; BEEE
Its focus has been market research, analysis and consulting in the power supply industry. It produces an an-nual switching power supply industry report that includes AC-DC switchers and DC-Dc converters. It provides consulting services to various clients that include merchant and captive power supply companies, power com-ponent manufacturers, electronic equipment manufacturers (OEMs) and financial institutions interested in investing in the power supply industry. In last twenty four years, Micro-Tech Consultants (MTC) has been the most recognized and widely quoted power supply market research company in the world. Its name and data have been used by many public companies and leading electronic trade publications.

MTC is an active member of PSMA.

Mr. Mankikar has over 38 years of experience in the power supply industry. He is the President of Micro-Tech Consultants (MTC), which provides market research and consulting services in the power supply industry. He was previously employed by Lambda Electronics, one of the largest standard power supply manufacturer and Gnostic Concepts, a leading technical market research/consulting organization of its time. Mr. Mankikar has given presentations and seminars at various organizations on the power supply industry. He wrote "Power Technologies" column for Electronic Engineering Times for twelve years. He published a widely-read Power Electronics Industry Newsletter for twenty four years.
目次
Table of Contents: (この目次は抜粋です。)
この調査レポートには、詳細版(Detail Version)とスタンダード版 (Standard Version)があります。
詳細版とスタンダード版の違いは、こちらをご参照ください。
1.0 Executive Summary
• Overview
• The Market Definition
• The Power Supply Industry: Review of 2017 & 2018
• The Power Supply Basics & Background
• Industry Trends
• Products & Markets
• AC-DC Switchers
• DC-DC Converters
• Merchant/Captive
• Market Segments
• Distributed Power Architecture (DPA)
• Competitive Market Position
• Analysis of Worldwide Markets
• AMERICAS
• EMEA
• APAC
• ROW
• Strategies
• The Power Supply Business
• Power Supply Business Models
2.0 Global Power Supply Industry
• Overview
• Global Power Supply Industry
• Summary of Business Activity
3.0 Global OEM Power Supply Industry Analysis
• Overview
• Global AC-DC Switcher Market Analysis
• LED Lighting (LED)
• Consumer/Retail Equipment (CON)
• Computer/Office Equipment (COE)
• Networking/Telecom Equipment (NTE)
• Industrial/Instrumentation Equipment (IND)
• Medical Equipment (MED)
• Transportation (TRN: Road, rail, Marine & Air)
• Military/Aerospace Equipment (MIL)
• Global DC-DC Converter Market Analysis
• LED Lighting (LED)
• Consumer/Retail Equipment (CON)
• Computer/Office Equipment (COE)
• Networking/Telecom Equipment (NTE)
• Industrial/Instrumentation Equipment (IND)
• Medical Equipment (MED)
• Transportation (TRN: Road, rail, Marine & Air)
• Military/Aerospace Equipment (MIL)
4.0 AMERICAS OEM Power Supply Industry Analysis
• Overview
• AMERICAS: AC-DC Switcher Market Analysis
• LED Lighting (LED)
• Consumer/Retail Equipment (CON)
• Computer/Office Equipment (COE)
• Networking/Telecom Equipment (NTE)
• Industrial/Instrumentation Equipment (IND)
• Medical Equipment (MED)
• Transportation (TRN: Road, rail, Marine & Air)
• Military/Aerospace Equipment (MIL)
• AMERICAS: DC-DC Converter Market Analysis
• LED Lighting (LED)
• Consumer/Retail Equipment (CON)
• Computer/Office Equipment (COE)
• Networking/Telecom Equipment (NTE)
• Industrial/Instrumentation Equipment (IND)
• Medical Equipment (MED)
• Transportation (TRN: Road, rail, Marine & Air)
• Military/Aerospace Equipment (MIL)
5.0 EMEA OEM Power Supply Industry Analysis
• Overview
• EMEA: AC-DC Switcher Market Analysis
• LED Lighting (LED)
• Consumer/Retail Equipment (CON)
• Computer/Office Equipment (COE)
• Networking/Telecom Equipment (NTE)
• Industrial/Instrumentation Equipment (IND)
• Medical Equipment (MED)
• Transportation (TRN: Road, rail, Marine & Air)
• Military/Aerospace Equipment (MIL)
• EMEA: DC-DC Converter Market Analysis
• LED Lighting (LED)
• Consumer/Retail Equipment (CON)
• Computer/Office Equipment (COE)
• Networking/Telecom Equipment (NTE)
• Industrial/Instrumentation Equipment (IND)
• Medical Equipment (MED)
• Transportation (TRN: Road, rail, Marine & Air)
• Military/Aerospace Equipment (MIL)
6.0 APAC OEM Power Supply Industry Analysis
• Overview
• APAC: AC-DC Switcher Market Analysis
• LED Lighting (LED)
• Consumer/Retail Equipment (CON)
• Computer/Office Equipment (COE)
• Networking/Telecom Equipment (NTE)
• Industrial/Instrumentation Equipment (IND)
• Medical Equipment (MED)
• Transportation (TRN: Road, rail, Marine & Air)
• Military/Aerospace Equipment (MIL)
• APAC: DC-DC Converter Market Analysis
• LED Lighting (LED)
• Consumer/Retail Equipment (CON)
• Computer/Office Equipment (COE)
• Networking/Telecom Equipment (NTE)
• Industrial/Instrumentation Equipment (IND)
• Medical Equipment (MED)
• Transportation (TRN: Road, rail, Marine & Air)
• Military/Aerospace Equipment (MIL)
7.0 ROW OEM Power Supply Industry Analysis
• Overview
• ROW: AC-DC Switcher Market Analysis
• ROW: DC-DC Converter Market Analysis
8.0 Product Analysis
• Overview
• AC-DC Switcher Trends
• DC-DC Converter Trends
Global Switching Power Supply Industry 2018 Report
9.0 Competitive Analysis
Overview
• AcBel Polytech Inc. (AcBel)
• Artesyn Embedded Technologies (Artesyn)
• Astrodyne TDI Corp. (AstrodyneTDI)
• Bel Power Products (Bel Power)
• Calex Manufacturing Co. (Calex)
• Chicony Power (Chicony)
• CINCON Electronics (CINCON)
• Cosel, Inc. (Cosel)
• Crane Aerospace & Electronics
• ELDEC
• Interpoint
• ST Keltec
• Delta Electronics, Inc. (Delta)
• Efore Plc.
• ERP Power LLC. (ERP)
• Flex™ (FlexPower)
• FRIWO AG
• FSP Group
• Lite-On Technology Corporation (Lite-On)
• MEAN WELL Enterprises Co. (MEAN WELL)
• MORNSUN GUANGZHOU SCIENCE & TECHNOLOGY CO. LTD. (MORNSUN)
• Murata Power Solutions (Murata)
• N2Power, Inc.
• Phihong Technology Co. (Phihong)
• Salcomp Oy (Salcomp)
• Sanken Power Systems (Sanken)
• SL Power
• Stadium Group
• SynQor Inc.
• TDK-Lambda
• Texas Instruments
• UNIPOWER Corp.
• Vicor Corp.
• XP Power Plc.
10. 0 Appendix
• Methodology & Organization
11. 0 Micro-Tech Consultants (MTC)

---
Report DV & SV Details:
Here are the differences between the Detail Version (DV) and the Standard Version (SV) of the reports by each Chapter:
Chapter

Title

No. of Pages

Standard Report

No. of Pages

Detail Report

Difference Between Standard and Detail Report

1

Executive Summary

61

61

Same

2

Global Power Supply Industry

21

21

Same

3

Global Embedded Power Supply Market

113

141

Detail Report provides addition information on applications and some detail information on products

4

Americas:

Embedded Power Supply Market

13

44

Detail Report provides additional detail information about various products; Standard Report provides Summary

5

EMEA: Embedded Power Supply Market

13

44

Detail Report provides additional detail information about various products; Standard Report provides Summary

6

Asia/Pacific: Embedded Power Supply Market

13

44

Detail Report provides additional detail information about various products; Standard Report provides Summary

7

ROW:

Embedded Power Supply Market

12

12

Detail & Standard Reports provide Summary

8

Product Analysis

13

13

Same

9

Competitive Analysis

137

137

Same

10

Appendix

Definitions,

Explanations, Organization & Methodology

5

5

Same

11

Micro-Tech Consultants

1

1

Same

Total No. Pages

402

523