サマリー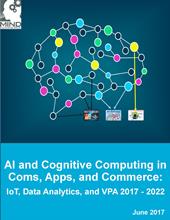 米国調査会社マインドコマース(Mind Commerce)の下記の調査レポートのセット販売です。たいへんお得な価格設定です。
---
Overview:
Artificial Intelligence (AI) and Cognitive Computing are increasingly integrated in many areas including Internet search, entertainment, commerce applications, content optimization, and robotics. The long-term prospect for these technologies is that they will become embedded in many different other technologies and provide autonomous decision making on behalf of humans, both directly, and indirectly through many processes, products, and services. AI will anticipated to have an ever increasing role in ICT including both traditional telecommunications as well as many communications enabled applications and digital commerce.
Fast growing AI technologies for consumer facing industries include chat bots and Virtual Personal Assistants (VPA) and smart advisors. These technologies leverage autonomous agents to enable an ambient user experience for applications, services, and enhanced commerce. On the enterprise side, the majority of IT organizations are experimenting with AI in various forms such as Machine Learning, Deep Learning, Computer Vision, Image Recognition, Voice Recognition, Artificial Neural Networks, and more.
This research provide a comprehensive assessment of the market opportunities for AI and Cognitive Computing in communications, applications, and commerce. The research also analyzes the role of AI in emerging Internet of Things (IoT) market segments as well as related unstructured data and analytics. The research includes an evaluation of the technologies and market outlook for VPA. Forecasts for each segment are provided for 2017 to 2022.
Target Audience:
• Telecom service providers
• Digital commerce companies
• Artificial Intelligence companies
• Big Data and analytics companies
• Robotics and automation companies
• Cloud and Internet of Things companies
目次
Artificial Intelligence and Cognitive Computing: Market Outlook for Communications, Applications, Content, and Commerce 2017 – 2022
1 Introduction
1.1 Research Background
1.2 Research Scope
1.3 Organizations in Report
2 Executive Summary
3 Artificial Intelligence
3.1 Overview
3.2 Market Definitions
3.2.1 Client
3.2.2 Intelligent Software Agent
3.2.3 Problem Solving
3.3 Practical Approaches to AI
3.4 Machine Learning
3.4.1 Supervised Learning
3.4.2 Unsupervised Learning
3.4.3 Semi-supervised Learning
3.4.4 Reinforcement Learning
3.5 Deep Learning
3.5.1 Artificial Neural Networks
3.6 Cognitive Computing
3.7 AI Algorithms in Applications
3.7.1 Natural Language Processing
3.7.2 Machine Perception
3.7.3 Data Mining
3.7.4 Motion and Manipulation
3.8 Limitations and Challenges for AI Expansion
3.9 Artificial Intelligence Opportunities and Drivers
3.10 Artificial Intelligence and Digital Security
4 Intellectual Property Leadership by Country and Company
4.1 Global AI Patents
4.2 AI Patents by Leading Countries
4.3 Global Machine Learning Patents
4.4 Machine Learning Patents by Leading Countries
4.5 Machine Learning Patents by Leading Companies
4.6 Global Deep Learning Patents
4.7 Deep Learning Patents by Leading Countries
4.8 Global Cognitive Computing Patents
4.9 Cognitive Computing Patents by Leading Countries
4.10 AI and Cognitive Computing Innovation Leadership
5 Global Market for Artificial Intelligence
5.1 Global Markets for AI 2017 – 2022
5.2 Global Market for AI by Segment 2017 - 2022
5.3 Regional Markets for AI 2017 - 2022
5.4 AI Market by Key Application 2017 – 2022
5.4.1 AI Markets for Predictive Analysis and Forecast 2017 – 2022
5.4.2 AI Market for Marketing and Business Decision Making 2017 – 2022
5.4.3 AI Market for Fraud Detection and Classification 2017 – 2022
5.4.4 AI Market for Workplace Automation 2017 – 2022
6 AI in Select Industry Verticals
6.1 Market for AI by Key Industry Vertical 2017 – 2022
6.1.1 AI Market for Internet-related Services and Products 2017 – 2022
6.1.2 AI Market for Telecommunications 2017 – 2022
6.1.3 AI Market for Medical and Bio-Informatics 2017 – 2022
6.1.4 AI Market for Financial Services 2017 – 2022
6.1.5 AI Market for Manufacturing and Heavy Industry 2017 – 2022
6.2 AI in other Industry Verticals
7 AI in Major Market Segments
7.1 AI Market by Product Segment 2017 - 2022
7.2 Market for Embedded AI within other Technologies 2017 - 2022
7.2.1 AI Algorithms in Data Mining 2017 - 2022
7.2.2 AI in Machine Perception Technology in 2017 - 2022
7.2.3 Market for AI Algorithms in Pattern Recognition Technology 2017 - 2022
7.2.4 Market for AI Algorithm in Intelligent Decision Support Systems Technology 2017 - 2022
7.2.5 Market for AI Algorithms in Natural Language Processing Technology 2017 – 2022
8 Select Companies and Solutions
8.1 Apple Inc.
8.2 Facebook
8.3 Google
8.4 IBM
8.5 Microsoft
9 Important AI Patents 2010 - 2015
Figures
Figure 1: Overall Artificial Intelligence Functionality
Figure 2: Machine Learning vs. Deep Learning
Figure 3: Artificial Intelligence support of IoT Security
Figure 4: AI Patents 2007 - 2017
Figure 5: AI Patents by Country
Figure 6: Machine Learning Patents 2007 - 2017
Figure 7: Machine Learning Patents by Country
Figure 8: Machine Learning Patents by Owner
Figure 9: Deep Learning Patents 2007 - 2017
Figure 10: Deep Learning Patents by Country
Figure 11: Cognitive Computing Patents 2007 - 2017
Figure 12: Cognitive Computing Patents by Country
Figure 13: Artificial Intelligence Market 2017 – 2022
Figure 14: Artificial Intelligence by Sub-category 2017 - 2022
Figure 15: Regional Markets for Artificial Intelligence 2017 - 2022
Figure 16: Artificial Intelligence Market by Application 2017 - 2022
Figure 17: Artificial Intelligence Market for Predictive Analysis 2017 - 2022
Figure 18: AI Market for Marketing and Business Decision Making 2017 - 2022
Figure 19: AI Market for Fraud Detection and Classification 2017 - 2022
Figure 20: Artificial Intelligence Market for Workplace Automation 2017 - 2022
Figure 21: Artificial Intelligence Market by Industry Vertical 2017 - 2022
Figure 22: AI Market for Internet Services and Products 2017 - 2022
Figure 23: Artificial Intelligence Market for Telecommunications 2017 - 2022
Figure 24: Artificial Intelligence Market for Medical and Bioinformatics 2017 - 2022
Figure 25: Artificial Intelligence Market for Financial Services 2017 - 2022
Figure 26: AI Market for Manufacturing and Heavy Industry 2017 - 2022
Figure 27: AI Market by Product Segment 2017 - 2022
Figure 28: Markets for Artificial Intelligence by Segment 2017 – 2022
Figure 29: Market for AI Algorithms in Data Mining 2017 - 2022
Figure 30: Market for AI Algorithms in Machine Perception Technology 2017 - 2022
Figure 31: Market for AI Algorithms in Pattern Recognition Technology 2017 - 2022
Figure 32: Market for AI Algorithms in Intelligent Decision Support Systems Technology 2017 - 2022
Figure 33: Market for AI Algorithms in Natural Language Processing Technology 2017 - 2022
Tables
Table 1: Artificial Intelligence Market 2017 – 2022
Table 2: Artificial Intelligence by Sub-category 2017 - 2022
Table 3: Regional Markets for Artificial Intelligence 2017 - 2022
Table 4: Artificial Intelligence Market by Application 2017 - 2022
Table 5: Artificial Intelligence Market for Predictive Analysis and Forecast 2017 - 2022
Table 6: AI Markets for Marketing and Business Decision Making 2017 - 2022
Table 7: Artificial Intelligence Market for Fraud Detection and Classification 2017 - 2022
Table 8: Artificial Intelligence Market for Workplace Automation 2017 - 2022
Table 9: Artificial Intelligence Market by Industry Vertical 2017 - 2022
Table 10: Artificial Intelligence Market for the Internet Services and Products 2017 - 2022
Table 11: Market for AI in the Internet Services and Products by Application 2017 – 2022
Table 12: Regional Market for AI in Internet Services and Products by Application 2017 – 2022
Table 13: Artificial Intelligence Market for Telecommunications 2017 - 2022
Table 14: Market for AI in Telecommunications by Application 2017 – 2022
Table 15: Regional Market for AI in Telecommunications by Application 2017 – 2022
Table 16: Artificial Intelligence Market for Medical and Bioinformatics 2017 - 2022
Table 17: Market for AI in Medical and Bioinformatics by Application 2017 – 2022
Table 18: Regional Markets for AI in Medical and Bioinformatics by Application 2017 – 2022
Table 19: Artificial Intelligence Market for Financial Services 2017 - 2022
Table 20: Markets for AI in Financial Services by Application 2017 – 2022
Table 21: Regional Market for AI in Financial Services by Application 2017 – 2022
Table 22: Artificial Intelligence Market for Manufacturing and Heavy Industry 2017 - 2022
Table 23: Market for AI in Manufacturing and Heavy Industry by Application 2017 – 2022
Table 24: Regional Market for AI in Manufacturing and Heavy Industry by Application 2017 – 2022
Table 25: AI Market Product Segment 2017 - 2022
Table 26: Markets for AI Algorithms in Select Technologies 2017 – 2022
Table 27: Market for AI Algorithms in Data Mining Technology 2017 - 2022
Table 28: Market for AI Algorithms in Machine Perception Technology 2017 - 2022
Table 29: Market for AI Algorithms in Pattern Recognition Technology 2017 - 2022
Table 30: Market for AI Algorithms in Intelligent Decision Support Systems Technology 2017 - 2022
Table 31: Market for AI Algorithms in Natural Language Processing Technology 2017 - 2022
Table 32: Apple Artificial Intelligence Acquisitions
Table 33: Facebook Artificial Intelligence Acquisitions
Table 34: Google Artificial Intelligence Acquisitions
Table 35: IBM Artificial Intelligence Acquisitions
Table 36: Microsoft Artificial Intelligence Acquisitions
Table 37: Key AI Patents
Artificial Intelligence in Big Data Analytics and IoT: Market for Data Capture, Information and Decision Support Services 2017 – 2022
1 Introduction
1.1 Executive Summary
1.2 Research Objectives
1.3 Key Findings
1.4 Target Audience
1.5 Companies in the Report
2 Overview
2.1 Artificial Intelligence and Machine Learning
2.2 AI Types
2.3 AI and ML Language
2.4 Artificial Intelligence Technology
2.4.1 Machine Learning
2.4.2 Natural Language Generation and Processing
2.4.3 Image Processing
2.4.4 Voice Recognition
2.4.5 Artificial Neural Network
2.4.6 Deep Learning
2.4.7 Others
2.5 AI and ML Technology Goal
2.5.1 Reasoning
2.5.2 Knowledge Representation
2.5.3 Planning
2.5.4 Learning
2.5.5 Communication
2.5.6 Machine Perception
2.5.7 Motion Manipulation
2.5.8 Social Intelligence
2.5.9 Creativity
2.5.10 Artificial General Intelligence
2.5.11 Computer Vision
2.5.12 Robotics
2.6 AI Approaches
2.6.1 Cybernetics and Brian Simulation
2.6.2 Symbolic
2.6.3 Sub-Symbolic
2.6.4 Statistical
2.6.5 Integration
2.7 AI Tools
2.7.1 Search and Optimization
2.7.2 Logic
2.7.3 Probability
2.7.4 Classifier and Statistics
2.7.5 Neural Network
2.7.6 Deep Feedforward Neural Network
2.7.7 Deep Recurrent Neural Network
2.7.8 Control Theory
2.7.9 Language
2.8 AI Outcome
2.8.1 Testing Tools
2.8.2 Virtual Assistant
2.8.3 AI Optimized IoT Hardware
2.8.4 Decision Management System
2.8.5 Biometrics Solution
2.8.6 Robotic Process Automation
2.9 Neural Network and Artificial Intelligence
2.10 Deep Learning and Artificial Intelligence
2.11 Predictive Analytics and Artificial Intelligence
2.12 Internet of Things and Big Data Analytics
2.13 IoT and Artificial Intelligence
2.14 Consumer IoT, Big Data Analytics, and Artificial Intelligence
2.15 Industrial IoT, Big Data Analytics, and Machine Learning
2.16 Artificial intelligence and cognitive computing
2.17 Transhumanism or H+ and Artificial Intelligence
2.18 Rise of the Analysis of Things
2.19 Supervised vs. Unsupervised Learning
2.20 AI as New form of UI
3 AI Technology in Big Data and IoT
3.1 Machine Learning Everywhere
3.1.1 Machine Learning as Open Source Technology
3.1.2 Machine Learning and Intelligent Discovery in IoT
3.1.3 Supervised and Unsupervised Machine Learning
3.1.4 Machine Learning as Big Data Analysis Technique
3.1.5 Machine Learning AI Robots
3.1.6 Machine Learning and Data Democratization
3.2 Machine Learning APIs and Big Data Development
3.2.1 Phases of Machine Learning APIs
3.2.2 Machine Learning API Challenges
3.2.3 Top Machine Learning APIs
3.2.3.1 IBM Watson API
3.2.3.2 Microsoft Azure Machine Learning API
3.2.3.3 Google Prediction API
3.2.3.4 Amazon Machine Learning API
3.2.3.5 BigML
3.2.3.6 AT&T Speech API
3.2.3.7 Wit.ai
3.2.3.8 AlchemyAPI
3.2.3.9 Diffbot
3.2.3.10 PredictionIO
3.2.4 Machine Learning API in General Application Environment
3.3 Enterprise Benefits of Machine Learning
3.4 Machine Learning in IoT Data
3.5 Ultra Scale Analytics and Artificial Intelligence
3.6 Rise of Algorithmic Business
3.7 Cloud Hosted Machine Intelligence
3.8 Contradiction of Machine Learning
3.9 Value Chain Analysis
3.9.1 AI and Machine Learning Companies
3.9.2 IoT Companies
3.9.3 Big Data Analytics Providers
3.9.4 Connectivity Solution and Infrastructure Providers
3.9.5 Hardware and Equipment Manufacturers
3.9.6 Developers and Data Scientists
3.9.7 End Users
4 AI Technology Application and Use Case
4.1 Intelligence Performance Monitoring
4.2 Infrastructure Monitoring
4.3 Generating Accurate Models
4.4 Recommendation Engine
4.5 Blockchain and Crypto Technologies
4.6 Enterprise Application
4.7 Contextual Awareness
4.8 Customer Feedback
4.9 Self-Driving Car
4.10 Fraud Detection System
4.11 Personalized Medicine and Healthcare Service
4.12 Predictive Data Modelling
4.13 Smart Machines
4.14 Cybersecurity Solutions
4.15 Autonomous Agents
4.16 Intelligent Assistant
4.17 Intelligent Decision Support System
4.18 Risk Management
4.19 Data Mining and Management
4.20 Intelligent Robotics
4.21 Financial Technology
4.22 Machine Intelligence
5 AI Technology Impact on Vertical Market
5.1 Enterprise Productivity Gain
5.2 Digital Twinning and Physical Asset Security
5.3 IT Process Efficiency Increase
5.4 AI to Replace Human Form Work
5.5 Enterprise AI Adoption Trends
5.6 Inclusion of AI as IT Requirement
6 AI Predictive Analytics in Vertical Industry
6.1.1 E-Commerce Services
6.1.2 Banking and Finance Services
6.1.3 Manufacturing Services
6.1.4 Real Estate Services
6.1.5 Government and Public Services
7 AI Solution in Big Data and IoT Market Forecast 2017 - 2022
7.1 Aggregated AI Solution Market 2017 - 2022
7.2 AI Solution Market by Segment 2017 – 2022
7.3 AI Embedded Solution Market 2017 – 2022
7.3.1 AI Embedded Solution by Segment
7.3.2 AI Embedded Solution Market for IoT Device 2017 – 2022
7.3.2.1 IoT Device Market by Type
7.3.2.2 IoT Device Market by AI Technology
7.3.2.3 IoT Device Market by Industry Vertical
7.3.2.4 IoT Device Market by Region
7.3.2.4.1 APAC IoT Device Market by Country
7.3.2.4.2 Europe IoT Device Market by Country
7.3.2.4.3 North America IoT Device Market by Country
7.3.2.4.4 Middle East and Africa IoT Device Market by Country
7.3.2.4.5 Latin America IoT Device Market by Country
7.3.3 AI Embedded Solution Market for IoT Platform 2017 – 2022
7.3.3.1 IoT Platform Market by Type
7.3.3.2 IoT Platform Market by AI Technology
7.3.3.3 IoT Platform Market by Industry Vertical
7.3.3.4 IoT Platform Market by Region
7.3.3.4.1 APAC IoT Platform Market by Country
7.3.3.4.2 Europe IoT Platform Market by Country
7.3.3.4.3 North America IoT Platform Market by Country
7.3.3.4.4 Middle East and Africa IoT Platform Market by Country
7.3.3.4.5 Latin America IoT Platform Market by Country
7.3.4 AI Embedded Solution Market for Digital Personal Assistant 2017 – 2022
7.3.4.1 Digital Personal Assistant Market by Type
7.3.4.2 Digital Personal Assistant Market by AI Technology
7.3.4.3 Digital Personal Assistant Market by Sector
7.3.4.4 Digital Personal Assistant Market by AI System
7.3.4.5 Digital Personal Assistant Market by Region
7.3.4.5.1 APAC Digital Personal Assistant Market by Country
7.3.4.5.2 Europe Digital Personal Assistant Market by Country
7.3.4.5.3 North America Digital Personal Assistant Market by Country
7.3.4.5.4 ROW Digital Personal Assistant Market by Country
7.3.5 AI Embedded Solution Market for Data Capture and Integration 2017 – 2022
7.3.5.1 Data Capture and Integration Market by Big Data Tools
7.3.5.2 Data Capture and Integration Market by Industry Vertical
7.3.5.3 Data Capture and Integration Market by Region
7.3.5.3.1 North America Data Capture and Integration Market by Country
7.3.5.3.2 APAC Data Capture and Integration Market by Country
7.3.5.3.3 Europe Data Capture and Integration Market by Country
7.3.5.3.4 Middle East and Africa Data Capture and Integration Market by Country
7.3.5.3.5 Latin America Data Capture and Integration Market by Country
7.4 AI Predictive Analytics Market 2017 – 2022
7.4.1 AI Predictive Analytics Market by AI Technology
7.4.2 AI Predictive Analytics Market by Business Application
7.4.3 AI Predictive Analytics Market by Technology Application
7.4.4 AI Predictive Analytics Market by Business Goal
7.4.5 AI Predictive Analytics Market by Industry Vertical
7.4.6 AI Predictive Analytics Market by Region
7.4.6.1 North America AI Predictive Analytics Market: AI Technology, Business Application, Technology Application, Business Goal, Industry Vertical, and Country
7.4.6.2 Europe AI Predictive Analytics Market: AI Technology, Business Application, Technology Application, Business Goal, Industry Vertical, and Country
7.4.6.3 APAC AI Predictive Analytics Market: AI Technology, Business Application, Technology Application, Business Goal, Industry Vertical, and Country
7.4.6.4 Middle East and Africa AI Predictive Analytics Market: AI Technology, Business Application, Technology Application, Business Goal, Industry Vertical, and Country
7.4.6.5 Latin America AI Predictive Analytics Market: AI Technology, Business Application, Technology Application, Business Goal, Industry Vertical, and Country
7.5 AI Professional Service Market in Big Data and IoT 2017 – 2022
7.5.1 AI Professional Service Market by Service Type
7.5.2 AI Professional Service Market by Segment
7.5.3 AI Professional Service Market by Industry Vertical
7.5.4 AI Professional Service Market by Region
7.5.4.1 APAC AI Professional Service Market by Country
7.5.4.2 Europe AI Professional Service Market by Country
7.5.4.3 North America AI Professional Service Market by Country
7.5.4.4 Middle East and Africa AI Professional Service Market by Country
7.5.4.5 Latin America AI Professional Service Market by Country
8 AI Embedded Connected IoT Device and Things 2017 – 2022
8.1 AI Embedded Connected IoT Device 2017 – 2022
8.1.1 Aggregated AI Embedded Connected IoT Device
8.1.2 AI Embedded Connected IoT Device by Type
8.1.3 AI Embedded Connected IoT Device by IoT Platform
8.1.4 AI Embedded Connected IoT Device by IoT Sector
8.1.5 AI Embedded Connected IoT Device by AI Technology
8.1.6 AI Embedded Connected IoT Device by Technology Application
8.1.7 AI Embedded Connected IoT Device by Industry Verticals
8.1.8 AI Embedded Connected IoT Device by Region
8.1.8.1 North America Connected IoT Device by Country
8.1.8.2 Europe Connected IoT Device by Country
8.1.8.3 APAC Connected IoT Device by Country
8.1.8.4 Middle East and Africa Connected IoT Device by Country
8.1.8.5 Latin America Connected IoT Device by Country
8.2 AI Embedded Connected IoT Things and Objects 2017 – 2022
8.2.1 Aggregated AI Embedded Connected IoT Things and Objects
8.2.2 AI Embedded Connected IoT Things and Objects by IoT Platform
8.2.3 AI Embedded Connected IoT Things and Objects by IoT Sector
8.2.4 AI Embedded Connected IoT Things and Objects by AI Technology
8.2.5 AI Embedded Connected IoT Things and Objects by Industry Verticals
8.2.6 AI Embedded Connected IoT Things and Objects by Region
8.2.6.1 North America Connected IoT Things and Objects by Country
8.2.6.2 Europe Connected IoT Things and Objects by Country
8.2.6.3 APAC Connected IoT Things and Objects by Country
8.2.6.4 Middle East and Africa Connected IoT Things and Objects by Country
8.2.6.5 Latin America Connected IoT Things and Objects by Country
9 Company Analysis
9.1 Google Inc.
9.2 Twitter Inc.
9.3 Microsoft Corporation
9.4 IBM Corporation
9.5 Apple Inc.
9.6 Facebook Inc.
9.7 Amazon.com Inc.
9.8 Skype
9.9 Salesforce.com
9.10 Intel Corporation
9.11 Yahoo Inc.
9.12 AOL Inc.
9.13 NVIDIA Corporation
9.14 x.ai
9.15 Tesla Inc.
9.16 Baidu Inc.
9.17 H2O.ai
9.18 SparkCognition Inc.
9.19 OpenAI
9.20 Inbenta
9.21 CISCO Systems Inc.
9.22 Infineon Technologies AG
9.23 McAfee
9.24 Happiest Minds Technologies
9.25 Tachyus
9.26 Sentrian
9.27 MAANA
9.28 Veros Systems Inc.
9.29 NEURA
9.30 Augury Systems Ltd.
9.31 glassbeam
9.32 Comfy
9.33 mnubo
9.34 C-B4
9.35 PointGrab Ltd.
9.36 Tellmeplus
9.37 moov
9.38 Sentenai Inc.
9.39 imagimob
9.40 FocusMotion
9.41 MoBagel
10 Conclusions and Recommendations
10.1 AI in the Next Decade
10.2 Recommendation for Data Analytics Providers
10.3 Recommendation for AI and Machine Learning Companies
10.4 Recommendation for IoT Companies and Equipment Manufacturers
10.5 Recommendation for Service Providers
10.6 Recommendations for Enterprise
11 Appendix
11.1 AI Embedded IoT Device Sales Revenue
11.1.1 Sales Revenue by Device Type
11.2 AI Optimized IoT Component Market
11.3 AI Optimized IoT Equipment Market
11.4 AI Optimized IoT Software Market
11.5 AI Optimized IoT Platform Market
Figures
Figure 1: Artificial Intelligence Technology
Figure 2: Sentiment Analysis with Deep Machine Learning
Figure 3: Artificial Intelligence (AI) and Predictive Layer System
Figure 4: Industrial IoT Landscape and Machine Learning as a Service
Figure 5: Machine Learning Use Case Scenario
Figure 6: Artificial Intelligence and Machine Learning Landscape
Figure 7: AI Solution driven Enterprise Productivity Gain 2017 - 2022
Figure 8: Global Digital Twinning Connected IoT Things 2017 – 2022
Figure 9: AI Robo-Boss Supervision of Worker 2017 – 2022
Figure 10: Global AI Solution Market in Big Data and IoT 2017 - 2022
Figure 11: Global AI Embedded Connected IoT Device 2017 – 2022
Figure 12: Global AI Embedded Connected IoT Things and Objects 2017 – 2022
Figure 13: AI Embedded IoT Device Sales Revenue 2017 – 2022
Tables
Table 1: AI Software Conducted Economic Transaction 2017 - 2022
Table 2: AI Empowered Building Security System 2017 – 2022
Table 3: AI Empowered Business Analytics Software 2017 – 2022
Table 4: AI Self Service Visual Discovery vs. Traditional IT Controlled Tools 2017 - 2022
Table 5: AI Smart Machine Created Business Content 2017 – 2022
Table 6: Global AI Solution Market in Big Data and IoT by Market Segment 2017 – 2022
Table 7: Global AI Embedded Solution in Big Data and IoT by Segment 2017 - 2022
Table 8: Global AI Embedded Solution for IoT Device by Type 2017 - 2022
Table 9: Global AI Embedded Solution in IoT Device by AI Technology 2017 - 2022
Table 10: Global AI Embedded Solution in IoT Device by Industry Vertical 2017 - 2022
Table 11: AI Embedded Solution in IoT Device by Region 2017 - 2022
Table 12: APAC AI Embedded Solution in IoT Device by Country 2017 - 2022
Table 13: Europe AI Embedded Solution in IoT Device by Country 2017 - 2022
Table 14: North America AI Embedded Solution in IoT Device by Country 2017 - 2022
Table 15: Middle East and Africa AI Embedded Solution in IoT Device by Country 2017 - 2022
Table 16: Latin America AI Embedded Solution in IoT Device by Country 2017 - 2022
Table 17: Global AI Embedded Solution for IoT Platform by Type 2017 - 2022
Table 18: Global AI Embedded Solution in IoT Platform by AI Technology 2017 - 2022
Table 19: Global AI Embedded Solution in IoT Platform by Industry Vertical 2017 - 2022
Table 20: AI Embedded Solution in IoT Platform by Region 2017 - 2022
Table 21: APAC AI Embedded Solution in IoT Platform by Country 2017 - 2022
Table 22: Europe AI Embedded Solution in IoT Platform by Country 2017 - 2022
Table 23: North America AI Embedded Solution in IoT Platform by Country 2017 - 2022
Table 24: Middle East and Africa AI Embedded Solution in IoT Platform by Country 2017 - 2022
Table 25: Latin America AI Embedded Solution in IoT Platform by Country 2017 - 2022
Table 26: Global AI Embedded Solution for Digital Personal Assistant by Type 2017 - 2022
Table 27: Global AI Embedded Solution in Digital Personal Assistant by AI Technology 2017 - 2022
Table 28: Global AI Embedded Solution in Digital Personal Assistant by Sector 2017 - 2022
Table 29: Global AI Embedded Solution in Digital Personal Assistant by AI System 2017 - 2022
Table 30: AI Embedded Solution in Digital Personal Assistant by Region 2017 - 2022
Table 31: APAC AI Embedded Solution in Digital Personal Assistant by Country 2017 - 2022
Table 32: Europe AI Embedded Solution in Digital Personal Assistant by Country 2017 - 2022
Table 33: North America AI Embedded Solution in Digital Personal Assistant by Country 2017 - 2022
Table 34: ROW AI Embedded Solution in Digital Personal Assistant by Country 2017 - 2022
Table 35: Global AI Embedded Data Capture and Integration Solution by Big Data Tools 2017 - 2022
Table 36: Global AI Embedded Data Capture and Integration Solution by Industry Vertical 2017 - 2022
Table 37: AI Embedded Data Capture and Integration Solution by Region 2017 - 2022
Table 38: North America AI Embedded Data Capture and Integration Solution by Country 2017 - 2022
Table 39: APAC AI Embedded Data Capture and Integration Solution by Country 2017 - 2022
Table 40: Europe AI Embedded Data Capture and Integration Solution by Country 2017 - 2022
Table 41: Middle East and Africa AI Embedded Data Capture and Integration Solution by Country 2017 - 2022
Table 42: Latin America AI Embedded Data Capture and Integration Solution by Country 2017 - 2022
Table 43: Global AI Predictive Analytics Solution by AI Technology 2017 - 2022
Table 44: Global AI Predictive Analytics Solution by Business Application 2017 - 2022
Table 45: Global AI Predictive Analytics Solution by Technology Application 2017 - 2022
Table 46: Global AI Predictive Analytics Solution by Business Goal 2017 - 2022
Table 47: Global AI Predictive Analytics Solution by Industry Vertical 2017 - 2022
Table 48: AI Predictive Analytics Solution by Region 2017 - 2022
Table 49: North America AI Predictive Analytics Solution by AI Technology 2017 - 2022
Table 50: North America AI Predictive Analytics Solution by Business Application 2017 - 2022
Table 51: North America AI Predictive Analytics Solution by Technology Application 2017 - 2022
Table 52: North America AI Predictive Analytics Solution by Business Goal 2017 - 2022
Table 53: North America AI Predictive Analytics Solution by Industry Vertical 2017 - 2022
Table 54: North America AI Predictive Analytics Solution by Country 2017 - 2022
Table 55: Europe AI Predictive Analytics Solution by AI Technology 2017 - 2022
Table 56: Europe AI Predictive Analytics Solution by Business Application 2017 - 2022
Table 57: Europe AI Predictive Analytics Solution by Technology Application 2017 - 2022
Table 58: Europe AI Predictive Analytics Solution by Business Goal 2017 - 2022
Table 59: Europe AI Predictive Analytics Solution by Industry Vertical 2017 - 2022
Table 60: Europe AI Predictive Analytics Solution by Country 2017 - 2022
Table 61: APAC AI Predictive Analytics Solution by AI Technology 2017 - 2022
Table 62: APAC AI Predictive Analytics Solution by Business Application 2017 - 2022
Table 63: APAC AI Predictive Analytics Solution by Technology Application 2017 - 2022
Table 64: APAC AI Predictive Analytics Solution by Business Goal 2017 - 2022
Table 65: APAC AI Predictive Analytics Solution by Industry Vertical 2017 - 2022
Table 66: APAC AI Predictive Analytics Solution by Country 2017 - 2022
Table 67: MEA AI Predictive Analytics Solution by AI Technology 2017 - 2022
Table 68: MEA AI Predictive Analytics Solution by Business Application 2017 - 2022
Table 69: MEA AI Predictive Analytics Solution by Technology Application 2017 - 2022
Table 70: MEA AI Predictive Analytics Solution by Business Goal 2017 - 2022
Table 71: MEA AI Predictive Analytics Solution by Industry Vertical 2017 - 2022
Table 72: MEA AI Predictive Analytics Solution by Country 2017 - 2022
Table 73: Latin America AI Predictive Analytics Solution by AI Technology 2017 - 2022
Table 74: Latin America AI Predictive Analytics Solution by Business Application 2017 - 2022
Table 75: Latin America AI Predictive Analytics Solution by Technology Application 2017 - 2022
Table 76: Latin America AI Predictive Analytics Solution by Business Goal 2017 - 2022
Table 77: Latin America AI Predictive Analytics Solution by Industry Vertical 2017 - 2022
Table 78: Latin America AI Predictive Analytics Solution by Country 2017 - 2022
Table 79: Global AI Professional Service in Big Data and IoT by Service Type 2017 - 2022
Table 80: Global AI Professional Service in Big Data and IoT by Segment 2017 - 2022
Table 81: Global AI Professional Service in Big Data and IoT by Industry Vertical 2017 - 2022
Table 82: AI Professional Service in Big Data and IoT by Region 2017 - 2022
Table 83: APAC AI Professional Service in Big Data and IoT by Country 2017 - 2022
Table 84: Europe AI Professional Service in Big Data and IoT by Country 2017 - 2022
Table 85: North America AI Professional Service in Big Data and IoT by Country 2017 - 2022
Table 86: Middle East and Africa AI Professional Service in Big Data and IoT by Country 2017 - 2022
Table 87: Latin America AI Professional Service in Big Data and IoT by Country 2017 - 2022
Table 88: Global AI Embedded Connected IoT Device by Type 2017 - 2022
Table 89: Global AI Embedded Connected IoT Device by IoT Platform 2017 - 2022
Table 90: Global AI Embedded Connected IoT Device by IoT Sector 2017 – 2022
Table 91: Global AI Embedded Connected IoT Device by AI Technology 2017 - 2022
Table 92: Global AI Embedded Connected IoT Device by Technology Application 2017 – 2022
Table 93: Global AI Embedded Connected IoT Device by Industry Vertical 2017 - 2022
Table 94: AI Embedded Connected IoT Device by Region 2017 - 2022
Table 95: North America AI Embedded Connected IoT Device by Country 2017 - 2022
Table 96: Europe AI Embedded Connected IoT Device by Country 2017 - 2022
Table 97: APAC AI Embedded Connected IoT Device by Country 2017 - 2022
Table 98: Middle East and Africa AI Embedded Connected IoT Device by Country 2017 - 2022
Table 99: Latin America AI Embedded Connected IoT Device by Country 2017 - 2022
Table 100: Global AI Embedded Connected IoT Things and Objects by IoT Platform 2017 - 2022
Table 101: Global AI Embedded Connected IoT Things and Objects by IoT Sector 2017 – 2022
Table 102: Global AI Embedded Connected IoT Things and Objects by AI Technology 2017 - 2022
Table 103: Global AI Embedded Connected IoT Things and Objects by Industry Vertical 2017 - 2022
Table 104: AI Embedded Connected IoT Things and Objects by Region 2017 - 2022
Table 105: North America AI Embedded Connected IoT Things and Objects by Country 2017 - 2022
Table 106: Europe AI Embedded Connected IoT Things and Objects by Country 2017 - 2022
Table 107: APAC AI Embedded Connected IoT Things and Objects by Country 2017 - 2022
Table 108: Middle East and Africa AI Embedded Connected IoT Things and Objects by Country 2017 - 2022
Table 109: Latin America AI Embedded Connected IoT Things and Objects by Country 2017 - 2022
Table 110: AI Embedded IoT Device Sales Revenue by Device Type 2017 – 2022
Table 111: AI Optimized IoT Component Market by Segment 2017 - 2022
Table 112: AI Optimized IoT Equipment Market by Segment 2017 - 2022
Table 113: AI Optimized IoT Software Market by Segment 2017 - 2022
Table 114: AI Optimized IoT Platform Market by Segment 2017 - 2022
Virtual Personal Assistants (VPA) and Smart Advisors: Autonomous Agent and Smart Machine Technology and the Market for Ambient User Experience
1.0 INTRODUCTION
1.1 TECHNOLOGY TREND AND VIRTUAL PRIVATE ASSISTANTS (VPA)
1.2 ENTERPRISE INTELLIGENT ASSISTANTS AND VPA
1.3 WHAT IS VPA?
1.4 BENEFITS OF VPA
1.5 POTENTIAL RISKS
2.0 VPA TECHNOLOGY DRIVERS
2.1 DIGITAL MESH AND AMBIENT USER EXPERIENCE
2.2 SMART MACHINE IMPLEMENTATIONS
2.3 AUTONOMOUS AGENTS AND ADVISORS
2.4 AUTONOMOUS ROBOTS
2.5 SOCIAL ROBOTS
2.6 NATURAL LANGUAGE PROCESSING
2.7 SPEECH RECOGNITION
2.8 INFORMATION OF EVERYTHING
2.9 MACHINE READING COMPREHENSION (MRC)
3.0 VPA GROWTH DRIVERS
3.1 FRIENDLY ASSISTANCE
3.2 QUALITY LIVES
3.3 CUSTOMER MANAGED RELATIONSHIP (CMR)
3.4 PERSONAL CLOUD
3.5 CONTEXTUAL ACTIONS
3.6 API AND MOBILE APPS
4.0 VPA ECOSYSTEM IMPACT
4.1 ECOSYSTEM ANALYSIS
4.2 MASTER CONTROLLER
4.3 CORPORATE ADVERTISING
4.4 CUSTOMER CARE
4.5 ONLINE ADVERTISING
4.6 ONLINE PAYMENT
4.7 AUGMENTED HUMAN REALITY
4.8 BUSINESS MODEL
4.9 END USERS
4.10 INTELLIGENT AGENTS
4.11 AUDIENCES
5.0 VPA SOLUTIONS AND USE CASES
5.1 GOOGLE NOW
5.2 APPLE SIRI
5.3 MICROSOFT CORTANA
5.4 FACEBOOK M
5.5 MYWAVE
5.6 NUANCE
5.7 MOTION.AI
5.8 INDIGO
5.9 DRAGON GO
5.10 VOKUL
5.11 ROBIN
5.12 24ME
5.13 QUIP
5.14 WUNDERLIST
5.15 SPEAKTOIT
5.16 AMAZON ECHO
5.17 BRAINA
5.18 S VOICE
5.19 ASSISTANT.AI
5.20 VOICE MATE
5.21 BLACKBERRY ASSISTANT
5.22 SILVIA
5.23 HTC HIDI
5.24 IBM WATSON
5.25 CUBIC
5.26 HOUND
5.27 JIBO
5.28 MALUUBA
5.29 MYCROFT
5.30 SIRIUS
5.31 UBI
5.32 VLINGO
5.33 SKYVI
5.34 JEANNIE
5.35 EASILYDO
5.36 VOICE ASSISTANT
5.37 EVI
5.38 OPERATOR
5.39 CHARLIE
5.40 WONDER
5.41 MAGIC
5.42 ALFRED
5.43 RESERVE
5.44 PENNY
5.45 CLARA
5.46 POSTMATES
5.47 JARVIS
5.48 AWESOME
5.49 CLOE
5.50 X.AI
5.51 RILEY
5.52 JULIE DESK
5.53 ZIRTUAL
5.54 DENARRI
5.55 AIVC
5.56 EVA
5.57 ANDY
5.58 HELLO ALFRED
5.59 BUDDY
5.60 GOBUTLER
6.0 VPA MARKET PROJECTIONS THROUGH 2025
6.1 GLOBAL MARKET VALUE
6.2 MARKET VALUE BY REGION
6.3 MARKET VALUE BY CORE TECHNOLOGY
6.4 MARKET VALUE BY END USER
6.5 MARKET VALUE BY AUTONOMOUS AGENTS
6.6 MARKET VALUE BY ECOSYSTEM PLAYERS
6.7 MARKET VALUE BY BUSINESS MODEL
6.8 ENTERPRISE VPA ADOPTION
7.0 APPENDIX ARTIFICIAL INTELLIGENCE AND MACHINE LEARNING
7.1 ARTIFICIAL INTELLIGENCE
7.2 MACHINE LEARNING

Figures

Figure 1: VPA Ecosystem
Figure 2: Google Now Card
Figure 3: Apple's Siri Voice Control
Figure 4: Microsoft Cortana Usage Diagram
Figure 5: Facebook M Interface and Tests

Tables

Table 1: VPA Market Value by Geographic Region 2025
Table 2: VPA Market Value by Core Technology 2025
Table 3: VPA Market Value by Types of End User 2025
Table 4: VPA Market Value by Types of Autonomous Agents 2025
Table 5: VPA Market Value by Ecosystem Participants 2025
Table 6: VPA Market Value by Business Model 2025