サマリー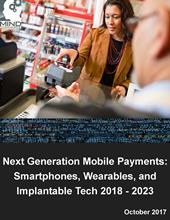 米国調査会社マインドコマース(Mind Commerce)の調査レポート「次世代のモバイル支払い:スマートフォン、ウェアラブル、埋め込み技術 2018-2023年」は、既存と最新のモバイル支払い(モバイルペイメント)技術を調査し、主要企業とソリューションについて概説している。2018-2023年のモバイル支払いのすべての分野に関する市場を予測している。
目次(抜粋)
モバイル支払いの市場概観
モバイル支払いのエコシステム
モバイル支払市場の分析と予測
主要企業の分析
Overview:
The global mobile payment segment has experienced exceptional growth in the last five years, establishing a $600B market by 2017. The market has moved well-beyond its origins of niche status and is now poised for adoption of new payment technologies such as next generation contactless payments, converged mobile wallets, integration of digital currency (like Bitcoin), wearable payment solutions, and payments through implanted chips into the human body. The overall electronic payments market will also accelerate transformation towards a cashless society.
This growth will benefit all value chain stakeholders including device manufacturers, service providers, app developers, financial organizations, and merchants significantly. Many improvements will be witnessed as the ecosystem streamlines front-end processes to leverage efficiencies enabled by back-end systems. Mind Commerce estimates a combined $3T mobile payment market by 2023 of which $9B will be through next generation implantable payment technologies.
The research evaluates existing and emerging mobile payment technologies, leading mobile payment companies, and solutions. The report provides market forecast for the 2018 – 2023 period for all segments of the mobile payment marketplace. All purchases of Mind Commerce reports include time with an expert analyst who will help you link key findings in the report to the business issues you're addressing. This needs to be used within three months of purchasing the report.
Report Benefits:
• Mobile payment forecasts including global, regional, and country data for 2018 – 2023
• Global payment market analysis including mobile money, wallets, wearable and implantable payments
• Understand current payment methods and emerging technologies including wearables and implantables
• Understand the evolving ecosystem for mobile payments, value partners, and their role key in the ecosystem
Target Audience:
• Wearable companies
• Financial institutions
• Application developers
• Mobile device vendors
• Mobile network operators
• Mobile commerce companies
• Wireless infrastructure companies
• Government agencies and authorities
Companies in Report:
• Adyen
• Alibaba Group Holding Limited
• Amazon.com Inc.
• American Express Company
• Apple Inc.
• AT&T Inc.
• Bank of America Corporation
• Bharti Airtel Limited
• Bitcoin
• Citigroup Inc.
• Fortumo
• Gemalto N.V.
• Google Inc.
• M-Pesa
• MasterCard Incorporated
• MeaWallet
• Microsoft Corporation
• Movencorp Inc.
• MTN Group Limited
• NTT DoCoMo Inc.
• NXP Semiconductors
• Orange S.A.
• PayPal Holdings Inc.
• Paytm
• Qualcomm Incorporated
• Samsung Electronics Co. Ltd.
• Square Inc.
• Stripe
• TNS Inc.
• Verizon Wireless
• Visa Inc.
• Vodacom Group Limited
目次
1 Introduction
1.1 Mobile Payment Overview
1.2 Mobile Payment Industry Roadmap
1.3 Mobile Payment Rational
1.4 Mobile Payment Model
1.4.1 Remote Payment Model
1.4.1.1 Short Message Service (SMS)
1.4.1.2 Mobile Web Payments
1.4.1.3 Direct Mobile Billing (DCB)
1.4.1.4 Unstructured Supplementary Service Data (USSD)
1.4.2 Proximity Payment Model
1.4.2.1 QR Code
1.4.2.2 Near Field Communication (NFC)
1.4.2.3 Biometric
1.4.2.4 Micro Currency Payment
1.5 Cloud-based Payments vs. NFC Payments
1.6 Customer Loyalty and Mobile Payment
1.7 Virtual Cart and Sensor Fusion
1.7.1 Computer Vision
1.7.2 Artificial Intelligence
1.8 More on Contactless Payment Solutions
1.8.1 Bluetooth Low Energy (BLE)
1.8.2 Body Sensor Network
1.8.3 Host Card Emulation (HCE) Cloud Software
1.9 Implantable Payments
1.9.1 Smart Chips
1.9.2 Digital Tattoo
1.9.3 Implantable Smartphones and Holograms
1.10 Biometric Technology and Artificial Intelligence
1.11 Mobile Wallets in Payment Systems
1.11.1 Card Containers
1.11.2 Digital Bank Accounts
1.11.3 Mobile Payment Products
1.11.4 Micro-Currency Converters
1.11.5 True Mobile Wallets
1.12 Wearable Payments
1.12.1 AR Hologram Payment
1.13 E-Payment Process
1.13.1 Payment Gateway
1.13.2 Payment Service Providers
1.14 Regulatory Framework
1.14.1 ISO/IEC 10536-1:2000
1.14.2 ISO/IEC 14443-4:2016
1.14.3 ISO/IEC 15693
1.15 Mobile Payment Market Drivers
1.15.1 Transition to Cashless Society
1.15.2 Rise of Smartphones and M-Commerce
1.15.3 IoT Adoption and Artificial Intelligence
1.15.4 Hassle Free Low Value Transaction
1.15.5 Rise of PoS Payment and NFC Chips
1.15.6 Security Considerations
1.15.7 User Data Breach
1.16 Emerging Banking Payment Channels
2 Mobile Payment Ecosystem
2.1 Mobile Payment Value Chain
2.1.1 Payment and Processing Application Providers
2.1.2 Bank and Smart Card Providers
2.1.3 Payment Network Providers
2.1.4 Infrastructure and Security Solution Providers
2.1.5 Merchant and Consumers
2.2 Mobile Payment Technology Solution
2.2.1 Payment Processing Solution
2.2.2 Cloud Application Solution
2.2.3 Mobility Management Solution
2.2.4 Data and Analytics Solution
2.2.5 Security Solution
2.3 Mobile Payment User Interface
2.3.1 Over the Air (OTA) Activation and Personalization
2.3.2 Low vs. High Value Transaction Interface
2.3.3 Peer-to-Peer (P2P) Payment
2.3.4 Starbucks Mobile Payment System
2.3.5 PayPal Venmo Payment
2.3.6 Blockchain Interface and Bitcoin
2.4 Mobile Payment Application Paradigm
2.5 Mobile Payment Ecosystem Development
2.5.1 Historical Development
2.5.2 PoS Terminal
2.5.3 Merchant Customer Exchange (MCX)
2.5.4 Apple Pay to NFC Payment
2.5.5 Google with Android Pay
2.5.6 PayPal acquired Paydiant
2.5.7 Government and Regional Initiative
2.5.7.1 SJ Rail to Offer Implantable Microchip
2.5.7.2 Epicentre to Inject Microchip to its Employees
2.5.7.3 Singtel with NETS to Open NFC Store
2.5.7.4 MasterCard opens Innovation Labs
2.5.7.5 MasterCard Partnership with AvidXchange
2.5.7.6 SoFi and JetBlue to Offer Student Loans Payment Solution
2.5.7.7 Gemalto to Offer Cloud Based Access Management Service
2.5.7.8 Expensify to Partner Bill.com to Revamp Software
2.5.7.9 SoFi on Launching Industrial Bank
2.5.7.10 Lendio Partnership with Comcast Business
2.5.7.11 32M Partnership with BioHax
2.5.7.12 Three Square Market to Implant Microchip among Employees
3 Mobile Payment Market Analysis and Forecasts
3.1 Combined Mobile Payment Market 2018 – 2023
3.2 Mobile Payment Market by Segment
3.3 Mobile Payment Transaction Forecast 2018 – 2023
3.3.1 Transaction Volume by Type
3.3.1.1 Mobile Money and Banking Transaction Volume
3.3.1.1.1 Third Party Mobile Money Transaction Volume
3.3.1.2 Mobile Wallet Transaction Volume
3.3.1.3 Wearable Payment Transaction Volume
3.3.1.4 Implantable Payment Transaction Volume
3.3.2 Transaction Volume by Payment Mode
3.3.2.1 Remote Payment Transaction Volume by Mode
3.3.2.2 Proximity Payment Transaction Volume by Mode
3.3.2.2.1 Host Cast Emulation (HCE) Cloud Transaction Volume
3.3.3 Transaction Volume by Application Platform
3.3.4 Transaction Volume by Industry Vertical
3.3.5 Transaction Volume by Region
3.3.5.1 APAC Transaction Volume by Country
3.3.5.2 North America Transaction Volume by Country
3.3.5.3 Europe Transaction Volume by Country
3.3.5.4 Latin America Transaction Volume by Country
3.3.5.5 Middle East and Africa Transaction Volume by Country
3.4 Mobile Payment Technology Market Forecast 2018 – 2023
3.4.1 Technology Market by Segment
3.4.1.1 Technology Solution Market by Segment
3.4.1.1.1 Mobile Payment Processing Solution Market by Category
3.4.1.1.2 Payment Security Solution Market by Category
3.4.1.2 Technology Service Market by Category
3.4.1.2.1 Professional Technology Service Market by Category
3.4.2 Technology Service Market by Type
3.4.3 Payment Technology Market by Region
3.4.3.1 APAC Payment Technology Market by Country
3.4.3.2 North America Payment Technology Market by Country
3.4.3.3 Europe Payment Technology Market by Country
3.4.3.4 Latin America Payment Technology Market by Country
3.4.3.5 Middle East and Africa Payment Technology Market by Country
4 Company Analysis
4.1 Amazon.com Inc.
4.2 Google Inc.
4.3 Apple Inc.
4.4 M-Pesa
4.5 PayPal Holdings Inc.
4.6 Visa Inc.
4.7 Citigroup Inc.
4.8 Bank of America Corporation
4.9 American Express Company
4.10 Bitcoin
4.11 Movencorp Inc.
4.12 MasterCard Incorporated
4.13 MeaWallet
4.14 Verizon Wireless
4.15 AT&T Inc.
4.16 NTT DoCoMo Inc.
4.17 NXP Semiconductors
4.18 Qualcomm Incorporated
4.19 TNS Inc.
4.20 Gemalto N.V.
4.21 Samsung Electronics Co. Ltd.
4.22 Microsoft Corporation
4.23 Paytm
4.24 Alibaba Group Holding Limited
4.25 Square Inc.
4.26 Stripe
4.27 Adyen
4.28 Fortumo
4.29 Orange S.A.
4.30 Vodacom Group Limited
4.31 Bharti Airtel Limited
4.32 MTN Group Limited
5 Conclusions and Recommendations
Figures
Figure 1: Mobile Payment Industry Roadmap
Figure 2: Mobile Payment Model
Figure 3: Smart NFC Chip
Figure 4: Digital Tattoo
Figure 5: Implanted Smartphone with Holographic Screen
Figure 6: E-payment Process
Figure 7: Mobile Payment Ecosystem
Figure 8: OTA Payment Activation Process
Figure 9: Global Mobile Payment Market 2018 – 2023
Figure 10: Global Third Party Mobile Money (Non-Banking) Transaction Volume 2018 – 2023
Figure 11: Global NFC Payment by Host Cast Emulation (HCE) Cloud Based Transaction 2018 – 2023
Tables
Table 1: Global Mobile Payment Market by Segment 2018 – 2023
Table 2: Global Mobile Payment Transaction Volume by Type 2018 – 2023
Table 3: Global Mobile Money and Banking Transaction Volume by Payment Mode 2018 – 2023
Table 4: Global Mobile Wallet Transaction Volume by Payment Mode 2018 – 2023
Table 5: Global Wearable Payment Transaction Volume by Mode 2018 – 2023
Table 6: Global Wearable Transaction Volume by Payment Mode 2018 – 2023
Table 7: Global Mobile Payment Transaction by Payment Mode 2018 – 2023
Table 8: Global Mobile Payment Transaction by Remote Payment Mode 2018 – 2023
Table 9: Global Mobile Payment Transaction by Proximity Payment Mode 2018 – 2023
Table 10: Global Mobile Payment Transaction by Application Platform 2018 – 2023
Table 11: Global Mobile Payment Transaction by Industry Vertical 2018 – 2023
Table 12: Mobile Payment Transaction by Region 2018 – 2023
Table 13: APAC Mobile Payment Transaction by Country 2018 – 2023
Table 14: North America Mobile Payment Transaction by Country 2018 – 2023
Table 15: Europe Mobile Payment Transaction by Country 2018 – 2023
Table 16: Latin America Mobile Payment Transaction by Country 2018 – 2023
Table 17: MEA Mobile Payment Transaction by Country 2018 – 2023
Table 18: Global Mobile Payment Technology Market by Segment 2018 – 2023
Table 19: Global Mobile Payment Technology Solution Market by Segment 2018 – 2023
Table 20: Global Mobile Payment Processing Solution Market by Category 2018 – 2023
Table 21: Global Mobile Payment Security Solution Market by Category 2018 – 2023
Table 22: Global Mobile Payment Technology Service Market by Category 2018 – 2023
Table 23: Global Mobile Payment Professional Technology Service Market by Category 2018 – 2023
Table 24: Global Mobile Payment Technology Market by Type 2018 – 2023
Table 25: Mobile Payment Technology Market by Region 2018 – 2023
Table 26: APAC Mobile Payment Technology Market by Country 2018 – 2023
Table 27: North America Mobile Payment Technology Market by Country 2018 – 2023
Table 28: Europe Mobile Payment Technology Market by Country 2018 – 2023
Table 29: Latin America Mobile Payment Technology Market by Country 2018 – 2023
Table 30: MEA Mobile Payment Technology Market by Country 2018 – 2023