サマリー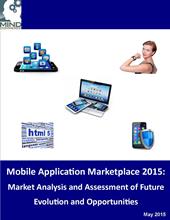 米国調査会社マインドコマース(Mind Commerce)の調査レポート「モバイルアプリケーションの市場 2015年:市場分析と今後の展開とビジネスチャンスの査定」は、モバイルアプリケーションの市場状況、主要企業と戦略、エコシステムのダイナミクスおよびモバイルプラットフォーム展開における将来の方向性とビジネスチャンスについて理解を深めるための基礎情報を提供しています。
目次(抜粋)
サマリー
モバイルアプリケーションの概要
モバイルプラットフォーム(OS)
モバイルプログラミング
アプリケーション開発プラットフォーム
主要な開発コンセプト
モバイルアプリケーション市場
アプリケーションストアのケーススタディ
市場規模
モバイルゲーム分析
ウェアラブルデバイスのアプリと今後のアプリ
キャリアとベンダの適合
アプリパブリッシャーの分析
モバイルアプリケーションの今後

Overview:
The evolution of wireless communications, driven largely by the mobile cellular industry, has made society more productive on an anywhere, anytime basis. This has led to ubiquitous wireless devices: smartphones, tablets and wearable technology. The introduction and usage of mobile applications across mobile devices has significantly transformed end-user expectations about digital communications, applications, content and commerce.
The exponential growth of this industry has turned it into a breeding ground of innovation, with new ideas being released to consumers almost daily. The marketplace and its leaders changes year by year. Over ten years ago Palm and Research in Motion were the dominant forces in the market, now they are out of the game or fighting to regain market control.
This report provides a foundation for understanding the state of the market for mobile applications, leading players and strategies, ecosystem dynamics, and the future direction and opportunities for development on mobile platforms. All purchases of Mind Commerce reports includes time with an expert analyst who will help you link key findings in the report to the business issues you're addressing. This needs to be used within three months of purchasing the report.
Target Audience:
Network operators
Software developers
Application developers
OTT application providers
Application store providers
Retail electronics distributors
Wireless device manufacturers
Content delivery network providers
Mobile commerce service providers
目次
Table of Contents:
1 Introduction 9
1.1 Executive Summary 9
1.2 Target Audience 12
1.3 Companies Mentioned 13
2 Mobile Applications Overview 16
2.1 Definition of a Mobile Applications 17
2.2 What Separates an App From a Bundled Device Feature? 18
2.3 Examples of Current Mobile Apps 18
3 Mobile Platforms (Operating Systems) 21
3.1 OHA Android (free and open source) 21
3.2 iOS from Apple 25
3.3 BlackBerry 10 from RIM 29
3.4 Windows Mobile from Microsoft 29
3.5 BlackBerry OS from RIM 31
3.6 BREW from Qualcomm 33
3.7 Symbian OS from Nokia and Accenture 33
3.8 Firefox OS from Mozilla Foundation 34
3.9 Sailfish OS from Jolla 34
3.10 TIZEN from the Linuz Foundation 36
3.11 Ubuntu from Canonical Ltd. 38
4 Mobile Programming 39
4.1 Widgets 39
4.2 Hardware Widgets 40
4.3 Hardware and Software Evolution 42
4.3.1 Hardware Evolution and Handset Manufacturers Market Share 42
4.3.2 The Smartphone Revolution 47
4.3.3 Development Platforms 48
4.3.4 HTML5 49
4.3.5 HTML and Mini Browsers 53
4.3.6 Adobe, Flash, and SilverLight 53
4.3.7 JavaScript 53
4.3.8 AJAX 54
4.3.9 Future Directions of Mobile Development 55
5 Application Development Platforms 57
5.1 J2ME Platform 58
5.2 Platform Specific 59
5.2.1 iOS SDK 60
5.2.2 Blackberry OS Development Tools 60
5.2.3 Nokia Development Tools 61
5.2.4 Motorola Development Tools 61
5.2.5 LG Development Tools 62
5.2.6 Samsung Development Tools 62
5.2.7 HTC Development Tools 62
5.2.8 Sony Ericsson Development Tools 63
5.2.9 Android Development Tools 63
6 Key Development Concepts 64
6.1 Mobile Development Trends 64
6.1.1 Platforms 65
6.1.2 Programming Techniques 65
6.1.3 Mobile Optimization 68
6.1.4 Software Development Methodology 69
6.2 Native Programming Techniques 69
6.2.1 Size Constraints 69
6.2.1.1 Compact Code 70
6.2.1.2 Compact File Space 70
6.2.2 Display Constraints 70
6.2.2.1 Display Sizes and Standards 71
6.2.2.2 Multiple Displays 71
6.2.3 Input and Controls 72
6.2.3.1 Input device types 72
6.2.3.2 Keyboard 73
6.2.3.3 Touch Screen 73
6.2.3.4 Thumb Sticks, Roller Balls, and Direction Pads. 75
6.2.3.5 Environmental Controls 75
6.2.3.6 Motion and Orientation Sensors 75
6.2.3.7 Light Sensors 75
6.2.3.8 Proximity Sensor 76
6.2.3.9 Gyroscope 76
6.2.3.10 Accelerometer 76
6.2.3.11 Peripheral Access 77
6.2.3.12 GPS Onboard and Off 77
6.2.3.13 Bluetooth 77
6.2.3.14 Near Field Communication and S Beam 78
6.2.3.15 Touch ID 79
6.2.3.16 Stylus Pen 80
6.3 Network Access 81
6.3.1 Connection Persistence 81
6.3.2 Dial on Demand 81
6.3.3 Always On 82
6.3.4 Connection Types and Limitations 82
6.3.5 Cellular Data 83
6.3.6 WiFi 83
6.3.7 Bluetooth 84
6.3.8 Bluetooth Low Energy (BLE) 84
6.3.9 Processing 88
6.3.10 Platforms and Speeds 88
7 Mobile Application Market 90
7.1 Mobile Advertising 92
7.2 Market Summary 93
8 Application Store Case Studies 100
8.1 Case Study Blackberry (RIM) 100
8.2 Case Study Apple 105
8.3 Case Study Android 110
8.4 Case Study: Amazon App Store 113
8.5 Case Study Windows App Store 115
9 Market Size 116
9.1 Mobile Application Overall Market 116
9.2 Mobile Sales Potential 117
9.3 Forecasted Smart Phone Sales 118
9.4 Growth Indicators 119
9.5 Market Analysis 122
9.6 Application Store Market Performance 124
9.6.1 Apple App Store 124
9.6.2 Android Marketplace Analysis 126
10 Mobile Gaming Analytics 131
10.1.1 Monetizing Micro Transaction in F2P Model: Creating a Need Approach is Key 137
10.1.2 Game Balancing Method in Micro Transaction Model 137
10.1.3 Potential Risk and Solution in F2P Virtual Economy 138
10.1.4 Pricing Decision Factors: ARPU vs. Average game price vs. Average Gamers 141
10.1.5 Product Life Cycle of Mobile Game: Adoption of Moore's Lifecycle Model 142
10.1.6 Game Lifecycle KPI framework 144
10.1.7 Smartphones vs. Portable Game Players 145
11 Wearable Devices Apps and Future Apps 146
11.1 Fitness Apps 147
11.2 Wearable Devices Payment Apps 149
11.3 Future Wearables Apps 151
11.3.1 Military Applications 151
11.3.2 Industry and Enterprise Applications 152
11.3.3 A Day in the Life of a Celebrity App 153
11.3.4 In my Glass 154
12 Carrier and Vendor Adaptations 156
12.1 Topology and Network Changes 156
12.1.1 Policy Changes 156
12.1.2 Open Network Movements 157
12.1.3 Billing Plan Changes 157
12.1.4 Infrastructure Hardware Changes 158
12.1.5 Location Based Services 158
12.1.6 WiFi Localized Service Hosting 158
12.1.7 Handset Manufacturer Changes 159
12.1.8 Integrating New Handset Features 159
12.1.9 Evolving the Handset 160
12.1.10 Multiple Platform Mobile Operating Systems 160
13 App Publishers Analysis 161
13.1 Gameloft 161
13.2 GungHo Online 162
13.3 Electronic Arts 163
13.4 Zynga 164
13.5 DeNA 164
13.6 SEGA 165
13.7 King 166
14 Future of Mobile Applications 167
14.1 Communication Enabled Apps 167
14.1.1 Direct API Revenue 167
14.1.2 Data Monetization 168
14.1.3 Cost Savings 168
14.1.4 Higher Usage 168
14.1.5 Churn Reduction 169
14.2 Embedded Entertainment and Gamified Apps 169
14.2.1 Gamification 169
14.2.2 Wearable Gamification 170
14.2.3 Mobile Social Gamification 170
14.2.4 Cloud Gamification 171
14.3 Cross Platform Apps 171
14.3.1 Smartphones, Tablets, Wearable Tech and More 172
14.3.2 Mobile/Wireless Apps Everywhere 174
14.4 The Impact of SMAC 176
14.4.1 Social, Mobile, Analytics, and Cloud (SMAC) 176
14.4.2 SMAC Stack 177
14.4.3 SMAC and Enterprise Mobile Market and Apps 177
Tables
Table 1: Example of the Most Successful Apps 19
Table 2: Apps Revenues in Apple App and Google Play Stores 20
Table 3: Handsets Manufacturer Market Share 46
Table 4: Mobile/Tablet Browser Share 50
Table 5: Mobile Platform Market Share 2012 - 2020 97
Table 6: Smartphone Market SWOT 123
Table 7: Key Considerable Mobile Gaming Strategies 132
Table 8: Mobile Gaming Business Model Descriptions 133
Table 9 Game Balancing Methods in Virtual Economy 138
Table 10: Potential Risk & Solution in F2P Virtual Economy 139
Table 11: Revenue vs. Costs in Gaming App Business 140
Table 12: Gameloft most Successful Apps 161
Table 13: Gungho Online Entertainment, Inc most Successful Apps 162
Table 14: EA most Successful Apps 163
Table 15: Zynga most Successful Apps 164
Table 16: DeNa Most Successful Apps 165
Table 17: SEGA Most Successful App 165
Table 18: King Applications 166
Figures
Figure 1: iPhone 6 and iPhone 6 Plus 26
Figure 2: iOS 8 28
Figure 3: Windows Phone 8 from Nokia 30
Figure 4: BlackBerry Z10 32
Figure 5: First Mobile Widgets 40
Figure 6: Early Mobile Widgets and Hardware 41
Figure 7: The Rise of the Smartphones Era 48
Figure 8: Classic Web App vs. Ajax Web Application Model 55
Figure 9: Samsung Note Edge 72
Figure 10: Multi-touch Screen 74
Figure 11: Touch ID 80
Figure 12: Blackberry OS 10.1 102
Figure 13: Amazon App Store 114
Figure 14: Apple App Store vs. iTunes Music Sales 125
Figure 15: Mobile Gaming Business Models 136
Figure 16: Monetizing Micro-Transaction in F2P model 137
Figure 17: Adoption of Moore's Lifecycle Model in Mobile Gaming 142
Figure 18: Sequential Steps of Mobile Game Analytic Approach 143
Figure 19: Mobile Game Lifecycle KPI Framework 144
Figure 20: Apple Watch Payments using NFC 151
Figure 21: A Day in a Life of a Celebrity 154
Figure 22: Mobile App Store Framework 175