サマリー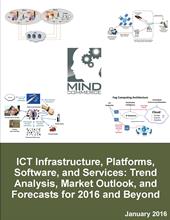 米国調査会社マインドコマース(Mind Commerce)の調査レポート「ICTインフラ、プラットフォーム、ソフトウェア、サービス:市場動向分析、市場概観、2016年とそれ以降の市場予測」は、2015-2020年のICTインフラストラクチャ、プラットフォーム、ソフトウェア、サービスの市場を予測しています。データ管理、クラウドコンピューティング、モノのインターネット(IoT)などのICTの主要な市場分野のそれぞれについて調査しています。
目次(抜粋)
ICTインフラストラクチャ、プラットフォーム、ソフトウェア、サービス市場の主要動向
データ管理市場について
クラウドコンピューティング市場について
モノのインターネット(IoT)市場について
ウェアラブル技術
仮想ICTインフラストラクチャとプログラム可能なICTインフラストラクチャ
RAN(無線接続ネットワーク)の最適化
ブロードバンド無線の革新
インターネット、IP技術、OSSの最適化
2016年に注目すべきセグメントと提携・M&A
Overview:
The Information and Communications Technology (ICT) industry is experiencing profound change across a broad range of areas. Containing insights not found anywhere elsewhere, ICT Infrastructure, Platforms, Software, and Services: Trend Analysis, Market Outlook, and Forecasts for 2016 and Beyond provides comprehensive analysis of key ICT infrastructure, platforms, applications, and services. Primary coverage areas include 5G, Artificial Intelligences, Big Data, Cloud Computing, and the Internet of Things.
Secondary areas include Wearable Technology, Digital Security, Smart Cities (and supporting technologies), Gamification (e.g. embedded entertainment), Industry 4.0, Edge Computing, SDN and NFV, DevOps, and advanced applications such as WebRTC and emerging low-latency dependent services such as Haptic Internet and Augmented Reality.
The report provides trend analysis, market outlook, quantitative forecasts for 2015 – 2020 and predictions for 2016 and beyond. The report addresses every major ICT area with an emphasis on Data Management, Cloud Computing, and the Internet of Things. All purchases of Mind Commerce reports includes time with an expert analyst who will help you link key findings in the report to the business issues you're addressing. This needs to be used within three months of purchasing the report.
Target Audience:
Network Operators
Software Developers
Equipment Providers
Data Services Providers
Cloud Computing Companies
Regulatory and Policy Groups
Business and Financial Institutions
Associations and Technology Groups
Corporate and Institutional Investors
Management Consulting and Advisory Firms
Report Benefits:
Diverse array of industry forecasts
Comprehensive qualitative analysis
Unique ICT data, insights, and opinions
Key segments to watch in 2016 and beyond
In-depth Big Data, Cloud Computing, and IoT analysis
Company licensee receives all forecasts in Excel format
Extra Benefits:
Pick any five (5) Big Data, Cloud, and IoT report you want from the Mind Commerce portfolio
Company-wide License purchasers receive all forecasts in Excel data format for all categories
目次
Table of Contents:
1.0 EXECUTIVE SUMMARY
2.0 INTRODUCTION
2.1 KEY ICT TRENDS
2.2 TECHNOLOGY COVERAGE AREAS
3.0 DATA MANAGEMENT
3.1 IMPORTANT DATA TRENDS FOR BUSINESS
3.2 BIG DATA GOES MAINSTREAM
3.3 DATA AGILITY AND FLEXIBILITY
3.4 DATA DEMOCRATIZATION
3.5 STRONG HIRING TREND TO CONTINUE IN DATA MANAGEMENT
3.6 BIG DATA AND BUSINESS INTELLIGENCE BEGIN TO PLAY NICE IN THE SANDBOX
3.7 INCREASED MONETIZATION OF ICT DATA SERVICES ESPECIALLY FROM CSPS
3.8 INCREASED EMPHASIS ON ARTIFICIAL INTELLIGENCE AND MACHINE LEARNING
3.9 IOT DATA MANAGEMENT IS AN EMERGING OPPORTUNITY
4.0 CLOUD COMPUTING
4.1 THE CONSUMER CLOUD BECOMES MORE NORM THAN NOVELTY
4.2 NEXT GENERATION CLOUD SKILLS ARE TABLE STAKES FOR IT LEADERS
4.3 CLOUD COMPUTING IS ALMOST EQUATED WITH PRODUCTIVITY
4.4 CLOUD COMPUTING CONVERGENCE WITH MOBILE, SOCIAL AND ANALYTICS
5.0 INTERNET OF THINGS (IOT) AND INTERNET OF EVERYTHING
5.1 IOT ARCHITECTURE, CLOUD, AND BIG DATA
5.2 IOT AND WIDE AREA NETWORKS (WAN)
5.3 IOT PLATFORMS
5.4 INDUSTRIAL AUTOMATION AND INDUSTRIAL IOT
5.5 IOT IN CONSUMER MARKETS
5.6 ROBOTICS (PHYSICAL AND LOGICAL)
5.7 EXPANDING OPPORTUNITIES FOR EMPLOYMENT WITHIN IOT
6.0 WEARABLE TECHNOLOGY
6.1 LEADING INDUSTRY VERTICALS FOR WEARABLES
6.2 EMERGING APPLICATION AREAS FOR WEARABLES
6.3 EVOLUTION OF WEARABLE TECHNOLOGY AND THE WEARABLES ECOSYSTEM
7.0 VIRTUALIZED AND PROGRAMMABLE ICT INFRASTRUCTURE
7.1 SOFTWARE DEFINED NETWORKS (SDN)
7.2 NETWORK FUNCTION VIRTUALIZATION (NFV)
7.3 COMPARING AND CONTRASTING SDN AND NFV
8.0 RADIO ACCESS NETWORK (RAN) OPTIMIZATION
8.1 HETEROGENEOUS NETWORKS (HETNET)
8.2 CLOUD RAN
8.3 SELF-ORGANIZING NETWORKS (SON)
9.0 EVOLUTION OF BROADBAND WIRELESS
9.1 LONG RANGE WIFI
9.2 WIFI DATA RATE IMPROVEMENTS
9.3 BEYOND 4G (B4G)
9.4 DEVICE TO DEVICE (D2D) COMMUNICATIONS
9.5 VEHICLE TO VEHICLE (V2V) AND VEHICLE TO EVERYTHING (V2X)
9.6 MOBILE EDGE COMPUTING (MEC)
9.7 FIFTH GENERATION (5G) CELLULAR
10.0 EXTREMELY LOW LATENCY DEPENDENT APPLICATIONS
10.1 HAPTIC INTERNET
10.2 TRANSFORMATIVE USER INTERFACE (UI) AND USER EXPERIENCE (UX) TECHNOLOGIES
10.3 AUGMENTED AND VIRTUAL REALITY
11.0 MORE NEAR-TERM VAS APPLICATION OPPORTUNITIES FOR CSPS
11.1 MOBILE COMMERCE AND RETAIL SALES OPTIMIZATION
11.2 WEARABLE TECHNOLOGY, ECOSYSTEM, AND SERVICES
11.3 REAL-TIME COMMUNICATIONS (RTC) AND WEBRTC
12.0 OPTIMIZING THE INTERNET, IP TECHNOLOGY, AND OSS
12.1 THE THIRD NETWORK
12.2 CARRIER ETHERNET AND CE 2.0
12.3 LIFE CYCLE ORCHESTRATION (LSO)
12.4 NEXT GENERATION OSS/BSS
13.0 SEGMENTS TO WATCH IN 2016
13.1 EMBEDDED ENTERTAINMENT (GAMIFICATION)
13.2 DIGITAL SECURITY OUTLOOK AND EVOLVING ROLE IN ICT
13.3 TELECOM APIS AND CSP DATA AS A SERVICE (DAAS)
13.4 ARTIFICIAL INTELLIGENCE, MACHINE LEARNING, AND COGNITIVE COMPUTING
13.5 DEVOPS CULTURAL ADOPTION AND IMPLEMENTATION ACCELERATES
13.6 PUBLIC SAFETY BROADBAND COMMUNICATIONS AND APPLICATIONS
13.7 IMPROVED SMALL AND MEDIUM BUSINESS SUPPORT
13.8 INDOOR LOCATION, PROXIMITY DETECTION, AND IN-BUILDING WIRELESS
13.9 INDUSTRY 4.0 IMPACT ON MANUFACTURING AND INDUSTRIAL IOT
13.10 SMART CITY INITIATIVES DRIVE DIVERSE ICT INNOVATION
14.0 PARTNERSHIPS AND M&A TO WATCH IN 2016
14.1 ERICSSON AND CISCO PARTNERSHIP IN THE AREA OF IOT
14.2 POTENTIAL MERGER OF NOKIA NETWORKS AND ALCATEL-LUCENT
15.0 SUMMARY AND RECOMMENDATIONS
15.1 BROADBAND COMMUNICATIONS
15.1.1 KEY TECHNOLOGY DEVELOPMENTS
15.1.2 COMPANIES TO WATCH
15.2 CLOUD COMPUTING
15.2.1 KEY TECHNOLOGY DEVELOPMENTS
15.2.2 COMPANIES TO WATCH
15.3 DATA MANAGEMENT, BIG DATA, AND ANALYTICS
15.3.1 KEY TECHNOLOGY DEVELOPMENTS
15.3.2 COMPANIES TO WATCH
15.4 INTERNET OF THINGS
15.4.1 KEY TECHNOLOGY DEVELOPMENTS
15.4.2 COMPANIES TO WATCH
15.5 NEXT GENERATION APPLICATIONS AND SERVICES
15.5.1 KEY TECHNOLOGY DEVELOPMENTS
15.5.2 COMPANIES TO WATCH
16.0 APPENDIX
16.1 SELECT MIND COMMERCE FORECASTS
16.1.1 5G
16.1.2 BIG DATA
16.1.3 CLOUD COMPUTING
16.1.4 INTERNET OF THINGS
16.1.5 MISCELLANEOUS
16.2 RECOMMENDED MIND COMMERCE REPORTS
16.2.1 BROADBAND WIRELESS
16.2.2 CLOUD COMPUTING
16.2.3 DATA ECONOMY
16.2.4 INTERNET OF THINGS
16.2.5 OTHER AREAS
Figures
Figure 1: Automated Data Capture
Figure 2: Data Visualization to help with Data Analytics
Figure 3: Data Utilization Platforms
Figure 4: Telecom API Revenue 2015 - 2020
Figure 5: Cloud Infrastructure, Platforms, and Services
Figure 6: Mapping IoT to Industry Verticals
Figure 7: IoT and the Connected Home
Figure 8: Global Connected Home Market 2015 - 2020
Figure 9: Connected Vehicles by Application Type 2014 - 2019
Figure 10: Service Revenue in Connected Cars 2015 - 2020
Figure 11: IoT and Telecom API Topology
Figure 12: IoT Mediation
Figure 13: IoT and the Cloud
Figure 14: Big Data is Not Just a Data Dump
Figure 15: Fog Computing, IoT, and Data Management
Figure 16: Big Data in IoT
Figure 17: Global Big Data in IoT Market 2015 - 2020
Figure 18: LoRa IoT WAN Supporting Companies
Figure 19: Cellular IoT Use Cases
Figure 20: Smart Objects in Physical Environment
Figure 21: IoT Platforms and Cloud Data Management
Figure 22: Cellular IoT Use Cases
Figure 23: IoT Platform Functionality
Figure 24: IoT Platform Role in Services Mediation
Figure 25: Global IIoT Market 2015 - 2020
Figure 26: Global Wearable Gaming Revenue 2015 -2020
Figure 27: Wearable Advertising and "Pay per Gaze"
Figure 28: Wearable Advertising and "Pay per Emotion"
Figure 29: Wearable Technology Communication Evolution
Figure 30: SDN and NFV Crossover
Figure 31: SDN Global Markets 2015 - 2020
Figure 32: Network Function Virtualization (NFV)
Figure 33: Global NFV Market 2015 - 2020
Figure 34: HetNet Topology
Figure 35: Long Range WiFi
Figure 36: WiFi Data Improvements
Figure 37: Device to Device (D2D) Communications
Figure 38: The Mobile Edge Computing "Sweet Spot"
Figure 39: 5G Technology Evolution
Figure 40: 5G Technology and Services Vision
Figure 41: Tactile and Haptic Communications
Figure 42: Transformative UI and User Experience (UX)
Figure 43: Virtual Reality in Applications
Figure 44: Mobile Visual Search and Augmented Reality
Figure 45: Human and Data Interchange
Figure 46: Video Calling using WebRTC Applications
Figure 47: WebRTC Global Market Revenue Forecast 2015 – 2020
Figure 48: WebRTC Market Revenue Forecast by Region 2015 – 2020
Figure 49: The Third Network for Individuals
Figure 50: The Third Network for Businesses
Figure 51: The Third Network for Cloud Consumers
Figure 52: Lifecycle Orchestration
Figure 53: Global Gamification Market Forecast 2015 – 2020
Figure 54: Security in Fog Computing
Figure 55: Consumer vs. Industrial Security in EMEA 2014 - 2020
Figure 56: Artificial Intelligence Start-up Ecosystem
Figure 57: Machine Intelligence Landscape
Figure 58: DevOps Ecosystem
Figure 59: DevOps Benefit Metrics
Figure 60: Safety Mobile Broadband Subs by Technology 2011 - 2020
Figure 61: ICT SMB Platforms
Figure 62: Indoor Location Systems
Figure 63: Global Smart City Cumulative Market 2015 – 2020
Figure 64: Global Connected Devices 2015 – 2020
Figure 65: Global 5G Investment 2015/2020/2030
Figure 66: Global 5G Subscriptions 2022 - 2030
Figure 67: Healthcare and Big Data 2015 - 2020
Figure 68: Healthcare, Big Data, and Fraud 2015 - 2020
Figure 69: Big Data in Retail Market 2015 -2020
Figure 70: Global SaaS HCM Revenue 2015 – 2020
Figure 71: Global Smart Home Market 2015 – 2020
Figure 72: Global Smart Grid Market 2015 – 2020
Figure 73: Global Smart Building Market 2015 – 2020
Figure 74: Global Smart Industrial Automation Market 2015 - 2020
Figure 75: Global Smart Education Market 2015 - 2020
Figure 76: Global Smart Water Management Market 2015 – 2020
Tables
Table 1: DaaS Revenue 2015 - 2020
Table 2: Global Market for Connected Home 2015 - 2020
Table 3: Global Connected Home Market by Segment 2015 - 2020
Table 4: VPA Market Value by Ecosystem Participants 2025
Table 5: Wearables by Market Segment 2015 - 2020
Table 6: Small Cell Categories and Market Segments
Table 7: Global OSS & BSS Market Revenue 2015 – 2020
Table 8: Global IoT Security Solution Market 2015 - 2020
Table 9: Global DevOps Revenue by Toolsets and Consulting 2015 – 2020
Table 10: 5G Only Subscription APAC vs. NA vs. Europe vs. Others 2022 – 2030
Table 11: Global Markets for Big Data in Financial Sector
Table 12: Global Markets for Big Data in Financial Sector by Components
Table 13: Market for Big Data in Manufacturing 2015 – 2020
Table 14: Big Data in Manufacturing by Products / Services 2015 - 2020
Table 15: Big Data in Retail Revenue by H/W vs. S/W vs. Services 2015 – 2020
Table 16: Global HCM SaaS Revenue 2015 – 2020
Table 17: Global HCM SaaS Revenue by Platform 2015 – 2020
Table 18: Markets for Sensors by Industry Category 2015 - 2020
Table 19: Market for Sensors by IoT Type: 2015 – 2020
Table 20: Connected Devices by Objects and Services 2015 – 2020