サマリー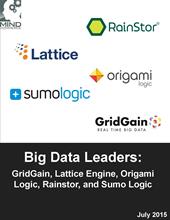 米国調査会社マインドコマース(Mind Commerce)の調査レポート「ビッグデータのトップ企業:グリッドゲイン、ラティスエンジン、オリガミロジック、Rainstor、スモウロジック」は、ビッグデータのトップ企業に関するレポートシリーズの一環です。今回取り上げる企業は比較的規模が小さく知名度もそれほど高くないものの、革新的なソリューションを持ち、最短の処理速度やリアルタイムで膨大なデータの処理や情報の引き出しをもたらすといった課題を解決しうる可能性のある企業群の情報を提供しています。
目次(抜粋)
ビッグデータのリーダーシップ
各社の戦略と事業計画
各社の提携関係とアライアンス
各社の主要な獲得契約
Overview:
Data that is uncorrelated and does not have a pre-defined data model and is not organized in a pre-defined manner requires special handling and analytics techniques. The common industry term, Big Data, represents unstructured data sets that are large, complex, and prohibitively difficult to process using traditional management tools.

In previous Leading Big Data Companies reports, Mind Commerce has covered larger, more well-known and evaluated Big Data companies. In this edition of Big Data Leader research, Mind Commerce evaluates smaller, less-known companies that have innovative solutions and great promise to solve the many challenges presented by huge datasets and generate information/insights from them with minimal delay time (sometimes in real-time).
Companies evaluated in this report* includes:
GridGain
Lattice Engine
Origami Logic
Rainstor
Sumo Logic
For each company evaluated in this report we include the following:
Company Overview
Offering Analysis
Strategies and Plans
Mergers and Acquisitions
Partnerships and Alliances
Key Contract Wins Assessment
Analysis and Conclusions
*Note: Mind Commerce plans to evaluate additional companies in Big Data (look for similar reports).
All purchases of Mind Commerce reports includes time with an expert analyst who will help you link key findings in the report to the business issues you're addressing. This needs to be used within three months of purchasing the report.
Target Audience:
Big Data and analytics companies
Data as a Service (DaaS) companies
Cloud-based service providers of all types
Data processing and management companies
Application Programmer Interface (API) companies
Public investment organizations including investment banks
Private investment including hedge funds and private equity
目次
Table of Contents:
1. BIG DATA LEADERSHIP
2. LATTICE ENGINE
2.1. OVERVIEW
2.2. BIG DATA LEADERSHIP
2.3. STRATEGIES & PLANS
2.4. PARTNERSHIPS & ALLIANCES
2.5. KEY CONTRACT WINS
2.6. ANALYSIS AND CONCLUSION
3. RAINSTOR
3.1. OVERVIEW
3.2. BIG DATA LEADERSHIP
3.3. STRATEGIES AND PLANS
3.4. PARTNERSHIPS & ALLIANCES
3.5. KEY CONTRACT WINS
3.6. ANALYSIS AND CONCLUSION
4. SUMO LOGIC
4.1. OVERVIEW
4.2. BIG DATA LEADERSHIP
4.3. STRATEGIES AND PLANS
4.4. PARTNERSHIPS & ALLIANCES
4.5. KEY CONTRACT WINS
4.6. ANALYSIS AND CONCLUSION
5. ORIGAMI LOGIC
5.1. OVERVIEW
5.2. BIG DATA LEADERSHIP
5.3. STRATEGIES AND PLANS
5.4. KEY CONTRACT WINS
5.5. ANALYSIS AND CONCLUSION
6. GRIDGAIN
6.1. OVERVIEW
6.2. BIG DATA LEADERSHIP
6.3. STRATEGIES AND PLANS
6.4. PARTNERSHIPS & ALLIANCES
6.5. KEY CONTRACT WINS
6.6. ANALYSIS AND CONCLUSION
 

FIGURES
FIGURE 1: RAINSTOR ARCHITECTURE OVERVIEW
FIGURE 2: RAINSTOR SOLUTION OFFERINGS
FIGURE 3: STAGES INVOLVED IN DATA COLLECTION BY SUMO LOGIC
FIGURE 4: GRIDGAIN - PRODUCTS AND SOLUTIONS OFFERINGS
FIGURE 5: GRIDGAIN IN-MEMORY DATA FABRIC ARCHITECTURE

TABLES
TABLE 1: LATTICE ENGINE - RECENT PARTNERSHIPS & ALLIANCES
TABLE 2: LATTICE ENGINE - CONTRACT WINS, 2012-2014
TABLE 3: RAINSTOR – RECENT PARTNERSHIPS & ALLIANCES
TABLE 4: SUMO LOGIC SOLUTION OFFERINGS
TABLE 5: SUMO LOGIC –RECENT PARTNERSHIPS & ALLIANCES