サマリー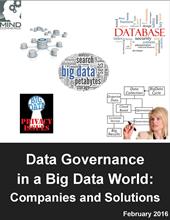 米国調査会社マインドコマース(Mind Commerce)の調査レポート「ビッグデータにおけるデータガバナンス:企業とソリューション」は、データガバナンスの重要事項、課題、より効率的な企業のデータ管理などの最新状況を査定しています。主要ベンダ、ソリューション、ビッグデータ世代への産業移行に伴うアプローチなどを分析しています。
目次(抜粋)
データガバナンスの概観
企業にとってのデータガバナンスの重要性
データガバナンスソリューションの採用増加
データガバナンス、技術、戦略
ビッグデータガバナンスの最善策
企業毎のデータガバナンス市場のエコシステム
Overview:
Data Governance represents a set of processes that ensure corporate data assets are formally managed throughout the enterprise. Data Governance ensures that data can be trusted and that people can be made accountable for any adverse event that happens because of low data quality. It is about putting people in charge of fixing and preventing issues with data so that the enterprise can become more efficient.
Effective Data Governance strategies and implementations rely upon both a strategic and tactical approach to manage information. It comprises data policy and technical information, which can be used to implement business policies, processes, and control the quality of data design, collection, use and reporting.
This report evaluates the current state of Data Governance including important issues, challenges, and technology approaches to more efficient Enterprise Data Management (EDM). The report includes analysis of leading vendors, solutions, an approaches to governance as the industry migrates to a Big Data world. All purchases of Mind Commerce reports includes time with an expert analyst who will help you link key findings in the report to the business issues you're addressing. This needs to be used within three months of purchasing the report.
Target Audience:
Chief Data Officer
Enterprise Data Managers
Data Governance Companies
Data Management Companies
Data Infrastructure Companies
Enterprise across all Industry Verticals
目次
Table of Contents:
1.0 EXECUTIVE SUMMARY
2.0 INTRODUCTION
2.1 DATA GOVERNANCE OVERVIEW
2.2 WHY DATA GOVERNANCE IS IMPORTANT TO ENTERPRISE
3.0 INCREASING ADOPTION OF DATA GOVERNANCE SOLUTIONS
4.0 DATA GOVERNANCE, TECHNOLOGIES, AND STRATEGIES
4.1 HOW TO GET STARTED WITH DATA GOVERNANCE
4.2 DATA STEWARDSHIP
4.3 BIG DATA GOVERNANCE
4.4 METADATA GOVERNANCE
4.5 MDM AND GOVERNANCE
4.6 AGILE DATA GOVERNANCE AND DATA QUALITY
4.7 DATA QUALITY STRATEGIES
4.8 GOVERNING DATA IN THE CLOUD
4.9 GOVERNANCE, PRIVACY, AND THE INTERNET OF THINGS
4.10 DATA SECURITY
5.0 BEST PRACTICES FOR BIG DATA GOVERNANCE
6.0 DATA GOVERNANCE MARKET ECOSYSTEM
6.1 IBM
6.2 VORMETRIC
6.3 SYMANTEC
6.4 ORACLE
6.5 CA TECHNOLOGIES
6.6 DATAMENTORS
6.7 IMPERVA
6.8 INFORMATICA
6.9 LUMENSION
6.10 TRILLUM SOFTWARE
6.11 VARONIS
6.12 XYBION
7.0 SUMMARY, CONCLUSIONS, AND RECOMMENDATIONS
Figures
Figure 1: Data Governance Functions
Figure 2: Data Governance Supports IT and Business Objectives
Figure 3: Big Data Governance Planning
Figure 4: Data Security
Figure 5: Ten Facets of Data Governance
Figure 6: Managing Data Access