サマリー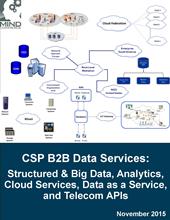 米国調査会社マインドコマース(Mind Commerce)の「通信サービスプロバイダのB2Bデータサービス:構造化とビッグデータ(非構造化データ)、解析、クラウドサービス、サービスとしてのデータ(DaaS)、通信会社のAPI(5冊の調査レポートセット)」は、通信サービスプロバイダの提供しているさまざまなサービスに関する5冊の調査レポートをまとめて、お得な価格でご購入いただけます。
各調査レポートの詳細につきましては、下記をご参照ください。
Overview:
Communication Service Providers (CSP) are facing profound changes to their business due to many factors including diminished margins on core services, competition from OTT players, and the need to integrate next generation technologies (such as SDN and NFV) to become more efficient. At the same time, CSPs are faced with additional capital costs due to implementation of key initiatives such as Big Data Analytics and IoT.
Recognizing that the need to generate new high-margin revenue streams, leading CSPs are seeking new revenue models based on leveraging their network and subscriber data assets. Telecom Data as a Service (TDaaS) is one of those new models in which CSPs offer Data as a Service (DaaS) to various third party business on an anonymized basis. For example, Verizon, Sprint, Telefonica and other carriers have partnered with firms including SAP, IBM, HP and AirSage to manage, package and sell various levels of data to marketers and other clients.
This research represents the most comprehensive analysis, insights, and data addressing the CSP B2B Data Services marketplace. It includes evaluation of key issues facing CSPs as well as analysis of all critical areas for service delivery including Big Data Analytics, Telecom APIs, and Data as a Service (DaaS) with forecasts for 2015 - 2020. All purchases of Mind Commerce reports includes time with an expert analyst who will help you link key findings in the report to the business issues you're addressing. This needs to be used within three months of purchasing the report.
Target Audience:
Cloud services companies
Data infrastructure providers
Communication service providers
Network and application integrators
Intermediaries and mediation companies
Major enterprise and businesses of all types
Investors in the CSP B2B Data Services Ecosystem
目次
Table of Contents:
Telecom Structured Data, Big Data, and Analytics: Business Case, Analysis and Forecasts 2015 - 2020
1 Introduction 11
1.1 Executive Summary 11
1.2 Topics Covered 13
1.3 Key Findings 14
1.4 Target Audience 15
1.5 Companies Mentioned 16
2 Big Data Technology and Business Case 19
2.1 Structured vs. Unstructured Data 19
2.1.1 Structured Database Services in Telecom 20
2.1.2 Unstructured Data from Apps and Databases in Telecom 21
2.1.3 Emerging Hybrid (Structured/Unstructured) Database Services 22
2.2 Defining Big Data 25
2.3 Key Characteristics of Big Data 25
2.3.1 Volume 26
2.3.2 Variety 26
2.3.3 Velocity 26
2.3.4 Variability 26
2.3.5 Complexity 27
2.4 Capturing Data through Detection and Social Systems 27
2.4.1 Data in Social Systems 29
2.4.2 Detection and Sensors 31
2.4.3 Sensors in the Consumer Sector 33
2.4.4 Sensors in Industry 34
2.5 Big Data Technology 34
2.5.1 Hadoop 35
2.5.1.1 MapReduce 35
2.5.1.2 HDFS 35
2.5.1.3 Other Apache Projects 35
2.5.2 NoSQL 35
2.5.2.1 Hbase 36
2.5.2.2 Cassandra 36
2.5.2.3 Mongo DB 36
2.5.2.4 Riak 36
2.5.2.5 CouchDB 37
2.5.3 MPP Databases 37
2.5.4 Others and Emerging Technologies 37
2.5.4.1 Storm 37
2.5.4.2 Drill 37
2.5.4.3 Dremel 38
2.5.4.4 SAP HANA 38
2.5.4.5 Gremlin & Giraph 38
2.6 Business Drivers for Telecom Big Data and Analytics 38
2.6.1 Continued Growth of Mobile Broadband 39
2.6.2 Competition from New Types of Service Providers 40
2.6.3 New Technology Investment 40
2.6.4 Need for New KPIs 40
2.6.5 Artificial Intelligence and Machine Learning 41
2.7 Market Barriers 45
2.7.1 Privacy and Security: The 'Big' Barrier 45
2.7.2 Workforce Re-skilling and Organizational Resistance 46
2.7.3 Lack of Clear Big Data Strategies 46
2.7.4 Technical Challenges: Scalability and Maintenance 46
3 Key Big Data Investment Sectors 48
3.1 Industrial Internet and M2M 48
3.1.1 Big Data in M2M 48
3.1.2 Vertical Opportunities 48
3.2 Retail and Hospitality 48
3.2.1 Improving Accuracy of Forecasts and Stock Management 49
3.2.2 Determining Buying Patterns 49
3.2.3 Hospitality Use Cases 49
3.3 Media 49
3.3.1 Social Media 49
3.3.2 Social Gaming Analytics 50
3.3.3 Usage of Social Media Analytics by Other Verticals 50
3.4 Utilities 50
3.4.1 Analysis of Operational Data 50
3.4.2 Application Areas for the Future 50
3.5 Financial Services 51
3.5.1 Fraud Analysis & Risk Profiling 51
3.5.2 Merchant-Funded Reward Programs 51
3.5.3 Customer Segmentation 51
3.5.4 Insurance Companies 51
3.6 Healthcare and Pharmaceutical 51
3.6.1 Drug Development 52
3.6.2 Medical Data Analytics 52
3.6.3 Case Study: Identifying Heartbeat Patterns 52
3.7 Telecom Companies 52
3.7.1 Telco Analytics: Customer/Usage Profiling and Service Optimization 52
3.7.2 Speech Analytics 53
3.7.3 Other Use Cases 53
3.8 Government and Homeland Security 53
3.8.1 Developing New Applications for the Public 53
3.8.2 Tracking Crime 53
3.8.3 Intelligence Gathering 54
3.8.4 Fraud Detection and Revenue Generation 54
3.9 Other Sectors 54
3.9.1 Aviation: Air Traffic Control 54
3.9.2 Transportation and Logistics: Optimizing Fleet Usage 54
3.9.3 Sports: Real-Time Processing of Statistics 55
4 The Big Data Value Chain 56
4.1 Fragmentation in the Big Data Value Chain 56
4.2 Data Acquisitioning and Provisioning 57
4.3 Data Warehousing and Business Intelligence 57
4.4 Analytics and Virtualization 57
4.5 Actioning and Business Process Management (BPM) 58
4.6 Data Governance 58
5 Big Data in Telecom Analytics 59
5.1 Telecom Analytics Market 2015 - 2020 59
5.2 Improving Subscriber Experience 60
5.2.1 Generating a Full Spectrum View of the Subscriber 60
5.2.2 Creating Customized Experiences and Targeted Promotions 60
5.2.3 Central Big Data Repository: Key to Customer Satisfaction 60
5.2.4 Reduce Costs and Increase Market Share 61
5.3 Building Smarter Networks 61
5.3.1 Understanding Network Utilization 61
5.3.2 Improving Network Quality and Coverage 61
5.3.3 Combining Telecom Data with Public Data Sets: Real-Time Event Management 61
5.3.4 Leveraging M2M for Telecom Analytics 62
5.3.5 M2M, Deep Packet Inspection and Big Data: Identifying & Fixing Network Defects 62
5.4 Churn/Risk Reduction and New Revenue Streams 62
5.4.1 Predictive Analytics 62
5.4.2 Identifying Fraud and Bandwidth Theft 63
5.4.3 Creating New Revenue Streams 63
5.5 Telecom Analytics Case Studies 63
5.5.1 T-Mobile USA: Churn Reduction by 50% 63
5.5.2 Vodafone: Using Telco Analytics to Enable Navigation 64
5.6 Carriers, Analytics, and Data as a Service (DaaS) 64
5.6.1 Carrier Data Management Operational Strategies 65
5.6.2 Network vs. Subscriber Analytics 65
5.6.3 Data and Analytics Opportunities to Third Parties 66
5.6.4 Carriers to offer Data as s Service (DaaS) on B2B Basis 67
5.6.5 DaaS Planning and Strategies 67
5.6.6 Carrier Monetization of Data with DaaS 71
5.7 Opportunities for Carriers in Cloud Analytics 73
5.7.1 Carrier NFV and Cloud Analytics 73
5.7.2 Carrier Cloud OSS/BSS Analytics 73
5.7.3 Carrier Cloud Services, Data, and Analytics 74
5.7.4 Carrier Performance Management and the Cloud Analytics 75
6 Structured Data in Telecom Analytics 77
6.1 Telecom Data Sources and Repositories 77
6.1.1 Subscriber Data 77
6.1.2 Subscriber Presence and Location Data 78
6.1.3 Business Data: Toll-free and other Directory Services 82
6.1.4 Network Data: Deriving Data from Network Operations 83
6.2 Telecom Data Mining 85
6.2.1 Data Sources: Rating, Charging, and Billing Examples 86
6.2.2 Privacy Issues 87
6.3 Telecom Database Services 88
6.3.1 Calling Name Identity 88
6.3.2 Subscriber Data Management (SDM) Services 93
6.3.3 Other Data-intensive Service Areas 95
6.3.4 Emerging Service Area: Identity Verification 96
6.4 Structured Telecom Data Analytics 96
6.4.1 Dealing with Telecom Data Fragmentation 97
6.4.2 Deep Packet Inspection 99
7 Key Players in the Big Data Market 103
7.1 Vendor Assessment Matrix 103
7.2 Apache Software Foundation 103
7.3 Accenture 104
7.4 Amazon 104
7.5 APTEAN (Formerly CDC Software) 104
7.6 Cisco Systems 105
7.7 Cloudera 105
7.8 Dell 105
7.9 EMC 105
7.10 Facebook 106
7.11 GoodData Corporation 106
7.12 Google 106
7.13 Guavus 107
7.14 Hitachi Data Systems 107
7.15 Hortonworks 107
7.16 HP 108
7.17 IBM 108
7.18 Informatica 108
7.19 Intel 108
7.20 Jaspersoft 109
7.21 Microsoft 109
7.22 MongoDB (Formerly 10Gen) 109
7.23 MU Sigma 110
7.24 Netapp 110
7.25 Opera Solutions 110
7.26 Oracle 111
7.27 ParStream 111
7.28 Pentaho 111
7.29 Platfora 111
7.30 Qliktech 112
7.31 Quantum 112
7.32 Rackspace 112
7.33 Revolution Analytics 112
7.34 Salesforce 113
7.35 SAP 113
7.36 SAS Institute 114
7.37 Sisense 114
7.38 Software AG/Terracotta 114
7.39 Splunk 115
7.40 Sqrrl 115
7.41 Supermicro 115
7.42 Tableau Software 116
7.43 Teradata 116
7.44 Think Big Analytics 116
7.45 Tidemark Systems 116
7.46 VMware (Part of EMC) 117
8 Market Analysis 118
8.1 Market for Structured Telecom Data Services 118
8.2 Market for Unstructured (Big) Data Services 122
8.2.1 Big Data Revenue 2015 - 2020 122
8.2.2 Big Data Revenue by Functional Area 2015 - 2020 123
8.2.3 Big Data Revenue by Region 2015 - 2020 124
9 Summary and Recommendations 126
9.1 Key Success Factors for Carriers 127
9.1.1 Leverage Real-time Data 127
9.1.2 Recognize that Analytics is Not Business Intelligence 128
9.1.3 Provide Data Discovery Services 130
9.1.4 Provide Big Data and Analytics to Enterprise Customers 133
9.2 The Role of Intermediaries in the Ecosystem 133
9.2.1 Cloud and Big Data Intermediation 134
9.2.2 Security, Communications, Billing, and Settlement 135
9.2.3 The Case for Data as a Service (DaaS) 137
10 Appendix: Understanding Big Data Analytics 142
10.1 What is Big Data Analytics? 142
10.2 The Importance of Big Data Analytics 143
10.3 Reactive vs. Proactive Analytics 144
10.4 Technology and Implementation Approaches 146
10.4.1 Grid Computing 146
10.4.2 In-Database processing 146
10.4.3 In-Memory Analytics 149
10.4.4 Data Mining 149
10.4.5 Predictive Analytics 151
10.4.6 Natural Language Processing 153
10.4.7 Text Analytics 157
10.4.8 Visual Analytics 158
10.4.9 Association Rule Learning 159
10.4.10 Classification Tree Analysis 160
10.4.11 Machine Learning 160
10.4.11.1 Neural Networks 162
10.4.11.2 Multilayer Perceptron (MLP) 163
10.4.11.3 Radial Basis Functions 165
10.4.11.4 Support Vector Machines 165
10.4.11.5 Naïve Bayes 165
10.4.11.6 k-nearest Neighbours 166
10.4.11.7 Geospatial Predictive Modelling 167
10.4.12 Regression Analysis 167
10.4.13 Social Network Analysis 168
Figures
Figure 1: Hybrid Data in Next Generation Applications 24
Figure 2: Big Data Components 25
Figure 3: Big Data Sources 28
Figure 4: Capturing Data from Detection Systems and Sensors 32
Figure 5: Capturing Data across Sectors 33
Figure 6: AI Structure 42
Figure 7: The Big Data Value Chain 56
Figure 8: Telco Analytics Investments Driven by Big Data: 2015 - 2020 59
Figure 9: Different Data Types within Telco Environment 69
Figure 10: Presence-enabled Application 81
Figure 11: Calling Name (CNAM) Service Operation 89
Figure 12: Subscriber Data Management (SDM) Ecosystem 94
Figure 13: Data Fragmented across Telecom Databases 98
Figure 14: Telecom Deep Packet Inspection Revenue 2015 - 2020 102
Figure 15: Big Data Vendor Ranking Matrix 103
Figure 16: Unified Communications Incoming Call Routing 120
Figure 17: Network Level Outbound Call Management 121
Figure 18: Big Data Revenue: 2015 - 2020 123
Figure 19: Big Data Revenue by Functional Area: 2015 - 2020 124
Figure 20: Big Data Revenue by Region: 2015 - 2020 125
Figure 21: Data Mediation for Structured and Unstructured Data 134
Figure 21: Cloud and Big Data Intermediation 135
Figure 22: Data Security, Billing and Settlement 137
Figure 24: Big Data as a Service (BDaaS) 139
Telecom API Marketplace: Strategy, Ecosystem, Players and Forecasts 2015 - 2020
1 Introduction 11
1.1 Executive Summary 11
1.2 Topics Covered 12
1.3 Key Findings 14
1.4 Target Audience 15
1.5 Companies Mentioned 16
2 Telecom Network API Overview 18
2.1 Defining Network APIs 18
2.2 Why Carriers are Adopting Telecom Network APIs 19
2.2.1 Need for New Revenue Sources 20
2.2.2 B2B Services and Asymmetric Business Models 21
2.3 Telecom Network API Categories 22
2.3.1 Web Real-time Communications (WebRTC) 22
2.3.2 SMS and RCS-E 24
2.3.3 Presence 24
2.3.4 MMS 24
2.3.5 Location 24
2.3.6 Payments 25
2.3.7 Voice/Speech 25
2.3.8 Voice Control 25
2.3.9 Multimedia Voice Control 25
2.3.10 M2M 25
2.3.11 SDM/Identity Management 25
2.3.12 Subscriber Profile 26
2.3.13 QoS 26
2.3.14 ID/SSO 26
2.3.15 Content Delivery 26
2.3.16 Hosted UC 26
2.3.17 Directory 26
2.3.18 Number Provisioning 26
2.3.19 USSD 27
2.3.20 Billing of Non-Digital Goods 27
2.3.21 Advertising 27
2.3.22 Collaboration 27
2.3.23 IVR/Voice Store 27
2.4 Telecom Network API Business Models 28
2.4.1 Two-Sided Business Model 28
2.4.2 Exposing APIs to Developers 28
2.4.3 Web Mash-ups 29
2.5 Segmentation 29
2.5.1 Users by Segment 29
2.5.2 Workforce Management 29
2.6 Competitive Issues 30
2.6.1 Reduced TCO 30
2.6.2 Open APIs 30
2.6.3 Configurability 30
2.7 Percentage of Applications that use APIs 31
2.8 Telecom API Revenue Potential 32
2.8.1 Standalone API Revenue vs. Finished Goods Revenue 33
2.8.2 Telecom API-enabled Mobile VAS Applications 35
2.8.3 Carrier Focus on Telecom API's for the Enterprise 38
2.9 Telecom Network API Usage by Industry Segment 44
2.10 Telecom Network API Value Chain 44
2.10.1 Telecom API Value Chain 44
2.10.2 How the Value Chain Evolve 46
2.10.3 API Transaction Value Split among Players 46
2.11 Cost for Different API Transactions 48
2.12 Volume of API Transactions 48
3 API Aggregation 50
3.1 The Role of API Aggregators 50
3.2 Total Cost Usage for APIs with Aggregators 50
3.2.1 Start-up Costs 51
3.2.2 Transaction Costs 51
3.2.3 Ongoing Maintenance/Support 51
3.2.4 Professional Services by Intermediaries 51
3.3 Aggregator API Usage by Category 52
3.3.1 An LBS Case Study: LOC-AID 52
3.3.2 Aggregation: Intersection of Two Big Needs 52
3.3.3 The Case for Other API Categories 53
3.3.4 Moving Towards New Business Models 54
4 Enterprise and Telecom API Marketplace 55
4.1 Data as a Service (DaaS) 55
4.1.1 Carrier Structured and Unstructured Data 58
4.1.2 Carrier Data Management in DaaS 62
4.1.3 Data Federation in the DaaS Ecosystem 62
4.2 API Market Makers 64
4.2.1 mashape 64
4.2.2 Mulesoft 65
4.3 Need for a New Type of Application Marketplace: CAM 66
4.3.1 Communications-enabled App Marketplace (CAM) 66
4.3.2 CAM Market Opportunities and Challenges 67
5 Telecom API Enabled App Use Cases 69
5.1 Monetization of Communications-enabled Apps 69
5.1.1 Direct API Revenue 69
5.1.2 Data Monetization 70
5.1.3 Cost Savings 70
5.1.4 Higher Usage 70
5.1.5 Churn Reduction 70
5.2 Use Case Issues 71
5.2.1 Security 71
5.2.2 Interoperability 71
6 Non-Telecom Network APIs and Mash-ups 73
6.1 Non-Telecom Network APIs 73
6.1.1 Twitter 73
6.1.2 Netflix API 74
6.1.3 Google Maps 74
6.1.4 Facebook 75
6.1.5 YouTube 75
6.1.6 Flickr 76
6.1.7 eBay 76
6.1.8 Last.fm 77
6.1.9 Amazon Web Services 77
6.1.10 Bing Maps 78
6.1.11 Yahoo Web Search API 78
6.1.12 Shopping.com 79
6.1.13 Salesforce.com 80
6.2 Mash-ups 81
6.2.1 BBC News on Mobile 81
6.2.2 GenSMS emailSMS 81
6.2.3 Foursquare 82
6.2.4 Amazon SNS and Nexmo 82
6.2.5 Triage.me 83
6.2.6 MappyHealth 83
6.2.7 Lunchflock 84
6.2.8 Mobile Time Tracking 84
6.2.9 Fitsquare 84
6.2.10 GeoSMS 84
6.2.11 FONFinder 85
6.2.12 Pound Docs 85
6.2.13 140Call 85
6.2.14 Salesforce SMS 85
7 Carrier Strategies 86
7.1 Carrier Market Strategy and Positioning 86
7.1.1 Increasing API Investments 86
7.1.2 The Rise of SDM 86
7.1.3 Telecom API Standardization 87
7.1.4 Carrier Attitudes towards APIs: U.S vs. Asia Pacific and Western Europe 89
7.2 Carrier API Programs Worldwide 89
7.2.1 AT&T Mobility 89
7.2.2 Verizon Wireless 93
7.2.3 Vodafone 95
7.2.4 France Telecom 95
7.2.5 Telefonica 97
7.3 Carriers and Internal Telecom API Usage 99
7.3.1 The Case for Internal Usage 99
7.3.2 Internal Telecom API Use Cases 100
7.4 Carriers and OTT Service Providers 101
7.4.1 Allowing OTT Providers to Manage Applications 101
7.4.2 Carriers Lack the Innovative Skills to Capitalize on APIs Alone 101
7.5 Carriers and Value-added Services (VAS) 102
7.5.1 The Role and Importance of VAS 102
7.5.2 The Case for Carrier Communication-enabled VAS 103
7.5.3 Challenges and Opportunities for Carriers in VAS 104
8 API enabled App Developer Strategies 106
8.1 A Critical Asset to Developers 106
8.2 Stimulating the Growth of API Releases 106
8.3 Working alongside Carrier Programs 106
8.4 Developer Preferences: Google vs Carriers 107
9 Telecom API Vendor Strategies 108
9.1 Positioning as Enablers in the Value Chain 108
9.2 Moving Away from a Box/Product Supplier Strategy 108
9.3 Telecom API Companies and Solutions 109
9.3.1 Alcatel Lucent 109
9.3.2 UnboundID 110
9.3.3 Twilio 112
9.3.4 LOC-AID 113
9.3.5 Placecast 114
9.3.6 Samsung 117
9.3.7 AT&T Mobility 118
9.3.8 Apigee 118
9.3.9 2600 Hz 120
9.3.10 Callfire 120
9.3.11 Plivo 121
9.3.12 Tropo (now part of Cisco) 122
9.3.13 Urban Airship 122
9.3.14 Voxeo (now Aspect Software) 123
9.3.15 TeleStax 123
9.3.16 Intel 124
9.3.17 Competitive Differentiation 126
10 Market Analysis and Forecasts 127
10.1 Telecom Network API Revenue 2015 - 2020 127
10.2 Telecom Network APIs Revenue by API Category 2015 - 2020 128
10.2.1 Messaging API Revenues 129
10.2.2 LBS API Revenues 130
10.2.3 SDM API Revenues 131
10.2.4 Payment API Revenues 132
10.2.5 Internet of Things (IoT) API Revenues 133
10.2.6 Other API Revenues 134
10.3 Telecom API Revenue by Region 2015 - 2020 135
10.3.1 Asia Pacific 136
10.3.2 Eastern Europe 137
10.3.3 Latin & Central America 138
10.3.4 Middle East & Africa 139
10.3.5 North America 140
10.3.6 Western Europe 141
11 Technology and Market Drivers for Future API Market Growth 142
11.1 Service Oriented Architecture (SOA) 142
11.2 Software Defined Networks (SDN) 145
11.3 Virtualization 146
11.3.1 Network Function Virtualization (NFV) 148
11.3.2 Virtualization beyond Network Functions 151
11.4 The Internet of Things (IoT) 152
11.4.1 IoT Definition 152
11.4.2 IoT Technologies 155
11.4.3 IoT Applications 171
11.4.4 IoT Solutions 172
11.4.5 IoT, DaaS, and APIs (Telecom and Enterprise) 172
12 Expert Opinion: TeleStax 178
13 Expert Opinion: Twilio 183
14 Expert Opinion: Point.io 189
15 Expert Opinion: Nexmo 192
16 Appendix 195
16.1 Research Methodology 195
16.2 Telecom API Definitions 197
16.3 More on Telecom APIs and DaaS 201
16.3.1 Tiered Data Focus 202
16.3.2 Value-based Pricing 204
16.3.3 Open Development Environment 205
16.3.4 Specific Strategies 206
16.3.4.1 Service Ecosystem and Platforms 206
16.3.4.2 Bringing to Together Multiple Sources for Mash-ups 207
16.3.4.3 Developing Value-added Services (VAS) as Proof Points 208
16.3.4.4 Open Access to all Entities including Competitors 208
16.3.4.5 Prepare for Big Opportunities with the Internet of Things (IoT) 209
Figures
Figure 1: Wireless Carrier Assets 19
Figure 2: Telecom API: Standalone vs. Finished Services 33
Figure 3: RCS and Telecom API Integration 36
Figure 4: RCS Revenue Forecast 37
Figure 5: Business vs. Consumer Telecom API Focus 40
Figure 6: Enterprise Dashboard 41
Figure 7: Enterprise Dashboard App Example 42
Figure 8: Telecom Network API Value Chain 45
Figure 9: Value Split among Aggregators, Carriers and Enterprise for API Transactions: 2012 - 2019 47
Figure 10: API Transaction Costs (US Cents) 2012 - 2019 48
Figure 11: Volume of API Transactions for a Tier 1 Carrier (Billions per Month): 2015 - 2020 49
Figure 12: Cloud Services and APIs 58
Figure 13: GSMA OneAPI: Benefits to Stakeholders 88
Figure 14: AT&T Wireless API Catalog 90
Figure 15: Verizon Wireless API Program 93
Figure 16: France Telecom (Orange) APIs 96
Figure 17: Telefonica APIs 98
Figure 18: Carrier Internal Use of Telecom APIs 100
Figure 19: UnboundID's Portfolio of Services 111
Figure 20: Twilio's Portfolio of Services 112
Figure 21: LOC-AID Exchange Server Architecture 113
Figure 22: Placecast's ShopAlerts Solution 115
Figure 23: Apigee Portfolio of Services 119
Figure 24: Telecom API Revenue (USD Billions) 2015 - 2020 127
Figure 25: Telecom API Revenue (USD Billions) by API Category 2015 - 2020 128
Figure 26: Messaging APIs Revenue (USD Billions) 2015 - 2020 129
Figure 27: LBS APIs Revenue (USD Billions) 2015 - 2020 130
Figure 28: SDM APIs Revenue (USD Billions) 2015 - 2020 131
Figure 29: Payment APIs Revenue (USD Billions) 2015 - 2020 132
Figure 30: IoT API Revenue (USD Billions) 2015 - 2020 133
Figure 31: APIs Revenue for Other Categories (USD Billions) 2015 - 2020 134
Figure 32: Telecom API Revenue (USD Billions) by Region 2015 - 2020 135
Figure 33: Telecom API Revenue (USD Billions) Asia Pacific 2015 - 2020 136
Figure 34: Telecom API Revenue (USD Billions) Eastern Europe 2015 - 2020 137
Figure 35: Telecom API Revenue (USD Billions) Latin & Central America 2015 - 2020 138
Figure 36: Telecom API Revenue (USD Billions) Middle East & Africa 2015 - 2020 139
Figure 37: Telecom API Revenue (USD Billions) North America 2015 - 2020 140
Figure 38: Telecom API Revenue (USD Billions) Western Europe 2015 - 2020 141
Figure 39: Services Oriented Architecture 143
Figure 40: Growth of Connected Devices 159
Figure 41: IoT and Telecom API Topology 176
Figure 42: Telestax App Store Funnel 180
Figure 43: On-Premise vs. Twilio 188
Figure 44: Point.io and API Ecosystem 189
Figure 45: Different Data Types and Functions in DaaS 203
Figure 46: Ecosystem and Platform Model 206
Figure 47: Telecom API and Internet of Things Mediation 210
Figure 48: DaaS and IoT Mediation for Smartgrid 212
Cloud Application Marketplace 2015 - 2020
1.0 EXECUTIVE SUMMARY 10
2.0 OVERVIEW OF CLOUD COMPUTING 13
2.1 UNDERSTANDING CLOUD COMPUTING 13
2.1.1 CLOUD COMPUTING SERVICES 14
2.2 CLOUD FOUNDATIONS 15
2.2.1 CATEGORIES OF CLOUD COMPUTING DEPLOYMENT MODEL 16
2.2.2 GRID COMPUTING 17
2.2.3 GRID COMPUTING MARKET SEGMENTATION 18
2.3 CLOUD TECHNOLOGIES AND ARCHITECTURE 18
2.3.1 SOFTWARE DEFINED NETWORKING (SDN) 20
2.3.2 SDN DEPLOYMENT MODELS 21
2.3.3 VIRTUALIZATION (SERVER VS. HARDWARE VS. DESKTOP VS. STORAGE) 22
2.4 CLOUD COMPUTING AND VIRTUALIZATION 24
2.5 MOVING BEYOND CLOUD COMPUTING 25
2.5.1 A 'GLOCAL' CLOUD 27
2.6 RISE OF THE CLOUD-BASED NETWORKED ENTERPRISE 28
2.7 GENERAL CLOUD SERVICE ENABLERS 28
2.7.1 WIRELESS BROADBAND CONNECTIVITY 28
2.7.2 SECURITY SOLUTIONS 29
2.7.3 PRESENCE AND LOCATION 29
2.8 PERSONAL CLOUD SERVICE ENABLERS 30
2.8.1 IDENTITY MANAGEMENT 30
2.8.2 PREFERENCE MANAGEMENT 31
3.0 CLOUD SERVICE ANALYSIS 32
3.1 CLOUD SERVICE SEGMENTATION 32
3.1.1 BUSINESS TO BUSINESS (B2B) 32
3.1.2 BUSINESS TO CONSUMER (B2C) 33
3.2 CORE CLOUD SERVICES 34
3.2.1 INFRASTRUCTURE AS A SERVICE (IAAS) 35
3.2.2 PLATFORM AS A SERVICE (PAAS) 36
3.2.3 SOFTWARE AS A SERVICE (SAAS) 38
3.2.4 DIFFERENCES BETWEEN IAAS, SAAS, AND PAAS 40
3.3 EMERGING MODELS: XAAS (EVERYTHING AS A SERVICE) 41
3.3.1 BUSINESS PROCESS AS A SERVICE (BPAAS) 41
3.3.2 COMMUNICATION AS A SERVICE (CAAS) 42
3.3.3 MONITORING AS A SERVICE (MAAS) 42
3.3.4 NETWORK-AS-A-SERVICE (NAAS) 42
3.3.5 STORAGE AS A SERVICE (SAAS) 43
3.3.6 DATA AS A SERVICE (DAAS) 43
3.4 DATA AS A SERVICE ECOSYSTEM 44
3.4.1 THE DRIVERS OF DATA-AS-A-SERVICE 44
3.4.2 BUSINESS INTELLIGENCE AND DAAS INTEGRATION 45
3.4.3 THE CLOUD ENABLER DAAS 47
3.4.4 XAAS DRIVES DAAS 47
3.4.5 THE DAAS ECOSYSTEM 47
3.4.6 DAAS ELEMENTS 53
3.4.7 THE ROLE OF DATA MARTS 54
3.4.8 BEST PRACTICES IN DAAS 54
3.4.9 BENEFITS OF DAAS 55
3.4.10 CHALLENGES OF DATA AS A SERVICE 56
3.4.11 APIS AND DATABASE 58
3.4.12 THE NEED FOR FEDERATED DATABASE MODEL 59
3.5 ENTERPRISE RESOURCE PLANNING IN THE CLOUD 60
3.6 SUPPLY CHAIN MANAGEMENT IN THE CLOUD 62
4.0 INDUSTRY VERTICALS IN THE CLOUD 65
4.1 FINANCE AND BANKING IN THE CLOUD 65
4.1.1 AGILITY, EFFICIENCY, AND SIMPLIFIED DELIVERY 66
4.1.2 PRIORITIZING THE CLOUD 66
4.2 RETAIL IN THE CLOUD 67
4.3 HEALTHCARE IN THE CLOUD 69
4.3.1 KEY BENEFITS OF CLOUD TECHNOLOGY 70
4.4 TELECOMMUNICATIONS IN THE CLOUD 71
4.4.1 OPPORTUNITIES AND CHALLENGES 72
4.4.2 SOLUTIONS 72
4.5 GOVERNMENT AND DEFENSE IN THE CLOUD 73
4.5.1 PROS AND CONS OF THE FEDERAL CLOUD 74
4.6 WORKFORCE IN THE CLOUD 75
4.6.1 HUMAN CAPITAL MANAGEMENT IN THE CLOUD 75
4.6.2 TRAINING AND EDUCATION IN THE CLOUD 76
4.6.3 COLLABORATION IN THE CLOUD 77
4.6.4 OFFICE AUTOMATION IN THE CLOUD 78
4.7 CUSTOMERS IN THE CLOUD 79
4.7.1 CUSTOMER RELATIONSHIP IN THE CLOUD 79
4.7.2 COMMERCE AND PAYMENTS IN THE CLOUD 79
4.8 EMERGING CLOUD BASED APPLICATIONS 80
4.8.1 B2B APPLICATIONS 80
4.8.2 BIG DATA AS A SERVICE (BDAAS) 82
4.8.3 B2C APPLICATIONS 83
4.8.4 ENTERTAINMENT IN THE CLOUD: TV, VIDEO, GAMING AND MORE 84
4.9 THE FUTURE OF CLOUD SERVICES 85
4.9.1 EVERYTHING AS A SERVICE 86
4.9.2 HOW XAAS DECREASES COSTS AND MAKES EVERYTHING FIT TOGETHER 88
4.10 DATA CENTER PROVIDERS 89
4.11 VIRTUALIZATION: ROLE AND IMPACT 89
4.11.1 TYPES OF VIRTUALIZATION 90
4.11.2 HOW VIRTUALIZATION AFFECTS COST STRUCTURES 90
5.0 CLOUD APPLICATION SERVICE MARKET FORECAST 92
5.1 CLOUD SERVICE MARKET REVENUE FORECAST 2015 - 2020 92
5.2 CLOUD SERVICE MARKET REVENUE BY TPES 2015 - 2020 92
5.3 CLOUD SERVICE MARKET REVENUE BY CORE SEGMENTS OR MODELS 2015 - 2020 93
5.4 CLOUD SAAS MARKET REVENUE BY SEGMENTS 2015 - 2020 93
5.5 CLOUD PAAS MARKET REVENUE BY SEGMENTS 2015 - 2020 94
5.5.1 CLOUD PAAS MARKET REVENUE BY SUB-SEGMENTS 2015 - 2020 94
5.6 CLOUD IAAS MARKET REVENUE BY SEGMENTS 2015 - 2020 95
5.7 PUBLIC CLOUD SERVICES MARKET REVENUE BY SEGMENTS 2015 - 2020 95
5.7.1 PUBLIC CLOUD MANAGEMENT & SECURITY SERVICES MARKET REVENUE BY SEGMENTS 2015 - 2020 96
5.7.2 PUBLIC CLOUD BPAAS SERVICES MARKET REVENUE BY SEGMENTS 2015 - 2020 96
5.8 CLOUD SERVICE MARKET REVENUE BY GEOGRAPHIC REGION 2015 - 2020 97
5.9 CLOUD APPLICATION SERVICE REVENUE BY INDUSTRY VERTICAL 2015 - 2020 98
5.10 CLOUD APPLICATION ADOPTION TREND AMONG PERCENT OF ORGANIZATIONS BY DEPLOYMENT MODELS 2015 - 2020 98
5.11 CLOUD APPLICATION ADOPTION TREND AMONG PERCENT OF ORGANIZATIONS BY INDUSTRY VERTICALS 2015 - 2020 99
5.12 CLOUD INVESTMENT PERCENT TO INDUSTRY APPLICATIONS 2015 99
5.13 BENEFITS OF CLOUD APPLICATION SERVICE ADOPTION OVER IN-HOUSE IT SERVICES 100
5.14 PRIVATE CLOUD STORAGE SUBSCRIPTION FORECAST 2015 - 2020 100
6.0 CLOUD APPLICATION SERVICE VENDOR ANALYSIS 101
6.1 OFFICE AUTOMATION APPLICATION 101
6.1.1 ZOHO 101
6.1.2 TECHINLINE 101
6.1.3 WINDOWS LIVE MESH 101
6.1.4 DROPBOX 101
6.1.5 LOGMEIN 101
6.1.6 MICROSOFT OFFICE 365 101
6.1.7 NOODLE 101
6.2 CRM APPLICATIONS 102
6.2.1 ADDRESSTWO 102
6.2.2 ALLCLIENTS 102
6.2.3 MAXIMIZER 102
6.2.4 SALESCLOUD FROM SALESFORCE 102
6.2.5 SALESNEXUS 103
6.3 DATA CENTER APPLICATIONS 103
6.3.1 GOOGLE 103
6.3.2 MICROSOFT 104
6.3.3 SWITCH SUPER NAP 104
6.3.4 RANGE INTERNATIONAL INFORMATION HUB 105
6.4 CORE CLOUD SERVICE PROVIDERS 105
6.4.1 AMAZON 105
6.4.2 VERIZON 105
6.4.3 IBM 106
6.4.4 SALESFORCE.COM 106
6.4.5 CSC 106
6.4.6 CENTURYLINK 107
6.4.7 SAVVIS 107
6.4.8 JOYENT 107
6.4.9 MICROSOFT 107
6.4.10 RACKSPACE 107
6.4.11 FUJITSU 107
6.4.12 HP 108
6.5 CLOUD NETWORK OPERATORS 108
6.5.1 CHINA MOBILE LIMITED 108
6.5.2 VODAFONE GROUP 108
6.5.3 TELENOR GROUP 109
6.5.4 AMERICA MOVIL 109
6.6 ENTERPRISE CLOUD APPLICATION 110
6.6.1 SALESFORCE.COM 111
6.6.2 BOX 111
6.6.3 CRASHPLAN 111
6.6.4 AMAZON WEB SERVICES 111
6.6.5 EASY VISTA 111
7.0 CARRIER CLOUD OPPORTUNITY 112
7.1 CLOUD INFRASTRUCTURE AND SERVICES IN TELECOMMUNICATIONS 112
7.1.1 CLOUD RAN 112
7.2 MOBILE CONSUMER CLOUD SERVICES 113
7.2.1 CONSUMER MOBILITY AND THE CLOUD: STATISTICS AND FORECASTS 115
7.3 COMMERCIAL CONSIDERATIONS 116
7.3.1 WHAT CONSUMERS WILL STORE IN AND ACCESS FROM THE CLOUD 116
7.3.2 WHAT DEVICES CONSUMERS WILL USE TO ACCESS THE CLOUD 116
7.3.3 WHERE AND HOW CONSUMERS WILL ACCESS THE CLOUD 117
7.3.4 WHAT COMPANIES DO CONSUMERS IDENTIFY WITH CLOUD SERVICES 117
7.3.5 CONSUMER WILLINGNESS TO PAY FOR PERSONAL CLOUD SERVICES 117
7.4 KEY CONCERNS AND SOLUTIONS FOR PERSONAL CLOUD SERVICES 118
7.4.1 LTE AND ANYWHERE, ANYTIME, ANY DEVICE ACCESS 118
7.4.2 LTE DRIVES CLOUD GROW ACCELERATION VIA USER GENERATED CONTENT (UGC) 119
7.4.3 DIGITAL RIGHTS MANAGEMENT (DRM) 120
7.4.4 NETWORK AND DEVICE OPTIMIZATION 120
7.4.5 CLOUD DATA SECURITY 120
7.4.6 IDENTITY MANAGEMENT FOR CLOUD SERVICES 120
7.4.7 CLOUD SERVICES BROKERING AND CLOUD MEDIATION 121
7.5 MOBILE NETWORK OPERATOR VAS APPLICATION V