サマリー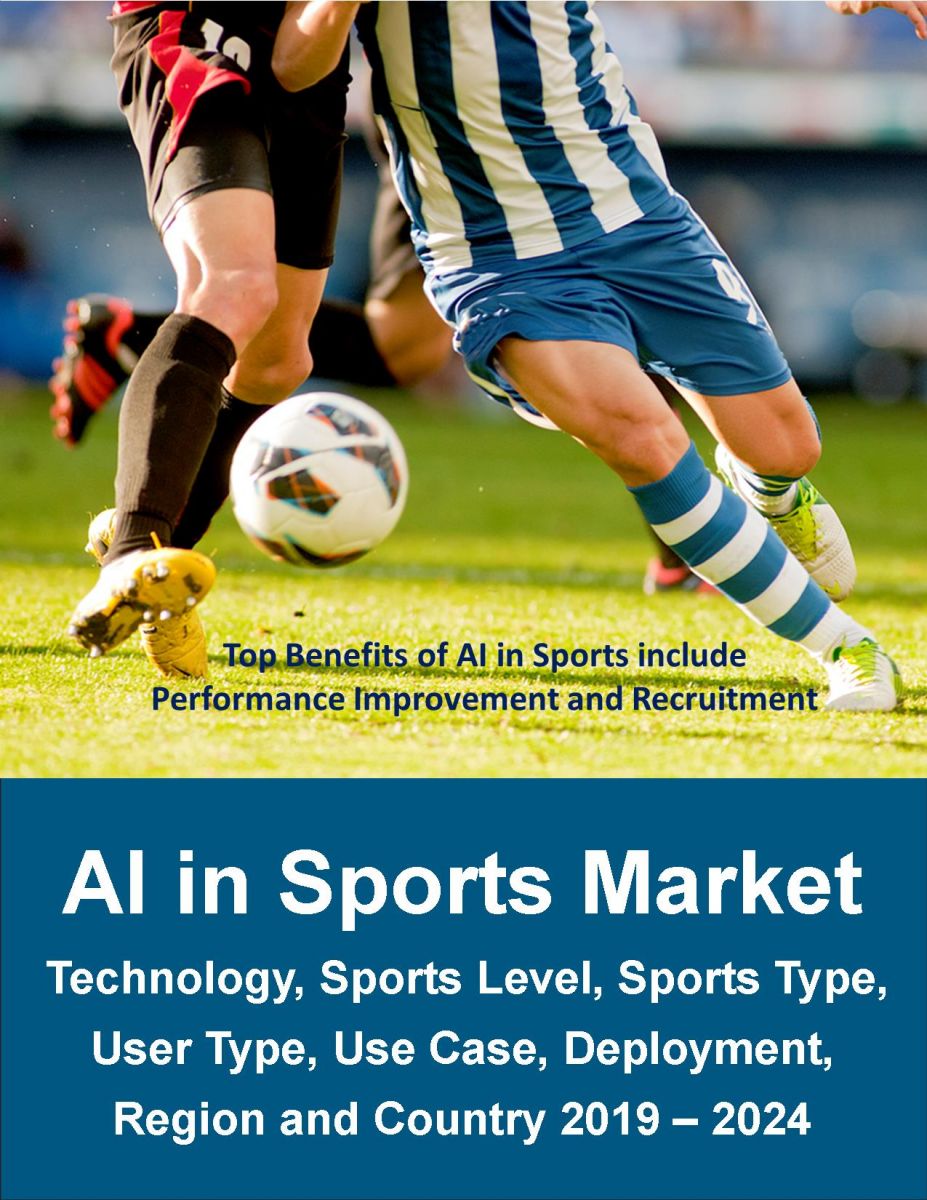 米国調査会社マインドコマース(Mind Commerce)の調査レポート「スポーツにおける人工知能(AI)市場:技術毎、用途毎、スポーツレベル毎(オリンピック、プロスポーツ、大学・カレッジスポーツ)、スポーツタイプ毎、ユーザタイプ毎(オーナー、コーチ、選手、観客)、利用ケース毎、採用毎、地域・国毎 2019-2024年」は、スポーツにおける人工知能の市場を促進する技術、企業、戦略とソリューションについて査定している。スポーツにおける人工知能の市場をスポーツレベル毎、ユーザタイプ毎、採用毎に分析している。
スポーツ分野における人工知能(AI)の市場規模と2019-2024年の地域と国毎の市場予測を提供している。国によって異なるスポーツに注目することが大事であり、スポーツ分野の人工知能は国によって大きく異なるし、単に人口比較や一人あたりのGDPによらない。
Overview:

This is the only research available that focuses on Artificial Intelligence (AI) in the sports industry. This report evaluates AI in sports market by Technology (Machine Learning, Natural Language Processing, Cognitive Computing, Computer Vision, Data Analytics, Decisions as a Service), Sports Level (Olympic, Private, Professional, Collegiate, High School, Middle School, and Early Childhood Sports and Fitness), sports type (Baseball, Basketball, Boxing, Cricket, Football (American), Golf, Gymnastics, Hockey (Field), Hockey (Ice), Mixed Martial Arts, Racing (Automobiles), Racing (Horses), Rugby, Skiing, Soccer (Association Football), Table Tennis (Ping Pong), Tennis, Volleyball, and Wrestling), User Type (Owner, Coach, Player, Spectator, Investor), Use Cases, Deployment (Software, Decision Support, DaaS, Decisions as a Service), Region and Countries. AI in sports market represents a substantial opportunity for operational improvements including efficiency and effectiveness enhancements that ultimately lead to substantive team game performance.

Improving the overall efficiency and effectiveness of teams and individual athletes a big implications as sports related activities and events have become a major industry in the last few decades. Professional sports in particular has become a big business with the asset value of major teams at well over $1 billion each and generating triple digit millions in revenue annually. For example, the New England Patriots (American) football team is valued at roughly $3.8 billion, and generates over $500 million in total revenue annually. With about $103 million in revenue due to gate receipts, it is clear that a large portion of professional sports teams rely on non-venue related revenue including sponsorship, media rights, and merchandising. With level of financials involved for a given organization, AI in sports market is a meaningful investment for most team owners.

Sports at the Olympic, professional, and collegiate levels has become very data driven as decisions ranging from recruitment and training to strategy and in-game tactics rely upon statistics and a dynamic set of variables including personnel, game conditions, and scenarios. Would be Olympians depend on sponsors, trainers, and coaches for major funding and support. Sponsorship is a multi-million investment for each athlete, underscoring the need to make the best decisions possible for sovereign nations and companies involved in deciding who will be developed with the intent of representing a country in a given sport and sporting event for the Olympics. Wise implementation of AI in sport market represents a means of sponsoring countries, companies, and wealthy benefactors to maximize their investment in the best world athletes.

At the collegiate level, a great deal is at stake in terms of recruiting athletes to become professionals. There is also great importance for National Collegiate Athletic Association division IA teams who vie for various milestones such as winning seasons, division leadership, league championships, playoff appearances, and championships. Much is at stake from an alumni good will perspective, which translates into donations for sporting programs, which funds university and college development. AI in sports market at the collegiate level provides this type of indirect benefit as college sports programs must be careful to not step over the line in terms of rules regarding financial benefits to players.

Artificial Intelligence in Sports Market: AI in Sports by Technology, Sports Level (Olympic, Professional, College), Sports Type, User Type (Owner, Coach, Player, Spectator), Use Case, Deployment, Region and Country 2019 – 2024 provides an assessment of the technologies, companies, strategies and solutions involved in leveraging artificial intelligence in sports market. The report analyzes AI in sports market by sports level, type of sport, user type, and deployment options.

The report provides AI in sports market sizing for the aforementioned as well as forecast for AI in sports market by region and country from 2019 to 2024. It is important to note that certain countries focus on very specific sports, so AI in sports will vary significantly on a country by country basis and not just by comparative population or per capita GDP.

Report Benefits:
• Only report of its type focusing on AI in sports market
• Understand how AI in sports will improve sports operations
• Identify opportunities and challenges of implementing AI in sports
• Understand how AI in sports relies upon other supporting technologies
Key Findings:
• AI improves the value of cross-training by team role/position between 9 and 32 percent
• Up to 65% of long-term cognitive dysfunction due to concussions is preventable through use of AI
• AI in sports will improve individual and team performance by average of 17% and 28% respectively
• Top benefits of AI in sports include performance improvement, injury prevention, and recruitment
• AI will improve revenue, reduce operational costs, and improve valuations of professional sports teams
Target Audience:
• Data analytics companies
• Artificial intelligence companies
• Sports teams of all types and levels
• Sovereign nations and sporting investors
Companies in Report:
• 24/7.ai Inc.
• Active.Ai
• Advanced Micro Devices (AMD) Inc.
• AIBrian Inc.
• Amazon Inc.
• Anodot
• AOL Inc.
• Apple Inc.
• ARM Limited
• Baidu Inc.
• Cisco Systems
• DeepScale
• Digital Reasoning Systems Inc.
• Facebook Inc.
• Fujitsu Ltd.
• General Electric (GE)
• General Vision Inc.
• Google Inc.
• Graphcore
• H2O.ai
• Haier Group Corporation
• Haptik
• Hewlett Packard Enterprise (HPE)
• Huawei Technologies Co. Ltd.
• IBM Corporation
• Intel Corporation
• InteliWISE
• IPsoft Inc.
• iRobot Corp.
• Juniper Networks, Inc.
• Leap Motion Inc.
• LG Electronics
• Micron Technology
• Microsoft Corporation
• MicroStrategy Incorporated
• Motion Controls Robotics Inc.
• motion.ai
• Neurala
• Next IT Corporation
• Nokia Corporation
• Nuance Communications Inc.
• Oracle Corporation
• Panasonic Corporation
• QlikTech International AB
• Qualcomm Incorporated
• Rethink Robotics
• Rockwell Automation Inc.
• Samsung Electronics Co Ltd.
• SAP
• SAS Institute Inc.
• Sentient Technologies Holdings Limited
• Siemens AG
• SoftBank Robotics Holding Corp.
• SparkCognition Inc.
• Tellmeplus
• Texas Instruments Inc.
• Umbo Computer Vision
• vPhrase
• Wade & Wendy
• Wind River Systems Inc.
• Xiaomi Technology Co. Ltd.
• XILINX Inc.

目次
1. Executive Summary
2. Introduction
2.1. Why AI in Sports?
2.2. Risks and Benefits
2.3. Opportunities and Challenges
3. AI in Sports and Related Technologies
3.1. AI and Computing
3.1.1. Machine Learning
3.1.2. Data Analytics
3.1.3. Natural Language Processing
3.1.4. Cognitive Computing
3.1.5. Computer Vision
3.2. Data Solutions
3.2.1. Data Analytics
3.2.2. Data as a Service
3.2.3. Decisions as a Service
3.3. Internet of Things
3.3.1. Wearable Devices
3.3.2. M2M Connectivity
3.3.3. IoT Messaging
3.3.4. IoT Command and Control
4. AI Applications
4.1. AI in Sports Recruitment
4.2. AI in Performance Improvement
4.3. AI in Game Planning
4.4. AI in Game Tactics
4.5. AI in Injury Prevention
5. AI in Sports by Level
5.1. Olympic
5.2. Private
5.3. Professional
5.4. Collegiate
5.5. High School
5.6. Middle School
5.7. Early Childhood Sports and Fitness
6. AI in Sports by Type
6.1. Baseball
6.2. Basketball
6.3. Boxing
6.4. Cricket
6.5. Football (American)
6.6. Golf
6.7. Gymnastics
6.8. Hockey (Field)
6.9. Hockey (Ice)
6.10. Mixed Martial Arts
6.11. Racing (automobiles)
6.12. Racing (horses)
6.13. Rugby
6.14. Skiing
6.15. Soccer (association football)
6.16. Table Tennis (ping pong)
6.17. Tennis
6.18. Volleyball
6.19. Wrestling
7. AI in Sports Operations
7.1. Long Term Planning
7.1.1. Team Planning
7.1.2. Budget Planning
7.1.3. Recruitment
7.1.4. Long Term Injury Prevention
7.2. Game Strategy
7.2.1. Game Preparation
7.2.2. Game Plan Development
7.2.3. Evaluating the Data
7.2.4. AI Enabled VR Simulations
7.3. Game Tactics
7.3.1. Game Plan Execution
7.3.2. In-game Adjustments
7.3.3. Improved Communication
8. AI in Sports Spectatorship
8.1. During the Game
8.1.1. Interactive Sports
8.1.2. Game Watching
8.1.3. Game Attendance
8.2. Between Game Engagement
8.2.1. Player, Coach, and Fan Interaction
8.2.2. Predicting Outcomes
8.3. Other Fan Involvement
8.3.1. Fantasy Sports
8.3.2. Gambling
8.3.3. Traditional Sports and eSports
9. AI Company Analysis
9.1. 24/7.ai Inc.
9.2. Active.Ai
9.3. Advanced Micro Devices (AMD) Inc.
9.4. AIBrian Inc.
9.5. Amazon Inc.
9.6. Anodot
9.7. AOL Inc.
9.8. Apple Inc.
9.9. ARM Limited
9.10. Atmel Corporation
9.11. Baidu Inc.
9.12. Cisco Systems
9.13. DeepScale
9.14. Digital Reasoning Systems Inc.
9.15. Directly
9.16. Facebook Inc.
9.17. Fujitsu Ltd.
9.18. Gamaya
9.19. Gemalto N.V.
9.20. General Electric (GE)
9.21. General Vision Inc.
9.22. Google Inc.
9.23. Graphcore
9.24. H2O.ai
9.25. Haier Group Corporation
9.26. Haptik
9.27. Hewlett Packard Enterprise (HPE)
9.28. Huawei Technologies Co. Ltd.
9.29. IBM Corporation
9.30. Imagen Technologies
9.31. Inbenta Technologies Inc.
9.32. Intel Corporation
9.33. InteliWISE
9.34. IPsoft Inc.
9.35. iRobot Corp.
9.36. Juniper Networks, Inc.
9.37. Koninklijke Philips N.V
9.38. Kreditech
9.39. KUKA AG
9.40. Leap Motion Inc.
9.41. LG Electronics
9.42. Lockheed Martin
9.43. MAANA
9.44. Micron Technology
9.45. Microsoft Corporation
9.46. MicroStrategy Incorporated
9.47. Miele
9.48. Motion Controls Robotics Inc.
9.49. motion.ai
9.50. Neurala
9.51. NewtonX
9.52. Next IT Corporation
9.53. Nokia Corporation
9.54. Nuance Communications Inc.
9.55. OccamzRazor
9.56. Omron Adept Technology
9.57. Onfido
9.58. Oracle Corporation
9.59. Panasonic Corporation
9.60. Petuum
9.61. PointGrab Ltd.
9.62. QlikTech International AB
9.63. Qualcomm Incorporated
9.64. Rethink Robotics
9.65. Rockwell Automation Inc.
9.66. Salesforce
9.67. Samsung Electronics Co Ltd.
9.68. SAP
9.69. SAS Institute Inc.
9.70. Sentient Technologies Holdings Limited
9.71. Siemens AG
9.72. Signal Media
9.73. SoftBank Robotics Holding Corp.
9.74. SparkCognition Inc.
9.75. Spatial
9.76. Specif.io
9.77. Tellmeplus
9.78. Tend.ai
9.79. Tesla Inc.
9.80. Texas Instruments Inc.
9.81. Textio
9.82. Umbo Computer Vision
9.83. Veros Systems Inc.
9.84. vPhrase
9.85. Wade & Wendy
9.86. Wind River Systems Inc.
9.87. Woobo.io
9.88. Xiaomi Technology Co. Ltd.
9.89. XILINX Inc.
9.90. Yanu
10. AI in Sports Market Analysis and Forecasts 2019 – 2024
10.1. Global Aggregate AI in Sports Market 2019 – 2024
10.2. AI in Sports Market by Technology 2019 – 2024
10.2.1. Machine Learning in Sports Market
10.2.2. NLP in Sports Market
10.2.3. Cognitive Computing in Sports Market
10.2.4. Computer Vision in Sports Market
10.2.5. Data as a Service in Sports Market
10.2.6. Decisions as a Service in Sports Market
10.3. AI in Sports Market by Sports Level 2019 – 2024
10.3.1. Olympic
10.3.2. Private Teams
10.3.3. Professional
10.3.4. Collegiate
10.3.5. High School
10.3.6. Middle School
10.3.7. Early Child Sports and Fitness
10.4. AI in Sports Market by Type 2019 – 2024
10.4.1. Baseball
10.4.2. Basketball
10.4.3. Boxing
10.4.4. Cricket
10.4.5. Football (American)
10.4.6. Golf
10.4.7. Gymnastics
10.4.8. Hockey (Field)
10.4.9. Hockey (Ice)
10.4.10. Mixed Martial Arts
10.4.11. Racing (Automobiles)
10.4.12. Racing (Horses)
10.4.13. Rugby
10.4.14. Skiing
10.4.15. Soccer (Association Football)
10.4.16. Table Tennis (Ping Pong)
10.4.17. Tennis
10.4.18. Volleyball
10.4.19. Wrestling
10.5. AI in Sports Market by User Type 2019 – 2024
10.5.1. Owners
10.5.2. Coaches
10.5.3. Players
10.5.4. Spectators
10.6. AI in Sports Market by Use Case 2019 – 2024
10.6.1. Performance Improvement
10.6.2. Long-term Injury Prevention
10.6.3. Game Planning and Preparation
10.6.4. In-game Decision Making
10.6.5. Personnel Management
10.7. AI in Sports by Deployment 2019 – 2024
10.7.1. Embedded AI Software
10.7.2. Decision Support Systems
10.7.3. Data as a Service
10.7.4. Decisions as a Service
10.8. AI in Sports by Region 2019 – 2024
10.8.1. North America
10.8.2. Europe
10.8.3. Asia Pac
10.8.4. Middle East and Africa
10.8.5. Latin America
11. Summary and Recommendations
12. Appendix: AI Technologies and Solutions

Figures

Figure 1 AI in Sports
Figure 2 Specific AI in Sports Solutions
Figure 3 AI in Sports Use Cases
Figure 4 AI in Sports User Types
Figure 5 AI in Sports Deployment Models
Figure 6 AI in Sports Business Case
Figure 7 AI in Sports Investment
Figure 8 AI and IoT – AIoT in Sports
Figure 9 Future of AI in Sports


Tables

Table 1 Global AI in Sports Revenue by Technology 2019 – 2024
Table 2 Global AI in Sports Revenue by Machine Learning 2019 – 2024
Table 3 Global AI in Sports Revenue by Data Analytics 2019 – 2024
Table 4 Global AI in Sports Revenue by Natural Language Processing 2019 – 2024
Table 5 Global AI in Sports Revenue by Cognitive Computing 2019 – 2024
Table 6 Global AI in Sports Revenue by Computer Vision 2019 – 2024
Table 7 Global AI in Sports Revenue by Applications 2019 – 2024
Table 8 Global AI in Sports Revenue by Recruitment App 2019 – 2024
Table 9 Global AI in Sports Revenue by Performance Improvement App 2019 – 2024
Table 10 Global AI in Sports Revenue by Game Planning App 2019 – 2024
Table 11 Global AI in Sports Revenue by Game Tactics App 2019 – 2024
Table 12 Global AI in Sports Revenue by Sports Level 2019 – 2024
Table 13 Global AI in Sports by Sports Level 2019 – 2024
Table 14 Global AI in Sports by Olympic 2019 – 2024
Table 15 Global AI in Sports by Private Level 2019 – 2024
Table 16 Global AI in Sports by Professional Level 2019 – 2024
Table 17 Global AI in Sports by Collegiate Level 2019 – 2024
Table 18 Global AI in Sports by High School Level 2019 – 2024
Table 19 Global AI in Sports by Middle School Level 2019 – 2024
Table 20 Global AI in Sports by Early Childhood Sports and Fitness 2019 – 2024
Table 21 Global AI in Sports Revenue by Sports Type 2019 – 2024
Table 22 Global AI in Sports Revenue by User Type 2019 – 2024
Table 23 Global AI in Sports Revenue by Owner 2019 – 2024
Table 24 Global AI in Sports Revenue by Coach 2019 – 2024
Table 25 Global AI in Sports Revenue by Player Type 2019 – 2024
Table 26 Global AI in Sports Revenue by Spectator Type 2019 – 2024
Table 27 Global AI in Sports Revenue by Investor 2019 – 2024
Table 28 Global AI in Sports Revenue by Use Case 2019 – 2024
Table 29 Global AI in Sports Revenue by Performance Improvement 2019 – 2024
Table 30 Global AI in Sports Revenue by Long-term Injury Prevention 2019 – 2024
Table 31 Global AI in Sports Revenue by Game Planning and Preparation 2019 – 2024
Table 32 Global AI in Sports Revenue by In-game Decision Making 2019 – 2024
Table 33 Global AI in Sports Revenue by Personnel Management 2019 – 2024
Table 34 Global AI in Sports Revenue by Deployment 2019 – 2024
Table 35 Global AI in Sports Revenue by Embedded AI Software 2019 – 2024
Table 36 Global AI in Sports Revenue by Decision Support Systems 2019 – 2024
Table 37 Global AI in Sports Revenue by Data as a Service 2019 – 2024
Table 38 Global AI in Sports Revenue by Decisions as a Service 2019 – 2024
Table 39 AI in Sports Revenue by Region 2019 – 2024
Table 40 AI in Sports Revenue in North America 2019 – 2024
Table 41 AI in Sports Revenue in North America by Major Country 2019 – 2024
Table 42 AI in Sports Revenue in Europe 2019 – 2024
Table 43 AI in Sports Revenue in Europe by Major Country 2019 – 2024
Table 44 AI in Sports Revenue in Asia Pac 2019 – 2024
Table 45 AI in Sports Revenue in Asia Pac by Major Country 2019 – 2024
Table 46 AI in Sports Revenue in Middle East and Africa 2019 – 2024
Table 47 AI in Sports Revenue in Middle East and Africa by Major Country 2019 – 2024
Table 48 AI in Sports Revenue in Latin America 2019 – 2024
Table 49 AI in Sports Revenue in Latin America by Major Country 2019 – 2024