サマリー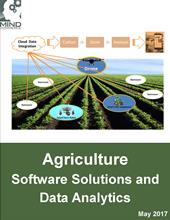 米国調査会社マインドコマース(Mind Commerce)の調査レポート「農業のソフトウェアソリューションとデータ解析 2017-2022年」は、農業分野におけるソフトウェアソリューションやデータ解析のビジネスチャンスを調査している。2017-2022年の市場を予測している。
目次(抜粋)
世界のスマート農業市場の概観
農業関連技術の変遷(精密農業、屋内栽培、家畜監視、養魚)
スマート農業における予測解析や人工知能
Overview:
The commercial agriculture industry is one of the most data-driven markets. With the emergence of the Internet of Things (IoT) and Big Data technologies, data is becoming available that was previously uncollectible. The application of various AgriTech analytics tools and methodologies, such as predictive analytics will provide substantial enhancements to agriculture operations.
Also see the related larger report entitled IoT in Agriculture: Market Outlook and Forecasts 2017 - 2022
This research evaluates the market opportunity for software solutions and data analytics in the agriculture vertical. The report includes forecasts for the period 2017 to 2022. All purchases of Mind Commerce reports includes time with an expert analyst who will help you link key findings in the report to the business issues you're addressing. This needs to be used within three months of purchasing the report.
Target Audience:
• Sensor providers
• AgriTech companies
• IoT service providers
• IoT network providers
• Semiconductor companies
• Embedded systems companies
目次
1 Executive Summary
1.1 Global Market for Smart Agriculture
1.2 Outlook for Top Line Revenue Growth
1.3 Success Factors
1.3.1 Markets will be Largely Driven By Scale of Farming Operations
1.3.2 Production and Enhancing Quality will be Marketplace Movers
1.3.3 Key Go-to-Market Strategies
2 Overview
2.1 Agriculture Industry
2.1.1 Agriculture Industry Economics
2.1.2 Technological Transformation of the Agriculture Industry
2.1.3 Vision for Agriculture Industry 2050
2.2 Smart Agriculture Outlook
2.3 Smart Agriculture Applications
2.3.1 Precision Agriculture
2.3.2 Indoor Farming
2.3.3 Livestock Monitoring
2.3.4 Fish Farming
2.4 Smart Agriculture Systems and Functionality
3 Predictive Analytics and Artificial Intelligence in Smart Agriculture
3.1 Artificial Intelligence in Agriculture
3.2 Data Analytics
3.3 IoT in Agriculture Data Analytics Market
3.4 Agriculture Data Analytics 2017 - 2022
Figures
Figure 1: Global Aggregate Revenue for IoT in Agriculture 2017 - 2022
Figure 30: Big Data and Analytics Framework for Agriculture
 

Tables
Table 1: Global Aggregate Revenue for IoT in Agriculture
Table 46: Big Data Analytics in Agriculture Revenue 2017 - 2022