サマリー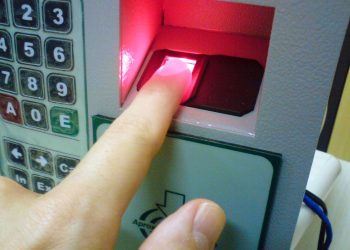 米国調査会社マーケットディジッツ(MarketDigits)の調査レポート「指紋スキャナ市場 2017-2022年:センサタイプ毎(静電容量、光、その他)、用途毎、地域毎」は、指紋スキャナ市場の現在のシナリオと、様々な用途の指紋スキャナの今後の成長予測を提供している。センサ技術毎、用途毎、地域毎に区分している。センサ技術毎の指紋センサ市場をさらに静電容量センサ、光センサ、熱センサ、圧力センサ、RFセンサ、超音波センサ、MEMSセンサのサブセグメントに区分している。用途市場は、スマートフォンとタブレット、銀行・金融、医療、政府・行政と法執行、ホームセキュリティ、軍事と国家安全、商用セキュリティ、教育などについて調査している。北米、欧州、アジア太平洋地域、その他(ROW)の4つの地域毎に区分している。北米の指紋スキャナ市場は、さらに米国、カナダ、メキシコに、欧州市場は英国、ドイツ、フランス、イタリア、その他の欧州地域に、アジア太平洋地域は中国、日本、インド、オーストラリア、韓国、その他のアジア太平洋地域に、ROWは中東、アフリカ、その他に区分している。主要な10社の指紋スキャナメーカーの概要と市場勢力図、市場シェアの分析と指紋スキャナ市場の市場予測も記載している。
Report Description
The global fingerprint scanner market was valued at USD 2.78 billion in 2016 and is expected to reach USD 4.79 billion by 2022, at an estimated CAGR of 9.5% from 2017 to 2022. Biometrics technology is an automated method of identifying a person based on physiological and behavioral traits; some of the characteristics measured are fingerprint, face, IRIS, hand geometry, vein, voice and so on. Among all the biometric techniques, fingerprint modality will continue to dominate the biometrics market during the forecast period due to its low cost and high accuracy rates. Fingerprint scanner is used in wide range of applications such as consumer electronics, healthcare, defense, commercial buildings and others. It provides appropriate security solutions for eliminating passwords, patterns and PIN codes. Additionally, it helps in reduction of threats related to hacking, stealing, and misuse of user data.
Fingerprint scanner market is charged by significant market drivers such as massive adoption of smartphones, online payment and cloud computing applications, border security, favorable regulatory landscape and increased security concerns. Fingerprint scanner market in consumer electronics is growing at a very high rate due to the increasing use of fingerprint sensors in various electronic devices such as smartphones, tablets, laptops and computers. Dominant IT industry players are further driving the fingerprint scanner industry fast forward. Companies are focusing on enhancing the existing technology and innovating new products that can provide users with low cost and reliable fingerprint scanner solutions. Another driver which is leading fingerprint scanners market is single sign on, this device helps the users to log on to the computer with the touch of a finger, instead of typing password and/ or login ID every time. Two factor identification, contactless fingerprint scanner, fingerprint voting systems and other security measures are the leading trends in fingerprint scanner market.
Due to cultural barriers there are limitations in implementing fingerprint scanner in few regions, this can be considered as one of the major challenge responsible for slow down of fingerprint scanner market growth. The major restrains for fingerprint scanner market are the lack of standardization in the process of development and implementation. Some of the major players in fingerprint scanners market are 3M, BioEnable, BIO-key, CROSSMATCH, DERMALOG, Fingerprint Cards AB, HID Global, SAFRAN, Synaptics and SecuGen.
Fingerprint scanner market is a comprehensive report that covers the present scenario and the future growth prospects of fingerprint scanner in various applications. This report is segmented by sensor technology, applications and geography. Fingerprint scanner market by sensor technology is further sub segmented into capacitive sensors, optical sensors, thermal sensors, pressure sensors, RF sensors, ultrasonic sensors and MEMS sensors. Application market covers smartphones and tablets, banking and finance, healthcare, government and law enforcement, home security, military and border security, commercial security and education. This report is segmented into four major geographic regions which include North America, Europe, APAC, and Rest of World (ROW). The North American market for fingerprint scanner has been further segmented into the U.S., Canada, and Mexico. Europe includes U.K., Germany, France, Italy, and Rest of Europe; APAC includes China, Japan, India, Australia, South Korea, and Rest of APAC; and ROW includes the Middle East, Africa, and others. Report covers company profiles of top ten fingerprint scanner manufacturer's, competitive landscape, market share analysis and market forecast of fingerprint scanners market.
目次
1. Executive Summary
2. Introduction
2.1. Key Deliverables
2.2. Scope of the Study
2.3. Market Definition
2.4. Research Methodology
2.4.1. Research Approach
2.4.2. Market Size Estimates
2.4.3. Market Forecasts
2.4.4. Data Validation Process
2.4.5. Assumptions for the Report
3. Fingerprint Scanner Market Overview
3.1. Introduction
3.2. Market Segmentation
3.3. Market Drivers
3.4. Market Restraints
3.5. Opportunities
3.6. Key Trends
3.7. Value Chain Analysis
4. Fingerprint Scanners Market, By Sensor Technology
4.1. Introduction
4.2. Capacitive Sensors
4.3. Optical Sensors
4.4. Thermal Sensors
4.5. Pressure Sensors
4.6. RF Sensors
4.7. Ultrasonic Sensors
4.8. MEMS Sensors
5. Fingerprint Scanners Market, By Application
5.1. Introduction
5.2. Smartphones & Tablets
5.3. Banking & Finance
5.4. Healthcare
5.5. Government & Law enforcement
5.6. Home Security
5.7. Military & Border Security
5.8. Commercial Security
5.9. Education
6. Fingerprint Scanners Market, By Geography
6.1. Introduction
6.2. North America
6.2.1. U.S.
6.2.2. Canada
6.2.3. Mexico
6.3. Europe
6.3.1. U.K.
6.3.2. Germany
6.3.3. France
6.3.4. Italy
6.3.5. Rest of Europe
6.4. Asia Pacific
6.4.1. China
6.4.2. Japan
6.4.3. India
6.4.4. South Korea
6.4.5. Rest of APAC
6.5. Rest of the World
6.5.1. Middle East
6.5.2. Africa
6.5.3. Others
7. Competitive Landscape
7.1. Introduction
7.2. Top Company Rankings
7.3. Market Share Analysis
7.4. Market Growth Strategy
8. Company Profiles
8.1. 3M
8.2. BioEnable
8.3. BIO-key
8.4. CROSSMATCH
8.5. DERMALOG Identification Systems GmbH
8.6. Fingerprint Cards AB
8.7. HID Global Corporation/ASSA ABLOY AB
8.8. Safran (Morpho)
8.9. Syanptics
8.10. Secugen