サマリー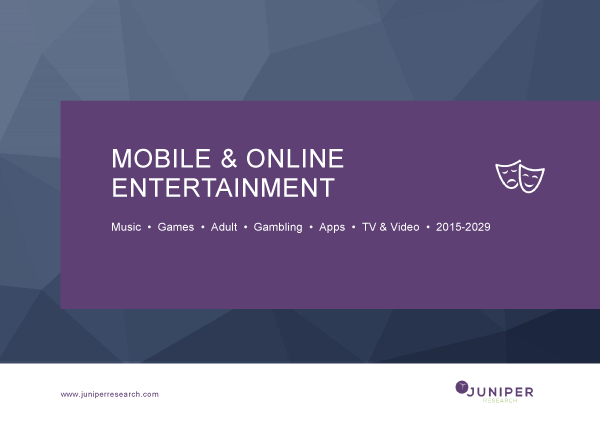 英国調査会社ジュニパーリサーチ社(Juniper Research)の調査レポート「モバイルとオンラインのエンターテインメント:音楽、ゲーム、アダルト、ギャンブル、レジャー、テレビ、動画 2015-2020年」は、モバイルエンターテインメントとオンラインエンターテインメントの市場を調査し、コンテンツの配信や収益化に影響を与えるであろう新しいビジネスモデルについて明らかにしています。アプリ市場やデジタルアダルトコンテンツ、ビデオゲーム、オンラインテレビ、オンライン動画、デジタル音楽、ギャンブルなどについても記載しています。
Overview
Juniper Research is a market leader in the Digital Entertainment research area, having built an unrivalled source of market intelligence and forecast data over the past 12 years.

This highly regarded research suite provides the reader with influential insights into the key sectors of the Mobile and Online Entertainment market, in addition to the new business models which will shape the way content is distributed and monetised. The research provides analysis of the apps market, digital adult content, video games, online TV & video, digital music, and gambling.
Key Features
目次
1.The Digital Entertainment Market
1.1 Introduction 5
1.2 Forms of Digital Entertainment Content 5
1.2.1 Mobile & Online Gambling 5
i.Online Gambling 5
ii. Mobile gambling 5
Figure 1.1: Paddy Power Application, As Seen on the App Store 5
1.2.2 Digital Adult Content 6
Figure 1.2: PornHub SFW Advertising Finalist 6
1.2.3 Mobile & Online TV & Video 6
i. Online Video 6
Figure 1.3: OTT and Connected TV: Perfect Partnership? 7
ii. Mobile TV 7
iii. OTT (Over the Top) 7
iv. Streaming Services 7
v. VOD (Video on Demand) 7
1.2.4 Digital Music 8
Figure 1.4: Apple Music 8
1.2.5 Mobile &Tablet Applications 8
Figure 1.5: Smartphones & App integration 9
1.2.6 PC, Console & Handheld Games 9
i. Home Consoles 10
Figure 1.6: Xbox One & PS4: 8th Generation Consoles 10
ii. Handheld Systems 10
Figure 1.7: Nintendo 3DS Console 10
iii. Mobile Games 10
2.Evolution of the Digital Entertainment Market:Drivers & Hurdles
Figure 2.1: Trends, Hurdles, and Drivers in Digital Entertainment 13
2.1 Ease of Content Delivery 14
2.1.1 Entrance of The App store 14
Figure 2.2: Content Delivery Via the App Store 14
2.1.2 Multi-screen Environment 14
Figure 2.3: The Multiscreen Environment 15
2.1.3 Connected TVs & Trends in an Ever Growing Online Space 15
Figure 2.4: Connected TV Setup Via a Roku Streaming Device 15
2.1.4 Release Windows: Changing Consumer Demands and the OTT effect 16
Figure 2.5: The Traditional Release Window 16
2.2 Key Hurdle: Monetisation & Payments 16
2.2.1 Carrier Billing 17
i. Process 17
Table 2.6: Selected OTT Storefronts, Operator Billing Availability 2012-2014 18
ii. Benefits Across the Value Chain 18
iii. The Drivers of Carrier Billing 18
Figure 2.7: Unbanked Adult Population by 8 Key Regions, 2014 (%) 19
Figure 2.8: Percentage of BlackBerry Users that Prefer Carrier Billing if the Option is Available 21
iv. High Conversion Rates 21
2.2.2 Other Methods of Monetisation 22
3.Business Models & Value Chains
3.1 The Rise of the OTT Player: Post-App Store Impact 24
3.1.1 Implications of the Transition to an OTT Environment 24
i. Content & Carriage are No Longer Tied 24
Figure 3.1: Historic Mobile Content Value Chain 24
Figure 3.2: App Store Value Chain 25
ii. MNOs are Unable to Compete in the Storefront Space 25
3.1.2 Evolving Value Chain: Mobile Games 25
i. The App Store Value Chain 25
Figure 3.3: The App Store Value Chain 26
Figure 3.4: App Downloads to Smartphones, Featurephones and Tablets, 2014(184.9 billion) 26
ii. Data Growth: The Key Corollary of the OTT World 27
Figure 3.5: iPlayer, Views Per Annum (m), 2008-2014 27
Figure 3.6: BBC iPlayer, Requests by Device, 2011-2014 28
Figure 3.7: US Upstream/Downstream Traffic Share, 2014 28
3.2 Content Delivery Methods 28
3.3 Business Model Evolution of the Content Play 29
Figure 3.8: Percentage of Mobile/Tablet Apps Downloaded Free at Point of Download, Worldwide, 2010-2014 30
3.3.1 Freemium: F2P (Free-to-play) Model. 30
i. . Has Become Dominant 30
Table 3.9: Top Grossing Freemium iPhone Games Apps (July 2015) 31
Table 3.10: Top Paid-for iPhone Games Apps (US, July 2015) 31
3.4 Enter Quad Play 32
3.5 Other Models in Digital Entertainment 33
3.5.1 Video Hosting Site Value Chain 33
i. Case Study: Meerkat 33
Figure 3.11: The Video Hosting Site Value Chain 33
3.5.2 Cloud Based Value Chain 34
Figure 3.12: The Cloud Value Chain 34
4.Ticketing For Events -Via Online/Mobile Channels
4.1 Changing Events Ticketing Sector–Online to Mobile 36
4.1.1 Behavioural Change of Consumers 36
Figure 4.1: Online Ticket Purchase Channel Preference by Age Group -2013 37
4.1.2 Entertainment/Other Events 37
i. Market Developments –Entertainment Ticketing 38
5.Legal Restrictions & Legislation
5.1 Regulations in the Digital Entertainment Market 40
5.1.1 The Net Neutrality Debate 40
i. Juniper Commentary 41
5.2 Industry Specific Regulations 42
5.3 Digital Adult Content 42
i. Case Study: MiKandi 42
Figure 5.3: The App Store's Stance on Digital Adult Content (As of July 2015) 43
5.4 Mobile & Online Gambling: 44
5.4.1 Gambling Restrictions & Legislation 44
i. Money Laundering 44
5.4.2 Remote Gambling 44
i. Service Access 44
ii. Incumbent Pressure 44
iii. External Operator Pressure 44
iv. Underage Users 45
5.5 Gambling Restrictions & Legislation by Region 45
5.5.1 North America 45
i. Past Regulation 45
ii.Recent Developments -Online Gambling 45
iii. Tribal Land and Gambling Regulation 45
iv. State by State Analysis 46
Figure 5.1: Heatmap Showing Gambling Regulations in a Selection of US States 46
v. Future Prospects 54
5.5.2 Latin America 54
i. Future Prospects 54
5.5.3 Europe 54
Figure 5.2: Heatmap Showing Gambling Regulations in a Selection of European Nations 56
i. Contrasts between Nations 56
ii. Opportunities 57
iii. Recent developments 58
iv. Opportunities 59
5.5.4 Central & Eastern Europe 59
i. Recent developments 59
5.5.5 Far East & China 59
i. China 59
ii. Japan 60
iii. South Korea 61
iv. Malaysia 61
v. Indian Subcontinent 61
5.5.6 Rest of Asia Pacific 61
i. Philippines 61
ii. Australia 62
iii. Singapore 62
5.5.7 Africa & Middle East 62
Mobile and Online Entertainment Industry Revenues to Exceed $300 Billion Annually by 2019
Online TV and Video to Drive Revenues by 2017

Hampshire, UK: 2nd September 2015: New data from Juniper Research has found that the mobile and online entertainment industry will see revenues in excess of $300 billion annually by 2019, up from $195 billion this year. The research observed that growth in the market would be driven by increased adoption of online TV & Video services, with the industry accounting for more than 60% of the net increase in market value over the next 5 years.

OTT Services Drive TV Revenues

The new research, Mobile & Online Entertainment: Music, Games, Adult, Gambling, Apps, TV & Video 2015-2019, found that OTT (Over the Top) service providers such as Netflix and Hulu are likely to prove increasingly attractive through a combination of third party and home grown content, with a subscription-based model supplanting the on-demand approach.

The research also found that while video game revenue will capture the lion's share of the digital entertainment market opportunity in 2015, this sector is comparatively mature. Notwithstanding continued migration from CD-ROM to digital format, growth will slow markedly over the forecast period.

New Revenue Opportunities for MNOs

Meanwhile, the research observed that while OTT content provider services pose an increasing threat to broadcasters, MNOs (mobile network operators) have the opportunity to monetise content through the provision of carrier billing solutions. The research found that where carrier billing was offered as an alternative to credit card billing, there was a dramatic rise in conversion rates. It also observed that with smartphone adoption spreading rapidly in developing markets, carrier billing offered the prospect of monetising the unbanked and underbanked for the first time.

Other Key Findings Include:
The digital adult industry is forecast to see over 182 billion video views by 2019, but as a proportion of entertainment revenues, it will fall to just 2% by that time.
Gambling will retain its position as the third largest source of entertainment revenue throughout the forecast period, with ongoing legislative changes in the US and Italy seen as key to greater service adoption.
The whitepaper, Digital Content ~ Now That's Entertainment, is available to download from the Juniper website together with further details of the new research.

Juniper Research provides research and analytical services to the global hi-tech communications sector, providing consultancy, analyst reports and industry commentary.