サマリー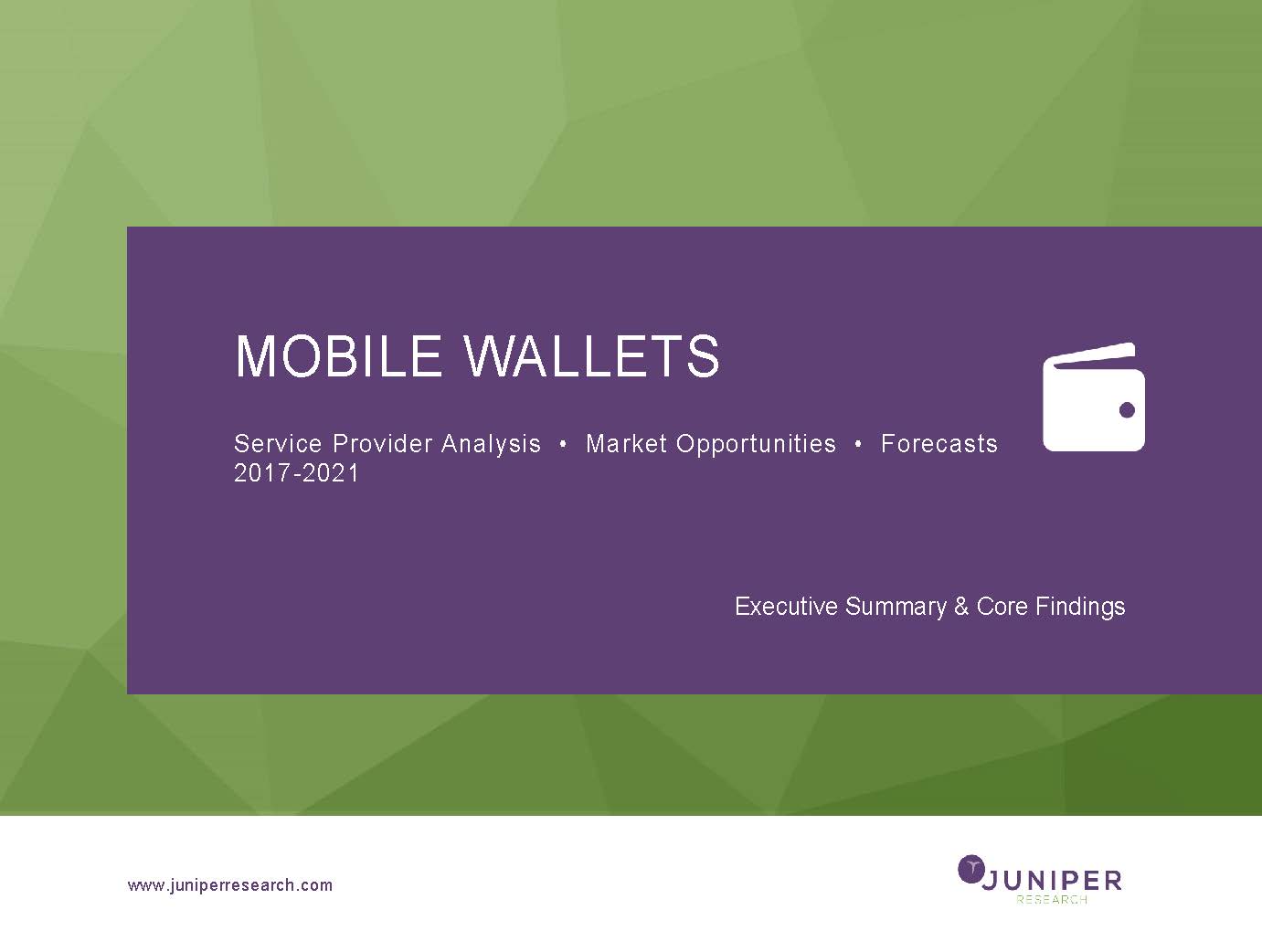 英国調査会社ジュニパーリサーチ社(Juniper Research)の調査レポート「モバイルウォレット 2018-2022年」は、世界のモバイルウォレット市場を調査し、カバー内容ごとに3つのレポートを出版しています。
主な掲載内容
Deep Dive Strategy & Competition 版
主要動向分析
ウォレットダイナミクスの評価
12社の企業分析
12ヶ国8地域の部門ごとの市場予測

モバイルウォレットのユーザ
モバイルウォレットの取引数
平均取引額
モバイルウォレットの取引額
Executive Summary & Core Findings 版
ベンダマトリクス:企業の競合分析と破壊的/ディスラプティブな企業
市場規模と予測
Deep Dive Data & Forecasting 版
地域ごとの予測
モバイルウォレットと非接触式能力
平均使用レベル
総取引数
総取引額
Overview of the report
Regions:
8 Key Regions - includes North America, Latin America, West Europe, Central & East Europe, Far East & China, Indian Subcontinent, Rest of Asia Pacific and Africa & Middle East
Countries:
Canada, China, Denmark, Germany, Japan, Kenya, Norway, Portugal, Spain, Sweden, UK, USA
Deep Dive Strategy & Competition 版
This new research suite explores the key trends in the mobile wallet space, including platform evolution and the emergence of new players within the integrated wallet landscape. It features an extensive comparative analysis of leading wallet providers, scoring them through a series of indicators including online/offline reach, global accessibility, range of services and future business prospects. Complete with market leading forecasts, it comprises an essential guide to the development of the mobile wallet market over the next 6 years.

The research suite is delivered in PDF and Excel formats and includes:

1. Key trend analysis.
2 Assessment of wallet dynamics in key markets such as China, India, the US and Europe, analysing the factors that will shape development in the future.
3. In depth analysis of 12 wallet leading providers, together with heatmap-based assessment and Wallet Provider Leaderboard, focusing on factors such as the range of services delivered, their reach across national and international markets and our views on the scale of their opportunities. It provides a clear understanding of the players currently winning the mobile wallets war and the opportunities open to them in the future. Wallets included in the analysis are:
Alipay
Android Pay
Apple Wallet
Masterpass
Orange Cash
PayPal
Paytm
Samsung Pay
Visa Checkout
Vodafone M-PESA
Vodafone Wallet
Weixin Pay (WeChat Pay)
4. Six year benchmark forecasts for key metrics by 12 countries and 8 key regions for the following sectors: ◦
Mobile Wallet Users
Mobile Wallet Transaction Volumes
Average Transaction Values
Mobile Wallet Transaction Values
4. Interactive Forecast Excel – highly granular dataset comprising more than 2,200 data points, allied to an Interactive Scenario tool giving users the ability to manipulate Juniper's data.
Executive Summary & Core Findings 版
This report provides key analysis of the market, helping readers understand changing market dynamics and quantify the market opportunity.

The research assesses the key market trends and outlines a series of strategic recommendations for players across the value chain. Competitive analysis showcases leading and disruptive players in the market, illustrated through the Juniper Vendor Matrix. Market sizing and forecasting is provided for key metrics to allow readers to quantify the market size and direction, broken down by global region.

Offered in PDF format.
Deep Dive Data & Forecasting 版
Juniper's Deep Dive Data & Forecasts offers a comprehensive coverage of mobile wallet users, usage and revenue opportunities.

Data is provided in a PDF report which showcases key data findings, broken down by global region. In addition the report provides explanation and assumptions behind the market growth. An interactive Excel provides raw data split by service type, channel, regional and key country markets. Analysis tools enable users to create custom charts for specific markets, sectors, or to create scenario-based forecasts.

The forecasts include:
Mobile Wallets With Contactless Capabilities
Average Usage Levels
Total Transaction Volumes
Total Transaction Values
Forecasts are split by the following regions and country markets:

Regions:
North America, Latin America, West Europe, Central & East Europe, Far East & China, Indian Subcontinent, Rest of Asia Pacific and Africa & Middle East
Countries:
Canada, China, Denmark, Germany, Japan, Norway, Poland, Spain, Sweden, UK, USA
目次
Deep Dive Strategy & Competition 版目次
1. Mobile Wallets: An Evolving Marketplace
1.1 Introduction ...................................................................................... 5
1.2 What is a Mobile Wallet? ................................................................. 5
1.3 Key Trends in the Mobile Wallet Sector......................................... 6
1.3.1 Platform Evolution ........................................................................ 6
1.3.2 From Closed to Open Wallets ...................................................... 8
1.3.3 'Wearable Pay' Deployments Accelerate .................................... 8
Figure 1.2: Smart Wearables v Smartphones, Installed Base, End 2017 (m) ........ 9
i. Achieving Differentiation & Scale ..................................................................... 10
1.3.4 Evolving Role of the Card Issuers............................................. 10
1.3.5 QR Code Payments Soar in China ............................................ 11
Figure 1.3: QR Code Market Snapshot, 2017 ..................................................... 11
1.3.6 Wallet Sector Subject to Increased Regulatory Scrutiny ........ 12
1.3.7 Integration; Differentiation is Key ............................................. 12
i. More Launches Expected in 2018 .................................................................... 13
ii. Future Outlook: US Positioning & Transaction Growth .................................... 14
1.3.8 PSD2 Levels the European Payments Playing Field ............... 14
1.3.9 Gates Foundation Releases Software Designed to Enable
Payment Platform Interoperability ..................................................... 15
2. Wallets in Emerging Markets: Domestic & International Activities
2.1 Introduction .................................................................................... 18
Figure 2.1: Largest Mobile Wallets by Active User Base (m), End 2017 ............. 18
2.2 China: The Leading mCommerce Hub ........................................ 18
2.2.1 Overview ...................................................................................... 18
Figure 2.2: China Mobile Wallets Market Snapshot ............................................ 19
2.2.2 Alipay vs Weixin Pay vs Baidu Wallet ...................................... 19
Figure 2.3: Evolution of Weixin/WeChat ............................................................. 20
i. The 'Red Envelope' Phenemenon ................................................................... 20
Figure 2.4: Weixin/WeChat Pay 'Red Envelope' Volumes During Chinese Lunar
New Year, 2015-2018 ........................................................................................ 21
ii. The Offline Phenomenon ................................................................................ 21
Figure 2.5: Chinese Instore Retail Sales, 2017 ($4.7 trillion) .............................. 22
iii. The International Opportunity ........................................................................ 23
Figure 2.6: Annual Spend by Chinese Tourists Overseas, 2014-2016 ................ 23
2.3 India: Banking Liberalisation & Demonetisation ........................ 24
Figure 2.7: India Market Snapshot, 2017 ............................................................ 24
2.3.1 Market Leader: Paytm ................................................................ 25
Figure 2.8: Indian Mobile Wallet Transaction Volumes, 2017 (2.9 Billion) ........... 26
2.3.2 Demonetisation ........................................................................... 26
Figure 2.9: Indian Wallet Annual Transaction Volumes (m) & Values ($m), 2014-
2017 .................................................................................................................. 27
2.3.3 The Emergence of UPI ............................................................... 27
2.3.4 International Players Sense Opportunity ................................. 28
2.3.5 The KYC Challenge .................................................................... 28
2.4 Kenya & Beyond: The M-PESA Expansion ................................. 29
2.4.1 Overview ...................................................................................... 29
Contents
Figure 2.10: Kenya Market Snapshot, 2017 ........................................................ 29
2.4.2 Instore Payments ........................................................................ 29
2.4.3 Microinsurance & Loan Disbursement ..................................... 29
2.4.4 International Operations ............................................................ 30
Figure 2.11: Vodafone M-PESA/Vodafone Cash Launches, 2008-2015.............. 30
Figure 2.12: M-PESA Subscribers, September 2017, By Market (50.8 million) ... 31
3. The Contactless Wallet Wars
3.1 Introduction .................................................................................... 33
Figure 3.1: Contactless User Base (m), Apple Wallet, Samsung Pay, Google Pay
& Huawei Pay, 2014-2017 .................................................................................. 33
3.2 Apple & the US Wallet Opportunity .............................................. 34
Figure 3.2: US Market Snapshot, 2017 ............................................................... 34
Figure 3.3: Apple Pay Acceptance, US Retailers, 2014-2017 ............................. 35
3.2.1 Incentivising Growth .................................................................. 35
3.3 Europe: Competing with Contactless Cards ............................... 36
Figure 3.4: Contactless Payment Values, Mobile Wallets vs Cards (%), Split by
Selected Markets 2017 ....................................................................................... 36
3.4 Australia: Battle is Joined ............................................................. 36
Figure 3.5: Australian Instore Payments, 2017 ($244 billion) .............................. 37
Table 3.6: Australian Bank Support for Leading OEM-Pay Solutions, February
2018 ................................................................................................................... 37
3.4.1 Beem ............................................................................................ 37
Figure 3.7: Australian Bank, Customer Market Share, 2016................................ 38
i. Anticipating Apple Pay Cash ............................................................................ 39
3.5 Beyond Contactless Payment: The Evolution of the Integrated
Wallet & OEM-Pay ................................................................................ 39
3.5.1 The Interchange Challenge ........................................................ 40
3.6 The MNO Approach ....................................................................... 41
3.6.1 Contactless Deployments in Developed Markets .................... 41
Table 3.8: Selected MNO NFC Wallet Ventures ................................................. 41
i. Why Did The SIM-Based Model Fail? .............................................................. 41
ii. Remaining Ventures ....................................................................................... 42
Figure 3.9: French Contactless Market Snapshot, 2017 ..................................... 42
Case Study: Vodafone Wallet ............................................................................ 43
3.6.2 Contactless Deployments in Emerging Markets ..................... 45
i. Sub-Saharan Africa ......................................................................................... 46
ii. Asia ................................................................................................................ 46
iii. Future Prospects ........................................................................................... 46
3.7 The Rise of HCE: Beyond Google Pay ........................................ 47
3.7.1 Banks Embrace HCE Solutions ................................................. 47
3.7.2 PayPal Opts for HCE .................................................................. 48
Figure 3.11: PayPal One Touch Users (m), 2015-2017 ...................................... 49
i. Diversification into Integrated Payment Solutions ............................................ 49
Figure 3.12: Quarterly Payment Values ($m): PayPal Mobile & Venmo, 2016-
2017 .................................................................................................................. 49
ii. Juniper's View: PayPal ................................................................................... 50
4. Vendor Landscape & Juniper Leaderboard
4.1 Introduction .................................................................................... 52
4.2 Vendor Analysis: Juniper Leaderboard ...................................... 52
4.2.1 Vendor Assessment Methodology ............................................ 52
Table 4.1: Juniper Leaderboard Wallet Positioning Criteria ................................ 53


Deep Dive Data & Forecasting 版目次

1. Mobile Wallets: Market Status
1.1 Introduction ...................................................................................... 3
1.2 What is a Mobile Wallet? ................................................................. 3
1.3 Leading Wallets................................................................................ 4
Figure 1.1: Largest Mobile Wallets by Active User Base (m), End 2017 ................ 5
1.3.1 Contactless Wallets ...................................................................... 5
Figure 1.2: Contactless User Base (m), Apple Wallet, Samsung Pay, Google Pay
& Huawei Pay, 2014-2017 .................................................................................... 6
1.4 Beyond Contactless Payment: The Evolution of the Integrated
Wallet & OEM-Pay .................................................................................. 6
2. Forecast Methodology
2.1 Introduction ...................................................................................... 9
2.2 Methodology................................................................................... 10
Figure 2.1: Juniper Research Mobile Wallets Methodology ................................. 10
3. Mobile Wallet Forecasts
3.1 Global Mobile Device Forecasts ................................................... 12
Figure & Table 3.1: Mobile Handset Installed Base (m) Split by 8 Key Regions
2017-2022 .......................................................................................................... 12
3.2 Mobile Wallet User Base ............................................................... 13
Figure & Table 3.2: Proportion of Mobile Handsets with Active Mobile Wallets (%)
Split by 8 Key Regions 2017-2022 ...................................................................... 13
Figure & Table 3.3: Mobile Wallets in Use (m) Split by 8 Key Regions, 2017-
2022 ................................................................................................................... 14
Figure 3.4: Denmark Market Snapshot ............................................................... 15
3.2.1 Wallets with NFC Capability ...................................................... 16
Figure & Table 3.5: Proportion of Wallets Used to Make NFC/FeliCa Payments
(%) Split by 8 Key Regions, 2017-2022 .............................................................. 16
Figure & Table 3.6: Mobile Wallets Used to Make NFC/FeliCa Payments Split by
8 Key Regions, 2017-2022 ................................................................................. 17
3.2.2 Wallets with QR Code Payment Capabilities ........................... 18
Figure & Table 3.7: Proportion of Handsets Used to Make QR Code Payments
(%) Split by 8 Key Regions, 2017-2022 .............................................................. 18
Figure & Table 3.8: Mobile Wallets Used to Make QR Code Payments Split by 8
Key Regions, 2017-2022 .................................................................................... 19
3.3 Mobile Wallet Transaction Volumes ............................................ 20
Figure & Table 3.9: Average Annual Transactions Per Mobile Wallet Split by 8
Key Regions, 2017?2022 ................................................................................... 20
Figure & Table 3.10: Mobile Wallet Transaction Volumes (m) Split by 8 Key
Regions 2017-2022 ............................................................................................ 21
3.4 Mobile Wallet Transaction Values ................................................ 22
3.4.1 Average Transaction Values ..................................................... 22
Figure & Table 3.11: Average Mobile Wallet Transaction Value ($) Split by 8 Key
Regions 2017-2022 ............................................................................................ 22
3.4.2 Total Transaction Values ........................................................... 23
Figure & Table 3.12: Total Mobile Wallet Transaction Values Per Annum ($m)
Split by 8 Key Regions 2017-2022 ..................................................................... 23
Deep Dive Data & Forecasting 版目次
1. Mobile Wallets: Market Status
1.1 Introduction ...................................................................................... 3
1.2 What is a Mobile Wallet? ................................................................. 3
1.3 Leading Wallets................................................................................ 4
Figure 1.1: Largest Mobile Wallets by Active User Base (m), End 2017 ................ 5
1.3.1 Contactless Wallets ...................................................................... 5
Figure 1.2: Contactless User Base (m), Apple Wallet, Samsung Pay, Google Pay
& Huawei Pay, 2014-2017 .................................................................................... 6
1.4 Beyond Contactless Payment: The Evolution of the Integrated
Wallet & OEM-Pay .................................................................................. 6
2. Forecast Methodology
2.1 Introduction ...................................................................................... 9
2.2 Methodology................................................................................... 10
Figure 2.1: Juniper Research Mobile Wallets Methodology ................................. 10
3. Mobile Wallet Forecasts
3.1 Global Mobile Device Forecasts ................................................... 12
Figure & Table 3.1: Mobile Handset Installed Base (m) Split by 8 Key Regions
2017-2022 .......................................................................................................... 12
3.2 Mobile Wallet User Base ............................................................... 13
Figure & Table 3.2: Proportion of Mobile Handsets with Active Mobile Wallets (%)
Split by 8 Key Regions 2017-2022 ...................................................................... 13
Figure & Table 3.3: Mobile Wallets in Use (m) Split by 8 Key Regions, 2017-
2022 ................................................................................................................... 14
Figure 3.4: Denmark Market Snapshot ............................................................... 15
3.2.1 Wallets with NFC Capability ...................................................... 16
Figure & Table 3.5: Proportion of Wallets Used to Make NFC/FeliCa Payments
(%) Split by 8 Key Regions, 2017-2022 .............................................................. 16
Figure & Table 3.6: Mobile Wallets Used to Make NFC/FeliCa Payments Split by
8 Key Regions, 2017-2022 ................................................................................. 17
3.2.2 Wallets with QR Code Payment Capabilities ........................... 18
Figure & Table 3.7: Proportion of Handsets Used to Make QR Code Payments
(%) Split by 8 Key Regions, 2017-2022 .............................................................. 18
Figure & Table 3.8: Mobile Wallets Used to Make QR Code Payments Split by 8
Key Regions, 2017-2022 .................................................................................... 19
3.3 Mobile Wallet Transaction Volumes ............................................ 20
Figure & Table 3.9: Average Annual Transactions Per Mobile Wallet Split by 8
Key Regions, 2017–2022 ................................................................................... 20
Figure & Table 3.10: Mobile Wallet Transaction Volumes (m) Split by 8 Key
Regions 2017-2022 ............................................................................................ 21
3.4 Mobile Wallet Transaction Values ................................................ 22
3.4.1 Average Transaction Values ..................................................... 22
Figure & Table 3.11: Average Mobile Wallet Transaction Value ($) Split by 8 Key
Regions 2017-2022 ............................................................................................ 22
3.4.2 Total Transaction Values ........................................................... 23
Figure & Table 3.12: Total Mobile Wallet Transaction Values Per Annum ($m)
Split by 8 Key Regions 2017-2022 ..................................................................... 23