サマリー
この調査レポートはコネクテッド街灯市場を調査しています。
Description
Industry Market Report examining Smart City initiatives focusing on connected streetlights. Including:
Market size & outlook 2018-23 by region, connectivity, tech stack, …
7 detailed case studies & List of 148 notable implementations
Discussion of upcoming trends during the next 5 years
The connected streetlights report is part of a larger effort of mapping Smart City initiatives such as smart mobility, smart parking, smart waste management, citizen engagement, and others.
FIND OUT
The key themes for Smart Cities
The main benefits, challenges and considerations influencing the deployment of Connected Streetlights
The disruptive trends that stakeholders need to watch out in the Connected Streetlights space
The market opportunities for service providers and OEMs in the Connected Streetlights space
The connectivity technologies that will dominate the market and which technologies will gain traction in the next 5 years
The market outlook on LPWAN on Connected Streetlights
The key vendors in the Connected Streetlights market, worldwide and by region
Examples of Connected Streetlights projects and where are they being implemented in North America, Europe and the Asia Pacific region
How Connected Streetlights unleash the opportunities of 5G, the next generation wireless network
AT A GLANCE
Connected streetlights are one of the key enablers to reduce energy consumption, which in turn helps cities mitigate carbon dioxide emissions. Connected streetlights are a technology enabler helping city governing bodies to comply with regulations on sustainable environment, boost road safety, and more. It is estimated that there will be 41 million IoT connected street lights installed globally by 2023.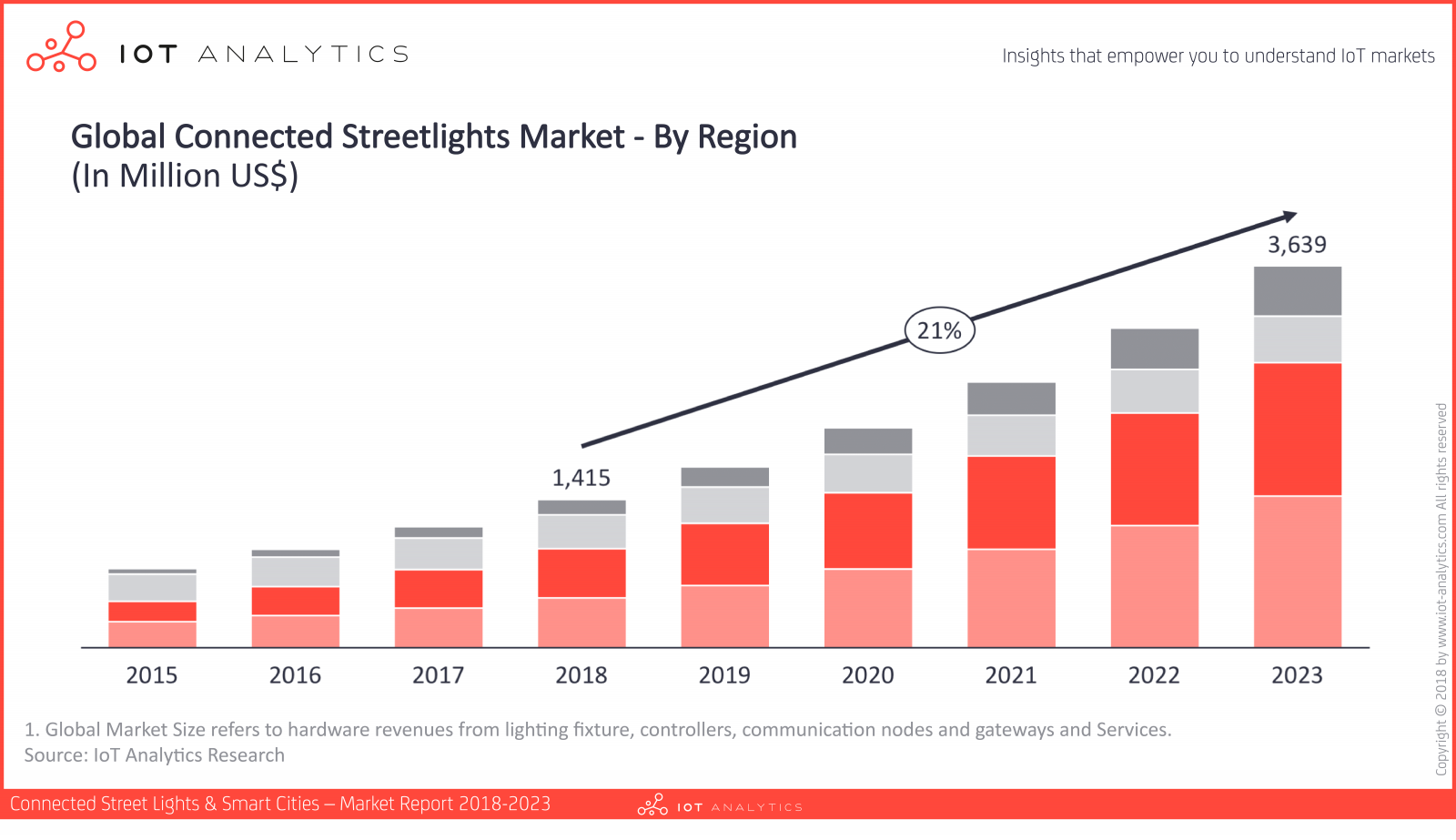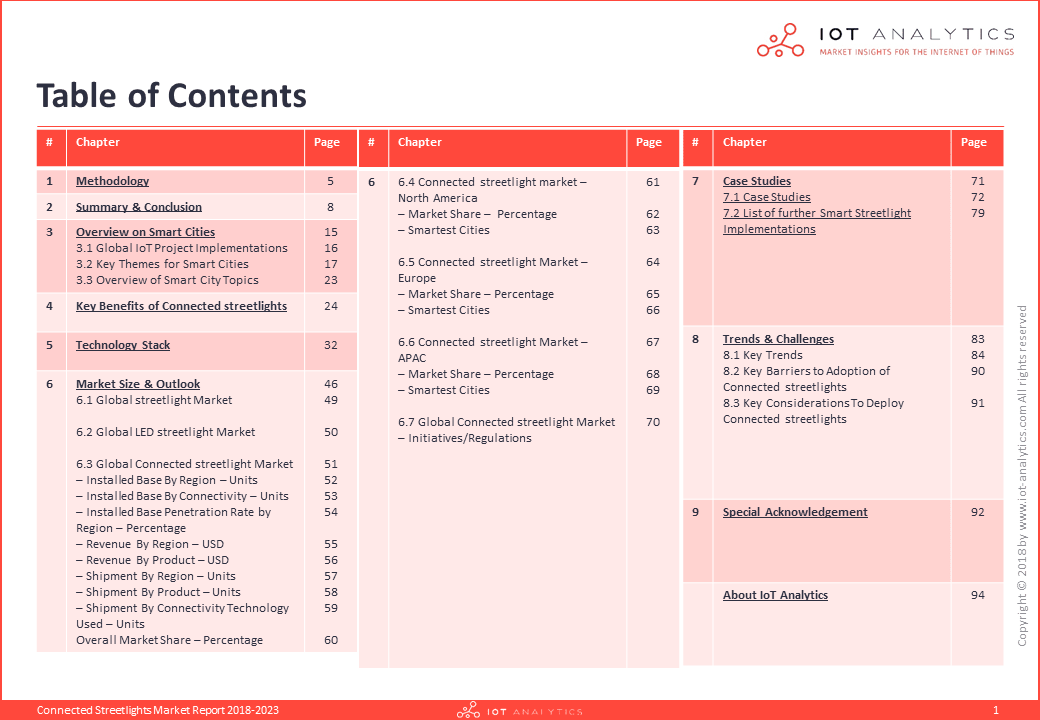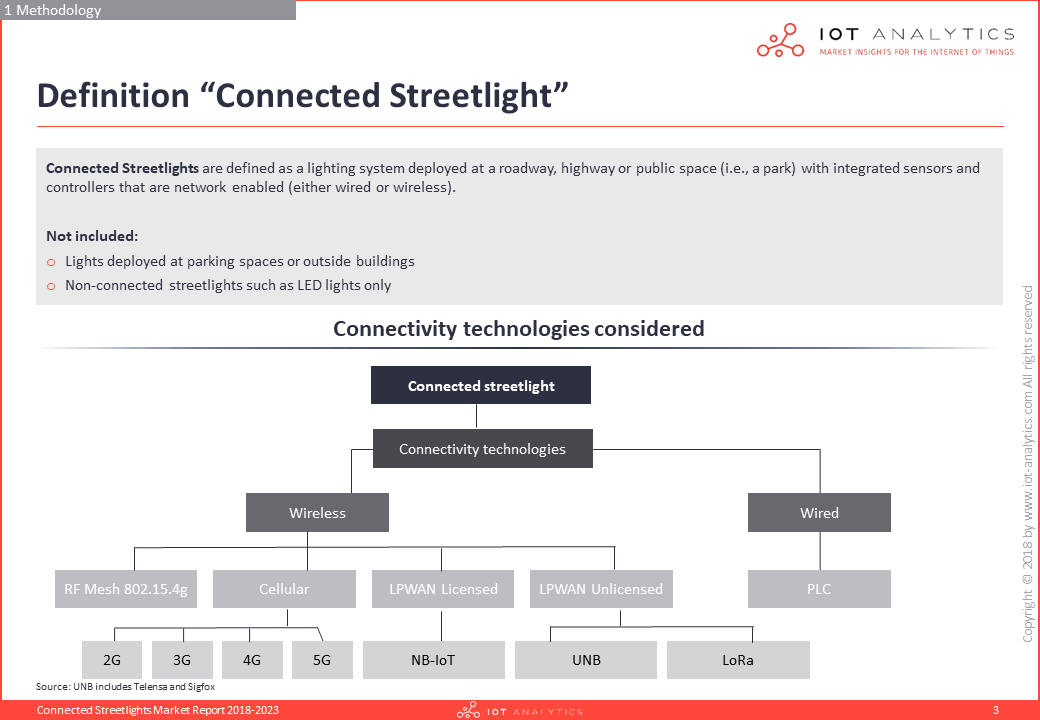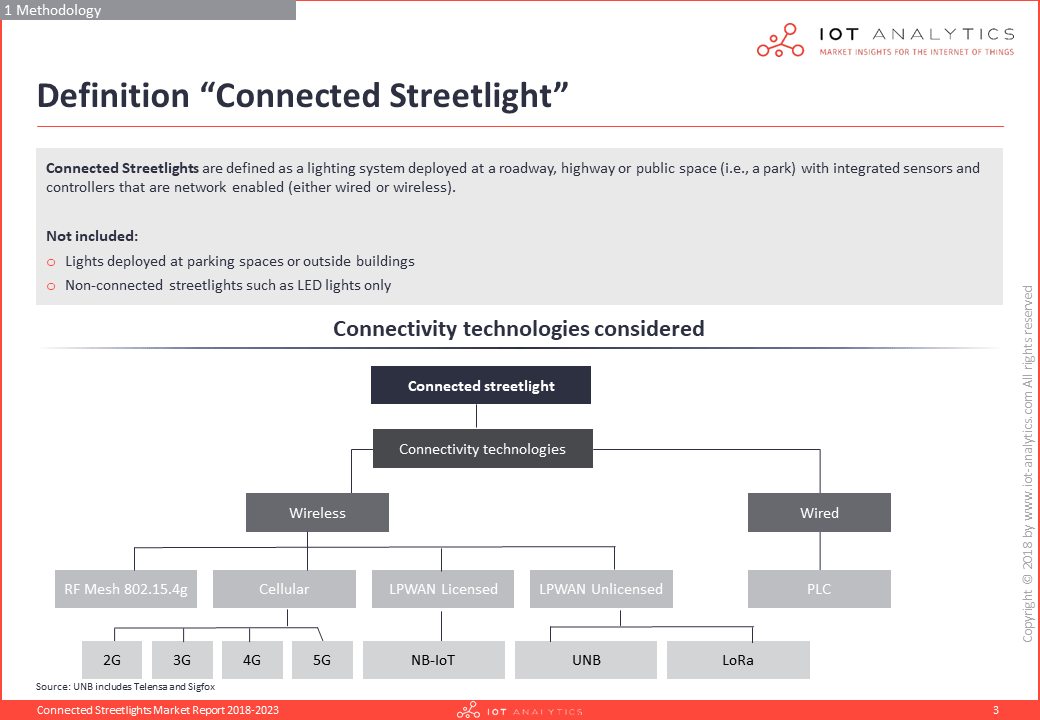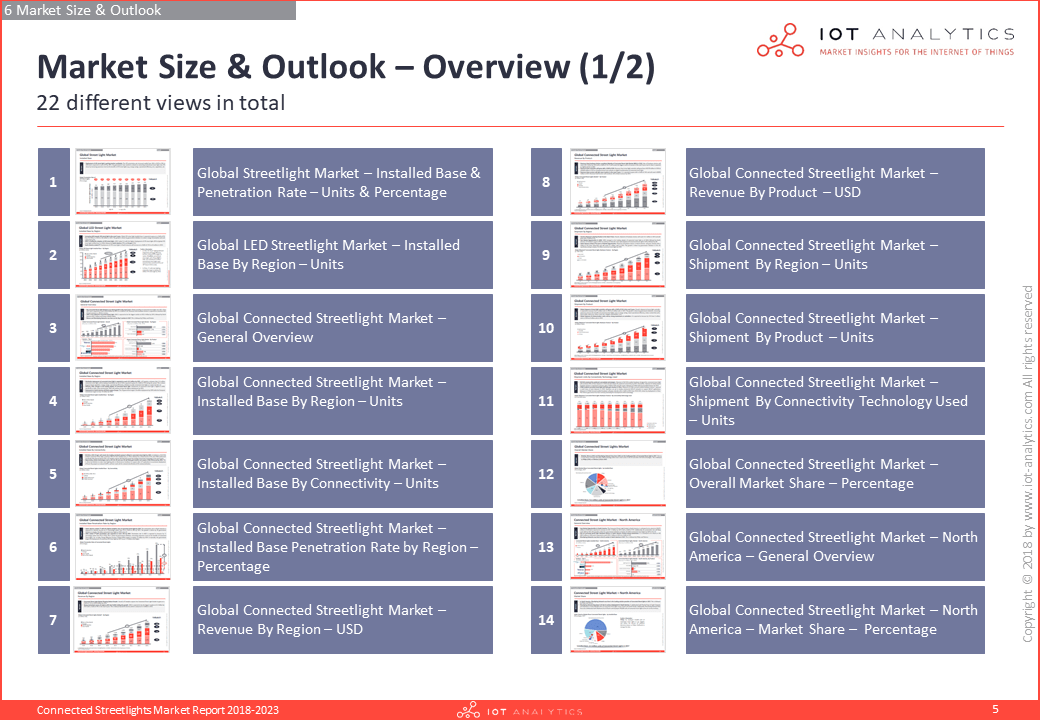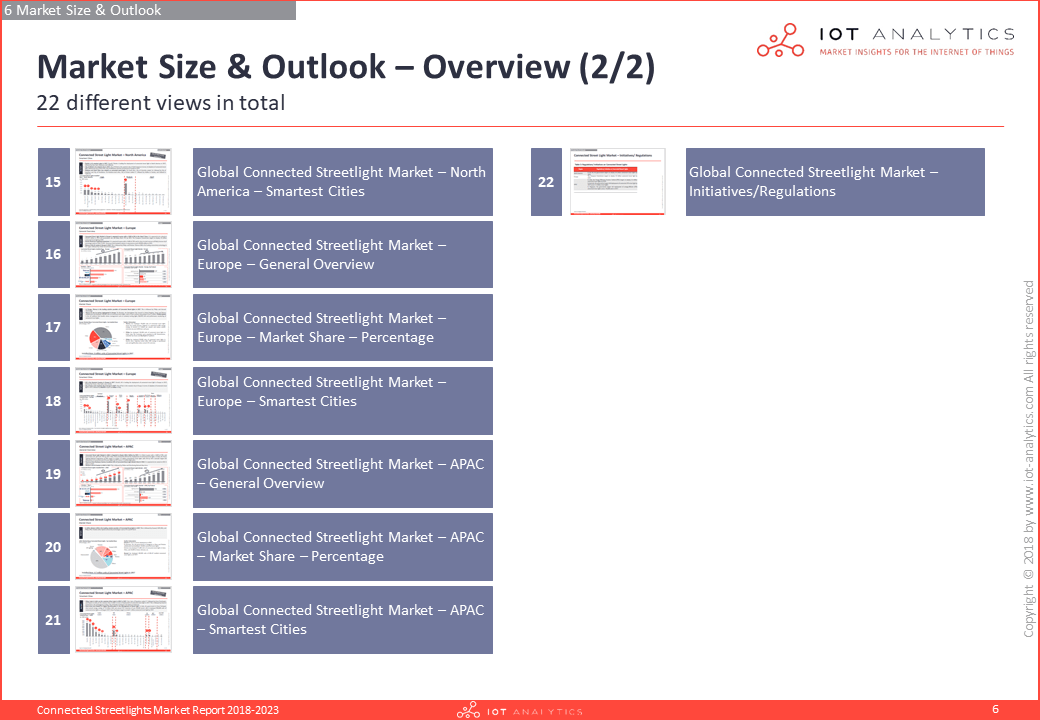 COMPANIES MENTIONED (SELECTED)
SilverSpring Networks (Itron), Signify (formerly Philips Lighting), Telensa, Echelon, Huawei, Nokia, Ericsson, Current Powered by GE, Microsoft, Cisco, IBM, Vodafone, Smart City Bhopal, Bharti Infratel Limited, Wireless Broadband Alliance, Ajuntament de Barcelona, Schneider Electric, Chordant, PTC.
---
ライセンス
提供物
価格
チームユーザライセンス(5名まで)

PDF:1ファイル
Excel:1ファイル

Market Model Data

US$2,500
エンタープライズライセンス

PDF:1ファイル
Excel:3ファイル

Market Model Data

US$4,000
シングルユーザライセンス(

※

)

PDF:1ファイル

US$2,000
※従業員数100名未満の企業の方のみご購入いただけます。
目次
Table of Contents
Chapter
1. Methodology
2. Summary & Conclusion
3. Overview on Smart Cities
3.1. Global IoT Project Implementations: Smart City is Leading
3.2. Key Themes for Smart Cities
3.3. Overview of Smart City Top
4. Key Benefits of Connected Street Lights
5. Technology Stack
6. Market Size & Outlook
6.1. Global Streetlight Market – Installed Base & Penetration Rate – Units & Percentage
6.2. Global LED Streetlight Market – Installed Base By Region – Units
6.3. Global Connected Streetlight Market – General Overview
6.4. Global Connected Streetlight Market – Installed Base By Region – Units
6.5. Global Connected Streetlight Market – Installed Base By Connectivity – Units
6.6. Global Connected Streetlight Market – Installed Base Penetration Rate by Region – Percentage
6.7. Global Connected Streetlight Market – Revenue By Region – USD
6.8. Global Connected Streetlight Market – Revenue By Product – USD
6.9. Global Connected Streetlight Market – Shipment By Region – Units
6.10. Global Connected Streetlight Market – Shipment By Product – Units
6.11. Global Connected Streetlight Market – Shipment By Connectivity Technology Used – Units
6.12. Global Connected Streetlight Market – Overall Market Share – Percentage
6.13. Global Connected Streetlight Market – North America – General Overview
6.14. Global Connected Streetlight Market – North America – Market Share – Percentage
6.15. Global Connected Streetlight Market – North America – Smartest Cities
6.16. Global Connected Streetlight Market – Europe – General Overview
6.17. Global Connected Streetlight Market – Europe – Market Share – Percentage
6.18. Global Connected Streetlight Market – Europe – Smartest Cities
6.19. Global Connected Streetlight Market – APAC – General Overview
6.20. Global Connected Streetlight Market – APAC – Market Share – Percentage
6.21. Global Connected Streetlight Market – APAC – Smartest Cities
6.22. Global Connected Streetlight Market – Initiatives/Regulations
7. Case Studies
7.1 Case Studies
7.3 List of further Smart Streetlight Implementations
8. Trends & Challenges
8.1 Key Trends
8.2 Key Barriers to Adoption of Connected Street Lights
8.3 Key Considerations To Deploy Connected Street Lights
9. Special Acknowledgement
About IoT Analytics