小売業のPOS/mPOS用ソフトウェア
Retail POS/mPOS Software
出版社
出版年月
電子版価格
IHL Group
IHLグループ
2018年10月
US$4,995
企業ライセンス
サマリー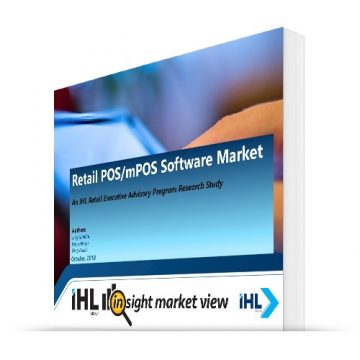 米国調査会社IHLグループ (IHL Group) の調査レポート「小売業のPOS/mPOS用ソフトウェア」は、世界の小売業POS用ソフトウェアの市場全体を調査している。市場を主導しているベンダはどこか、販売額、イノベーション、市場到達について探っている。
小売業の以下のセグメントについて分析している。
食品・

食料雑貨

ドラッグストア
スーパーストア/会員制大型ディスカウントストア(ウェアハウスクラブ)/ハイパーマーケット
大型小売店
百貨店
専門店-耐久消費財
専門店-非耐久消費財
コンビニエンスストア/ガソリンスタンド/フォアカウント
ファストフード
バー/レストラン
ホテル・宿泊
カジノ、クルーズ
博物館、テーマパーク、映画館、その他
Product Overview
Date of Publication 
October 18, 2018
Relationship
     Advisory
License
        Enterprise License - $4,995
           Distribution License - $21,000
Author(s)
Greg Buzek, Jerry Sheldon, Kelly Sayre, Lee Holman
IHL has been advising the hospitality community (vendors, restaurants, managed services providers and others) since 1996 in the industry-specific information technology evolution and strategy.
Over the years we've amassed a tremendous amount of primary- and secondary-source data through first hand consulting experience in this pursuit. From this ever-growing knowledge base, offerings like our Sophia Data Service, The Worldview IT Sizing Forecast Model as well as custom research projects have been developed and successfully launched.
This particular report looks at the overall Retail POS Software Market Worldwide.
Who are the real leaders? What are the real rankings? Who are the leaders in the Retail POS Software market? Which vendors are leading in sales, innovation, market reach and can implement a complete Unified Commerce approach with a single view of the customer? It's all here.
Companies are encouraged to use these charts in discussions with their vendor partners. It is our intent that they provide unique insights into vendor strategy and provide thought-provoking questions as we all move though and prosper in the Era of Intentional Innovation.
The IHL Insight Market View series of research studies build upon all this knowledge and add analyst insight to graphically display vendor positioning, drive for innovation and projected growth.
The goal of this report, as well as the entire IHL Retail Executive Advisory Program (REAP), is to provide the retail community with the most detailed and complete picture imaginable of the retail technology landscape. We do this to assist retailers in vendor selection and to help the industry understand the trends, drivers and barriers that are fundamentally transforming our industry.
NOTE: This study is available individually or at a discount as part of the IHL Retail Executive Advisory Program.
Vendors mentioned in this research are the following:
Vendors included in the research include:
Aptos, Cegid Group, Diebold Nixdorf, Extenda, Extenda, First Data, Fujitsu, Gilbarco, GK Software, HTEC, Ingenico, Intuit, Lightspeed Retail, Microsoft, NCR, Oracle, ParTech, Pay Anywhere, Paypal, PCMS Datafit, Revel Systems, Revention, SAP, Shopify, ShopKeep, Square, Toshiba Global Commerce, Uakari Software, Veirfone, Vend HQ, and Veras Retail.
HIGHLIGHT
This is one of several retail studies under the IHL Insight Market View series of research that is part of the Retail Executive Advisory Program (REAP) at IHL. This study looks at the Total Retail POS Software Market.
Readers of this research will get a forecast for POS Software in total and then by key segments. Breakouts are included for Food/Drug/Mass Merchants/Warehouse Clubs, For Department/Specialty Softgoods, Specialty Hardgoods, and then Hospitality which is inclusive of Fast Food/QSR/Quick Casual, Bars/Restaurants, Lodging, Casinos, Cruises, Theaters, Theme Parks, Museums, Stadiums and other formats.
Next we provide rankings for POS Software. Then we discuss market trends, drivers and market barriers.
The IHL Insight Market View Map then positions vendors against each other in a 3-dimensional quadrant view. The upper right quadrant shows someone who is a leader in market strength and also in growth, innovation, and unified commerce coverage. What is unique about the IHL approach is we also add a further dimension of market share scale so you can not only see who is in what quadrant, but how strong they are as well. This is ideal as executives review their market position and consider competitors and acquisition candidates.
Finally, we provide market profiles on the top 15 software providers by revenue. Each profile includes total revenues, revenues by hardware, software, SaaS, and services, revenues by region, and revenues by Line of Business Category. In addition, the profiles include merger and acquisition information as well as key clients.
The data, forecasts, and positioning maps are provided Worldwide as well as a deep dive on North America.
What makes this research different and more rigorous is that it is based on a very sophisticated and highly objective research model. It allows vendors, retailers and analysts to see who are the real leaders in retail software, true software market rankings, who is leading in the fast growing software-as-a-service market, and which vendors are leading in sales, innovation, market reach and can implement a complete unified commerce approach to retail.
PREVIEW
Sample Trends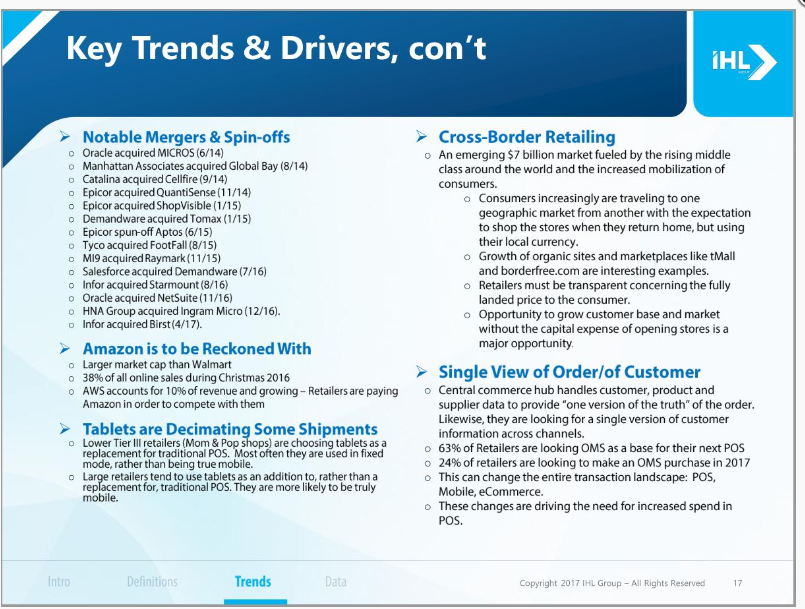 Sample MarketView Positioning Chart – Not from this report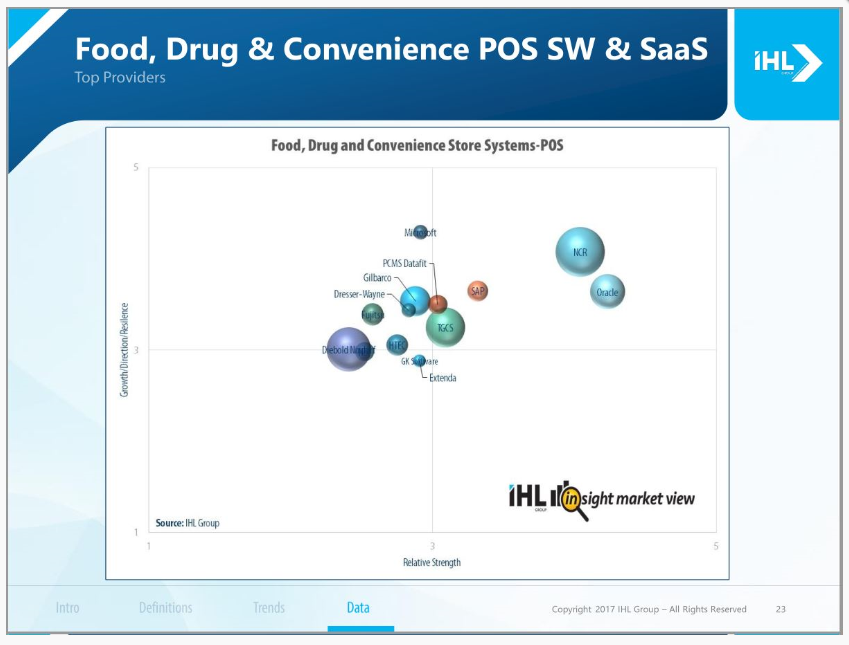 Sample Company Profile (not this report)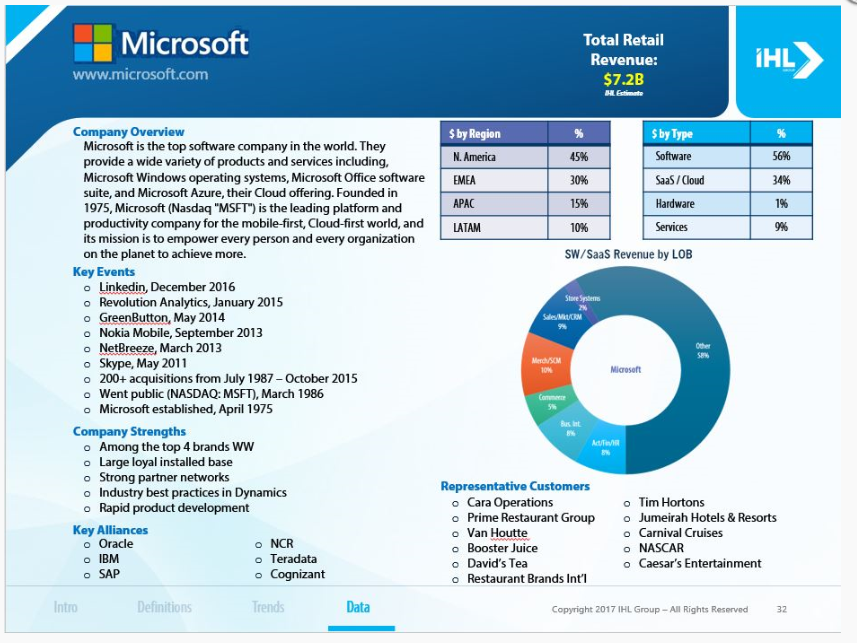 FAQS
What Segments Constitute Your Definition of Retail?
We use the following segments to define Retail and some examples. This research uses all of these segments.
Food/Grocery (Kroger, Safeway, Trader Joe's, Wakerfern, Tesco,)
Drug Stores (Walgreens, CVS)
Superstore/Warehouse Clubs/Hypermarkets (Walmart, BJ's Wholesale, Costco, Auchan)
Mass Merchants (Target, Meijer Stores)
Department Stores (JC Penney, Sears, Kohls, Kaufaf, Marks and Spencer)
Specialty Hard Goods (Home Depot, Lowes, Best Buy, Rooms to Go, Canadian Tire)
Specialty Soft Goods (H&M, Limited Stores, Wet Seal)
Convenience/Gas/Forecourt (Chevron, Exxon,)
Fast Food (McDonald's, Subway, Burger King, Pizza Hut, Taco Bell)
Bar/Restaurant (Applebees, Buffalo Wild Wings, Chipotle)
Lodging (Marriott, Sheraton, Hilton)
Entertainment:Casinos and Cruises (Carnival, Harrah's, Wynn, Caesar's Palace)
Entertainment:Museums, Theme Parks, Theaters, Others (Disney, Universal, AMC, Carmike)
Is this put together by primary research, secondary research?
Yes, all of the above. We utilize our Sophia Data Service, WorldView IT Sizing Forecast Model, custom primary and secondary research and vendor interviews to put this together. Contact us and we would be happy to go over the methodology with you.
Can I share this study in my company?
Yes, if your company has an advisory relationship with IHL, you can share internally.
Can I share the data externally?
With written permission from IHL we allow certain components to be shared externally. However, as a standard rule IHL research studies and content cannot be shared externally with clients and partners. That being said, we are open to individual queries and do make exceptions for marketing purposes with the appropriate licenses. Once again, we just ask those be made in writing to ihl(at)ihlservices.com.
目次
Introduction
Market Definition and Overview
What's Included
Key Definitions
Regions
Segments
Tiers
Trends, Drivers, and Barriers
Worldwide Forecasts and Market Sizing
Total POS Software Spend (Licenses, SaaS, Maintenance)
POS Software Forecast By Segment
Food/Drug/Mass Merchants/Warehouse Clubs
Department/Specialty Softgoods
Specialty Hardgoods
Convenience/Gas
Hospitality
North American Forecasts and Market Sizing
Total POS Software Spend (Licenses, SaaS, Maintenance)
POS Software Forecast By Segment
Food/Drug/Mass Merchants/Warehouse Clubs
Department/Specialty Softgoods
Specialty Hardgoods
Convenience/Gas
Hospitality
IHL Insight Market View Vendor Positioning Maps
Total POS Software
POS Software Forecast By Segment
Food/Drug/Mass Merchants/Warehouse Clubs
Department/Specialty Softgoods
Specialty Hardgoods
Convenience/Gas
Hospitality
Vendor Profiles (see above for what's included)
Methodology
お問合は、お電話またはWEBから承ります。お見積もりの作成もお気軽にご相談ください。