As emissions regulations around the world tighten, national and local subsidies gain momentum and fresh electrification targets eye 2030, it is becoming easier to picture a world dominated by electric vehicles. And in parts of the world where motorcycles have become the 'family car' (India, Indonesia, Vietnam etc), the transition to electric two-wheelers seems to be just as significant as the transition to electric cars elsewhere.
The likes of Yamaha, Kawasaki, Harley Davidson, Honda, TVS and others have been in the research and development stage for a handful of electric motorcycles and / or electric scooters for the best part of a decade. The problem is they have either been so futuristic they cannot be taken seriously (check out the Kawasaki J), or simply never get green-lighted for production.
A combination of factors is at play here: the market is still very small, battery prices are still too high and development needs to start from scratch, which is expensive. As well as this, developing hybrids (which act as a stepping-stone for automakers) does not seem worth it with two-wheelers due to the engineering complexity and the incremental improvements made to emissions. Better to just throw down the gauntlet and go pure electric.
In the last couple of years, sentiments have begun to change: the number of investments being made by OEMs into start-ups has picked-up, and announcements of new plans for electric models tends to be a weekly / monthly occurrence rather than an annual one.
Perhaps one of the most pivotal partnerships is that of Harley Davidson and Alta Motors. Harley's plans for an e-motorcycle has its origins with 'Livewire' back in 2014, but the plans stagnated for four years. Its recent investment into Alta Motors, a Californian start-up for off-road and motocross e-motorcycles, has given it new confidence: it will take help from the company to release Livewire in 2019, with two brand new models to follow in the early 2020s.
On another note, low-speed / power e-bike sales are picking up, particularly in Europe where over a third of the market comes from Germany (for this type of vehicle, think of a bicycle retrofitted with a battery on the frame). The growth has been fuelled by imports from China and Taiwan, causing prices to fall, and innovative new business models like e-cargo delivery and dockless e-bike sharing services (check out JUMP and Lime in the US).
e-bike market share by country in the EU28 for 2017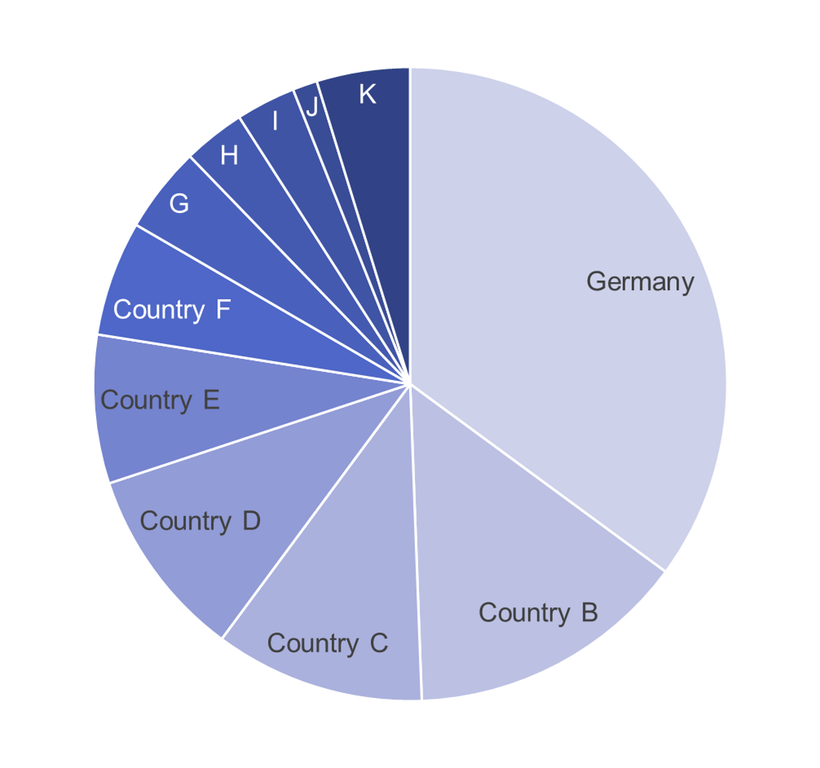 Source: Bike Europe, Industry Associations
But what about the tariffs? Both the European Commission and the Trump administration have announced they may slap imported e-bikes from China with a tariff as soon as January 2019 (and in Europe they could even be applied retroactively back to May 2018). It remains to be seen whether such tariffs will have a meaningful impact on sales, as importers could simply shift to placing orders for the components and doing the assembly locally. Still, with roughly 38 percent of e-bikes sold in Europe being imported from China, and over 90 percent of e-bikes sold in the US imported from China and Taiwan, there is potential for disruption.
The new report on 'Electric Two-Wheelers' provides forecasts up to 2029 for e-motorcycles, e-scooters and e-bikes broken down by power class (< 1kW and < 25kmph, < 4kW and > 25kmph, > 4kW) and region (India, Indonesia, Taiwan, Thailand, Europe, US and China). It presents our analysis, highlights trends and gives our opinion on what's driving the electrification of two wheelers with details based on primary research from interviews, company visits to players around the globe, and our network of contacts.
| | |
| --- | --- |
| 1. | EXECUTIVE SUMMARY |
| 1.1. | Types of electric two-wheeler |
| 1.2. | Not covered |
| 1.3. | The two-wheeler narrative |
| 1.4. | Demographic explosion of the global urban |
| 1.5. | The two-wheeler narrative |
| 1.6. | Congestion in China |
| 1.7. | Drivers for growth |
| 1.8. | Drivers for growth: e-bikes |
| 1.9. | Volumetric forecast for electric two-wheelers |
| 1.10. | Market forecast for electric two-wheelers |
| 2. | REGIONAL FORECASTS |
| 2.1. | Basis of the forecast |
| 2.2. | Volumetric forecast for e-scooters by region |
| 2.3. | Market forecast for e-scooters by region |
| 2.4. | Volumetric forecast for e-motorcycles by region |
| 2.5. | Market forecast for e-motorcycles by region |
| 2.6. | Volumetric forecast for e-bikes by region |
| 2.7. | Market forecast for e-bikes by region |
| 2.8. | China and RoW market forecast |
| 2.9. | Assumptions and analysis |
| 2.10. | Snapshot of e-scooter trends |
| 3. | E-BIKES: INTRODUCTION AND OVERVIEW |
| 3.1. | What is an e-bike? |
| 3.2. | Overview of regulations |
| 3.3. | Examples |
| 3.4. | Why e-bikes are popular |
| 3.5. | Pricing of e-bikes |
| 3.6. | Vanmoof |
| 3.7. | E-bikes Europe |
| 3.7.1. | Historic sales |
| 3.7.2. | Europe Imports |
| 3.7.3. | Europe e-bike Market |
| 3.7.4. | Germany leading e-bike sales |
| 3.7.5. | Europe scooter versus e-bike versus e-scooter? |
| 3.7.6. | EU tariff on imports from China |
| 3.7.7. | Accell Group |
| 3.7.8. | Battery Cells and Chemistry |
| 3.7.9. | Bosch |
| 3.7.10. | Bosch e-bike Components |
| 3.7.11. | Subsidy in France |
| 3.7.12. | The German Market |
| 3.8. | E-bikes US |
| 3.8.1. | Historic bike sales in the US |
| 3.8.2. | US e-bike market in 2017 |
| 3.8.3. | Trump's e-bike tariffs |
| 3.8.4. | IDTechEx Interviewed Holland's Bicycles |
| 3.8.5. | The craze for dockless bike sharing |
| 3.8.6. | Uber JUMP |
| 3.8.7. | Lime |
| 3.8.8. | Bird |
| 3.8.9. | e-bikes: Changing Hearts and Minds in New York City |
| 3.8.10. | Optibike: a motocross e-bike |
| 3.8.11. | Lithium Cycles |
| 4. | ELECTRIC SCOOTERS |
| 4.1. | What is an e-scooter? |
| 4.2. | Where will e-scooter markets grow? |
| 4.3. | Europe e-scooter |
| 4.3.1. | Growth of electric scooters in Europe |
| 4.3.2. | Historic e-scooter sales in Europe |
| 4.3.3. | Govecs |
| 4.3.4. | Honda: PCX Hybrid Scooter |
| 4.3.5. | Vespa Elettrica |
| 4.3.6. | Hybrid scooters have historically failed |
| 4.3.7. | NIU |
| 4.3.8. | CruZer e-Scooter |
| 4.3.9. | Onyx: Retro Electric Moped |
| 4.4. | Indonesia e-scooter |
| 4.4.1. | Historic motorcycle sales |
| 4.4.2. | Electric two-wheeler market |
| 4.4.3. | Study into e-scooter feasibility |
| 4.4.4. | Garansindo and the Gesits e-scooter |
| 4.4.5. | Honda to pilot battery sharing |
| 4.5. | Vietnam e-scooter |
| 4.5.1. | Historic motorcycle market |
| 4.5.2. | Takuda Motor |
| 4.6. | Taiwan e-scooter |
| 4.6.1. | Taiwan |
| 4.6.2. | Gogoro |
| 4.6.3. | Gogoro and Battery Swapping Models |
| 4.6.4. | China Motor Corp |
| 4.6.5. | Kymco (versus Gogoro) |
| 4.7. | Thailand e-scooter |
| 4.7.1. | Historic motorcycle sales |
| 4.7.2. | Fall in electric two-wheeler sales |
| 4.7.3. | Prototype e-scooter |
| 4.7.4. | Thailand government targets |
| 4.8. | India e-scooter |
| 4.8.1. | Positive energy coming from the Indian Subcontinent |
| 4.8.2. | 'Make in India' initiative: understanding the electric vehicle elephant |
| 4.8.3. | Drivers for two wheelers in India |
| 4.8.4. | Market share of electric two-wheelers |
| 4.8.5. | Historic e-scooter sales in India |
| 4.8.6. | Payback time for two wheelers in India |
| 4.8.7. | Policy in India |
| 4.8.8. | Local Subsidy in Maharashtra State |
| 4.8.9. | Hero Electric Popular Models |
| 4.8.10. | Ather Energy |
| 4.8.11. | GenZe |
| 4.8.12. | Current and Future Models in India |
| 4.8.13. | 22Motors - Flow |
| 4.8.14. | E-motion - Surge |
| 4.8.15. | Bajaj Auto |
| 4.8.16. | Tightening emissions standards |
| 4.8.17. | Start-ups at 'Energy Storage Expo' India 2018 |
| 4.8.18. | Other new Entrants |
| 4.8.19. | Acme |
| 4.8.20. | Partnerships in India |
| 4.8.21. | Society of Manufacturers of Electric Vehicles |
| 4.8.22. | Component developers for electric two wheelers |
| 4.8.23. | Component Developers in India |
| 4.8.24. | Instrument Cluster Suppliers |
| 4.8.25. | Battery Chemistry in India |
| 5. | E-BIKES IN CHINA |
| 5.1. | Production of two wheelers in China |
| 5.2. | China e-bike market |
| 5.3. | E-Bike Classifications and Regulations |
| 5.4. | Nalon Battery, Shenzhen |
| 5.5. | Xiaomi: $261 Electric Bicycle |
| 5.6. | Bans of e-bikes in China |
| 6. | E-MOTORCYCLES |
| 6.1. | What is an e-motorcycle? |
| 6.2. | Global distribution of motorcycles |
| 6.3. | Historic motorcycle sales: EU and US |
| 6.4. | Market share |
| 6.5. | Subsidies in the US |
| 6.6. | Low maintenance |
| 6.7. | No noise: good or bad? |
| 6.8. | Trend for increasing battery capacity |
| 6.9. | Electric motor choices |
| 6.10. | Comparison of different models |
| 6.11. | Zero Motorcycles |
| 6.12. | Zero Motorcycles manufacturing facility |
| 6.13. | Zero Motorcycles Visit, November 2017 |
| 6.14. | BMW C Evolution |
| 6.15. | Volta |
| 6.16. | Electric Motion |
| 6.17. | KTM |
| 6.18. | Alta Motors |
| 6.19. | Alta Motors: Reduction in Prices |
| 6.20. | Pack price decline |
| 6.21. | Energica |
| 6.22. | Italian Volt |
| 6.23. | Where are they? |
| 6.24. | Partnerships |
| 6.25. | Supercapacitor replaces battery? |
| 6.26. | List of e-motorcycle manufacturers |