サマリー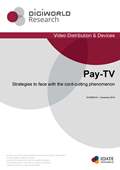 This report delivers a status update on cord-cutting in the United States and in Europe, along with a future outlook.
It analyses the different ways that pay-TV markets on either side of the Atlantic are evolving, and the progress being made by OTT services.

It identifies the factors behind viewers' key reasons for cancelling their traditional pay-TV plans.

It also explores how pay-TV providers and top broadcasters are responding to battle against the cord-cutting phenomenon, or at least minimise its impact on their business.
Lastly, it delivers insights into how this phenomenon is likely to unfold over time.
目次
Report contents

1. Executive Summary

2. Methodology & definitions
2.1. General methodology of IDATE's reports
2.2. Definitions

3. State of pay-TV in the main markets
3.1. The pay-TV market in the United States
3.2. The pay-TV market in Europe
3.3. The OTT market's development

4. The key incentives for cord-cutting
4.1. High pay-TV subscription prices
4.2. OTT video services: an increasingly credible alternative
4.3. Low barriers to entry for OTT services
4.4. Increasingly ubiquitous high-speed access broadens OTT's potential market
4.5. Connected TV nearing maturity

5. How pay-TV providers and broadcasters are responding
5.1. Product diversification
5.1.1. Launch of new video services by operators and pay-TV providers
5.1.2. Premium channels engaging in direct to consumer distribution (DTC)
5.1.3. Tiered package initiatives
5.2. Enhancing TV products
5.2.1. Improve existing plans
5.2.2. Improve the user experience
5.2.3. Incorporating third-party OTT video services

6. Outlook
6.1. New generations have already adopted online video habits
6.2. Cord-cutting set to accelerate in mature markets
6.3. Will cord-cutting impact European markets?
6.4. Will cord-shaving prove a greater threat?
6.5. Some operators opting for a dumb pipe strategy
6.6. The new curators


Report tables and figures

Tables
Table 1: Selection of pay-TV providers that have partnership with Netflix

Figures
Figure 1: Growth of pay-TV households in the United States, 2008-2016
Figure 2: Evolution of pay-TV subscriptions in the United States by access system, 2008-2016
Figure 3: Growth of pay-TV households in Europe, 2008-2016
Figure 4: Evolution of SVoD services in the United States between Q3 2013 and Q3 2016
Figure 5: Percentage of people in the UK who have used a popular VoD service in the past month
Figure 6: Change the distribution VoD revenue in France by type of transaction, 2012-2016
Figure 7: Evolution of VoD rentals in France and in the United States
Figure 8: Percentage of SVoD customers in the UK, who subscribe to a pay-TV plan, end of 2015
Figure 9: Evolution of monthly cable subscription fees in the United States compared to the expected increase due to inflation, 2000-2015
Figure 10: Most common reasons for cancelling a pay-TV subscription in North America, Q3 2016
Figure 11: Reasons why consumers use OTT services in North America, Q3 2016
Figure 12: Monthly price of SVoD in North America, 2014-2016
Figure 13: vMVPD service, Sling TV
Figure 14: Progress in broadband access around the world, 2009-2015
Figure 15: Amazon Fire TV Stick
Figure 16: Ownership rates for connected devices on the rise, in North America, Q3 2016
Figure 17: Main reasons for dissatisfaction amongst cable/satellite subscribers in North America, Q3 2016
Figure 18: Possible positioning for pay-TV providers' new paid video services
Figure 19: DirecTV Now packages
Figure 20: Promotion DirecTV Now – Apple TV
Figure 21: Canal+ launches OTT services for personal devices
Figure 22: Comcast's limited basic TV plan in the United States
Figure 23: Comcast's "Internet Plus" double play bundle
Figure 24: Verizon skinny bundles
Figure 25: Consumer interest in à la carte pay-TV packages in North America, Q3 2016
Figure 26: Change is Comcast's subscriber mix between 2013 and 2016
Figure 27: DirecTV's premium package
Figure 28: Example of viewing suggestions from the Bbox (Bouygues Telecom)
Figure 29: Example of voice recognition on the remote (Comcast)
Figure 30: Impact of age on cord-cutting in the United States, March 2016
Figure 31: The devices most cherished by younger generations in the UK, 2015 and 2016
Figure 32: The devices most cherished by younger generations in the UK, by age, in 2016
Figure 33: Weekly media consumption in the UK,, inside and outside the home, in 2016
Figure 34: Current percentage of non-subscribers in the United States who recently cancelled their subscription in North America, Q3 2016
Figure 35: Subscribers in Nordic countries' intention to cancel or downgrade their pay-TV subscription in the next 12 months, 2013 and 2014
Figure 36: Services/features that cord-shaving customers in the United States cancel from their cable or satellite TV subscription, in North America, Q3 2016 and Q2 2016
Figure 37: Consumers feel increasingly overwhelmed by the number of channels available in North America, Q3 2016
Figure 38: Universal search feature on the new Apple TV


Companies referenced in the report

• ABC
• AfroStream
• Amazon Prime Video
• Apple
• AT&T DirecTV
• Canal+
• CanalPlay
• CBS
• CBS All Access
• Comcast
• Comcast Stream
• Cstream
• DirecTV Now
• Dish
• ESPN
• Fox
• HBO
• HBO Now
• Hulu
• iTunes
• KPN Play
• NBC
• Netflix
• SFR Play
• SFR-Numericable
• Showtime
• Sky UK
• Sling TV
• Verizon


Slideshow contents

State of pay-TV in the main markets
• The pay-TV market in the United States and Europe
• The OTT market's development

The key incentives for cord-cutting

How pay-TV providers and broadcasters are responding
• Diversifying product lines
• Enhancing TV products

Summary and outlook