サマリー
この調査レポートは世界のIC市場を詳細に調査し、2021年までの関連市場やIC市場を分析・予測しています。既存のIC向けシステムのビジネスチャンスを調査し、IC市場への促進が期待される新しい用途の潜在性を評価しています。
パート1ではICのエンドユース市場データを電子システム、ICデバイス、地域、各タイプ別に分析・解説しています。パート2ではICチップを使用した主要製品市場を対象に、製品タイプ別の市場分析結果と予測データを掲載しています。
またレポートのご購入者へは2017年の実績データ、最新予測、電子システム市場の新規開発に関する情報を盛り込んだ約100ページのアップデートレポートが無料で提供されます。(2018年第2四半期予定)
調査対象例
この調査レポートは、下記の2パートに分けて、豊富なデータおよび分析結果を提供しています。
パート1:豊富なICエンドユースデータベース (2013-2019年)  イメージ
電子システムタイプ毎

コンピュータ
通信
一般消費者向け製品
自動車
産業
政府/軍事

ICデバイスタイプ毎

マイクロコントローラ
メモリー
アナログ
ロジック など

地域毎
パート2:エンドユースアプリケーション分析  イメージ1  イメージ2  イメージ3
モノのインターネット (IoT)
人工知能(機械学習)
自動車エレクトロニクス(ハイブリッド車と電動車両を含む)
スマートフォン
パソコン(タブレットと既存のパソコンを含む)
データセンタ向けサーバとクラウドコンピューティング
仮想現実(VR)と拡張現実(AR)
ウェアラブルシステム(スマートウォッチとフィットネストラッカーを含む) 他
Introduction
To better understand the IC market, you need to understand the end-use applications! The IC market remains closely linked to the health of the electronic systems market. In mature and developing economies, demand for electronic systems continues to grow with an expanding number of end-use applications and increasing digital content providing the stimulus for IC market growth. IC Market Drivers—A Study of Key System Applications Fueling Demand for Integrated Circuits—helps identify opportunities for growth and evaluates the potential for new applications that are expected to fuel the market for integrated circuits through 2021.
Internet-capable converging technologies and mobile electronic systems will keep demand for ICs strong through 2021!
The Internet of Things—Virtual representation of uniquely identifiable objects with an Internet-like structure (IP address) has been gaining momentum for more than a decade with no slowdown in sight. Machine learning is a key component of this far-reaching trend.
Virtual and Augmented Reality—A new wave of IC growth is beginning for virtual and augmented reality in headsets, next-generation home and factory robots, drones, and smartphones. IC Insights examines growth opportunities for VR/AR in these and other applications.
Automotive Electronics—In-vehicle infotainment, connectivity, assisted and autonomous driving features, and safety and environmental mandates are expected to boost automotive IC sales to record-high levels through the forecast. MCUs, analog, and mixed-signal devices will continue to represent the largest portion of automotive IC sales.
Smartphones—Smartphones are the fastest growing segment of the cellphone market. IC content represents about 30% of the average selling price of a smartphone. The success of 4G and new 5G smartphones with virtual reality features will have a big impact on sales of NAND flash memory, analog, DSP, and logic IC devices.
Personal Computing—Demand has softened for Tablet PCs. What is the future market direction for these systems and how will their growth impact traditional PC sales? What IC content will be required in these computing systems?
Wearable Electronics—Sales of semiconductors used in wearable electronics such as personal medical monitoring devices and fitness/activity trackers for health applications, are gaining momentum. The U.S. is the biggest medical systems market, representing about one third of worldwide sales in 2017, followed by Europe, Asia-Pac, and Japan.
Find information like this and much more in IC Market Drivers.
IC Market Drivers is divided into two parts. The first provides an extensive database of historical and future IC market statistics categorized by end-use application. The second examines key electronic system applications that are expected to drive IC demand in the coming years.
PART I: Extensive IC End-Use Application Database
PART II: Analyses of End-Use Applications
FREE Update Included!
Your 2018 subscription to IC Market Drivers includes an update that will be released in 2Q18. The update will contain final numbers for 2017, updated forecasts, and an examination of new developments in the electronic systems market.
Internet access to the report is included with every purchase!
IC Market Drivers is accessible over the Internet. Using the provided password, the valuable market data in IC Market Drivers can be viewed with any computer connected to the Internet. Documents are keyword searchable and include color graphs, tables, and illustrations.
PART I: Extensive IC End-Use Database
In Part I, IC Insights presents an extensive 2015-2021 IC end-use application database. Data is arranged in several ways---by electronic system type (computer, communications, consumer, automotive, industrial, and government/military), by device type (microcontrollers, memory, analog, logic, etc.), and by geographic region (Americas, Europe, Japan, and Asia-Pacific).
Extensive IC End-Use Database (2015-2021)
By Electronic System Type
By IC Device Type
By Geographic Region

Below is a sample figure from Part I showing the breadth of data provided. It is one of approximately 30 tables and charts that provide thousands of market data points.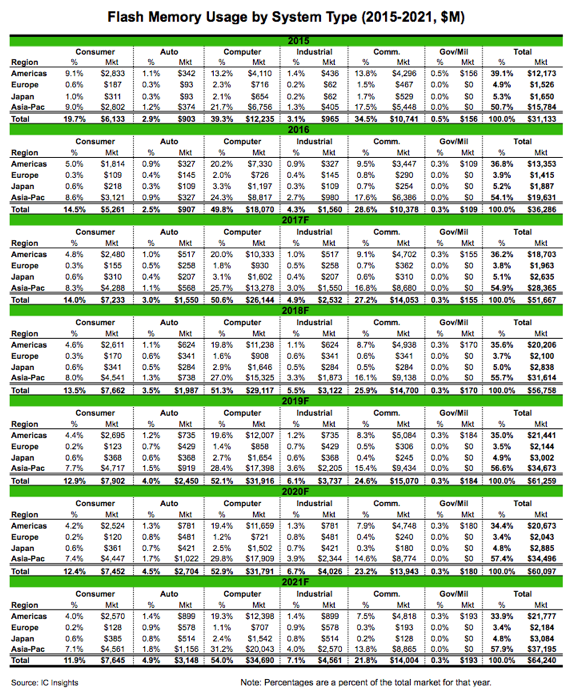 PART II: Analyses of End-Use Applications
Part II explores specific electronic systems that are expected to play prominent roles in the IC industry over the next several years.
Analyses of Key Markets for ICs
The Internet of Things
Artificial intelligence (machine learning)
Automotive electronics (incl. autonomous and electric vehicles)
Smartphones
Personal computing (incl. tablets and standard PCs)
Datacenter servers and cloud computing
Virtual reality and augmented reality
Wearable systems (incl. smartwatches and fitness trackers)
...and more!

Included in the section are analyses of automotive electronics, smartphones, personal computing systems, wearable systems, and the fast-growing market for the Internet of Things.
Historical developments and future expectations that will make these markets attractive for IC vendors are highlighted and discussed.
Below are sample figures from Part II. There are about 250 such figures in the section that help to illustrate trends within the key end-use markets discussed.