産業オートメーションと無線モノのインターネット(IoT)  (第3版)
Industrial Automation and Wireless IoT – 3rd Edition
出版社
出版年月
冊子体価格
電子版価格
ページ数
Berg Insight
ベルグインサイト社
2016年7月
Eur1,000
Eur1,500
1-5ユーザライセンス(PDF)
150
サマリー
スウェーデンの調査会社ベルグインサイト社(Berg Insight)の調査レポート「産業オートメーションと無線モノのインターネット(IoT)  (第3版)」は、世界の産業オートメーションの無線モノのインターネット(IoT)の適用市場を調査しています。ビジネス上の意思決定に有益な5年間の市場予測と専門家の見解を提供しています。主要企業の有力者のインタビュー、産業オートメーションのモノのインターネットのエコシステム、主要な用途の概説、主要な市場動向と発展、60社以上の主要企業の詳細な概要、2021年までの最新の市場予測を無線技術毎、地域毎、垂直市場毎、デバイス毎に提供しています。
目次(抜粋)
産業オートメーション産業の概要
産業オートメーションにおける無線IoTソリューション
市場予測と動向
欧州の機器ベンダとソリューションベンダ
北米とアジアの機器ベンダとソリューションベンダ
Description
This study investigates the worldwide market for wireless IoT applications in industrial automation. The installed base of active wireless IoT devices in the industrial automation industry is forecasted to grow at a compound annual growth rate of 27.7 percent from 14.3 million units at the end of 2015 to 62.0 million units by 2021. Get up to date with the latest information about vendors, products and markets.
---
Industrial Automation and Wireless IoT is the third strategy report from Berg Insight analysing the latest developments on the market for wireless IoT applications in industrial automation worldwide.
This strategic research report from Berg Insight provides you with 150 pages of unique business intelligence including 5-year industry forecasts and expert commentary on which to base your business decisions.
Highlights from this report:
Insights from numerous executive interviews with market leading companies.
360-degree overview of the IoT ecosystem in the industrial automation industry.
Comprehensive overview of key applications for wireless IoT solutions in industrial automation.
In-depth analysis of market trends and key developments.
Detailed profiles of over 60 key players in this market.
Updated forecasts by wireless technology, region, market vertical and device segment lasting until 2021.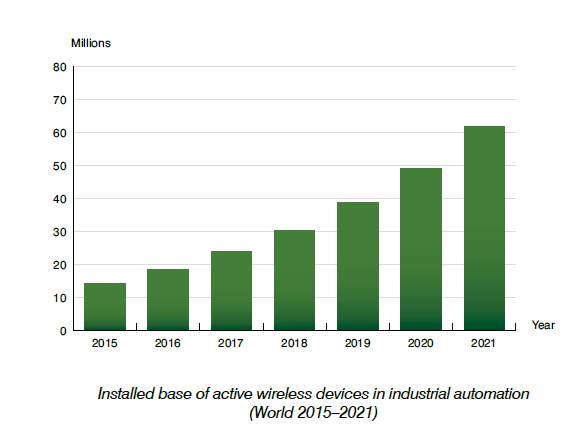 Bright times ahead for wireless IoT in industrial automation apps

Wireless connectivity is instrumental in the Internet of Things era and the use of wireless solutions in industrial automation is increasing rapidly at all levels of automation systems. Industrial automation systems utilize wireless communication to connect remote and local facilities and equipment to increase operational efficiency. A wireless automation system contains a mix of network technologies, equipment and systems including enterprise and automation systems, network equipment, control devices and field devices. The most common wireless technologies in industrial automation include cellular, 802.11.x Wi-Fi, proprietary unlicensed ISM radio, Bluetooth, various LPWAN technologies and 802.15.4 based protocols such as WirelessHART, ISA100.11a and ZigBee.

Berg Insight estimates that shipments of wireless devices for industrial automation applications including both network and automation equipment reached 4.8 million units worldwide in 2015. Growing at a compound annual growth rate of 25.1 percent, shipments are expected to reach 18.3 million by 2021. The installed base of wireless devices in industrial applications is forecasted to grow at a compound annual growth rate of 27.7 percent from 14.3 million connections at the end of 2015 to 62.0 million devices by 2021. Wi-Fi is widely used for backbone communications as well as in monitoring and control applications within factory automation where Industrial Ethernet has got a strongfoothold. Bluetooth is also popular – often as a point-to-point wire-replacement between for example a mobile HMI solution and a field device or control unit. 802.15.4 networks are often used to connect wireless sensors and instrumentation in process automation. Cellular connectivity is typically used for backhaul communication between plants, connecting remote devices in long haul SCADA applications and for third party access to machinery and robots. LPWAN technologies are increasingly used in certain low data, long range applications. Most of the major vendors of wireless IoT devices in industrial automation offer a wide range of devices with various wireless technologies in order to support many different applications.

Global automation solution providers such as Siemens, Emerson, GE, ABB, Honeywell, Schneider Electric, Yokogawa and Rockwell Automation are all major providers of wireless solutions to the automation industry. As wireless solutions have become increasingly popular, more and more major automation equipment and solution vendors are offering wireless technology as part of their solutions. Eaton is a major provider of Wi-Fi and cellular devices for industrial automation applications and Endress+Hauser and Pepperl+Fuchs are successful vendors of 802.15.4 devices. National Instruments offers a wide range of measurement and control equipment featuring embedded Bluetooth and Wi-Fi. Advantech, Murata and Kontron offer many of their automation products as well as their network infrastructure equipment with WPAN, WLAN and WWAN options.

Industrial communication specialists offer equipment and solutions for industrial automation networks and wireless is becoming a natural part of many major vendors' offerings. Phoenix Contact, Belden, Laird, Wago and Weidmüller are major vendors within industrial communications with thousands of employees which all have incorporated one or more wireless standards in their offerings. Red Lion, Softing, HMS Networks, Westermo, Moxa, FreeWave Technologies and B+B SmartWorx are industrial communication specialists renowned for their wireless offerings. Cisco is one of the largest vendors of communication infrastructure equipment and provides wireless WPAN, WLAN and WWAN devices to a wide range of industries, including industrial automation. Sierra Wireless, Telit, CalAmp and Digi International are major cellular M2M device vendors which provide products and solutions to the industrial automation industry.

Companies are now deepening the integration between industrial automation systems and enterprise applications and the promise of IoT is getting more tangible by the day. Large multinational corporations are beginning to systematically develop and adopt best practices to maximise the benefits of IoT technology in every part of their organisations. IT/OT convergence, smart factories, Industry 4.0 and the Industrial Internet of Things are concepts which are part of the ongoing evolution of industrial automation. Innovation in sensors, wireless connectivity, collaborative robots, big data and cloud solutions along with seamless exchange of information between devices, systems and people paves the way for improved performance, flexibility and responsiveness throughout the enterprise value chain.
This report answers the following questions:
Which are the major applications for wireless IoT in industrial automation?
Which are the leading wireless IoT solution providers for industrial automation applications?
What offerings are available from device vendors and service providers?
What are the key drivers behind the adoption of wireless IoT in industrial automation?
What impact will technology advancements have on the market?
How will the market evolve in North America, Asia-Pacific and Europe?
Why is Big Data analytics and cloud solutions crucial for the future of wireless connectivity in industrial automation?
How will connectivity strategies in industrial automation evolve in the future?
目次
Executive summary

1 The industrial automation industry
1.1 Introduction to industrial automation
1.2 Industrial automation segments
1.3 Factory and process operations
1.4 Industrial automation system overview
1.5 Industrial automation evolution
1.6 The global industrial automation market
1.7 Industrial automation market segments
1.7.1 The control system market
1.7.2 The control device market
1.7.3 The machinery and automation equipment market
1.7.4 The industrial robot market

2 Wireless IoT solutions in industrial automation
2.1 Wireless infrastructure in industrial automation
2.1.1 Facilities segment
2.1.2 Service segment
2.1.3 Network segment
2.2 Operations management
2.2.1 Production and process management
2.2.2 Business management
2.3 Equipment management and regulatory compliance
2.3.1 Equipment diagnostics and maintenance planning
2.3.2 Security and Safety
2.3.3 Regulatory compliance
2.4 Business models and project strategies

3 Market forecasts and trends
3.1 Market analysis
3.1.1 Installed base and unit shipments
3.1.2 Wireless technologies
3.1.3 Factory and process automation
3.1.4 Regional markets
3.1.5 Major vendors
3.2 Market drivers and barriers
3.2.1 Macroeconomic environment
3.2.2 Regulatory environment
3.2.3 Competitive environment
3.2.4 Technology environment
3.3 Value chain analysis
3.3.1 Wireless IoT and industrial communication industry players
3.3.2 Industrial automation industry players
3.3.3 Wireless operators and managed service providers
3.3.4 IoT platform and IT industry players
3.4 Future industry trends

4 European device and
solution vendors
4.1 ABB
4.2 Advanticsys
4.3 Beijer Electronics
4.4 Bosch
4.5 ConiuGo
4.6 Control Data Systems
4.7 Eaton
4.8 Endress+Hauser
4.9 EnOcean
4.10 Eurotech
4.11 eWon
4.12 HMS Networks
4.13 INSYS Microelectronics
4.14 Kontron
4.15 KUKA
4.16 Laird
4.17 LUCOM
4.18 MB Connect Line
4.19 MC Technologies
4.20 NetModule
4.21 Nivis
4.22 Pepperl+Fuchs
4.23 Phoenix Contact
4.24 Schneider Electric
4.25 Secomea
4.26 Siemens
4.27 Softing
4.28 Steute
4.29 Telit
4.30 Wago
4.31 Weidmüller
4.32 Wi-NEXT

5 North American and Asian device and solution vendors
5.1 Advantech
5.2 Antaira Technologies
5.3 Apprion
5.4 B+B SmartWorx (Advantech)
5.5 Belden
5.6 CalAmp
5.7 Cisco
5.8 Data-Linc
5.9 Digi International
5.10 Emerson
5.11 FreeWave Technologies
5.12 General Electric
5.13 Hitachi
5.14 Honeywell
5.15 Ingenu
5.16 Intel
5.17 Lantronix
5.18 Maestro Wireless Solutions
5.19 Memex
5.20 Moxa
5.21 MultiTech Systems
5.22 Murata
5.23 National Instruments
5.24 Newtrax Technologies
5.25 OleumTech
5.26 Opto 22
5.27 ProSoft Technology
5.28 Red Lion
5.29 Robustel Technologies
5.30 Rockwell Automation
5.31 Sierra Wireless
5.32 Wind River
5.33 Xiamen Four-Faith Communication Technology
5.34 Yokogawa

Glossary
Executive summary
プレスリリース
[プレスリリース原文]
2016-07-04
The installed base of wireless IoT devices in Industrial Automation reached 14.3 million in 2015

According to a new research report from the M2M/IoT analyst firm Berg Insight, the installed base of wireless IoT devices in industrial automation reached 14.3 million in 2015. The number of wireless IoT devices in automation networks will grow at a compound annual growth rate (CAGR) of 27.7 percent to reach 62.0 million by 2021. There is a wide range of wireless technologies used in industrial automation with different characteristics and use cases. Wi-Fi and Bluetooth are the most widespread technologies in factory automation while cellular connectivity typically is used for remote monitoring and backhaul communication between plants. The increasing popularity of Ethernet based networks in factory automation is one of the key drivers for the popularity of Wi-Fi in such applications. 802.15.4 based standards such as WirelessHART and ISA100.11a are major contenders at the field level in process automation networks. The emerging area of Low Power Wide Area Networking (LPWAN) is a promising alternative in remote monitoring applications. The wireless IoT device market is served by a multitude of players from various backgrounds including global automation solution providers, automation equipment and solution vendors, industrial communication specialists and IoT communication specialists. Emerson, Honeywell, GE and Yokogawa are leading vendors of 802.15.4 devices in industrial automation. Siemens, Cisco, Belden, Moxa, Schneider Electric and Eaton are major vendors of Wi-Fi devices while Eaton, GE and Sierra Wireless are important vendors of cellular devices for industrial automation applications. Higher levels of automation and IoT solutions enable shorter lead times, lower inventories, increased throughput as well as more flexibility and the ability to respond faster to changing customer needs. "Wireless communication and industrial IoT solutions can provide integration of different automation systems as well as enterprise systems which enables supply chains to be lean, even with a complex mix of products and output levels" said Johan Svanberg, Senior Analyst, Berg Insight. "Connected automation solutions also open up the possibility for entirely new business and service models which can give companies a much needed competitive edge in today's manufacturing landscape", concluded Mr. Svanberg.
---
2016-06-23
Shipments of cellular M2M modules reached 96.0 million units in 2015

Berg Insight estimates that global cellular M2M module shipments increased by 19.4 percent in 2015 to a new record level of 96.0 million. A somewhat higher growth rate is expected for 2016. Until 2020, shipments of cellular M2M devices are forecasted to grow at a compound annual growth rate (CAGR) of 21.7 percent to reach 256.0 million units. East Asia, North America and Western Europe were the main geographical markets in 2015, accounting for around 75 percent of the total demand. The regions are similar in size measured by volume. Berg Insight projects that the relationship in relative market shares between the three regions will remain relatively stable in the coming five years. The latest 3GPP standards for LTE – Cat 1, Cat M1, and Cat M2 – will contribute substantially to growth in the next coming five years. These new standards are designed to be less complex to limit power consumption and are priced more favorably to address the mass market and make it viable to connect entirely new applications. The results of Berg Insight's latest cellular M2M module vendor market share assessment show that the three largest module vendors have 72 percent of the market in terms of revenues. "Annual module revenues for the three largest market players Sierra Wireless, Gemalto and Telit increased by 12.5 percent to US$ 1.12 billion, with the total market value reaching approximately US$ 1.6 billion," says Johan Fagerberg, CEO at Sweden-based M2M/IoT analyst firm Berg Insight. Sierra Wireless leads M2M module revenues, followed by Telit and Gemalto. SIMCom Wireless leads in shipments for the first time in 2015, but is only in fourth place in terms of revenues.
お問合は、お電話またはWEBから承ります。お見積もりの作成もお気軽にご相談ください。