欧州のフリート管理 (第12版)
Fleet Management in Europe – 12th Edition
出版社
出版年月
冊子体価格
電子媒体価格
ページ数
Berg Insight
ベルグインサイト社
2017年9月
Eur1,000
Eur1,500
1-5ユーザライセンス(PDF)
230
サマリー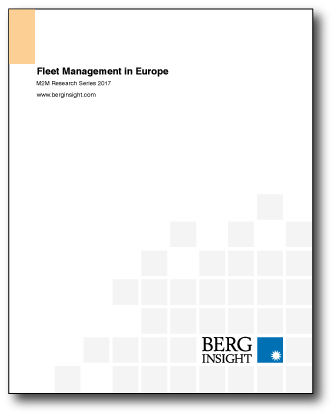 スウェーデンの調査会社ベルグインサイト社(Berg Insight)の調査レポート「欧州のフリート管理 (第12版)」は、欧州のフリート管理(フリートマネジメント)市場を継続的に追跡調査している調査レポートの第12版である。商用車のテレマティックス産業の最新動向と発展について記載し、2017年とそれ以降の市場を予測している。ベルグインサイト社は、欧州市場で実際に利用されているフリート管理システムの数は、2016年末の660万ユニットから、年平均成長率(CAGR)16.4%で成長して、2021年には1410万ユニットになると予測している。ベンダと製品と市場に関する最新の情報を提供している。
目次(抜粋)
欧州の商用車フリート
フリート管理ソリューション
市場予測と動向
OEM製品と戦略
国際的なアフターマーケットソリューション提供会社
欧州のアフターマーケットソリューション提供会社
Description
How will the market for fleet management systems for commercial vehicles in Europe evolve in 2017 and beyond? Now in its twelfth edition this strategy report from Berg Insight covers the latest trends and developments in the dynamic commercial vehicle telematics industry. Berg Insight forecasts that the number of fleet management systems in active use in the region is forecasted to grow at a CAGR of 16.4 percent from 6.6 million units at the end of 2016 to 14.1 million by 2021. Get up to date with the latest information about vendors, products and markets.
---
Fleet management in Europe is the twelfth consecutive report from Berg Insight analysing the latest developments on the fleet management market in this region.

This strategic research report from Berg Insight provides you with 230 pages of unique business intelligence, including 5-year industry forecasts, expert commentary and real-life case studies on which to base your business decisions.

Highlights from the twelfth edition of this report:
Insights from 50 new executive interviews with market leading companies.
New data on vehicle populations and commercial fleets in Europe.
Comprehensive overview of the fleet management value chain and key applications.
In-depth analysis of market trends and key developments.
Updated and new profiles of 104 aftermarket fleet management solution providers.
Summary of OEM propositions from truck, trailer and construction equipment brands.
Revised market forecasts lasting until 2021.
The installed base of FM systems to reach 14.1 million units by 2021
Fleet management is an ambiguous term used in reference to a wide range of solutions for different vehicle-related applications. Berg Insight's definition of a fleet management solution is a vehiclebased system that incorporates data logging, satellite positioning and data communication to a backoffice application. The history of fleet management solutions goes back several decades. On-board vehicle computers first emerged in the 1980s and were soon connected to various networks. Today mobile networks can provide ubiquitous online connectivity at a reasonable cost and mobile computing technology delivers very high performance, as well as excellent usability. All of these components combined enable the delivery of vehicle management, transport management, driver management and mobile workforce management applications linking vehicles and enterprise IT systems.

Commercial vehicle fleets play an essential role in the European economy. According to official statistics there were 36.6 million commercial vehicles in use in EU23+2 in 2014. The 5.8 million medium and heavy trucks accounted for more than 75 percent of all inland transports, forming a € 250 billion industry. Approximately 0.8 million buses and coaches stood for 9.3 percent of all passenger kilometres. The greater part of the 30.0 million light commercial vehicles (LCV) in Europe was used by mobile workers and for activities such as distribution of goods and parcels. Last but not least, there are an estimated 12.6 million passenger cars owned by companies and governments.

Berg Insight is of the opinion that the European fleet management market has entered a growth period that will last for several years to come. Individual markets may however suffer temporary setbacks, depending on the local economic developments. The number of fleet management systems in active use is forecasted to grow at a compound annual growth rate of 16.4 percent from 6.6 million units at the end of 2016 to 14.1 million by 2021. The penetration rate in the total population of non-privately owned commercial vehicles and cars is estimated to increase from 15.6 percent in 2016 to 31.6 percent in 2021.

A group of international aftermarket solution providers have emerged as the leaders on the European fleet management market. Berg Insight ranks TomTom Telematics as the largest vendor in Europe at the end of 2016 with 609,000 subscribers in the region. Masternaut still holds the number two spot. Transics is ranked as the largest player in the heavy trucks segment with an estimated 120,000 active units installed. Other significant players include European companies such as Microlise, ABAX, Viasat, Bornemann, Trakm8, Quartix, OCEAN (Orange Business Services), EcoFleet, GSGroup and Vehco and international players like Verizon, Trimble and Teletrac Navman from the US, Astrata Europe from Singapore and the South African telematics providers Ctrack (Inseego) and MiX Telematics.

All major truck manufacturers on the European market offer OEM telematics solutions as a part of their product portfolio. Mercedes-Benz, Volvo and Scania launched their first products in the 1990s followed by MAN in 2000, Renault Trucks in 2004, DAF Trucks in 2006 and Iveco in 2008. A major trend in the past years has been the announcements of standard line fitment of fleet management solutions. Since the end of 2011, Scania is rolling out the Scania Communicator as standard on all European markets and includes a ten year basic service subscription. The new generation of the Actros trucks from Mercedes-Benz contains the FleetBoard vehicle computer as standard in all EU28 countries since October 2011. Volvo is going in the same direction offering Dynafleet as standard in Europe. New MAN trucks are now equipped with RIO as standard replacing MAN TeleMatics introduced in July 2012. DAF
launched its new optional fleet management solution DAF Connect that has been developed in-house in September 2016. The leading OEMs in Europe are Scania, Daimler and Volvo with 172,000, 99,000 and 99,000 active FM subscribers respectively at the end of 2016.

The consolidation trend continues and numerous M&A activities have taken place in 2017. In January, Viasat Group acquired MobileFleet (majority stake adding about 23,000 subscribers). In February, Princip was acquired by W.A.G. Payment Solutions which is among the six largest European providers of payment solutions for road mobility. Viasat Group continued its acquisition spree in May 2017 when buying ICOM in Bulgaria. One of the largest transactions this year was when Investcorp acquired ABAX in June 2017, paying NOK 1.8 billion (US$ 210 million). Isotrak acquired UK Fleet Management technology business VeriLocation in June 2017. The latest transaction was done in July 2017 when TIMKEN acquired Groeneveld Group that owns Groeneveld ICT Solutions.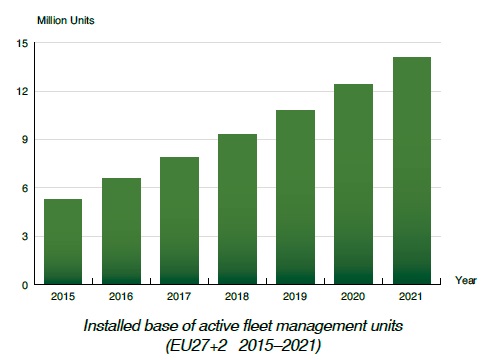 What are the key drivers behind the adoption of FMS in Europe?
What is the geographical and ownership structure of commercial vehicle fleets in Europe?
Who are the leading international and regional providers of aftermarket fleet management solutions in Europe?
What offerings are available from truck, trailer and construction equipment OEMs?
What impact will the launch of standard factory installed FM systems from the OEMs have on the market?
What are the FMS vendors' hardware strategies and thoughts on BYOD?
Will the FM industry consolidate further during 2017–2018?
How will the commercial vehicle telematics industry evolve in the future?
目次
1 Commercial vehicle fleets in Europe
1.1 Light commercial vehicles
1.2 Medium and heavy trucks
1.3 Buses and coaches
1.4 Trailers and semi-trailers
1.5 Off-road construction and agriculture equipment
1.6 Company owned passenger cars
1.7 Ownership structure
1.7.1 Statistical estimates by industry and company size
1.7.2 Light commercial vehicle fleets
1.7.3 Medium and heavy commercial vehicle fleets

2 Fleet management solutions
2.1 Fleet management infrastructure
2.1.1 Vehicle segment
2.1.2 GNSS segment
2.1.3 Network segment
2.1.4 Backoffice segment
2.2 Vehicle management
2.2.1 Vehicle diagnostics and maintenance planning
2.2.2 Security tracking
2.3 Driver management
2.3.1 Driving data registration and analysis
2.3.2 Video-based driver monitoring
2.3.3 Eco-driving schemes
2.3.4 Insurance risk management
2.4 Operations management
2.4.1 Routing and navigation
2.4.2 Transport management
2.4.3 Mobile workforce management
2.5 Regulatory compliance and reporting
2.5.1 Digital tachograph data download
2.5.2 Electronic toll collection
2.5.3 Other applications
2.6 Business models

3 Market forecasts and trends
3.1 Market analysis
3.1.1 Fleet management installed base and unit shipments
3.1.2 Regional market dynamics
3.1.3 Fleet management vendor market shares
3.1.4 Trailer telematics shipments, installed base and vendor market shares
3.2 Market drivers and barriers
3.2.1 Macroeconomic environment
3.2.2 Regulatory environment
3.2.3 Competitive environment
3.2.4 Technology environment
3.3 Value chain analysis
3.3.1 Telematics industry players
3.3.2 Automotive industry players
3.3.3 Telecom industry players
3.3.4 IT industry players
3.4 Future industry trends
3.4.1 OEM fleet telematics market developments
3.4.2 New features are continuously added to fleet management solutions
3.4.3 LCV manufacturers collaborating with aftermarket players
3.4.4 Go-to-market strategy and pricing model evolution
3.4.5 The emergence of alliances among FM solution vendors
3.4.6 Insurance telematics for commercial fleets
3.4.7 Fleet management services based on mobile app platforms
3.4.8 Big data in the fleet management sector
3.4.9 More Pan-European players to enter the scene
3.4.10 FMS providers open up their platforms to third-party app developers
3.4.11 The Internet of Transportation Things expands the addressable market
3.4.12 Mergers and acquisitions to continue in 2017–2018
3.4.13 The long-term evolution of the fleet management ecosystem

4 OEM products and strategies
4.1 Truck manufacturers
4.1.1 Daimler Group
4.1.2 Volvo Group
4.1.3 Scania
4.1.4 MAN Truck & Bus
4.1.5 DAF Trucks
4.1.6 Iveco
4.2 Construction equipment manufacturers
4.2.1 Bobcat
4.2.2 Caterpillar
4.2.3 Deere & Company
4.2.4 Hyundai Construction Equipment
4.2.5 JCB
4.2.6 Komatsu
4.2.7 Volvo CE
4.3 Trailer manufacturers
4.3.1 Schmitz Cargobull
4.3.2 Krone
4.3.3 Kögel
4.4 OE suppliers
4.4.1 Actia
4.4.2 Continental
4.4.3 Knorr-Bremse
4.4.4 Stoneridge Electronics
4.4.5 WABCO
4.5 Hardware and software providers
4.5.1 Advantech
4.5.2 Aplicom
4.5.3 CalAmp
4.5.4 ERM Advanced Telematics
4.5.5 Falcom
4.5.6 IAV
4.5.7 John Deere Electronic Solutions
4.5.8 Micronet
4.5.9 Mobile Devices
4.5.10 Pointer Telocation
4.5.11 Quake Global
4.5.12 Squarell Technology
4.6 Video-based driver monitoring solution vendors
4.6.1 Lytx
4.6.2 Seeing Machines
4.6.3 SmartDrive Systems
4.6.4 Guardvant
4.6.5 Safety Vision

5 International aftermarket solution providers
5.1 ABAX
5.2 Astrata Europe
5.3 Ctrack (Inseego)
5.4 Fleet Complete
5.5 Fleetmatics (Verizon)
5.6 Garmin and partners
5.7 Geotab
5.8 Gurtam
5.9 Masternaut
5.10 MiX Telematics
5.11 Teletrac Navman
5.12 Telogis (Verizon)
5.13 TomTom Telematics
5.14 Transics – a WABCO company
5.15 Trimble
5.16 Vehco
5.17 Viasat Group

6 Regional aftermarket solution providers
6.1 Benelux and France
6.1.1 EasyFleet
6.1.2 Eliot
6.1.3 GeoDynamics
6.1.4 GPS-Buddy
6.1.5 Groeneveld ICT Solutions
6.1.6 INmatix
6.1.7 Inter-Data
6.1.8 Locster
6.1.9 Mapping Control
6.1.10 Micpoint
6.1.11 Novacom
6.1.12 OCEAN (Orange Business Services)
6.1.13 Prometheus Informatics
6.1.14 RAM Mobile Data
6.1.15 RouteVision
6.1.16 Simpliciti
6.1.17 SoFleet (Synox Group)
6.1.18 SuiviDeFlotte.net
6.1.19 Suivo
6.1.20 TEKSAT
6.1.21 Market-IP (Telefleet)
6.1.22 Traqueur
6.2 Germany and Central Europe
6.2.1 ArealControl
6.2.2 AROBS Transilvania Software
6.2.3 Bornemann
6.2.4 CVS Mobile
6.2.5 ENAiKOON
6.2.6 ETA Automatizari Industriale
6.2.7 Framelogic
6.2.8 GPS Bulgaria
6.2.9 i-Cell
6.2.10 ICOM
6.2.11 iData
6.2.12 Idem Telematics
6.2.13 Logifleet
6.2.14 LOSTnFOUND
6.2.15 Mireo
6.2.16 mobileObjects
6.2.17 Openmatics
6.2.18 Princip
6.2.19 SAS Grup
6.2.20 Secar Bohemia
6.2.21 Spedion
6.2.22 VISPIRON
6.2.23 WebEye International
6.2.24 Yellowfox
6.3 The Mediterranean
6.3.1 Detector
6.3.2 Frotcom International
6.3.3 G4S Telematix
6.3.4 GET Italia
6.3.5 GMV
6.3.6 Inosat (Fleetmatics)
6.3.7 Locatel
6.3.8 Loqus
6.3.9 Macnil – Zucchetti Group
6.3.10 MobileFleet
6.3.11 Movildata
6.3.12 Satdata
6.3.13 Sateliun
6.3.14 Targa Telematics
6.3.15 Tecmic
6.3.16 Vodafone Automotive
6.4 Nordic countries
6.4.1 EcoFleet
6.4.2 Fleet 101
6.4.3 Fleetech
6.4.4 GateHouse
6.4.5 GSGroup
6.4.6 Locus
6.4.7 TelliQ
6.4.8 Total Car
6.4.9 Trackunit
6.4.10 Zeekit
6.5 UK and Ireland
6.5.1 Aeromark
6.5.2 BigChange
6.5.3 Blue Tree Systems
6.5.4 BT Fleet
6.5.5 Celtrak
6.5.6 GreenRoad
6.5.7 Isotrak
6.5.8 Matrix Telematics
6.5.9 Microlise
6.5.10 Quartix
6.5.11 RAM Tracking
6.5.12 Satmo
6.5.13 Tantalum Corporation
6.5.14 Trakm8
6.5.15 Transpoco

Executive Summary
Glossary

プレスリリース
[プレスリリース原文]
2017-09-25
The installed base of fleet management systems in Europe will reach 14.1 million by 2021

The number of active fleet management systems deployed in commercial vehicle fleets in Europe was 6.6 million in Q4-2016, according to a new research report from the M2M/IoT analyst firm Berg Insight. Growing at a compound annual growth rate (CAGR) of 16.4 percent, this number is expected to reach 14.1 million by 2021. The top-14 vendors have today more than 100,000 active units in Europe. TomTom's subscriber base has grown both organically and by acquisitions during the past years and the company is now the clear market leader on the European market and reached an installed base of about 609,000 units at year-end 2016. Masternaut is still in second place and had achieved an installed base of an estimated 300,000 units at the year-end. Berg Insight ranks Microlise as the third largest player in terms of active installed base with around 210,000 units. Verizon (Fleetmatics and Telogis), ABAX, Teletrac Navman, Bornemann, Transics, Trimble, Gurtam, Targa Telematics, Viasat and OCEAN (Orange) also have more than 100,000 active devices in the field. The HCV manufacturers are now growing their subscriber bases considerably in Europe thanks to standard line fitment of fleet management solutions. Dynafleet by Volvo, FleetBoard by Daimler and Scania Fleet Management are the most successful with active subscriber bases of 99,000 units, 99,000 units and 172,000 units respectively as of Q4-2016. The consolidation trend on this market continued in 2017.
"Ten major mergers and acquisitions have taken place in the past twelve months among the vendors of fleet management systems in Europe", said Johan Fagerberg, Senior Analyst, Berg Insight. Trakm8 acquired Roadsense Technology in August 2016. Roadsense is a supplier of fleet telematics and safety products in the UK. In September, Fleetmatics (Verizon) acquired the Portugal-based fleet management provider Inosat, thus expanding the presence in Southern Europe and to some extent also South America. The acquisition of Inosat added around 50,000 vehicle subscriptions to Fleetmatics' existing installed base. Trackunit acquired German-based Dreyer+Timm in September 2016. Later in November, Fleetmatics (Verizon) announced the acquisition of Berlin-based TrackEasy, a fleet management software provider in Germany and Poland, adding approximately 15,000 vehicles to the installed base. In January 2017, Viasat Group acquired MobileFleet (majority stake adding about 23,000 subscribers). In February, Princip was acquired by W.A.G. Payment Solutions which is among the six largest European providers of payment solutions for road mobility. Viasat Group continued its acquisition spree in May when buying ICOM in Bulgaria. One of the largest transactions this year was when Investcorp acquired ABAX in June 2017. Investcorp paid NOK 1.8 billion (US$ 210 million), which translates to about US$ 1,000 per FM subscriber. Isotrak acquired UK Fleet Management technology business VeriLocation in the same month. The latest transaction was done in July when TIMKEN acquired Groeneveld Group that owns Groeneveld ICT Solutions. Mr. Fagerberg anticipates that the market consolidation of the still overcrowded industry will continue in 2017–2018.
お問い合せは、お電話・メール・WEBから承ります。お見積もりの作成もお気軽にご相談ください。