サマリー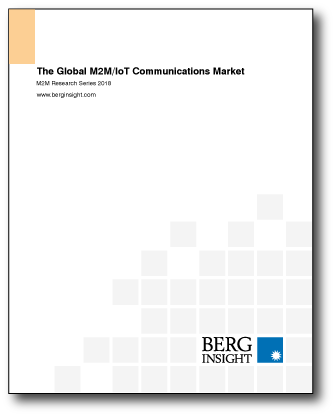 スウェーデンの調査会社ベルグインサイト社(Berg Insight)の調査レポート「世界のM2Mとモノのインターネット(IoT)の通信市場 (第3版)」は、世界のセルラーM2Mとモノのインターネット(IoT)通信市場の最新動向と、低出力無線ネットワーキングの発展を分析している。世界のセルラーM2M加入者数は2017年に56%増加して、年末には6億4750万に達するだろう。その後もCAGR33.1%で成長を続け、予測期間中には27億に達するだろう。この調査レポートは、世界のM2M/IoT通信市場に関するモバイルオペレータの見解と、主要な地域や垂直市場の最新動向について述べ、企業の意思決定に有効な5年間の市場予測と専門的な見解を提供している。
目次(抜粋)
モノのインターネット(IoT)の広域ネットワーク
欧州、南北アメリカ、アジア太平洋地域、中東・アフリカの市場動向、モバイル事業者、IoT管理サービスプロバイダ、低出力無線ネットワーキングなど
市場予測と市場動向
Description

Berg Insight estimates that the global number of cellular M2M subscribers increased by 56 percent during 2017 to reach 647.5 million at the end of the year. Until 2022, the number of cellular M2M subscribers is forecasted to grow at a compound annual growth rate (CAGR) of 33.1 percent to reach 2.7 billion at the end of the period. This report covers in-depth the mobile operator perspective on the global M2M/IoT communications market. Get up to date with the latest trends from all main regions and vertical markets with this unique 170 page report.
---
The Global M2M/IoT Communications Market analyses the latest trends and developments in cellular IoT and low power wireless networking.

This strategic research report from Berg Insight provides you with 170 pages of unique business intelligence including 5-year industry forecasts and expert commentary on which to base your business decisions.

Highlights from this report:
360-degree overview of the cellular IoT communication ecosystem.
Update on the adoption of NB-IoT and LPWA standards for M2M/IoT networking.
Reviews of the IoT strategies of leading mobile operators.
Summary of industry trends in all world regions.
Statistical data on cellular IoT subscribers in all world regions.
Extensive global and regional market forecasts lasting until 2022.

The global number of cellular IoT subscribers reached 648 million at the end of 2017

Berg Insight estimates that the global number of cellular IoT subscribers increased by 56 percent during 2017 to reach 647.5 million at the end of the year – corresponding to around 8 percent of all mobile subscribers. Until 2022, the number of cellular IoT subscribers is forecasted to grow at a compound annual growth rate (CAGR) of 33.1 percent to reach 2,700.1 million at the end of the period. During the same period, cellular IoT network revenues are forecasted to grow at a compound annual growth rate (CAGR) of 27.3 percent from € 6.3 billion in 2017 to approximately € 21.2 billion in 2022. Meanwhile the monthly ARPU is expected to drop to € 0.65.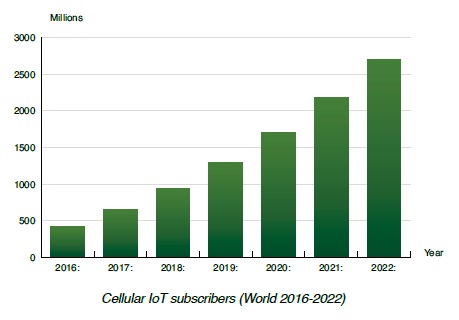 The global cellular IoT market is going through a massive change, driven by the Chinese government's policies for accelerating adoption. China has set the ambitious goal of reaching 600 million NB-IoT connections in 2020, three years after the launch of the first commercial networks. Berg Insight believes that the target must be seen as realistic in light of the 150 million net additions and almost 100 percent yearly growth rate in 2017, the year before low-cost NB-IoT devices were even available. China has embarked on one of the world's largest digital infrastructure projects that will result in billions of new connected devices in the coming five years. The massive effort will be a catalyst for reducing the price of cellular IoT chipsets and modules below US$ 2 and driving the global transition from 2G to 4G networks. China's choice of NB-IoT as the country's preferred LPWA technology will elevate the emerging standard to global dominance. It will also change the structure of the global cellular IoT subscriber base.

The next wave of cellular IoT adoption is focused on new vertical segments like smart cities and infrastructure, smart industrial supply chains and connected consumer products. Berg Insight believes the new wave will start in China, where government authorities and manufacturing companies will be first in the world to deploy connected devices using NB-IoT technology on a massive scale. Berg Insight does not expect to see similar levels of adoption in any other world region in the coming five years. Most new connected consumer products will launch first in China and get exported if successful. Berg Insight finds it likely that embedded cellular IoT connectivity will become a standard feature in mass-market whitegoods and similar high-volume consumer goods.

China Mobile is the world's largest provider of cellular IoT connectivity. At the end of Q2-2017, the operator reported 150 million IoT subscribers and a year-on-year growth rate of 87 percent. Vodafone ranked second with 59 million IoT subscribers and a yearly growth rate of 43 percent. China Unicom captured the third spot with 50 million, surpassing AT&T at close to 36 million. China Telecom grew at an exceptional 250 percent year-on-year to reach 28 million cellular IoT subscribers in the period. Deutsche Telecom, Softbank/Sprint, Verizon and Telefónica currently have in the range of 15–20 million cellular IoT subscribers, which are growing at yearly rates of 15–30 percent. Telenor was the last player in the top ten with approximately 12 million cellular IoT subscribers. With an aggregate base of 407 million connections in mid-2017, the top ten mobile operators had a combined global market share of 76 percent. IoT is starting to make a substantial contribution to the revenues of the world's mobile operators. Top international players such as AT&T, Verizon and Vodafone generate in the order of € 1 billion in sales from IoT. Overall, the share of mobile operator revenues from IoT is in the range of 1 percent. This is consistent with IoT's share of total mobile data traffic reported by telecom regulators in Scandinavia.

Cellular IoT communication providers are at the forefront of adopting next generation network technology. Global IoT connectivity platforms aggregate cellular and non-cellular networks in every part of the world on a shared core network infrastructure. Some players have even developed complete mobile core networks based on virtualized network infrastructure and operated as a service on commercial clouds. From a technical perspective, network aggregation has intrinsic advantages in terms of coverage and flexibility. Any provider of international IoT connectivity must rely on external radio networks. Being tied to a single radio network in the domestic market can sometimes be a disadvantage. The main competitive advantages of traditional telecom operators in IoT are not technical but commercial. In the end, any technical platform will only be as good as the underlying commercial relationships between the connectivity provider and the radio network
operators.
This report answers the following questions:
How will the global cellular IoT market evolve over the next five years?
How will Chinese government policies shape the global IoT market?
Which are the main market trends in Europe and North America?
What is the status of cellular IoT in emerging markets?
What are the leading global mobile operators' strategies for the IoT market?
How much revenues did leading telecom groups generate from IoT in 2017?
When will NB-IoT replace GPRS in mass-market applications?
What is the outlook for emerging low power wireless networking technologies?

目次
Executive Summary

1 Wide area networks for the Internet of Things
1.1 3GPP family of cellular technologies
1.1.1 3GPP Release 13 – Introducing LTE-M and NB-IoT
1.1.2 3GPP Release 14 – IoT enhancements and V2X
1.1.3 3GPP Release 15 – The first 5G specifications
1.1.4 Network footprint
1.2 LPWA and satellite technologies
1.2.1 LoRa
1.2.2 Sigfox
1.2.3 Satellite networks
1.3 IoT networking platforms
1.3.1 IoT connectivity management platforms
1.3.2 SIM solutions and embedded UICC
1.4 International coverage and alliances
1.4.1 Roaming and international coverage
1.4.2 Mobile operator alliances

2 Europe
2.1 Regional market trends
2.1.1 Western Europe
2.1.2 Regional market trends in Western Europe
2.1.3 Central Eastern Europe
2.1.4 Russia & CIS
2.2 Mobile operators
2.2.1 Vodafone
2.2.2 Deutsche Telekom
2.2.3 Telefónica
2.2.4 Orange
2.2.5 Telenor
2.2.6 3 Group Europe
2.2.7 A1 Telekom Austria
2.2.8 Bouygues Telecom
2.2.9 BT Group
2.2.10 JT Group
2.2.11 KPN
2.2.12 Megafon
2.2.13 MTS
2.2.14 POST Luxembourg
2.2.15 Proximus
2.2.16 SFR
2.2.17 Telecom Italia
2.2.18 Telia Company
2.2.19 Tele2
2.2.20 UtilityConnect
2.3 IoT managed service providers
2.3.1 Arkessa
2.3.2 Com4
2.3.3 Cubic Telecom
2.3.4 EMnify
2.3.5 Eseye
2.3.6 Sierra Wireless
2.3.7 Stream Technologies
2.3.8 Telit
2.3.9 Wireless Logic
2.3.10 Others
2.4 LPWA networks
2.4.1 LoRa networks
2.4.2 Sigfox and network partners

3 The Americas
3.1 Regional market trends
3.1.1 United States and Canada
3.1.2 Brazil
3.1.3 Rest of Latin America
3.2 Mobile operators
3.2.1 AT&T
3.2.2 Verizon
3.2.3 Sprint
3.2.4 T-Mobile USA
3.2.5 Rogers Communications
3.2.6 Bell Canada
3.2.7 América Móvil
3.2.8 Vivo and Telefónica Latin America
3.2.9 Other mobile operators in Latin America
3.3 IoT managed service providers
3.3.1 Aeris Communications
3.3.2 KORE Wireless
3.3.3 Numerex
3.4 Satellite networks
3.4.1 Orbcomm
3.4.2 Inmarsat
3.4.3 Iridium
3.4.4 Globalstar
3.5 LPWA networks
3.5.1 LoRa networks
3.5.2 Sigfox and network partners

4 Asia-Pacific
4.1 Regional market trends
4.1.1 China
4.1.2 Japan and South Korea
4.1.3 Australia and New Zealand
4.1.4 Southeast Asia
4.1.5 India and South Asia
4.2 Mobile operators
4.2.1 China Mobile
4.2.2 China Unicom
4.2.3 China Telecom
4.2.4 Softbank
4.2.5 NTT Docomo
4.2.6 KDDI
4.2.7 SK Telecom
4.2.8 KT
4.2.9 Singtel
4.2.10 Telstra
4.3 IoT managed service providers
4.3.1 Soracom
4.3.2 Unlimit
4.4 LPWA networks

5 Middle East & Africa
5.1 Regional market trends
5.1.1 Middle East
5.1.2 Africa
5.2 Mobile operators
5.2.1 Etisalat
5.2.2 FastNet
5.2.3 Ooredoo
5.2.4 MTN
5.2.5 Turkcell
5.2.6 Vodacom
5.2.7 Zain
5.3 LPWA networks

6 Market forecasts and trends
6.1 Geographic markets
6.1.1 Global market summary
6.1.2 Europe
6.1.3 North America
6.1.4 Latin America
6.1.5 Asia-Pacific
6.1.6 Middle East & Africa
6.2 Vertical markets
6.2.1 Connected cars reach an inflection point
6.2.2 Steady growth in the fleet management industry
6.2.3 Governments and utilities leverage IoT to address critical challenges
6.2.4 Industry 4.0 gains momentum
6.2.5 Redefining consumer experiences through connectivity
6.3 Technology trends
6.3.1 China's economic planning will make 2G obsolete by 2020
6.3.2 Global sunset for 2G/3G networks ahead
6.3.3 Network virtualisation decouples cellular IoT from physical infrastructure
6.4 Industry trends
6.4.1 China Mobile first to reach 100 million cellular IoT subscribers
6.4.2 IoT accounts for less than 1 percent of mobile operator revenues
6.4.3 IoT managed service providers focus on high-end segments and platforms

Glossary
[プレスリリース原文]
2016-12-13

Berg Insight says mobile operator revenues from IoT reached € 11 billion in 2016

According to a new research report from the analyst firm Berg Insight, mobile operator revenues from the Internet of Things reached € 11 billion in 2016. During the year, some of the leading global telecom groups have reported IoT revenues on a regular basis. In Q3-2016, Vodafone and Verizon generated around € 200 million each in direct sales from IoT connectivity, solutions and applications. Next year, Berg Insight predicts that a handful of operator groups will generate more than € 1 billion each from the Internet of Things. "Until recently, the principal financial metrics for IoT has been projected, not actual, revenues. Now the market has entered a new phase in which hard business facts take precedent over lofty projections", says Tobias Ryberg, senior analyst, Berg Insight and author of the report.
"Wireless connectivity is now near ubiquitous and there will be half a billion cellular IoT connections in 2017, but revenues are still relatively small". Berg Insight estimates that the global monthly ARPU for cellular IoT devices was € 1.40 in 2016. There were significant variations between different regions, from less than € 0.30 in some emerging economies to over € 3.00 in less competitive developed markets. Identifying and implementing successful strategies for moving up in the value-chain is widely recognized as the biggest challenge ahead for mobile operators in IoT. For large mobile operators in vehicle producing countries, the automotive market has been a natural starting point. Leading players like AT&T, Vodafone, Verizon and Deutsche Telekom have established dedicated practices to support automotive OEMs in the development of connected car solutions for the global market. Verizon and Vodafone made strategic acquisitions of telematics businesses to accelerate their strategies, while AT&T and Deutsche Telekom developed their platforms in close cooperation with customers.
An alternative strategy better suited for smaller mobile operators is to develop a broad ecosystem and sell IoT solutions from preferred partners through existing B2B channels. By partnering with leading solution providers, the operators can make sure that they offer the best products available to their enterprise customers without having to invest in product development. Pre-packaged solutions from ecosystem partners fit well into a product portfolio that range from wholesale network connectivity for application developers to bespoke solutions that meet more complex and customer-specific application needs.