サマリー
このレポートはソフトウェアで制御されたネットワーク{ソフトウェアによるネットワーク制御(SCN)}市場を調査し、3種の技術タイプ、3種の収益タイプ、世界の4地域に分けた5年間予測を掲載しています。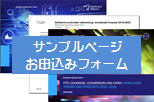 フォーム内の「お問い合せ種類」は
『問い合わせ』を選択してください
Report Details
"Total spending in the cloud computing, network function virtualisation and software-defined networking markets will grow from USD7 billion in 2015 to USD28 billion in 2020, at a CAGR of 32%."
Communications service providers (CSPs) have the difficult job of balancing tactical and strategic business goals, maintaining their relevance in an increasingly cloud-based ICT world, and assessing initial software-controlled networking (SCN) successes and frustrations. Meanwhile, network function virtualisaton (NFV) continues to drive SCN market spending; enterprise and cloud services push software-defined networking (SDN) spending ahead; and cloud computing spend remains steady.
This forecast report provides:
This report provides a 5-year forecast of spending split into:

three technology types: cloud computing by CSPs, NFV by CSPs, and SDN by CSPs
three revenue types: hardware, software and services (with further sub-segmentation)
four geographical regions: Asia–Pacific (APAC); Europe, the Middle East and Africa (EMEA); Latin America (LATAM) and North America (NA)

an analysis of the trends, drivers and inhibitors for the adoption of these technologies, plus changes in our assumptions since our previous forecast update (published in September 2015)
analysis of the business environment and regional dynamics that will influence the SCN market
a detailed market definition
recommendations for CSPs and suppliers (vendors and systems integrators).
目次
CONTENTS
EXECUTIVE SUMMARY
RECOMMENDATIONS
FORECAST
MARKET DRIVERS AND INHIBITORS
BUSINESS ENVIRONMENT
MARKET DEFINITION
ABOUT THE AUTHORS AND ANALYSYS MASON