Visiongain assesses that CAPEX on floating production systems will reach $16.91bn in 2015. This includes spending on floating liquefied natural gas (FLNG) vessels, floating production, storage and offloading (FPSO) vessels, semi-submersibles, single-point anchor reservoirs (SPARs) and tension-leg platforms (TLPs). Large vessels can take up to ten years from final investment decision to start-up date; smaller ones can be constructed within two years. It is therefore critical that you have your timescales correct and your forecasting plans ready. This report will ensure that you do.
Visiongain's 303 page report will ensure that you keep informed and ahead of your competitors. Gain that competitive advantage.
The report will answer questions such as:
• What are the prospects for the overall FPS industry?
• Which FPS types will see the greatest spending and growth?
• How are oil prices affecting the FPS market?
• Which regions and countries are attracting the most FPS spending?
• Who are the key players in the FPS industry?
• How consolidated is the sector among the FPS industry players?
How will you benefit from this report?
• This report you will keep your knowledge base up to speed. Don't get left behind
• This report will allow you to reinforce strategic decision-making based upon definitive and reliable market data
• You will learn how to exploit new technological trends
• You will be able to realise your company's full potential within the market
• You will better understand the competitive landscape and identify potential new business opportunities and partnerships
Six Reasons why you must order and read this report today:
1) The report provides detailed profiles of 17 leading companies operating within the FPS market, broken down via the category in which they operate:
2015 CAPEX, market shares, projects and future prospects for the 3 leading FLNG owners:
- Golar LNG
- Petronas
- Shell
2015 CAPEX, market shares, projects and future prospects for the 5 leading FPSO owners:
- Bumi Armada
- MODEC
- Petrobras
- SBM Offshore
- Sonangol
2015 CAPEX, market shares, projects and future prospects for the 5 leading 'Other FPS' (Semi-Sub, SPAR and TLP) owners:
- Anadarko
- INPEX
- Shell
- Total
2015 CAPEX, market shares, projects and future prospects for the 5 leading FPS constructors:
- COSCO
- DSME
- Keppel
- Samsung Heavy Industries
- Sembcorp
2) The report provides forecasts and analyses for the main categories of FPS from 2015-2025
- Floating liquefied natural gas (FLNG) vessels
- Floating production, storage and offloading (FPSO) vessels
- 'Other FPS' (Semi-submersible production platforms, Single-point anchor reservoirs (SPARs), and Tension-leg platforms (TLPs))
3) The study reveals where and how companies are investing in floating production systems. We show you the prospects for the following regions:
- Asian FPS Market Forecast 2015-2025
- European FPS Market Forecast 2015-2025
- Latin American FPS Market Forecast 2015-2025
- Middle East and North African (MENA) FPS Market Forecast 2015-2025
- Oceanian FPS Market Forecast 2015-2025
- Sub-Saharan African FPS Market Forecast 2015-2025
- North American FPS Market Forecast 2015-2025
In addition, forecasts and analysis is provided for 11 national markets:
- Indonesian FPS Market Forecast 2015-2025
- Malaysian FPS Market Forecast 2015-2025
- 'Other' Asian FPS Market Forecast 2015-2025
- Norwegian FPS Market Forecast 2015-2025
- UK FPS Market Forecast 2015-2025
- Brazilian FPS Market Forecast 2015-2025
- Mexican FPS Market Forecast 2015-2025
- Australian FPS Market Forecast 2015-2025
- Angolan FPS Market Forecast 2015-2025
- Nigerian FPS Market Forecast 2015-2025
- 'Other' Sub-Saharan African FPS Market Forecast 2015-2025
For each regional and national market, breakdowns are provided for the three categories of FPS (FPSO, FLNG, and 'Other FPS' [Semi-Sub, SPAR and TLP])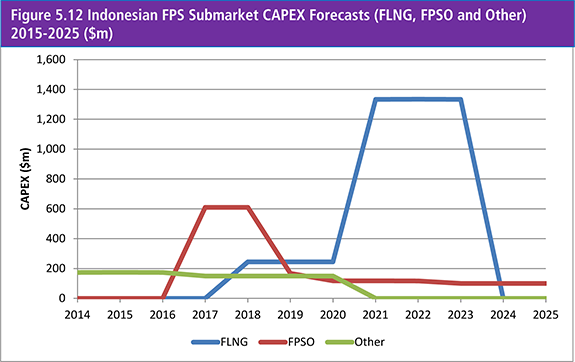 4) The report also includes tabled breakdowns of all existing (246), under construction (42) and prospective (60) FPS projects globally. This includes data for:
- Field(s)
- Vessel owner and field operator
- Water and drill depth
- Operation country
- Construction period
- Shipyard
- Type of vessel, whether new or conversion
- Production and storage capacity (where applicable)
- Cost

1. Report Overview
1.1 FPS Market Overview
1.2 FPS Market Structure Overview
1.3 Why You Should Read This Report
1.4 How This Report Delivers
1.5 Key Questions Answered by this Analytical Report Include:
1.6 Who is this Report For?
1.7 Market Definition
1.8 Methodology
1.9 Frequently Asked Questions (FAQ)
1.10 Associated Visiongain Reports
1.11 About Visiongain

2. Introduction to the Floating Production System Market
2.1 A Brief History of FPSs
2.2 Offshore Oil Market Dynamics Explained
2.3 Types of FPS
2.3.1 FLNGs
2.3.1.1 Liquefaction
2.3.1.2 FLNG's Increasing Preferability
2.3.2 FPSOs
2.3.3 Other FPSs
2.3.3.1 Semi-Submersibles
2.3.3.2 SPARs
2.3.3.3 TLPs
2.4 Water Depth and FPSs
2.4.1 Drilling Depth
3. The Global Floating Production System Market Forecast 2015-2025
3.1 Oil Prices and the FPS Market
3.1.1 Visiongain's Description and Analysis of the Oil Price Fall
3.1.2 Supply-Side Factors
3.1.2.1 Tight Oil
3.1.2.2 Libya
3.1.2.3 OPEC
3.1.3 Demand-Side Factors
3.1.3.1 Chinese and Indian Growth
3.1.3.2 Western Stagnation
3.1.4 Other Major Variables that Impact the Oil Price
3.1.4.1 North Africa
3.1.4.2 Russia
3.1.4.3 US Shale Resilience
3.1.4.4 Iraq
3.1.4.5 International Incidents
3.1.4.6 Iran
3.1.5 Visiongain's Oil Price Assumptions and Forecast
3.2 FPS Market Drivers and Restraints
3.2.1 The Factors that Will Drive the FPS Market
3.2.1.1 The Global Move towards Deeper Water Offshore E&P
3.2.1.2 The Advantages of a Shorter Field Development Schedule
3.2.1.3 The Redeployment Potential of an FPS as an Asset
3.2.1.4 Avoid Security Challenges
3.2.1.5 Favourable Economics Compared to Onshore
3.2.1.6 Monetisation of Stranded and Unused Gas
3.2.2 The Factors that Will Restrain the FPS Market
3.2.2.1 The Problem of Project Financing
3.2.2.2 How Supply Chain Limits and Shipyard Capacity Issues are affecting the FPS Market
3.2.2.3 Securing Contracts and Insurance
3.2.2.4 FLNG Complexity
3.2.2.5 Logistics and Extreme Weather
4. Floating Production System Submarket Forecasts 2015-2025
4.1 Will the FLNG, FPSO or Other FPS Submarket See Most Growth?
4.1.1 The FLNG Submarket Forecast 2015-2025
4.1.1.1 Key Market Determinants
4.1.1.2 FLNG Submarket Drivers and Restraints
4.1.1.3 FLNG Projects
4.1.2 The FPSO Submarket Forecast 2015-2025
4.1.2.1 Key Market Determinants
4.1.2.2 FPSO Submarket Drivers and Restraints
4.1.2.3 FPSO Projects
4.1.3 The Other FPS Submarket Forecast 2015-2025
4.1.3.1 Key Market Determinants
4.1.3.2 Other FPS Market Drivers and Restraints
4.1.3.3 Other FPS Projects
4.2 Will the Shallow Water, Deepwater or Ultra-Deepwater FPS Submarket Provide the Strongest Growth?
4.2.1 The Shallow Water FPS Submarket Forecast 2015-2025
4.2.1.1 Shallow Water FPS Market Drivers and Restraints
4.2.2 The Deepwater and Ultra-Deepwater FPS Submarket Forecasts 2015-2025
4.2.2.1 Deepwater and Ultra-Deepwater FPS Market Drivers and Restraints
5. Leading Regional and National FPS Markets 2015-2025
5.1 Learn Which FPS Markets are Most Accessible to New Entrants
5.2 The Asian FPS Market Forecast 2015-2025
5.2.1 The Indonesian FPS Market Forecast 2015-2025
5.2.1.1 Indonesian FPS Market Analysis
5.2.1.2 Indonesian FPSO Hotspots
5.2.1.3 The Importance of Government Support
5.2.1.4 Indonesian FPS Market Drivers and Restraints
5.2.2 The Malaysian FPS Market Forecast 2015-2025
5.2.2.1 Malaysian FPS Market Analysis
5.2.2.2 The Factors that Will Determine Malaysia's Performance in the FPS Market
5.2.2.3 Malaysian FPS Market Drivers and Restraints
5.2.3 The Other Asian FPS Market Forecast 2015-2025
5.2.3.1 Brunei Considering an FPSO
5.2.3.2 China's Reclusive FPS Market
5.2.3.3 How Will India's FPS Market Develop?
5.2.3.4 The Thai FPS Outlook
5.2.3.5 Vietnam's FPSO Market
5.3 The European FPS Market Forecast 2015-2025
5.3.1 The Norwegian FPS Market Forecast 2015-2025
5.3.1.1 Norwegian FPS Market Analysis
5.3.1.2 What Factors are Influencing the Norwegian FPS Market?
5.3.1.3 Norwegian FPS Market Drivers and Restraints
5.3.2 The UK FPS Market Forecast 2015-2025
5.3.2.1 UK FPS Market Analysis
5.3.2.2 Factors Affecting the UK FPS Market Growth Rate
5.3.2.3 UK FPS Market Drivers and Restraints
5.4 The Latin American FPS Market Forecast 2015-2025
5.4.1 The Brazilian FPS Market Forecast 2015-2025
5.4.1.1 Brazilian FPS Market Analysis
5.4.1.2 Existing Brazilian FPSOs
5.4.1.3 The Impressive Magnitude of Brazil's FPSO Projects
5.4.1.4 FPSOs Driving Brazilian FPS Market
5.4.1.5 Brazilian FPS Market Drivers and Restraints
5.4.2 The Mexican FPS Market Forecast 2015-2025
5.4.2.1 Mexican FPS Market Analysis
5.4.2.2 Mexico: Between Conservatism and Reform
5.4.2.3 Mexican FPS Market Drivers and Restraints
5.5 The MENA FPS Market Forecast 2015-2025
5.5.1 FLNG Headed for Israel
5.5.2 FPSO Potential in Tunisia
5.6 The Oceania FPS Market Forecast 2015-2025
5.6.1 The Australian FPS Market Forecast 2015-2025
5.6.1.1 Australian FPS Market Analysis
5.6.1.2 Prelude and Other Australian FLNG Projects
5.6.1.3 Analysis of Australia-Timor Leste Offshore Gas Dispute
5.6.1.4 Australian Political Considerations
5.6.1.5 Australian FPS Market Drivers and Restraints
5.6.2 Papua New Guinea Likely to get an FLNG
5.7 The Sub-Saharan African FPS Market Forecast 2015-2025
5.7.1 The Angolan FPS Market Forecast 2015-2025
5.7.1.1 Angolan FPSO Market Analysis
5.7.1.2 Existing FPSOs in Angola
5.7.1.3 Upcoming FPSO Projects in Angola
5.7.1.4 How is Deepwater and Ultra-Deepwater Development Affecting Angola's FPSO Market?
5.7.1.5 Angolan FPS Market Drivers and Restraints
5.7.2 The Nigerian FPSO Market Forecast 2015-2025
5.7.2.1 Nigerian FPSO Market Analysis
5.7.2.2 What Major FPSO Projects are Due to Take Place in Nigeria?
5.7.2.3 How Social, Political and Economic Factors are Holding Back Nigerian CAPEX
5.7.2.4 Nigerian FPS Market Drivers and Restraints
5.7.3 The Other Sub-Saharan African FPS Market Forecast 2015-2025
5.7.3.1 Cameroon an Early FLNG Adopter
5.7.3.2 Growth Expected in Congo-Brazzaville
5.7.3.3 FLNGs Likely in Equatorial Guinea
5.7.3.4 Pre-Salt Potential of the Gabonese Market
5.7.3.5 Ghana's FPSO Market
5.7.3.6 Mozambique's FLNG Market
5.7.3.7 Three TLPs Expected for South Africa
5.8 The North American FPS Market Forecast 2015-2025
5.8.1 The Latest Developments in the US FPS Market
5.8.2 US FPS Spending in Decline
5.8.3 US FPS Market Drivers and Restraints
6. PEST Analysis of the Floating Production System Market 2015-2025
7. Expert Opinion
7.1 EMAS Offshore
7.1.1 EMAS Operations
7.1.2 FPSO Market Trends
7.1.3 FPSOs and Water Depth
7.1.4 Converted and New-Build FPSOs
7.1.5 The FPSO Market and Oil Prices
7.1.6 FPSO Regional Markets
7.1.7 Future Outlook of the FPSO Market
7.2 Holman Fenwick Willan
7.2.1 About HFW
7.2.2 Impact of the Oil and LNG Price Fall
7.2.3 Impact of a Functioning FLNG
7.2.4 Impact of the Oil Price on Financing FLNG Projects
7.2.5 Australian Public Response to FLNG
7.2.6 Australian FLNG Regulatory Issues
7.3 Lonestar FLNG
7.3.1 Issues in FLNG Design and Alternatives
7.3.2 Shipyard Size and Availability of LNG Carriers for Conversion
7.3.3 Impact of the Oil Price on the FLNG Market
7.3.4 New Designs for FLNGs
8. Leading Companies in the FPS Market
8.1 Leading Vessel Owners in the FLNG Market
8.1.1 Royal Dutch Shell
8.1.1.1 Shell Analysis and Future Outlook
8.1.2 Petronas
8.1.2.1 Petronas Projects
8.1.2.2 Petronas Analysis and Future Outlook
8.1.3 Golar LNG
8.1.3.1 Golar LNG Projects
8.1.3.2 Golar LNG Analysis and Future Outlook
8.2 Leading Vessel Owners in the FPSO Market
8.2.1 Petróleo Brasileiro S.A. (Petrobras)
8.2.1.1 Petrobras FPSO Projects
8.2.1.2 Petrobras Analysis and Future Outlook
8.2.2 MODEC
8.2.2.1 MODEC FPSO Projects
8.2.2.2 MODEC Analysis and Future Outlook
8.2.3 SBM Offshore
8.2.3.1 SBM Offshore FPSO Projects
8.2.3.2 SBM Offshore Analysis and Future Outlook
8.2.4 Bumi Armada Berhad
8.2.4.1 Bumi Armada FPSO Projects
8.2.4.2 Bumi Armada Analysis and Future Outlook
8.2.5 Sonangol
8.2.5.1 Sonangol FPSO Projects
8.2.5.2 Sonangol Analysis and Future Outlook
8.3 Leading Vessel Owners in the Other FPS (Semi-Sub, SPAR and TLP) Market
8.3.1 Total
8.3.1.1 Total Other FPS Projects
8.3.1.2 Total Analysis and Future Outlook
8.3.2 INPEX
8.3.2.1 INPEX Other FPS Projects
8.3.3 Anadarko
8.3.3.1 Anadarko Other FPS Projects
8.3.3.2 Anadarko Analysis and Future Outlook
8.3.4 Royal Dutch Shell
8.3.4.1 Shell Other FPS Projects
8.3.5 BP
8.3.5.1 BP Other FPS Projects
8.4 Leading Constructors in the FPS Market
8.4.1 Samsung Heavy Industries
8.4.1.1 SHI FPS Projects
8.4.1.2 SHI Analysis and Future Outlook
8.4.2 Keppel Offshore & Marine
8.4.2.1 Keppel FPS Projects
8.4.2.2 Keppel Analysis and Future Outlook
8.4.3 Daewoo Shipbuilding & Marine Engineering
8.4.3.1 DSME FPS Projects
8.4.3.2 DSME Analysis and Future Outlook
8.4.4 Sembcorp Marine
8.4.4.1 Sembcorp Marine FPS Projects
8.4.4.2 Sembcorp Marine Analysis and Future Outlook
8.4.5 China Ocean Shipping Company
8.4.5.1 COSCO FPS Projects
8.4.5.2 COSCO Analysis and Future Outlook
8.5 Other Companies in the FPS Market
9. Conclusions
9.1 Global FPS Market Outlook
9.2 Key Findings in the FPS Market
9.3 Recommendations for the FPS Market
10. Glossary
List of Tables
Table 1.1 SAMPLE Leading Regional and National FPSO Markets Forecast 2015-2025
Table 3.1 Global FPS Market Forecast, 2015-2025 ($bn, AGR %, Cumulative)
Table 3.2 Leading Regional and National FPS Markets Forecast 2015-2025 ($m, AGR %)
Table 3.3 Visiongain's Anticipated WTI Oil Price, 2015, 2016, 2017-2020, 2021-2025 ($/bbl)
Table 4.1 FLNG, FPSO and Other FPS Submarket Forecasts, 2015-2025 ($bn, AGR %, Cumulative)
Table 4.2 FPS Submarket CAGR Forecasts, 2015-2020, 2020-2025 and 2015-2025 (%)
Table 4.3 FLNG Submarket Forecast, 2015-2025 ($bn, AGR %, CAGR %)
Table 4.4 FLNG Submarket Drivers and Restraints
Table 4.5 Under-Construction and Prospective FLNG Projects: Name, Field(s), Owner [Field Operator], Water Depth [Drill Depth] (m), Operation Country, Construction Period
Table 4.6 Under-Construction and Prospective FLNG Projects: Shipyard, Building Country, New / Conversion, Production (MMtpa), Cost ($m)
Table 4.7 FPSO Submarket Forecast, 2015-2025 ($bn, AGR %, CAGR %)
Table 4.8 FPSO Submarket Drivers and Restraints
Table 4.9 Existing FPSOs: Name, Field(s), Owner [Field Operator], Water Depth (m), Operation Country, Start Date
Table 4.10 Existing FPSOs: Name, Shipyard, Building Country, New / Conversion, Production (Mboe/d), Storage (MMbbls)
Table 4.11 Under-Construction and Prospective FPSO Projects: Name, Field(s), Owner [Field Operator], Water Depth [Drill Depth] (m), Operation Country, Construction Period
Table 4.12 Under Construction and Prospective FPSO Projects: Name, Shipyard, Building Country, New / Conversion, Production (Mboe/d), Storage (MMbbls), Cost ($m)
Table 4.13 Other FPS Submarket Forecast, 2015-2025 ($bn, AGR %, CAGR %)
Table 4.14 Other FPS Submarket Drivers and Restraints
Table 4.15 Existing Semi-Submersibles: Name, Field(s), Owner [Field Operator], Water Depth [Drill Depth] (m), Operation Country, Start Date
Table 4.16 Existing Semi-Submersibles: Name, Shipyard, Building Country, New / Conversion, Production (Mbpd, MMscfd), Cost ($m)
Table 4.17 Under-Construction and Prospective Semi-Submersible Projects: Name, Field(s), Owner, Water Depth [Drill Depth] (m), Operation Country, Construction Period
Table 4.18 Under-Construction and Prospective Semi-Submersible Projects: Shipyard, Building Country, New / Conversion, Production (Mbpd, MMscfd), Cost ($m)
Table 4.19 Existing SPARs: Name, Field(s), Owner [Field Operator], Water Depth [Drill Depth] (m), Operation Country, Start Date
Table 4.20 Existing SPARs: Name, Shipyard, Building Country, New / Conversion, Production (Mbpd, MMscfd), Cost ($m)
Table 4.21 Existing TLPs: Name, Field(s), Owner [Field Operator], Water Depth [Drill Depth] (m), Operation Country, Start Date
Table 4.22 Existing TLPs: Name, Shipyard, Building Country, New / Conversion, Production (Mboe/d), Storage (MMbbls)
Table 4.23 Under-Construction and Prospective TLP Projects: Name, Field(s), Owner, Water Depth [Drill Depth] (m), Operation Country, Construction Period
Table 4.24 Under-Construction and Prospective TLP Projects: Shipyard, Building Country, New / Conversion, Production (Mbpd, MMscfd), Cost ($m)
Table 4.25 FPS Water Depth Forecasts, 2015-2025 ($bn, AGR %, Cumulative)
Table 4.26 FPS Water Depth Submarket CAGR Forecasts, 2015-2020, 2020-2025 and 2015-2025 (%)
Table 4.27 Shallow Water FPS Submarket Forecast, 2015-2025 ($bn, AGR %)
Table 4.28 Shallow Water FPS Market Drivers and Restraints
Table 4.29 Deepwater FPS Submarket Forecast, 2015-2025 ($bn, AGR %)
Table 4.30 Ultra-Deepwater FPS Submarket Forecast, 2015-2025 ($bn, AGR %)
Table 4.31 Deepwater and Ultra-Deepwater FPSO Market Drivers and Restraints
Table 5.1 Leading Regional and National FPS Markets Forecast 2015-2025 ($m, AGR %)
Table 5.2 Asian FPS Market CAPEX Forecast, 2015-2025 ($bn, AGR %)
Table 5.3 Asian FPS Submarket CAPEX Forecasts (FLNG, FPSO and Other) 2015-2025 ($m, AGR %)
Table 5.4 Indonesian FPS Market CAPEX Forecast, 2015-2025 ($m, AGR %)
Table 5.5 Indonesian FPS Submarket CAPEX Forecasts (FLNG, FPSO and Other) 2015-2025 ($m, AGR %)
Table 5.6 Existing Indonesian FPSOs: Vessel Name, Field(s), Owner [Field Operator], Water Depth (m), First Oil
Table 5.7 Existing Indonesian FPSOs: Vessel Name, Building Yard, Type, Production Capacity (Mboe/d), Storage (Mbbls)
Table 5.8 Prospective Indonesian FPSO Projects: Vessel Name, Field(s), Field Operator, Water Depth (m), Drilling Depth (m)
Table 5.9 Prospective Indonesian FPSO Projects: Vessel Name, Type, Max Production, Storage Capacity, Estimated Construction Period, Cost ($m)
Table 5.10 Indonesian FPS Market Drivers and Restraints
Table 5.11 Malaysian FPS Market CAPEX Forecast, 2015-2025 ($m, AGR %)
Table 5.12 Malaysian FPS Submarket CAPEX Forecasts (FLNG, FPSO and Other) 2015-2025 ($m, AGR %)
Table 5.13 Existing Malaysian FPSOs: Vessel Name, Field(s), Owner [Field Operator], Water Depth (m), First Oil
Table 5.14 Existing Malaysian FPSOs: Vessel Name, Shipyard, Type, Production Capacity (Mboe/d), Storage (Mbbls)
Table 5.15 Malaysian FPS Market Drivers and Restraints
Table 5.16 Other Asian FPS Market CAPEX Forecast, 2015-2025 ($m, AGR %)
Table 5.17 Other Asian FPS Submarket CAPEX Forecasts (FLNG, FPSO and Other) 2015-2025 ($m, AGR %)
Table 5.18 Existing Other Asian FPSOs: Name, Field(s), Owner [Field Operator], Water Depth (m), Operation Country, Start Date
Table 5.19 Existing Other Asian FPSOs: Name, Shipyard, Building Country, New / Conversion, Production (Mboe/d), Storage (MMbbls)
Table 5.20 Under-Construction and Prospective Other Asian FPSO Projects: Name, Field(s), Field Operator, Water Depth [Drill Depth] (m), Operation Country, Start Date
Table 5.21 Under Construction and Prospective Other Asian FPSO Projects: Name, Shipyard, Building Country, New / Conversion, Production (Mboe/d), Storage (MMbbls), Cost ($m)
Table 5.22 Existing Other Asian Semi-Submersibles: Name, Field(s), Owner [Field Operator], Water Depth (m), Operation Country, Start Date
Table 5.23 Existing Other Asian Semi-Submersibles: Name, Shipyard, Building Country, New / Conversion, Production (Mbpd, MMscfd), Cost ($m)
Table 5.24 European FPS Market CAPEX Forecast, 2015-2025 ($m, AGR %)
Table 5.25 European FPS Submarket CAPEX Forecasts (FPSO and Other) 2015-2025 ($m, AGR %)
Table 5.26 Norwegian FPS Market CAPEX Forecast, 2015-2025 ($m, AGR %)
Table 5.27 Norwegian FPS Submarket CAPEX Forecasts (FPSO and Other) 2015-2025 ($m, AGR %)
Table 5.28 Existing Norwegian FPSOs: Vessel Name, Field(s), Owner [Field Operator], Water Depth (m), First Oil
Table 5.29 Existing Norwegian FPSOs: Vessel Name, Building Yard, Type, Production Capacity (Mboe/d), Storage (Mbbls)
Table 5.30 Existing Norwegian Semi-Submersibles: Name, Field(s), Owner [Field Operator], Water Depth [Drill Depth] (m), Start Date
Table 5.31 Existing Norwegian Semi-Submersibles: Name, Shipyard, Building Country, New / Conversion, Production (Mbpd, MMscfd)
Table 5.32 Norwegian FPS Market Drivers and Restraints
Table 5.33 UK FPS Market CAPEX Forecast, 2015-2025 ($m, AGR %)
Table 5.34 UK FPS Submarket CAPEX Forecasts (FPSO and Other) 2015-2025 ($m, AGR %)
Table 5.35 Existing UK FPSOs: Vessel Name, Field(s), Owner [Field Operator], Water Depth (m), First Oil
Table 5.36 Existing UK FPSOs: Vessel Name, Building Yard, Type, Production Capacity (Mboe/d), Storage (Mbbls)
Table 5.37 Existing UK Semi-Submersibles: Name, Field(s), Owner [Field Operator], Water Depth [Drill Depth] (m), Start Date
Table 5.38 Existing UK Semi-Submersibles: Name, Shipyard, Building Country, New / Conversion, Production (Mbpd, MMscfd)
Table 5.39 Prospective UK FPSO Projects: Vessel Name, Field(s), Owner [Field Operator], Water Depth (m), Drilling Depth (m)
Table 5.40 Prospective UK FPSO Projects: Vessel Name, Type, Max Production, Storage Capacity, Estimated Construction Period, Cost ($m)
Table 5.41 UK FPS Market Drivers and Restraints
Table 5.42 Latin American FPS Market CAPEX Forecast, 2015-2025 ($bn, AGR %)
Table 5.43 Latin American FPS Submarket CAPEX Forecasts (FLNG, FPSO and Other) 2015-2025 ($m, AGR %)
Table 5.44 Brazilian FPS Market CAPEX Forecast, 2015-2025 ($m, AGR %)
Table 5.45 Brazilian FPS Submarket CAPEX Forecasts (FLNG, FPSO and Other) 2015-2025 ($m, AGR %)
Table 5.46 Existing Brazilian Semi-Submersibles: Name, Field(s), Owner [Field Operator], Water Depth [Drill Depth] (m), Start Date
Table 5.47 Existing Brazilian Semi-Submersibles: Name, Shipyard, Building Country, New / Conversion, Production (Mbpd, MMscfd)
Table 5.48 Existing Brazilian FPSOs: Vessel Name, Field(s), Owner [Field Operator], Water Depth (m), First Oil
Table 5.49 Existing Brazilian FPSOs: Vessel Name, Building Yard, Type, Production Capacity (Mboe/d), Storage (Mbbls)
Table 5.50 Under-Construction and Prospective Brazilian FPSO Projects: Name, Field(s), Owner [Field Operator], Water Depth [Drill Depth] (m), Construction Period
Table 5.51 Under Construction and Prospective Brazilian FPSO Projects: Name, Shipyard, Building Country, New / Conversion, Production (Mboe/d), Storage (MMbbls), Cost ($m)
Table 5.52 Brazilian FPS Market Drivers and Restraints
Table 5.53 Mexican FPS Market CAPEX Forecast, 2015-2025 ($m, AGR %)
Table 5.54 Mexican FPS Submarket CAPEX Forecasts (FPSO and Other) 2015-2025 ($m, AGR %)
Table 5.55 Existing Mexican FPSOs: Vessel Name, Field(s), Owner [Field Operator], Water Depth (m), First Oil
Table 5.56 Existing Mexican FPSOs: Vessel Name, Building Yard, Type, Production Capacity (Mboe/d), Storage (Mbbls)
Table 5.57 Mexican FPS Market Drivers and Restraints
Table 5.58 MENA FPS Market CAPEX Forecast, 2015-2025 ($bn, AGR %)
Table 5.59 MENA FPS Submarket CAPEX Forecasts (FLNG and FPSO) 2015-2025 ($m, AGR %)
Table 5.60 Oceania FPS Market CAPEX Forecast, 2015-2025 ($bn, AGR %)
Table 5.61 Oceania FPS Submarket CAPEX Forecasts (FLNG, FPSO and Other) 2015-2025 ($m, AGR %)
Table 5.62 Australian FPS Market CAPEX Forecast, 2015-2025 ($m, AGR %)
Table 5.63 Australian FPS Submarket CAPEX Forecasts (FLNG, FPSO and Other) 2015-2025 ($m, AGR %)
Table 5.64 Existing Australian FPSOs: Vessel Name, Field(s), Owner [Field Operator], Water Depth (m), First Oil
Table 5.65 Existing Australian FPSOs: Vessel Name, Building Yard, Type, Production Capacity (Mboe/d), Storage (Mbbls)
Table 5.66 Under-Construction and Prospective Australian FLNG Projects: Name, Field(s), Field Operator, Water Depth (m), Construction Period
Table 5.67 Under-Construction and Prospective Australian FLNG Projects: Shipyard, Building Country, New / Conversion, Production (MMtpa), Cost ($m)
Table 5.68 Prospective Australian FPSO Projects: Vessel Name, Field(s), Owner [Field Operator], Water Depth (m), Drilling Depth (m)
Table 5.69 Prospective Australian FPSO Projects: Vessel Name, Shipyard [Country], Type, Estimated Construction Period, Max Production, Storage Capacity, Cost ($m)
Table 5.70 Australian FPS Market Drivers and Restraints
Table 5.71 Sub-Saharan African FPS Market CAPEX Forecast, 2015-2025 ($bn, AGR %)
Table 5.72 Sub-Saharan African FPS Submarket CAPEX Forecasts (FLNG, FPSO and Other) 2015-2025 ($m, AGR %)
Table 5.73 Angolan FPSO Market CAPEX Forecast, 2015-2025 ($m, AGR %)
Table 5.74 Existing Angolan FPSOs: Vessel Name, Field(s), Owner [Field Operator], Water Depth (m), First Oil
Table 5.75 Existing Angolan FPSOs: Vessel Name, Building Yard, Type, Production Capacity (Mbpd), Storage (Mbbls)
Table 5.76 Under-Construction and Prospective Angolan FPSO Projects: Name, Field(s), Owner [Field Operator], Water Depth [Drill Depth] (m), Construction Period
Table 5.77 Under-Construction and Prospective Angolan FPSO Projects: Name, Shipyard, Vessel Type, Production (Mboe/d), Storage (MMbbls), Cost ($m)
Table 5.78 Angolan FPS Market Drivers and Restraints
Table 5.79 Nigerian FPSO Market CAPEX Forecast, 2015-2025 ($m, AGR %)
Table 5.80 Existing Nigerian FPSOs: Vessel Name, Field(s), Owner [Field Operator], Water Depth (m), First Oil
Table 5.81 Existing Nigerian FPSOs: Vessel Name, Building Yard, Type, Production Capacity (Mbpd), Storage (Mbbls)
Table 5.82 Under-Construction and Prospective Nigerian FPSO Projects: Name, Field(s), Owner [Field Operator], Water Depth [Drill Depth] (m), Construction Period
Table 5.83 Under-Construction and Prospective Nigerian FPSO Projects: Name, Shipyard, Vessel Type, Production (Mboe/d), Storage (MMbbls), Cost ($m)
Table 5.84 Nigerian FPS Market Drivers and Restraints
Table 5.85 Other Sub-Saharan African FPS Market CAPEX Forecast, 2015-2025 ($m, AGR %)
Table 5.86 Other Sub-Saharan African FPS Submarket CAPEX Forecasts (FLNG, FPSO and Other) 2015-2025 ($m, AGR %)
Table 5.87 Under-Construction and Prospective Other Sub-Saharan African FLNG Projects: Name, Field(s), Owner [Field Operator], Water Depth [Drill Depth] (m), Operation Country, Construction Period
Table 5.88 Under-Construction and Prospective Other Sub-Saharan African FLNG Projects: Shipyard, Building Country, New / Conversion, Production (MMtpa), Cost ($m)
Table 5.89 Existing Other Sub-Saharan African FPSOs: Name, Field(s), Owner [Field Operator], Water Depth (m), Operation Country, Start Date
Table 5.90 Existing Other Sub-Saharan African FPSOs: Name, Shipyard, Building Country, New / Conversion, Production (Mboe/d), Storage (MMbbls)
Table 5.91 Under-Construction and Prospective Other Sub-Saharan African FPSO Projects: Name, Field(s), Field Operator, Water Depth [Drill Depth] (m), Operation Country, Start Date
Table 5.92 Under Construction and Prospective Other Sub-Saharan African FPSO Projects: Name, Shipyard, Building Country, New / Conversion, Production (Mboe/d), Storage (MMbbls), Cost ($m)
Table 5.93 North American FPS Market CAPEX Forecast, 2015-2025 ($bn, AGR %)
Table 5.94 North American FPS Submarket CAPEX Forecasts (FLNG, FPSO and Other) 2015-2025 ($m, AGR %)
Table 5.95 Existing US Semi-Submersibles: Name, Field(s), Owner [Field Operator], Water Depth [Drill Depth] (m), Start Date
Table 5.96 Existing US Semi-Submersibles: Name, Shipyard, Building Country, New / Conversion, Production (Mbpd, MMscfd), Cost ($m)
Table 5.97 Existing US SPARs: Name, Field(s), Owner [Field Operator], Water Depth [Drill Depth] (m), Operation Country, Start Date
Table 5.98 Existing US SPARs: Name, Shipyard, Building Country, New / Conversion, Production (Mbpd, MMscfd), Cost ($m)
Table 5.99 Existing US TLPs: Name, Field(s), Owner [Field Operator], Water Depth [Drill Depth] (m), Operation Country, Start Date
Table 5.100 Existing US TLPs: Name, Shipyard, Building Country, New / Conversion, Production (Mboe/d), Storage (MMbbls)
Table 5.101 US FPS Market Drivers and Restraints
Table 6.1 PEST Analysis of the FPS Market, 2015-2025
Table 8.1 The Three Leading FLNG Owners, Ranking, Company, 2015 FLNG CAPEX ($m), Global Share (%)
Table 8.2 Shell 2015 FLNG CAPEX ($m), Global Share (%), 2013 Company Revenue ($bn), Headquarters, Ticker, IR Contact, Website
Table 8.3 Petronas 2015 FLNG CAPEX ($m), Global Share (%), 2013 Company Revenue ($bn), Headquarters, Ticker, Contact, Website
Table 8.4 Under-Construction and Prospective Petronas FLNG Projects: Name, Field(s), Owner [Field Operator], Water Depth [Drill Depth] (m), Operation Country, Construction Period
Table 8.5 Under-Construction and Prospective Petronas FLNG Projects: Shipyard, Building Country, New / Conversion, Production (MMtpa), Cost ($m)
Table 8.6 Golar LNG 2015 FLNG CAPEX ($m), Global Share (%), 2011 Company Revenue ($m), Headquarters, Ticker, IR Contact, Website
Table 8.7 Under-Construction and Prospective Golar LNG FLNG Projects: Name, Field(s), Owner [Field Operator], Water Depth [Drill Depth] (m), Operation Country, Construction Period
Table 8.8 Under-Construction and Prospective FLNG Projects: Shipyard, Building Country, New / Conversion, Production (MMtpa), Cost ($m)
Table 8.9 The Five Leading FPSO Owners, Ranking, Company, 2015 FPSO CAPEX ($m), Global Share (%)
Table 8.10 Petrobras 2015 FPSO CAPEX ($m), Global Share (%), 2013 Company Revenue ($bn), Headquarters, Ticker, Website
Table 8.11 Under-Construction and Prospective Petrobras FPSO Projects: Name, Field(s), Water Depth [Drill Depth] (m), Construction Period
Table 8.12 Under Construction and Prospective Petrobras FPSO Projects: Name, Shipyard, Building Country, New / Conversion, Production (Mboe/d), Storage (MMbbls), Cost ($m)
Table 8.13 MODEC 2015 FPSO CAPEX ($m), Global Share (%), 2014 Company Revenue ($bn), Headquarters, Ticker, IR Contact, Website
Table 8.14 Under-Construction and Prospective MODEC FPSO Projects: Name, Field(s), Field Operator, Water Depth [Drill Depth] (m), Operation Country, Construction Period
Table 8.15 Under Construction and Prospective MODEC FPSO Projects: Name, Shipyard, Building Country, New / Conversion, Production (Mboe/d), Storage (MMbbls), Cost ($m)
Table 8.16 SBM Offshore 2015 FPSO CAPEX ($m), Global Share (%), 2014 Company Revenue ($bn), Headquarters, Ticker, IR Contact, Website
Table 8.17 Under-Construction and Prospective SBM Offshore FPSO Projects: Name, Field(s), Field Operator, Water Depth [Drill Depth] (m), Operation Country, Construction Period
Table 8.18 Under Construction and Prospective SBM Offshore FPSO Projects: Name, Shipyard, Building Country, New / Conversion, Production (Mboe/d), Storage (MMbbls), Cost ($m)
Table 8.19 Bumi Armada 2015 FPSO CAPEX ($m), Global Share (%), 2014 Company Revenue ($m), Headquarters, Ticker, Contact, Website
Table 8.20 Under-Construction and Prospective Bumi Armada FPSO Projects: Name, Field(s), Field Operator, Water Depth [Drill Depth] (m), Operation Country, Construction Period
Table 8.21 Under Construction and Prospective Bumi Armada FPSO Projects: Name, Shipyard, Building Country, New / Conversion, Production (Mboe/d), Storage (MMbbls), Cost ($m)
Table 8.22 Sonangol 2015 FPSO CAPEX ($m), Global Share (%), Headquarters, Website
Table 8.23 Under-Construction and Prospective Sonangol FPSO Projects: Name, Field(s), Owner [Field Operator], Water Depth [Drill Depth] (m), Construction Period
Table 8.24 Under-Construction and Prospective Sonangol FPSO Projects: Name, Shipyard, Vessel Type, Production (Mboe/d), Storage (MMbbls), Cost ($m)
Table 8.25 The Five Leading Other FPS Owners, Ranking, Company, 2015 Other FPS CAPEX ($m), Global Share (%)
Table 8.26 Total 2015 Other FPS CAPEX ($m), Global Share (%), 2014 Company Revenue ($bn), Headquarters, Ticker, IR Contact, Website
Table 8.27 Inpex 2015 Other FPS CAPEX ($m), Global Share (%), 2014 Company Revenue ($bn), Headquarters, Ticker, Contact, Website
Table 8.28 Anadarko 2015 Other FPS CAPEX ($m), Global Share (%), 2014 Company Revenue ($bn), Headquarters, Ticker, Contact, Website
Table 8.29 Shell 2015 Other FPS CAPEX ($m), Global Share (%), 2014 Company Revenue ($bn), Headquarters, Ticker, IR Contact, Website
Table 8.30 BP 2015 Other FPS CAPEX ($m), Global Share (%), 2014 Company Revenue ($bn), Headquarters, Ticker, IR Contact, Website
Table 8.31 The Five Leading FPS Constructors, Ranking, Company, 2015 Other FPS CAPEX ($m), Global Share (%)
Table 8.32 SHI 2015 FPS CAPEX ($bn), Global Share (%), 2014 Company Revenue ($bn), Headquarters, Ticker, IR Contact, Website
Table 8.33 Under-Construction and Prospective SHI FLNG Projects: Name, Field(s), Owner [Field Operator], Water Depth [Drill Depth] (m), Operation Country, Construction Period
Table 8.34 Under-Construction and Prospective SHI FLNG Projects: Building Country, New / Conversion, Production (MMtpa), Cost ($m)
Table 8.35 Under-Construction and Prospective SHI FPSO Projects: Name, Field(s), Owner [Field Operator], Water Depth [Drill Depth] (m), Construction Period
Table 8.36 Under-Construction and Prospective SHI FPSO Projects: Name, Shipyard, Vessel Type, Production (Mboe/d), Storage (MMbbls), Cost ($m)
Table 8.37 Under-Construction and Prospective SHI Semi-Submersible Projects: Name, Field(s), Owner, Water Depth [Drill Depth] (m), Operation Country, Construction Period
Table 8.38 Under-Construction and Prospective SHI Semi-Submersible Projects: Shipyard, Building Country, New / Conversion, Production (Mbpd, MMscfd), Cost ($m)
Table