5Gフォーカスグループ:ベンダは5Gネットワークの増築を履行すべき
5G Focus Group: Vendors Needed to Fulfill 5G Network Buildouts

出版社
出版日
電子媒体価格
ページ数
Heavy Reading
ヘビーリーディング社
2018年1月
US$ 3,495
エンタープライズライセンス(PDF)
14p
サマリー
5G vendors can start 2018 with a rare opportunity, according to members of Heavy Reading's Thought Leadership Council (TLC). According to 13 service providers from around the globe, the overwhelming majority will have fixed wireless 5G service operational within five years.

But only 15 percent of TLC service providers have chosen the vendors they plan to utilize for 5G buildouts; more than 30 percent of our forum members haven't even started the vendor selection process. Other vendors in the forum are in varying degrees along the cycle of choosing 5G vendors.

The message to 5G vendors is clear: Opportunity exists. Several service providers expressed the desire to see additional use cases, white papers and other marketing and sales paraphernalia focused on 5G in our Q&A forum.

5G Focus Group: Vendors Needed to Fulfill 5G Network Buildouts was generated from a Q&A with service providers that are 5G experts. This focus group was asked 12 questions about 5G deployment plans, revenue opportunities and how the market is shaping up. The results clearly indicate that 5G vendors have an outstanding opportunity to educate and market their portfolios to service providers in every market.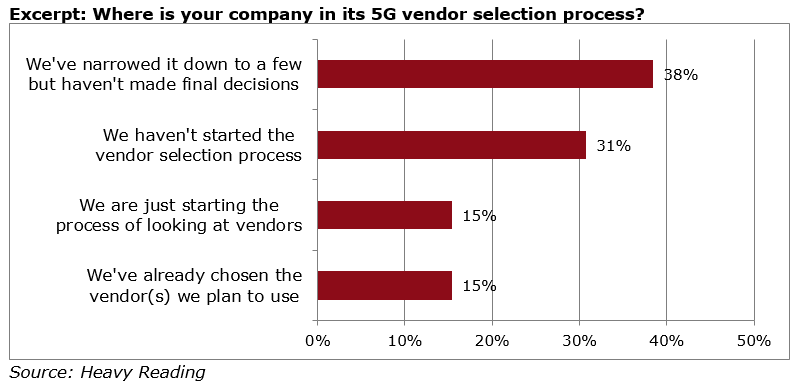 5G Focus Group: Vendors Needed to Fulfill 5G Network Buildouts is published in PDF format.
目次
COPYRIGHT(C) 2011-2020 DATA RESOURCES, Inc. ALL RIGHTS RESERVED.