【PT:アプリケーション分析レポート】非接触発券 2018年の最新情報
Contactless Ticketing Full Year 2018 Update
Application Analysis Report | 3Q 2019 | PT-2329

サマリー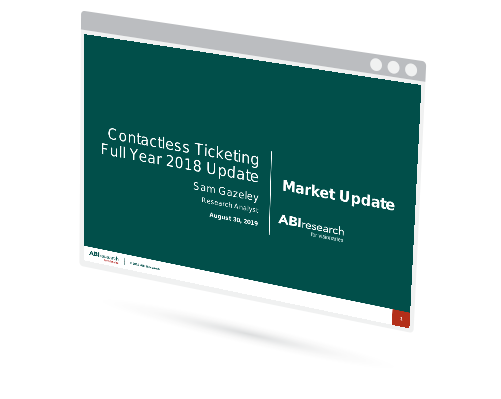 This research deliverable provides a quantitative and qualitative analysis of the Contactless Ticketing Smart Card Technologies market. The content is provided in a quick and easily-digestible report to offer enough basic knowledge of the market trends to put decisions into context. Included in the report are regional break downs, smart card and IC vendor market shares of FY 2018, and the next step for contactless ticketing. According to ABI Research there are many technologies which will influence the Contactless Ticketing market, Account Based ticketing, 5G, mobile ticketing, smart city growth and many more are covered in this brief summary of the Smart Card Technology report.
Companies Mentioned
Calypso

CPI Card Group Inc.

G&D

Gemalto

HID

IDEMIA

Infineon

NXP

Paragon ID

STMicroelectronics

Valid

Watchdata
目次
Market Summary of 2018
Regional Breakdown
The Americas
Europe
Asia-Pacific
The Middle East and Africa
Vendor Market Shares
Open-Loop Acceptance
Account-Based Ticketing
QR Codes
Related Research
COPYRIGHT(C) 2011-2020 DATA RESOURCES, Inc. ALL RIGHTS RESERVED.