サマリー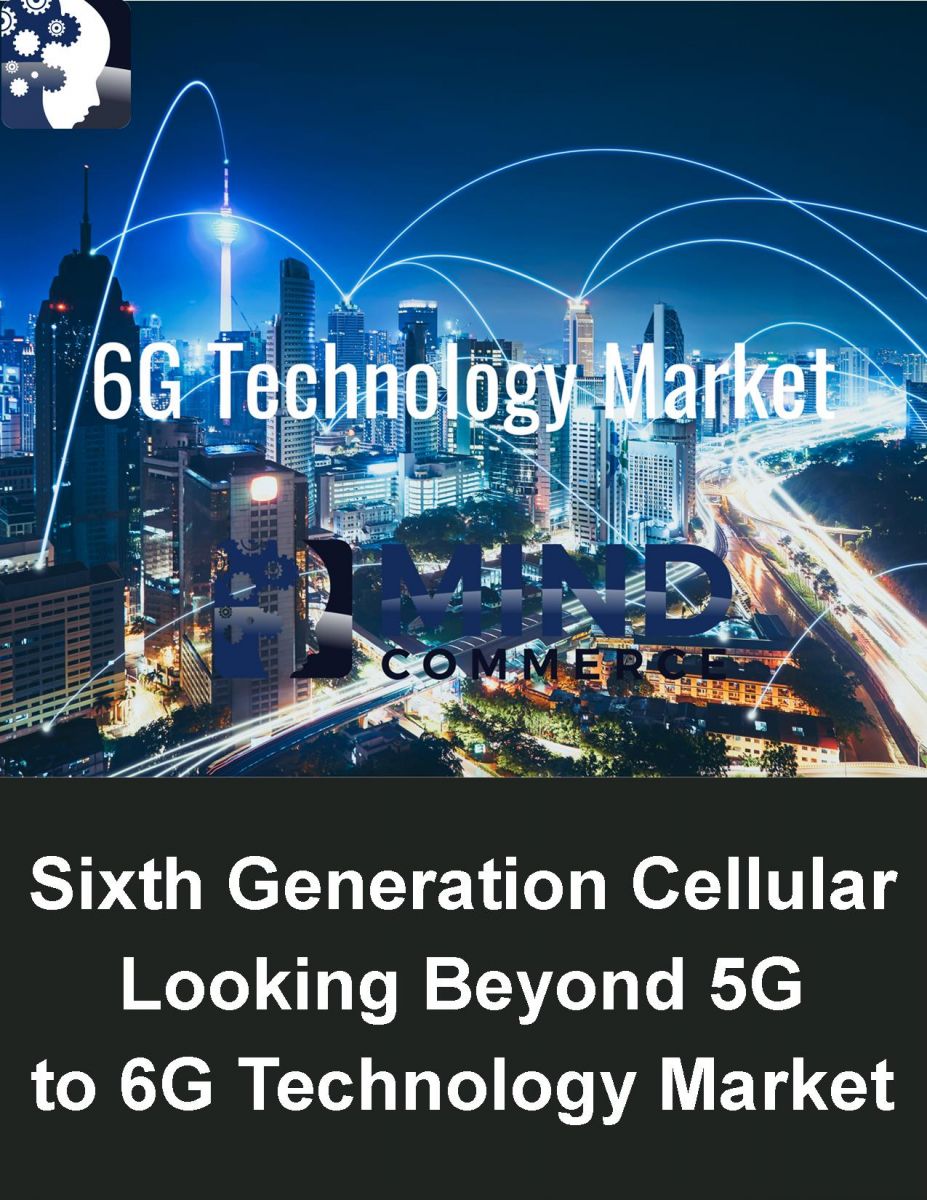 米国調査会社マインドコマース(Mind Commerce)の調査レポート「第6世代セルラー(6G):5G以降と6G技術市場」は、来たる6G技術市場に関して調査している。LTE、5G、コアクラウドやエッジコンピューティング、ハイパフォーマンスコンピューティング(HPC)、量子コンピューティングなどのコンピュータ技術、人工知能と関連技術などの分野についての分析を基にしている。5G以降(beyond 5G)を見据えた研究開発、技術、可用性などを評価し、5Gを基にして構築するものと既存のソリューションで想定されているものとはかけ離れた機能性に関して予測している。2025-2030年の6G技術の市場規模に関して数値的に分析している。
Overview:
Looking beyond fifth generation (5G) cellular towards sixth generation (6G) technology is challenging, particularly as the former is not yet (fully) commercially launched and the latter is in the R&D stage. However, investigating the 6G technology market is just what Mind Commerce has done the past few months and what we have uncovered is both exciting and concerning. The excitement stems from what is possible with 6G technology, which is nothing short of amazing in terms of both the high-tech lifestyle it may engender as well as the positive impact on many different industries. The concerns have to do with the impact (or lack thereof) for 5G as well as the disintermediating economic effects of the anticipated 6G technology market.

One of the overarching insights from this research is that 5G technology (and resulting apps and services) are anticipated to be largely a stepping stone to the 6G technology market. Stated differently, just as 3G did not add substantive value, largely a bridge to 4G/LTE, we also see 5G acting as a catalyst for the 6G market. Mind Commerce sees this as the case for a few key reasons including: (1) 5G will have minimal effect in the near-term for the consumer segment, (2) Advanced 5G and edge computing supported private wireless solutions for enterprise and industrial sectors will facilitate innovation in smart buildings, smart factories, and automation in general, and (3) 5G will pave the way for expansion of immersive technologies (AR, VR, and haptic Internet), but a truly rich user experience will not come until the 6G technology market is fully developed.

Mind Commerce sees the 6G technology market facilitating substantive improvements in the areas of sensing, imaging, presence and location determination. Higher frequencies will enable much faster sampling rates as well as significantly greater accuracy, down to the centimeter level. This will have big implications for many government and industry solutions in public safety and critical asset protection such as threat detection, health monitoring, feature/facial recognition and decision making (as in law enforcement, social credit systems, and other areas), air quality measurements, gas and toxicity sensing, and much more. 6G will provide the means of communications and data gathering necessary to accumulate information, but a systems approach will be required involving data analytics, artificial intelligence, and next generation computation capabilities via High Performance Computing (HPC) and quantum computing.

The aforementioned transition will be both exciting and painful, depending on the timing, readiness, and position within the value chain for ecosystem participants. The 6G technology market will represent yet another large expenditure for communication service providers (CSPs). However, one of the transformative aspects of 6G is that will support a highly distributed service provider environment, meaning that the market will not be so reliant upon incumbent CSPs with licensed spectrum. In fact, one of the ways in which 5G is laying the groundwork for 6G solutions is the many private wireless implementations involving evolved LTE, 5G, and edge computing for enterprise and industrial customers. Next generation 6G networks will take this one step further with a web of communications providers, many of which will be self-providers, much in the way that PV solar has engendered co-generation within the smartgrid.

The 6G technology market will also be a major facilitator of many new innovations, across a wide variety of industry verticals. However, due to the highly strategic nature of certain 6G capabilities, sovereign nations will likely be most interested in the 6G technology market for government wireless applications. This may very well make the "arms race" for 5G supremacy look like a warm-up for the main event, which will be a race to see what countries can dominate the 6G technology market and related applications, services, and solutions.

This research builds upon our extensive analysis in LTE, 5G, and computing (core cloud, edge computing, HPC, and quantum), and other related areas such as artificial intelligence and AI support of other technologies. This report is a one of a kind investigation into the upcoming 6G technology market. The report looks beyond 5G (B5G) as it evaluates R&D efforts, technologies, and anticipated capabilities that both build upon 5G as well as leap far beyond what is currently envisioned with existing solution abilities. The report includes quantitative analysis with 6G technology market sizing for 2025 through 2030.

Report Benefits:
• Gain a view into what is beyond 5G (B5G) towards 6G
• Recognize the role of 5G in evolution to 6G technology market
• Understand the impact that 6G will have on applications and solutions
• Identify areas of transformation due to next generation 6G capabilities
Select Report Findings:
• Significant amounts of Data will be Created: With Higher frequencies associated with the 6G technology market (95 GHz to 3 THz), there will be significantly faster (than 5G) data speeds, which also translates into massive amounts of data. This data will require big data analytics technologies as well as artificial intelligence to identify context and to render into usable information.

• Considerable Catalyst for HPC and Quantum Computing: Due to massive amounts of data created, and the need for processing from next generation applications, there will be a great general need for High Performance Computing (HPC) and quantum computing solutions. In addition, there will be specific apps supported by hyper-low latency 6G technology market in the areas of imaging, sensing, positioning and others that will require HPC and quantum computing platforms.

• Substantial Disintermediation: While highly beneficial for enterprise and industrial solutions and private networks, we believe that 5G will never quite live up to the hype for mass-market services. It's hard to fathom now, but 5G will be looked back upon ten years from now in a similar sentiment as 3G is considered a necessary stepping stone to LTE. Mind Commerce sees 6G solutions benefitting greatly from the trail blazed by 5G. Millisecond latencies will path the way for much greater interest for next generation applications and will catalyze mass market appeal for the same apps (and many new ones) with a substantially improved user experience due to 6G technology market micro-second latency apps.

• Fundamental Improvements in User Experience: The combination of much greater throughput, substantially lower latency, and confluence of digital technologies and physical systems (including cyber-to-biological integration) translates into dramatic improvements in user experience (UX). In fact, the improvement in UX from 5G to 6G based apps and services will render many currently emerging services such as extended reality unappealing and trite in comparison to the rich experience in store for end-users. For example, Mind Commerce sees hyper-reality achievable as the 6G technology market leverages artificial intelligence and next generation user devices for an immersive experience that is not just indistinguishable from reality but rather transformative in a way that redefines reality.

• Unprecedented Impacts on Industry Verticals: Whereas 5G will have a great impact on business users, and a substantively smaller impact on consumers, the 6G technology market will transform the way virtually every human lives, works, and plays on the planet. Again, it is due partially to the path made by 5G (including small cell coverage, satellites, and improvements in radio access network technologies), but largely due to the confluence of a few key technologies including 6G merging with other areas such as bio-medical, imaging, acoustics, artificial intelligence, robotics, and computing including greater accessibility to HPC and quantum computing.
Target Audience:
• Regulatory and Policy Groups
• Exporters, Importers and Traders
• Business and Financial Institutions
• Associations and Technology Groups
• Corporate and Institutional Investors
• Government and International Bodies
• Lawyers, Bankers, Libraries, Embassies
• Patent Offices and Technology Executives
• Venture Capitalists, Consultants and more
• Management Consulting and Advisory Firms
Companies in Report:
• AT&T
• Autotalks
• Broadcom
• China Telecom
• Cisco Systems
• Corning
• Ericsson
• Fujitsu
• Google
• Huawei
• LG Corporation
• MediaTek
• Motorola Solutions
• NEC Corporation
• Nokia
• NTT DoCoMo
• NVidia
• Qualcomm
• SpaceX
• University of Oulu
• Verizon
• Vodafone
• ZTE
目次
1.0 Executive Summary
2.0 Introduction
2.1 Research Objectives
2.2 Report Findings
2.3 Target Audience
2.4 Companies in Report
3.0 5G Technologies Supporting Evolution to 6G
3.1 5G Technology Overview
3.2 Enabling Technologies
3.2.1 5G New Radio
3.2.2 Massive MIMO
3.2.3 Cognitive Radios
3.2.4 Self-Organizing Networks
3.2.5 Visible Light Communications
3.2.6 M2M Communications
3.2.7 C-RAN Architecture
3.2.8 HetNet Solutions
3.2.9 H-CRAN Solution
3.2.10 Large-Scale Cooperative Spatial Signal Processing
3.2.11 Software Defined Radio
3.2.12 Spectrum, Satellites, and other Considerations
3.3 5G Spectrum Evolution and Timeline
3.4 5G Application Horizons
3.4.1 Retail and Consumer Electronics Applications
3.4.2 Healthcare Applications
3.4.3 Industrial Automation Applications
3.4.4 Intelligent Building Automation Applications
3.4.5 Automotive and Transportation Applications
3.4.6 Home Automation Applications
3.4.7 Financial Institution Applications
3.4.8 Energy and Utilities Applications
3.4.9 Public Safety Applications
3.4.10 Military Applications
3.4.11 Oil and Gas Applications
3.4.12 Mining Applications
3.4.13 Agriculture Applications
3.5 Beyond 5G: Evolution to 95 Ghz Spectrum
3.6 6G Market Drivers
3.6.1 Microsecond Latency
3.6.2 Growth of IoT and Industrial, Object Driven Traffic
3.6.3 Wireless Cognition, Single Core Structure, and Public Safety
3.6.4 Smart City Applications: Sensing and More
3.6.5 Satellite Internet
3.7 6G Market Restraints
3.7.1 Expensive Network Deployment
3.7.2 Vertical Business Model Considerations
3.7.3 Voice and Data Value Perception Approaches Zero
4.0 6G Technology and Implications
4.1 Defining 6G
4.1.1 6G Dimensions
4.1.2 6G Advantages
4.2 Spectrum Evolution: 95GHz to 3 THz
4.3 Radio Frequency and Data Rates Targeting One Terabit
4.4 6G Communication Infrastructure
4.5 Mashup among Physical, Digital, and Biological Systems
4.6 Evolution of 6G Enabling Technologies
4.6.1 Large Intelligent Surface Assisted MIMO
4.6.2 AI Assisted PHY Technology
4.6.3 Mobility Enhanced Edge Intelligence
4.6.4 Modern Random Access Protocols for IoT
4.7 Standards Evolution towards 6G
4.8 6G in Unlicensed Spectrum and Private Networks
4.8.1 NR U and 6G U
4.8.2 6G Private Networks
4.9 Radio Access Technology in Industry 4.0
4.10 Managing C4 Resources and AI
4.11 Homomorphic Encryption
4.12 Visible Light Communication and Sub-THz Communication
4.13 Rise of Micro-operators and Distributed Services
4.14 CMOS Technology and Intelligent Chip
4.15 Continued Importance of Fixed Wireless Access
4.16 Quasi-Optical Antennas
4.17 Sensor to AI Fusion
5.0 6G Applications and Impacts
5.1 Fully Digital and Connected World
5.2 Impact on Human Society
5.3 Revolutionary 6G Applications, Services, and Solutions
5.4 6G Network Management and Orchestration
5.5 6G Business Models: Decentralization is a Driving Factor
5.6 Network Operator Challenges
5.7 3GPP Releases
5.8 6G Research Initiatives
5.8.1 China
5.8.2 United States of America
5.8.3 University of Oulu and 6Genesis Project
5.8.4 South Korea and LG KAIST 6G Research Centre
5.9 Current Views on R&D Direction of 6G
6.0 6G Ecosystem Analysis
6.1 6G Infrastructure Market
6.1.1 User Devices
6.1.1.1 Smartphones and other Handheld Devices
6.1.1.2 Wearables and Implantables
6.1.1.3 Modems, Gateways, Access Points
6.1.1.4 Vehicle Communications
6.1.1.5 Buildings and Facility Communications
6.1.2 6G Core Infrastructure
6.2 6G Equipment Market
6.2.1 Telecom Equipment
6.2.2 Semiconductor Equipment
6.2.2.1 MEET Device
6.2.2.2 AI Intelligent Chip
6.3 6G Transport Networks
6.4 6G R&D Investments
6.5 6G Equipment Cost Considerations
6.6 6G Ecosystem Players
6.6.1 User Equipment Manufacturers
6.6.2 Infrastructure Manufacturers
6.6.3 Connectivity Providers
6.6.4 IoT Solution Provider
6.6.5 Analytics Solution Providers
6.6.6 Enterprise, Government, and Industrial Users
6.6.7 Software Solution Providers
7.0 6G Technology Market Analysis and Forecasts 2025 – 2030
7.1 6G Infrastructure Market
7.1.1 Global Total 6G Infrastructure Market
7.1.2 6G Infrastructure Market by Type
7.1.2.1 6G Infrastructure Market by User Device
7.1.2.2 6G Infrastructure Market by Telecom Equipment
7.1.2.3 6G Infrastructure Market by Semiconductor Equipment
7.1.3 6G Infrastructure Market by Region
7.1.3.1 APAC 6G Infrastructure Market
7.1.3.2 North America 6G Infrastructure Market
7.1.3.3 Europe 6G Infrastructure Market
7.1.3.4 Middle East and Africa 6G Infrastructure Market
7.1.3.5 Latin America 6G Infrastructure Market
7.2 6G R&D Investment
7.3 6G Core Infrastructure Investment
7.4 6G Transport Network Investment
7.5 6G Infrastructure Unit Deployment
7.5.1 Global Total 6G Infrastructure Unit Deployment
7.5.2 6G Infrastructure Unit Deployment by Type
7.5.2.1 6G Infrastructure Unit Deployment by User Device
7.5.2.2 6G Infrastructure Unit Deployment by Telecom Equipment
7.5.2.3 6G Infrastructure Unit Deployment by Semiconductor Equipment
7.5.3 6G Infrastructure Unit Deployment by Region
7.5.3.1 APAC 6G Infrastructure Unit Deployment
7.5.3.2 North America 6G Infrastructure Unit Deployment
7.5.3.3 Europe 6G Infrastructure Unit Deployment
7.5.3.4 Middle East and Africa 6G Infrastructure Unit Deployment
7.5.3.5 Latin America 6G Infrastructure Unit Deployment
8.0 5G Applications Market Analysis and Forecasts 2019 – 2026
8.1 5G Apps and Service Market 2019 – 2026
8.1.1 5G Applications by Device Type 2019 – 2026
8.1.2 5G Applications by Service Provider Type 2019 – 2026
8.1.2.1 5G Applications by Carrier/MNO 2019 – 2026
8.1.2.1.1 5G Applications in Consumer Market 2019 – 2026
8.1.2.1.2 5G Applications in Business Market 2019 – 2026
8.1.2.1.3 5G Applications in Government Market 2019 – 2026
8.1.2.2 5G OTT Provided Applications and Services 2019 – 2026
8.1.3 5G Applications by Service Category 2019 – 2026
8.1.3.1 5G Applications by Enhanced Mobile Broadband 2019 – 2026
8.1.3.1.1 Mobile Office/Productivity (Smart Workplace) 2019 – 2026
8.1.3.1.2 Connected Vehicles 2019 – 2026
8.1.3.1.3 Multimedia Communication Market in eMBB 2019 – 2026
8.1.3.1.3.1 Enhanced Mobile Broadband Applications 2019 – 2026
8.1.3.2 Massive Machine-type Communications Applications 2019 – 2026
8.1.3.3 Ultra-Reliable Low-Latency Communication Applications 2019 – 2026
8.1.3.3.1 Telepresence 2019 – 2026
8.1.3.3.2 Autonomous Vehicles 2019 – 2026
8.1.3.3.3 Teleoperation/Tele-robotics 2019 – 2026
8.1.3.3.4 Multimedia Communication Market 2019 – 2026
8.1.3.3.4.1 Multimedia Communication Market in URLLC Overall 2019 – 2026
8.1.3.3.4.2 Multimedia Communication Market in URLLC Applications 2019 – 2026
8.1.3.3.5 Video Viewing Market 2019 – 2026
8.1.3.3.5.1 Video Viewing Market Overall 2019 – 2026
8.1.3.3.5.2 Video Viewing by Application Type 2019 – 2026
8.1.3.3.6 Immersive Applications Market in URLLC 2019 – 2026
8.1.3.3.6.1 Immersive URLLC Market Overall 2019 – 2026
8.1.3.3.6.2 Immersive URLLC Market by Application 2019 – 2026
8.1.3.4 Fixed Wireless Access Market 2019 – 2026
8.1.4 Network Slicing Dependent Apps and Service Market in 5G
8.2 5G New Radio Market 2019 – 2026
8.2.1 5GNR Applications 2019 – 2026
8.2.2 5GNR Applications in Industrial Automation 2019 – 2026
8.2.3 5GNR Applications by Deployment Type 2019 – 2026
8.2.4 Industrial Automation Market in Private 5GNR 2019 – 2026
8.2.5 Private 5GNR in Industrial Automation by Application 2019 – 2026
9.0 Conclusions and Recommendations
9.1 Advertisers and Media Companies
9.2 Artificial Intelligence Providers
9.3 Automotive Companies
9.4 Broadband Infrastructure Providers
9.5 Communication Service Providers
9.6 Computing Companies
9.7 Data Analytics Providers
9.8 Immersive Technology (AR, VR, and MR) Providers
9.9 Networking Equipment Providers
9.10 Networking Security Providers
9.11 Semiconductor Companies
9.12 IoT Suppliers and Service Providers
9.13 Software Providers
9.14 Smart City System Integrators
9.15 Automation System Providers
9.16 Social Media Companies
9.17 Telecom Operators
9.18 OTT Service Providers
9.19 Enterprise and Government
10.0 Appendix: 6G Synergies with HPC and Quantum Computing
10.1 High Performance Computing
10.2 Quantum Computing
10.3 More than Computing: Quantum Technologies
10.4 6G Technology and Next Generation Computing Synergies


Figures

Figure 1: 5G Capabilities and Functionality
Figure 2: 5G NR Components
Figure 3: Massive MIMO Architecture
Figure 4: Self-Organizing Networks in H-RAN
Figure 5: H-RAN Application
Figure 6: Centralized and Distribution LS-CSSP in H-CRANs
Figure 7: Software Defined Radio Network
Figure 8: Hybrid Architecture of SDN and SDR in 5G Network
Figure 9: Satellites in 5G Communications
Figure 10: 5G Spectrum Evolution
Figure 11: 6G Capabilities
Figure 12: Standards Evolution Towards 6G
Figure 13: C4 Management in Automated Factory
Figure 14: Sub-THz Hardware IC Technology
Figure 15: Visible Light Communication: Mbps to Tbps
Figure 16: Global 6G Infrastructure Market 2025 – 2030
Figure 17: Global 6G R&D Investment 2020 – 2030
Figure 18: Global 6G Core Infrastructure Investment 2020 – 2030
Figure 19: Global 6G Transport Network Investment 2020 – 2030
Figure 20: Global 6G Infrastructure Unit Deployment 2025 – 2030
Figure 21: Global Multimedia Communications Market in 5G eMBB 2019 – 2026
Figure 22: Global Multimedia Communications Market in 5G URLLC 2019 – 2026
Figure 23: Global Video Viewing Market in 5G URLLC 2019 – 2026
Figure 24: Global Immersive Applications Market in 5G URLLC 2019 – 2026
Figure 25: Global Network Slicing Dependent Apps and Service Market in 5G 2019 – 2026
Figure 26: Global 5GNR Market 2019 – 2026
Figure 27: Global Industrial Automation Market in Private 5GNR 2019 – 2026


Tables

Table 1: MTC Features in 3GPP Standard
Table 2: 6G Device and Equipment Pricing Expectations
Table 3: Global 6G Infrastructure Market by Type 2025 – 2030
Table 4: Global 6G Infrastructure Market by User Device 2025 – 2030
Table 5: Global 6G Infrastructure Market by Telecom Equipment 2025 – 2030
Table 6: Global 6G Infrastructure Market by Semiconductor Equipment 2025 – 2030
Table 7: Global 6G Infrastructure Market by Region 2025 – 2030
Table 8: APAC 6G Infrastructure Market by Type 2025 – 2030
Table 9: APAC 6G Infrastructure Market by User Device 2025 – 2030
Table 10: APAC 6G Infrastructure Market by Telecom Equipment 2025 – 2030
Table 11: APAC 6G Infrastructure Market by Semiconductor Equipment 2025 – 2030
Table 12: APAC 6G Infrastructure Market by Country 2025 – 2030
Table 13: North America 6G Infrastructure Market by Type 2025 – 2030
Table 14: North America 6G Infrastructure Market by User Device 2025 – 2030
Table 15: North America 6G Infrastructure Market by Telecom Equipment 2025 – 2030
Table 16: North America 6G Infrastructure Market by Semiconductor Equipment 2025 – 2030
Table 17: North America 6G Infrastructure Market by Country 2025 – 2030
Table 18: Europe 6G Infrastructure Market by Type 2025 – 2030
Table 19: Europe 6G Infrastructure Market by User Device 2025 – 2030
Table 20: Europe 6G Infrastructure Market by Telecom Equipment 2025 – 2030
Table 21: Europe 6G Infrastructure Market by Semiconductor Equipment 2025 – 2030
Table 22: Europe 6G Infrastructure Market by Country 2025 – 2030
Table 23: MEA 6G Infrastructure Market by Type 2025 – 2030
Table 24: MEA 6G Infrastructure Market by User Device 2025 – 2030
Table 25: MEA 6G Infrastructure Market by Telecom Equipment 2025 – 2030
Table 26: MEA 6G Infrastructure Market by Semiconductor Equipment 2025 – 2030
Table 27: MEA 6G Infrastructure Market by Country 2025 – 2030
Table 28: Latin America 6G Infrastructure Market by Type 2025 – 2030
Table 29: Latin America 6G Infrastructure Market by User Device 2025 – 2030
Table 30: Latin America 6G Infrastructure Market by Telecom Equipment 2025 – 2030
Table 31: Latin America 6G Infrastructure Market by Semiconductor Equipment 2025 – 2030
Table 32: Latin America 6G Infrastructure Market by Country 2025 – 2030
Table 33: Global 6G Infrastructure Unit Deployment by Type 2025 – 2030
Table 34: Global 6G Infrastructure Unit Deployment by User Device 2025 – 2030
Table 35: Global 6G Infrastructure Unit Deployment by Telecom Equipment 2025 – 2030
Table 36: Global 6G Infrastructure Unit Deployment by Semiconductor Equipment 2025 – 2030
Table 37: Global 6G Infrastructure Unit Deployment by Region 2025 – 2030
Table 38: APAC 6G Infrastructure Unit Deployment by Type 2025 – 2030
Table 39: APAC 6G Infrastructure Unit Deployment by User Device 2025 – 2030
Table 40: APAC 6G Infrastructure Unit Deployment by Telecom Equipment 2025 – 2030
Table 41: APAC 6G Infrastructure Unit Deployment by Semiconductor Equipment 2025 – 2030
Table 42: APAC 6G Infrastructure Unit Deployment by Country 2025 – 2030
Table 43: North America 6G Infrastructure Unit Deployment by Type 2025 – 2030
Table 44: North America 6G Infrastructure Unit Deployment by User Device 2025 – 2030
Table 45: North America 6G Infrastructure Unit Deployment by Telecom Equipment 2025 – 2030
Table 46: North America 6G Infrastructure Unit Deployment by Semiconductor Equipment 2025 – 2030
Table 47: North America 6G Infrastructure Unit Deployment by Country 2025 – 2030
Table 48: Europe 6G Infrastructure Unit Deployment by Type 2025 – 2030
Table 49: Europe 6G Infrastructure Unit Deployment by User Device 2025 – 2030
Table 50: Europe 6G Infrastructure Unit Deployment by Telecom Equipment 2025 – 2030
Table 51: Europe 6G Infrastructure Unit Deployment by Semiconductor Equipment 2025 – 2030
Table 52: Europe 6G Infrastructure Unit Deployment by Country 2025 – 2030
Table 53: MEA 6G Infrastructure Unit Deployment by Type 2025 – 2030
Table 54: MEA 6G Infrastructure Unit Deployment by User Device 2025 – 2030
Table 55: MEA 6G Infrastructure Unit Deployment by Telecom Equipment 2025 – 2030
Table 56: MEA 6G Infrastructure Unit Deployment by Semiconductor Equipment 2025 – 2030
Table 57: MEA 6G Infrastructure Unit Deployment by Country 2025 – 2030
Table 58: Latin America 6G Infrastructure Unit Deployment by Type 2025 – 2030
Table 59: Latin America 6G Infrastructure Unit Deployment by User Device 2025 – 2030
Table 60: Latin America 6G Infrastructure Unit Deployment by Telecom Equipment 2025 – 2030
Table 61: Latin America 6G Infrastructure Unit Deployment by Semiconductor Equipment 2025 – 2030
Table 62: Latin America 6G Infrastructure Unit Deployment by Country 2025 – 2030
Table 63: Global 5G Apps and Service market by 5G Device Type 2019 – 2026
Table 64: Global 5G Apps and Service Market by Service Provider 2019 – 2026
Table 65: Global Carrier/MNO Provided Apps and Service Market in 5G 2019 – 2026
Table 66: Global Carrier/MNO Provided Apps and Service Market in 5G by Consumer Application 2019 – 2026
Table 67: Global Carrier/MNO Provided Apps and Service Market in 5G by Business Application 2019 – 2026
Table 68: Global Carrier/MNO Provided Apps and Service Market in 5G by Government Application 2019 – 2026
Table 69: Global OTT Provided Apps and Service Market in 5G 2019 – 2026
Table 70: Global 5G Service Market by Service Category 2019 – 2026
Table 71: Global 5G eMBB Service Market by application 2019 – 2026
Table 72: Global 5G eMBB market by Mobile Office Application 2019 – 2026
Table 73: Global 5G eMBB Market by Connected Vehicles Type 2019 – 2026
Table 74: Global Multimedia Communications Market in 5G eMBB 2019 – 2026
Table 75: Global 5G mMTC (IoT) Market by Application 2019 – 2026
Table 76: Global 5G URLLC Market by Application 2019 – 2026
Table 77: Global 5G URLLC Market by Telepresence Application 2019 – 2026
Table 78: Global 5G URLLC Market by Autonomous Vehicles Type 2019 – 2026
Table 79: Global 5G URLLC Market by Teleoperation/Tele-robotics Applications 2019 – 2026
Table 80: Global Multimedia Communications Market in 5G URLLC by Application 2019 – 2026
Table 81: Global Video Viewing Market in 5G URLLC by Application 2019 – 2026
Table 82: Global Immersive Applications Market in 5G URLLC by Application 2019 – 2026
Table 83: Global 5G FWA Market by Application 2019 – 2026
Table 84: Global 5GNR Market by Application 2019 – 2026
Table 85: Global 5GNR Market by Industrial Automation 2019 – 2026
Table 86: Global 5GNR Market by Deployment Type 2019 – 2026
Table 87: Global Industrial Automation Market in Private 5GNR by Application 2019 – 2026