サマリー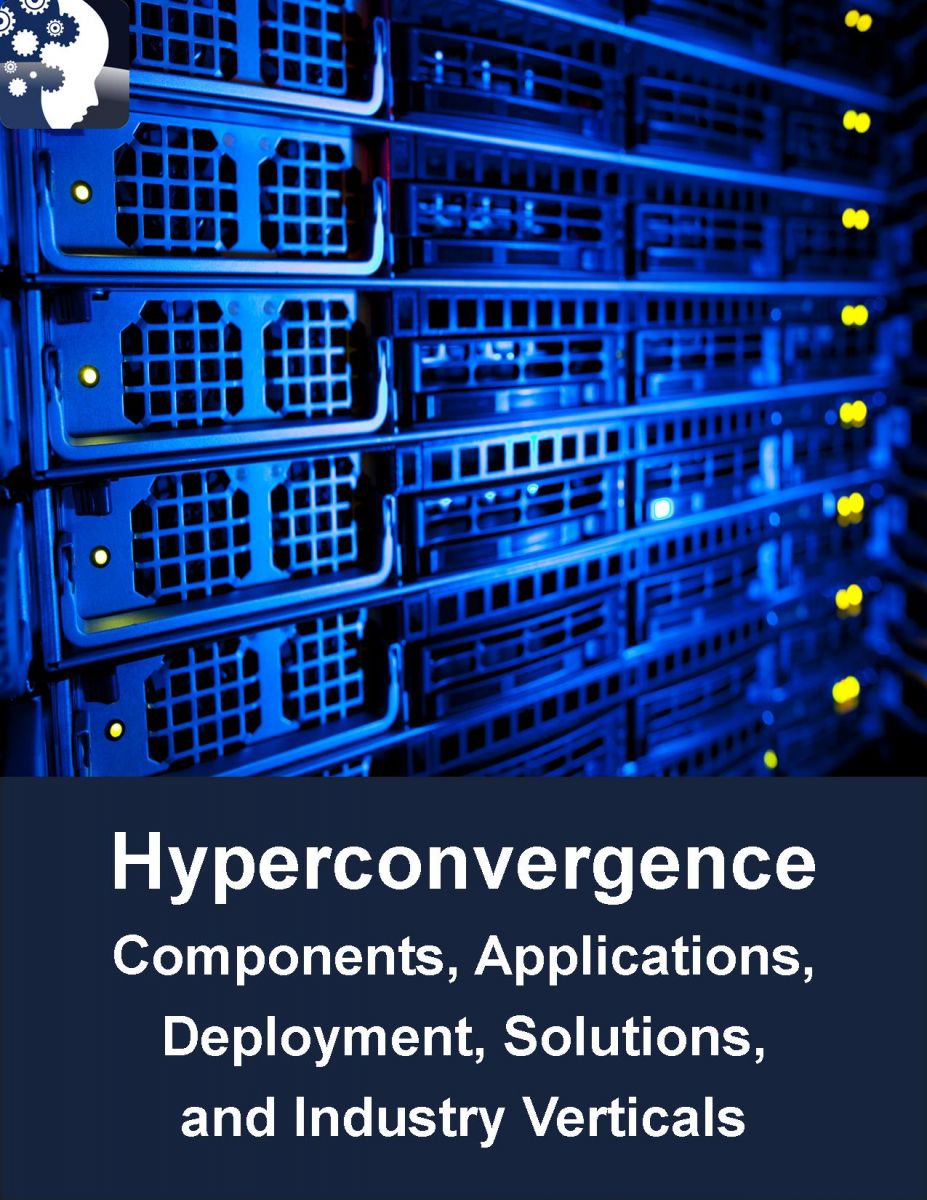 米国調査会社マインドコマース(Mind Commerce)の調査レポート「ハイパーコンバージドデータセンター市場:コンポーネント毎、用途毎、採用タイプ毎、ソリューション毎、産業垂直市場毎 2018-2023年」は、ハイパーコンバージェンスのエコシステムの企業、製品、市場の可能性、戦略について調査している。ハイパーコンバージドインフラストラクチャー(HCI)やプラットフォーム(HCP)、統合システムの技術やソリューションについて査定している。ハイパーコンバージドインフラストラクチャーやプラットフォーム、統合システムの主要ベンダのソリューションについても分析している。2018-2023年のハイパーコンバージドインフラストラクチャーやハイパーコンバージドプラットフォーム、ハイパーコンバージド統合システムの市場を世界と地域毎に予測している。集中型クラウドやエッジコンピューティング、スマートシティやすべての主要産業垂直市場などの市場セグメントの様々なアーキテクチャにわたるハイパーコンバージェンスについて予測している。
Overview:
Hyperconvergence systems represent integrated infrastructure architecture for enterprise that combines compute, storage, network, and management functions virtually into a single box. These systems typically include data protection, virtual desktop infrastructure, hyper-converged cloud platform, and centralized management systems. Mind Commerce sees growth of hyperconverged systems bringing multiple benefits for enterprise such as data center consolidation, predictive threat management, automation of remote and branch offices, disaster recovery and many more. As a consequence, hyper-converged systems are expected to accelerate the digital transformation process for enterprise.
This report assesses the hyperconvergence ecosystem including companies, offerings, market positioning, and strategies. The report evaluates technologies, and solutions including infrastructure, platforms, and integrated systems. It also analyzes key vendor solutions for hyper-converged infrastructure, platforms, and integrated systems. The report also provides global and regional forecasts for HCI, HCP, and HCIS market from 2018 to 2023. The report also provides forecasts for hyperconvergence across various architectures such as centralized cloud and edge computing, market segments such as smart cities, and all major industry verticals. All purchases of Mind Commerce reports include time with an expert analyst who will help you link key findings in the report to the business issues you're addressing. This needs to be used within three months of purchasing the report.
Report Benefits:
· Global and regional hyperconvergence forecasts including HCI, HCP, and HCIS
· Understand the evolution of IT infrastructure to hyper-converged architectures
· Learn the key market segments and technologies for hyperconvergence targeting
· Recognize how hyper-converged systems will impact traditional datacenters and suppliers
· Identify how technologies like AI, HPC, 5G and quantum computing will impact hyperconvergence
Key Findings:
· The global hyper-converged solution market will $22.93B USD by 2023
· USA will lead the market representing a $5.8B USD opportunity by 2023
· Global hyperconvergence in the financial sector alone will reach $4.4B by 2023
· Hyperconvergence will accelerate the need for software defined management
· Hyper-converged datacenters will be crucially important for IoT network scalability
· Mobile Edge Computing is a greenfield opportunity for hyper-converged min-datacenters
Target Audience:
· Datacenter providers
· Infrastructure providers
· Security solution providers
· Cloud computing companies
· Integrated platform providers
· Governments, research, and NGOs
Companies in Report:
· CloudSyntrix
· CTC Global PTE Ltd.
· DataCore
· Diamanti Inc.
· Fujitsu Ltd.
· Hitachi Vantara
· HiveIO
· HTbase
· Huawei Technologies Co. Ltd.
· HyperGrid Inc.
· IBM
· Lenovo
· Maxta Inc.
· NetApp Inc.
· Oracle Corporation
· Pivot3
· Scale Computing
· StorMagic Inc.
· Stratoscale
· Works Computing Inc.
目次
1.0 Introduction
1.1 Hyper-convergence Framework
1.2 Hyper-convergence Market Segment
1.2.1 Hyper-converged Infrastructure (HCI)
1.2.2 Hyper-converged Platform (HCP)
1.2.3 Hyper-converged Integrated System (HCIS)
1.3 Integrated System, Converged System, and Hyper-converged System
1.4 The Role of the Hypervisor
1.5 Hyper-convergence Market Opportunities
1.6 Key Industry Development
2.0 Technology and Market Analysis
2.1 Hyper-converged Infrastructure (HCI) for Enterprise
2.2 Hyper-converged Platform as a Service
2.3 HCIS to Accelerate Computing Application
2.4 Software Defined Storage (SDS)
2.5 Hyper-converged Appliance
2.6 Software Defined Architecture
2.7 Software Defined Everything
2.8 Hyper-converged Cloud
2.9 Virtualization
2.10 Virtual Machine
2.11 Artificial Intelligence Software and Chipsets
2.12 Quantum Computing
2.13 Edge Computing
2.14 IoT, 5G, and Smart City
2.15 Blockchain
2.16 High Performance Computing
2.17 Business Model
3.0 Hyper-convergence Application Analysis
3.1 Key Industry Verticals
3.2 Workload Strategy and Planning
3.3 Virtual Desktop Infrastructure (VDI)
3.4 Server and Storage Virtualization
3.5 Virtual Network Resources
3.6 Data Center Consolidation and Security
3.7 Disaster Recovery
3.8 Video Surveillance
3.9 Big Data and Analytics
3.10 Remote and Branch Offices
3.11 Hybrid Cloud
4.0 Company Analysis
4.1 Vendor Market Share Analysis
4.2 Dell EMC
4.3 Cisco Systems Inc.
4.4 VMware Inc.
4.5 Hewlett Packard Enterprise (HPE)
4.6 Nutanix Inc.
4.7 Other Companies
4.7.1 Oracle Corporation
4.7.2 Huawei Technologies Co. Ltd.
4.7.3 NetApp Inc.
4.7.4 Fujitsu Ltd.
4.7.5 HiveIO
4.7.6 DataCore
4.7.7 HyperGrid Inc.
4.7.8 Hitachi Vantara
4.7.9 Pivot3
4.7.10 StorMagic Inc.
4.7.11 Maxta Inc.
4.7.12 Scale Computing
4.7.13 Stratoscale
4.7.14 HTbase
4.7.15 Diamanti Inc.
4.7.16 CloudSyntrix
4.7.17 CTC Global PTE Ltd.
4.7.18 Works Computing Inc.
4.7.19 Lenovo
4.7.20 IBM
5.0 Hyper-convergence Market Analysis and Forecasts
5.1 Global Hyper-convergence Market Forecast 2018 – 2023
5.1.1 Total Hyper-convergence Market
5.1.2 Hyper-convergence Market by Segment
5.1.3 Hyper-convergence Market by Component Type
5.1.4 Hyper-convergence Market by Application Type
5.1.4.1 Hyper-convergence Market by Virtualization Application Type
5.1.5 Hyper-convergence Market by Deployment Offices
5.1.6 Hyper-convergence Market by AI Solution
5.1.6.1 Hyper-convergence Market by Embedded AI Software Type
5.1.7 Hyper-convergence Market by Deployment Type
5.1.8 Hyper-convergence Market in Cloud Computing
5.1.9 Hyper-convergence Market in Big Data Analytics
5.1.10 Hyper-convergence Market in Quantum Computing
5.1.11 Hyper-convergence Market in 5G
5.1.12 Hyper-convergence Market in IoT
5.1.13 Hyper-convergence Market in Edge Computing
5.1.14 Hyper-convergence Market in Blockchain
5.1.15 Hyper-convergence Market in Smart City
5.1.16 Hyper-convergence Market in High Performance Computing
5.1.17 Hyper-convergence Market by Industry Vertical
5.2 Regional Hyper-convergence Market Forecast 2018 – 2023
5.2.1 Hyper-convergence Market by Region
5.2.2 North America Quantum Computing Market by HCI, HCP, HCIS, Application, AI, Big Data, and Edge Computing
5.2.3 Europe Quantum Computing Market by HCI, HCP, HCIS, Application, AI, Big Data, and Edge Computing
5.2.4 APAC Quantum Computing Market by HCI, HCP, HCIS, Application, AI, Big Data, and Edge Computing
5.2.5 Latin America Quantum Computing Market by HCI, HCP, HCIS, Application, AI, Big Data, and Edge Computing
5.2.6 Middle East and Africa Quantum Computing Market by HCI, HCP, HCIS, Application, AI, Big Data, and Edge Computing
6.0 Conclusions and Recommendations
6.1 Advertisers and Media Companies
6.2 Artificial Intelligence Providers
6.3 Automotive Companies
6.4 Broadband Infrastructure Providers
6.5 Communication Service Providers
6.6 Computing Companies
6.7 Data Analytics Providers
6.8 Equipment (AR, VR, and MR) Providers
6.9 Networking Equipment Providers
6.10 Networking Security Providers
6.11 Semiconductor Companies
6.12 IoT Suppliers and Service Providers
6.13 Software Providers
6.14 Smart City System Integrators
6.15 Automation System Providers
6.16 Social Media Companies
6.17 Workplace Solution Providers
6.18 Enterprise and Government
Figures
Figure 1: Hyper-converged System Framework
Figure 2: Traditional vs. Converged vs. Hyper-converged Infrastructure
Figure 3: Evolution of IT Infrastructure to Software Defined Everything
Figure 4: Virtualization Architecture
Figure 5: Storage Workloads
Figure 6: Hitachi Hyper-converged Scale Out Platform
Figure 7: Hyper-convergence Vendor Market Share 2017
Figure 8: VMware vSAN Framework
Figure 9: Oracle Hyper-Converged Infrastructure Stack
Figure 10: Maxta Hyper-convergence Software Framework
Figure 11: HC3 Virtualization
Figure 12: Global Hyper-convergence Market 2018 – 2023
Figure 13: Global Hyper-convergence Market in Cloud Computing 2018 – 2023
Figure 14: Global Hyper-convergence Market in Big Data Analytics 2018 – 2023
Figure 15: Global Hyper-convergence Market in Quantum Computing 2018 – 2023
Figure 16: Global Hyper-convergence Market in 5G 2018 – 2023
Figure 17: Global Hyper-convergence Market in IoT 2018 – 2023
Figure 18: Global Hyper-convergence Market in Edge Computing 2018 – 2023
Figure 19: Global Hyper-convergence Market in Blockchain 2018 – 2023
Figure 20: Global Hyper-convergence Market in Smart City 2018 – 2023
Figure 21: Global Hyper-convergence Market in High Performance Computing 2018 – 2023
Figure 22: North America Hyper-convergence Market in Cloud Computing 2018 – 2023
Figure 23: North America Hyper-convergence Market in Big Data Analytics 2018 – 2023
Figure 24: North America Hyper-convergence Market in Quantum Computing 2018 – 2023
Figure 25: North America Hyper-convergence Market in 5G 2018 – 2023
Figure 26: North America Hyper-convergence Market in IoT 2018 – 2023
Figure 27: North America Hyper-convergence Market in Edge Computing 2018 – 2023
Figure 28: North America Hyper-convergence Market in Blockchain 2018 – 2023
Figure 29: North America Hyper-convergence Market in Smart City 2018 – 2023
Figure 30: North America Hyper-convergence Market in High Performance Computing 2018 – 2023
Figure 31: Europe Hyper-convergence Market in Cloud Computing 2018 – 2023
Figure 32: Europe Hyper-convergence Market in Big Data Analytics 2018 – 2023
Figure 33: Europe Hyper-convergence Market in Quantum Computing 2018 – 2023
Figure 34: Europe Hyper-convergence Market in 5G 2018 – 2023
Figure 35: Europe Hyper-convergence Market in IoT 2018 – 2023
Figure 36: Europe Hyper-convergence Market in Edge Computing 2018 – 2023
Figure 37: Europe Hyper-convergence Market in Blockchain 2018 – 2023
Figure 38: Europe Hyper-convergence Market in Smart City 2018 – 2023
Figure 39: Europe Hyper-convergence Market in High Performance Computing 2018 – 2023
Figure 40: APAC Hyper-convergence Market in Cloud Computing 2018 – 2023
Figure 41: APAC Hyper-convergence Market in Big Data Analytics 2018 – 2023
Figure 42: APAC Hyper-convergence Market in Quantum Computing 2018 – 2023
Figure 43: APAC Hyper-convergence Market in 5G 2018 – 2023
Figure 44: APAC Hyper-convergence Market in IoT 2018 – 2023
Figure 45: APAC Hyper-convergence Market in Edge Computing 2018 – 2023
Figure 46: APAC Hyper-convergence Market in Blockchain 2018 – 2023
Figure 47: APAC Hyper-convergence Market in Smart City 2018 – 2023
Figure 48: APAC Hyper-convergence Market in High Performance Computing 2018 – 2023
Figure 49: Latin America Hyper-convergence Market in Cloud Computing 2018 – 2023
Figure 50: Latin America Hyper-convergence Market in Big Data Analytics 2018 – 2023
Figure 51: Latin America Hyper-convergence Market in Quantum Computing 2018 – 2023
Figure 52: Latin America Hyper-convergence Market in 5G 2018 – 2023
Figure 53: Latin America Hyper-convergence Market in IoT 2018 – 2023
Figure 54: Latin America Hyper-convergence Market in Edge Computing 2018 – 2023
Figure 55: Latin America Hyper-convergence Market in Blockchain 2018 – 2023
Figure 56: Latin America Hyper-convergence Market in Smart City 2018 – 2023
Figure 57: Latin America Hyper-convergence Market in High Performance Computing 2018 – 2023
Figure 58: MEA Hyper-convergence Market in Cloud Computing 2018 – 2023
Figure 59: MEA Hyper-convergence Market in Big Data Analytics 2018 – 2023
Figure 60: MEA Hyper-convergence Market in Quantum Computing 2018 – 2023
Figure 61: MEA Hyper-convergence Market in 5G 2018 – 2023
Figure 62: MEA Hyper-convergence Market in IoT 2018 – 2023
Figure 63: MEA Hyper-convergence Market in Edge Computing 2018 – 2023
Figure 64: MEA Hyper-convergence Market in Blockchain 2018 – 2023
Figure 65: MEA Hyper-convergence Market in Smart City 2018 – 2023
Figure 66: MEA Hyper-convergence Market in High Performance Computing 2018 – 2023
Tables
Table 1: Global Hyper-convergence Market by Segment 2018 – 2023
Table 2: Global Hyper-convergence Market by Component Type 2018 – 2023
Table 3: Global Hyper-convergence Market by Application Type 2018 – 2023
Table 4: Global Hyper-convergence Market by Virtualization Application Type 2018 – 2023
Table 5: Global Hyper-convergence Market by Deployment Offices 2018 – 2023
Table 6: Global Hyper-convergence Market by AI Solution 2018 – 2023
Table 7: Global Hyper-convergence Market by Embedded AI Software Type 2018 – 2023
Table 8: Global Hyper-convergence Market by Deployment Type 2018 – 2023
Table 9: Global Hyper-convergence Market by Industry Vertical 2018 – 2023
Table 10: Hyper-convergence Market by Region 2018 – 2023
Table 11: North America Hyper-convergence Market by Segment 2018 – 2023
Table 12: North America Hyper-convergence Market by Component Type 2018 – 2023
Table 13: North America Hyper-convergence Market by Application Type 2018 – 2023
Table 14: North America Hyper-convergence Market by Virtualization Application Type 2018 – 2023
Table 15: North America Hyper-convergence Market by Deployment Offices 2018 – 2023
Table 16: North America Hyper-convergence Market by AI Solution 2018 – 2023
Table 17: North America Hyper-convergence Market by Embedded AI Software Type 2018 – 2023
Table 18: North America Hyper-convergence Market by Deployment Type 2018 – 2023
Table 19: North America Hyper-convergence Market by Industry Vertical 2018 – 2023
Table 20: North America Hyper-convergence Market By Leading Country 2018 – 2023
Table 21: Europe Hyper-convergence Market by Segment 2018 – 2023
Table 22: Europe Hyper-convergence Market by Component Type 2018 – 2023
Table 23: Europe Hyper-convergence Market by Application Type 2018 – 2023
Table 24: Europe Hyper-convergence Market by Virtualization Application Type 2018 – 2023
Table 25: Europe Hyper-convergence Market by Deployment Offices 2018 – 2023
Table 26: Europe Hyper-convergence Market by AI Solution 2018 – 2023
Table 27: Europe Hyper-convergence Market by Embedded AI Software Type 2018 – 2023
Table 28: Europe Hyper-convergence Market by Deployment Type 2018 – 2023
Table 29: Europe Hyper-convergence Market by Industry Vertical 2018 – 2023
Table 30: Europe Hyper-convergence Market By Leading Country 2018 – 2023
Table 31: APAC Hyper-convergence Market by Segment 2018 – 2023
Table 32: APAC Hyper-convergence Market by Component Type 2018 – 2023
Table 33: APAC Hyper-convergence Market by Application Type 2018 – 2023
Table 34: APAC Hyper-convergence Market by Virtualization Application Type 2018 – 2023
Table 35: APAC Hyper-convergence Market by Deployment Offices 2018 – 2023
Table 36: APAC Hyper-convergence Market by AI Solution 2018 – 2023
Table 37: APAC Hyper-convergence Market by Embedded AI Software Type 2018 – 2023
Table 38: APAC Hyper-convergence Market by Deployment Type 2018 – 2023
Table 39: APAC Hyper-convergence Market by Industry Vertical 2018 – 2023
Table 40: APAC Hyper-convergence Market By Leading Country 2018 – 2023
Table 41: Latin America Hyper-convergence Market by Segment 2018 – 2023
Table 42: Latin America Hyper-convergence Market by Component Type 2018 – 2023
Table 43: Latin America Hyper-convergence Market by Application Type 2018 – 2023
Table 44: Latin America Hyper-convergence Market by Virtualization Application Type 2018 – 2023
Table 45: Latin America Hyper-convergence Market by Deployment Offices 2018 – 2023
Table 46: Latin America Hyper-convergence Market by AI Solution 2018 – 2023
Table 47: Latin America Hyper-convergence Market by Embedded AI Software Type 2018 – 2023
Table 48: Latin America Hyper-convergence Market by Deployment Type 2018 – 2023
Table 49: Latin America Hyper-convergence Market by Industry Vertical 2018 – 2023
Table 50: Latin America Hyper-convergence Market By Leading Country 2018 – 2023
Table 51: MEA Hyper-convergence Market by Segment 2018 – 2023
Table 52: MEA Hyper-convergence Market by Component Type 2018 – 2023
Table 53: MEA Hyper-convergence Market by Application Type 2018 – 2023
Table 54: MEA Hyper-convergence Market by Virtualization Application Type 2018 – 2023
Table 55: MEA Hyper-convergence Market by Deployment Offices 2018 – 2023
Table 56: MEA Hyper-convergence Market by AI Solution 2018 – 2023
Table 57: MEA Hyper-convergence Market by Embedded AI Software Type 2018 – 2023
Table 58: MEA Hyper-convergence Market by Deployment Type 2018 – 2023
Table 59: MEA Hyper-convergence Market by Industry Vertical 2018 – 2023
Table 60: MEA Hyper-convergence Market By Leading Country 2018 – 2023